Abstract
Indigenous societies hold a great deal of ethnoclimatological knowledge that could potentially be of key importance for both climate change science and local adaptation; yet, we lack studies examining how such knowledge might be shaped by media communication. This study systematically investigates the interplay between local observations of climate change and the reception of media information amongst the Tsimane', an indigenous society of Bolivian Amazonia where the scientific discourse of anthropogenic climate change has barely reached. Specifically, we conducted a Randomized Evaluation with a sample of 424 household heads in 12 villages to test to what degree local accounts of climate change are influenced by externally influenced awareness. We randomly assigned villages to a treatment and control group, conducted workshops on climate change with villages in the treatment group, and evaluated the effects of information dissemination on individual climate change perceptions. Results of this work suggest that providing climate change information through participatory workshops does not noticeably influence individual perceptions of climate change. Such findings stress the challenges involved in translating between local and scientific framings of climate change, and gives cause for concern about how to integrate indigenous peoples and local knowledge with global climate change policy debates.
Access options
Buy single article
Instant access to the full article PDF.
USD 39.95
Price includes VAT (USA)
Tax calculation will be finalised during checkout.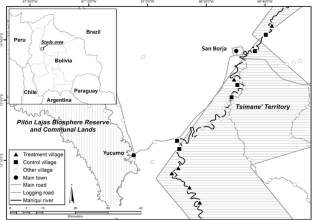 References
Berkes F (2009) Evolution of co-management: role of knowledge generation, bridging organizations and social learning. J Environ Manag. doi:10.1016/j.jenvman.2008.12.001

Bostrom A, Böhm G, O'Connor RE (2013) Targeting and tailoring climate change communications. WIREs Clim Change. doi:10.1002/wcc.234

Brodt SB (1999) Interactions of formal and informal knowledge systems in village-based tree management in central India. Agric Human Values. doi:10.1023/A:1007537809389

Cash DW, Clark WC, Alcock F et al (2003) Knowledge systems for sustainable development. PNAS. doi:10.1073/pnas.1231332100

Chambers R (2002) Participatory workshops: a sourcebook of 21 sets of ideas and activities. Earthscan Publications, Sterling

Cochran P, Huntington OH, Pungowiyi C et al (2013) Indigenous frameworks for observing and responding to climate change in Alaska. Clim Chang. doi:10.1007/s10584-013-0735-2

Doyle J (2009) Seeing the climate? The problematic status of visual evidence in climate change campaigning. In: Dobrin SI, Morey S (eds) Ecosee: Image, Rhetoric, Nature, 1stedn., SUNY Press, pp. 279-298

Duflo E (2003) Scaling up and evaluation. In: Bourguignon F, Pleskovic B (eds) Accelerating development. Oxford University Press, Oxford

Fernández-Llamazares Á, Díaz-Reviriego I, Méndez-López ME, Sánchez IV, Pyhälä A, Reyes-García V (2014) Cambio climático y pueblos indígenas: Estudio de caso entre los Tsimane', Amazonia boliviana. REDESMA Online J 7:110–119

Godfrey A, Le Roux-Rutledge E, Cooke S, Burton M (2010) Africa talks climate. policy briefing. BBC World Service Trust, London

Godoy R, Reyes-García V, Seyfried C, Huanca T, Leonard WR, McDade TW, Tanner S, Vadez V (2007) Language skills and earnings: evidence from a pre-industrial economy in the Bolivian Amazon. Econ Educ Rev 26(3):349–360

Godoy R, Reyes-García V, Vadez V et al (2009) Does the future affect the present? the effects of future weather on the current collection of planted crops and wildlife in a Native Amazonian Society of Bolivia. Hum Ecol. doi:10.1007/s10745-009-9263-0

Goodwin J, Dahlstrom MF (2014) Communication strategies for earning trust in climate change debates. WIRES Clim Change. doi:10.1002/wcc.262

Gore A (2006) An inconvenient truth: the planetary emergency of global warming and what we can do about it. Rodale Press, New York

Green D, Raygorodetsky G (2010) Indigenous knowledge of a changing climate. Clim Chang. doi:10.1007/s10584-010-9804-y

Green D, Billy J, Tapim A (2010) Indigenous Australians' knowledge of weather and climate. Clim Chang. doi:10.1007/s10584-010-9803-z

Guèze M, Luz AC, Pañeque-Gálvez J et al (2014) Are ecologically important tree species the most useful? a case study from indigenous people in the Bolivian Amazon. Econ Bot. doi:10.1007/s12231-014-9257-8

Hmielowski JD (2013) An attack on science? media use, trust in scientists, and perceptions of global warming. Public Underst Sci. doi:10.1177/0963662513480091

Howe PD, Leiserowitz A (2013) Who remembers a hot summer or a cold winter? the asymmetric effect of beliefs about global warming on perceptions of local climate conditions in the U.S. Glob Environ Change. doi:10.1016/j.gloenvcha.2013.09.014

Howell RA (2014) Investigating the long-term impacts of climate change communications on individuals' attitudes and behavior. Environ Behav. doi:10.1177/0013916512452428

Hulme M (2009) Why we disagree about climate change. understanding controversy, inaction and opportunity. Cambridge University Press, Cambridge

ICDS (2008) Una clave para la adaptación al cambio climático y la seguridad alimentaria en Bolivia. FAO, Roma

INE (2012) Censo nacional de población y vivienda 2012. Instituto Nacional de Estadística, La Paz

Kamiguchi K, Kitoh A, Uchiyama T, Mizuta R, Noda A (2006) Changes in precipitation-based extremes indices due to global warming projected by a global 20-km mesh atmospheric model. Sola 2:64–67

Leduc TB (2007) Sila dialogues on climate change: inuit wisdom for a cross-cultural interdisciplinarity. Clim Chang. doi:10.1007/s10584-006-9187-2

Lorenzoni I, Pidgeon NF (2006) Public views on climate change: European and USA perspectives. Clim Chang. doi:10.1007/s10584-006-9072-z

Mahli Y, Wright J (2004) Spatial patterns and recent trends in the climate of tropical rainforest regions. Philos Trans R Soc London Ser B 359:311–329

Marin A, Berkes F (2012) Local people's accounts of climate change: to what extent are they influenced by the media? WIREs Clim Change. doi:10.1002/wcc.199

Moore SF (2001) The international production of authoritative knowledge. Ethnography 2:161–189

Moran EF, Adams R, Bakoyéma B, Fiorini S, Boucek B (2006) Human strategies for coping with El Niño related drought in Amazônia. Clim Chang 77:343–361. doi:10.1007/s10584-005-9035-9

Mormont M, Dasnoy C (1995) Source strategies and the mediatization of climate change. Media Cult Soc 17:49–64

Moser SC (2014) Communicating adaptation to climate change: the art and science of public engagement when climate change comes home. WIREs Clim Change. doi:10.1002/wcc.276

Nisbet MC (2009) Communicating climate change: why frames matter for public engagement. Environ : Sci Policy Sustain Dev. doi:10.3200/ENVT. 51.2.12-23

Nordgren M (2011) Cambios climáticos. percepciones, efectos y respuestas en cuatro regiones de Bolivia. Centro de Investigaciones y Promoción del Campesinado, La Paz

Patt AG, Weber EU (2014) Perceptions and communication strategies for the many uncertainties relevant for climate policy. WIRES Clim Change. doi:10.1002/wcc.259

Quiroga RB, Salamanca LA, Espinoza Morales JC, Torrico GC (2009) Atlas de amenazas, vulnerabilidades y riesgos de Bolivia, La Paz

Reyes-García V, Godoy R, Vadez V et al (2003) Ethnobotanical knowledge shared widely among Tsimane' Amerindians, Bolivia. Science. doi:10.1126/science.1080274

Riedlinger D, Berkes F (2001) Contributions of traditional knowledge to understanding climate change in the Canadian Arctic. Polar Rec 37:315–328

Ronchail J (1989) Advecciones polares en Bolivia: caracterización de los efectos climáticos. Bull Inst Fr Et And 18:1

Ronchail J (2005) Variabilidad Interanual de las precipitaciones en Bolivia. Bull de l'Institut Français d'Études Andines 24(3):369–378

Rudiak-Gould P (2011) Climate change and anthropology. the importance of reception studies. Anthropol Today 27(2):9–12

Rudiak-Gould P (2013) "We have seen it with our own eyes": why we disagree about climate change visibility. Weather, Clim Soc 5:120–132. doi:10.1175/WCAS-D-12-00034.1

Rudiak-Gould P (2014) The influence of science communication on indigenous climate change perception: theoretical and practical implications. Hum Ecol. doi:10.1007/s10745-013-9605-9

Salick J, Ross N (2009) Traditional peoples and climate change. Glob Environ Change. doi:10.106/j.gloenvcha.2009.01.004

Schroeder H (2010) Agency in international climate negotiations: the case of indigenous peoples and avoided deforestation. Int Environ Agreements 10:317–332. doi:10.1007/s10784-010-9138-2

Seiler C (2009) Implementation and validation of a regional climate model for Bolivia. Fundación Amigos de la Naturaleza, La Paz

Simpson L (2004) The colonial context for the indigenous experience of climate change. In: Helander E, Mustonen T (eds) Snowscapes, Dreamscapes: Snowchange book on community voices of change, 1st edn., Tampere Polytechnic Publications, pp. 25-29

Spence A, Poortinga W, Butler C, Pidgeon NF (2011) Perceptions of climate change and willingness to save energy related to flood experience. Nat Climate Change 1:46–49

Sperber D, Clément F, Heintz C, Mascaro O, Mercier H, Origgi G, Wilson D (2010) Epistemic vigilance. Mind Lang. doi:10.1111/j.1468-0017.2010.01394.x

StataCorp (2011) Stata statistical software: release 12. College Station, Texas

Stigter CJ, Dawei Z, Onyewotu LOZ, Xurong M (2006) Using traditional methods and indigenous technologies for coping with climate variability. Clim Chang 70:255–271

Swim JS, Clayton T, Doherty R, Gifford G, Howard JR, Stern P, Weber EU (2009) Psychology and global climate change: addressing a multifaceted phenomenon and set of challenges. APA Task Force on the Interface between Psychology and Global Climate Change, Pennsylvania

Thomas DSG, Twyman C (2005) Equity and justice in climate change adaptation among natural-resource-dependent societies. Glob Environ Change 15:115–124

Wall I, Robinson L (2008) Left in the dark. the unmet need for information in humanitarian responses. policy briefing. BBC World Service Trust, London

Weber EU (2013) Psychology: seeing is believing. Nat Clim Change 3:312–313

Wenhong L, Fu R, Robinson I, Juárez N, Fernandez K (2008) Observed change of the standardized precipitation index, its potential cause and implications to future climate change in the Amazon region. Phil Trans R Soc B. doi:10.1098/rstb.2007.0022

Zaval L, Keenan EA, Johnson EJ, Weber EU (2014) How warm days increase belief in global warming. Nat Clim Change. doi:10.1038/nclimate2093

Ziliak ST, McCloskey DN (2008) The cult of statistical significance. University of Michigan Press, Ann Arbor
Acknowledgments
The research leading to these results has received funding from the European Research Council under the European Union's Seventh Framework Programme (FP7/2007-2013) / ERC grant agreement nr. FP7-261971-LEK, and from a grant of the BBVA Foundation (IV Convocatoria de Ayudas a la Investigación en Ecología y Biología de la Conservación, BIOCON_06_106-07). M.F.M. and A.P. were also supported by the Academy of Finland (grant agreements nr. 263995 and 250444, respectively), and Á.F-LL received additional support from the Finnish Centre for International Mobility (CIMO). We thank the Tsimane' who have so generously opened for us the doors of their houses and their world, the Gran Consejo Tsimane' and CBIDSI for all their support, V. Cuata, S. Fraixedas, S. Huditz, P. Pache, M. Pache, and I.V. Sánchez for all their help during fieldwork, M. Guèze for cartographical assistance, and M. Cabeza, R. Delgado and D. Minkin for comments to a previous version of the article.
Electronic supplementary material
Below is the link to the electronic supplementary material.
About this article
Cite this article
Fernández-Llamazares, Á., Méndez-López, M.E., Díaz-Reviriego, I. et al. Links between media communication and local perceptions of climate change in an indigenous society. Climatic Change 131, 307–320 (2015). https://doi.org/10.1007/s10584-015-1381-7
Received:

Accepted:

Published:

Issue Date:
Keywords
Climate Change

Indigenous People

Climate Change Adaptation

Information Dissemination

Flood Frequency