Abstract
We project the effects of transitional changes among 60 vegetation and other land cover types ("ecotypes") in northwest Alaska over the 21st century on habitats of 162 bird and 39 mammal species known or expected to occur regularly in the region. This analysis, encompassing a broad suite of arctic and boreal wildlife species, entailed building wildlife-habitat matrices denoting levels of use of each ecotype by each species, and projecting habitat changes under historic and expected accelerated future rates of change from increasing mean annual air temperature based on the average of 5 global climate models under the A1B emissions scenario, and from potential influence of a set of 23 biophysical drivers. Under historic rates of change, we project that 52 % of the 201 species will experience an increase in medium- and high-use habitats, 3 % no change, and 45 % a decrease, and that a greater proportion of mammal species (62 %) will experience habitat declines than will bird species (50 %). Outcomes become more dire (more species showing habitat loss) under projections made from effects of biophysical drivers and especially from increasing temperature, although species generally associated with increasing shrub and tree ecotypes will likely increase in distribution. Changes in wildlife habitats likely will also affect trophic cascades, ecosystem function, and ecosystem services; of particular significance are the projected declines in habitats of most small mammals that form the prey base for mesocarnivores and raptors, and habitat declines in 25 of the 50 bird and mammal species used for subsistence hunting and trapping.
Access options
Buy single article
Instant access to the full article PDF.
USD 39.95
Price includes VAT (USA)
Tax calculation will be finalised during checkout.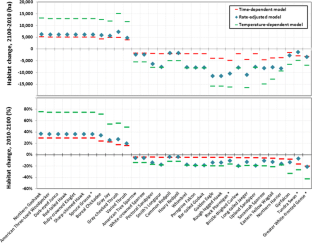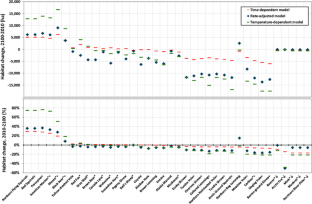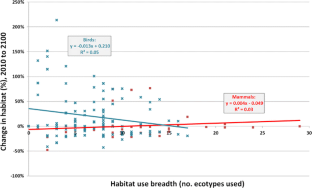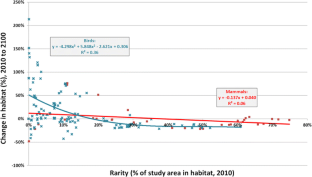 References
Alaska Department of Fish and Game (2014) Press release 5-12-2014: Western Arctic Caribou Herd Numbers 235,000 Animals in Recent Survey. http://www.adfg.alaska.gov/index.cfm?adfg=pressreleases.main. Accessed 2 June 2014

Bieniek PA, Bhatt US, Thoman R, Angeloff H, Partain J, Papineau J, Fritsch F, Holloway E, Walsh JE, Daly C, Shulski M, Hufford G, Hill DF, Calos S, Gens R (2012) Climate divisions for Alaska based on objective methods. J Appl Meteorol Climatol 51:1276–1289

Callaghan TV, Björn LO, Chernov Y, Chapin T, Christensen TR, Huntley B, Ims RA, Johansson M, Jolly D, Jonasson S, Matveyeva N, Panikov N, Oechel W, Shaver G, Elster J, Henttonen H, Laine K, Taulavuori K, Taulavuori E, Zöckler C (2004) Biodiversity, distributions and adaptations of Arctic species in the context of environmental change. Ambio 33:404–417

Cook JA, MacDonald SO (2006) Mammal inventory of Alaska's National Park and Preserves: Arctic Network: Bering Land Bridge NP, Cape Krusenstern NM, Kobuk Valley NP, Noatak NP, and Gates of the Arctic NP&P. Inventory and Monitoring Program Final Report. National Park Service, Alaska Region, Fairbanks, Alaska

DeGange A, Marcot BG, Lawler J, Jorgenson T, Winfree R (2014) Predicting the effects of climate change on ecosystems and wildlife habitat in northwest Alaska: results of the WildCast project. Alaska Park Sci 12:66–73

Gough L, Moore JC, Shaver GR, Simpson RT, Johnson DR (2012) Above- and belowground responses of arctic tundra ecosystems to altered soil nutrients and mammalian herbivory. Ecology 93:1683–1694

Grabowski MM, Doyle FI, Reid DG, Mossop D, Talarico D (2013) Do Arctic-nesting birds respond to earlier snowmelt? A multi-species study in north Yukon, Canada. Polar Biol 36:1097–1105

Hansen IJ, Johnson CJ, Cluff HD (2013) Synchronicity of movement paths of barren-ground caribou and tundra wolves. Polar Biol 36:1363–1371

Higuera PE, Barnes JL, Chipman ML, Urban M, Hu FS (2011) The burning tundra: a look back at the last 6,000 years of fire in the Noatak National Preserve, northwestern Alaska. Alaska Park Sci 10:36–41

Ims RA, Fuglei E (2005) Trophic interaction cycles in tundra ecosystems and the impact of climate change. Bioscience 55:311–322

IPCC (2007) Climate change 2007: synthesis report. An assessment of the intergovernmental panel on climate change. Intergovernmental Panel on Climate Change, Geneva, Switzerland, pp. http://www.ipcc.ch/pdf/assessment-report/ar4/syr/ar4_syr.pdf

Johnson D, O'Neil T (eds) (2001) Wildlife-habitat relationships in Oregon and Washington. Oregon State University Press, Corvallis

Joly K, Klein DR, Verbyla DL, Rupp TS, Chapin FS III (2011) Linkages between large-scale climate patterns and the dynamics of Arctic caribou populations. Ecography 34:345–352

Jones BM, Grosse G, Arp CD, Jones MC, Anthony KMW, Romanovsky VE (2011) Modern thermokarst lake dynamics in the continuous permafrost zone, northern Seward Peninsula, Alaska. J Geophys Res 116. doi:10.1029/2011JG001666

Jorgenson MT, Roth JE, Miller PF, Macander MJ, Duffy MS, Wells AF, Frost GV, Pullman ER (2009) An ecological land survey and landcover map of the Arctic Network. Natural Resource Technical Report NPS/ARCN/NRTR-2009/270. National Park Service, Natural Resource Program Center, Fort Collins, CO, p 307

Jorgenson MT, Marcot BG, Swanson DK, Jorgenson JC, DeGange AR (2015) Projected changes in diverse ecosystems from climate warming and biophysical drivers in northwest Alaska. Clim Chang 128. doi:10.1007/s10584-014-1302-1

Kessel B (1989) Birds of the Seward Peninsula. University of Alaska Press, Fairbanks

Ledee OE, Karasov WH, Martin KJ, Meyer MW, Ribic CA, Van Deelen TR (2011) Envisioning the future of wildlife in a changing climate: collaborative learning for adaptation planning. Wildl Soc Bull 35:508–513

MacDonald SO, Cook JA (2009) Recent mammals of Alaska. University of Alaska Press, Fairbanks

McKinnon L, Berteaux D, Gauthier G, Bêty J (2013) Predator-mediated interactions between preferred, alternative and incidental prey in the arctic tundra. Oikos 122:1042–1048

Morrison ML, Marcot BG, Mannan RW (2006) Wildlife-habitat relationships: concepts and applications, 3rd edn. Island Press, Washington, DC

Olofsson J, Oksanen L, Callaghan T, Hulme PE, Oksanen T, Suominen O (2009) Herbivores inhibit climate-driven shrub expansion on the tundra. Glob Chang Biol 15:2681–2693

Patton DR (1992) Wildlife habitat relationships in forested ecosystems. Timber Press, Portland

Pearson RG, Phillips SJ, Loranty MM, Beck PSA, Damoulas T, Knight SJ, Goetz SJ (2013) Shifts in Arctic vegetation and associated feedbacks under climate change. Nat Clim Chang 3:673–677

Pike DA, Mitchell JC (2013) Burrow-dwelling ecosystem engineers provide thermal refugia throughout the landscape. Anim Conserv. doi:10.1111/acv.12049

Plante S, Champagne E, Ropars P, Boudreau S, Lévesque E, Tremblay B, Tremblay J-P (2014) Shrub cover in northern Nunavik: can herbivores limit shrub expansion? Polar Biol 37:611–619

Post E, Pedersen C (2008) Opposing plant community responses to warming with and without herbivores. PNAS 105:12353–12358

Ravolainen VT, Bråthen KA, Yoccoz NG, Nguyen JK, Ims RA (2014) Complementary impacts of small rodents and semi-domesticated ungulates limit tall shrub expansion in the tundra. J Appl Ecol 51:234–241

Suarez F, Binkley D, Kaye MW (1999) Expansion of forest stands into tundra in the Noatak National Preserve, northwest Alaska. Ecoscience 6:465–470

Tibbitts TL, Ruthrauff DR, Gill RE Jr, Handel CM (2006) Inventory of montane-nesting birds in the Arctic Network of National Parks, Alaska. NPS/AKARCN/NRTR 2006/02. Arctic Network Inventory and Monitoring Program, USDI National Park Service, Fairbanks, Alaska

Vors LS, Boyce MS (2009) Global declines of caribou and reindeer. Glob Chang Biol 15:2626–2633

Walsh JE, Chapman WL, Romanovsky V, Christensen JH, Stendel M (2008) Global climate model performance over Alaska and Greenland. J Clim 21:6156–6174

Witter LA, Johnson CJ, Croft B, Gunn A, Poirier LM (2012) Gauging climate change effects at local scales: weather-based indices to monitor insect harassment in caribou. Ecol Appl 22:1838–1851

Wright JP (2009) Linking populations to landscapes: richness scenarios resulting from changes in the dynamics of an ecosystem engineer. Ecology 90:3418–3429

Yoshihara Y, Ohkuro T, Buuveibaatar B, Undarmaa J (2010) Pollinators are attracted to mounds created by burrowing animals (marmots) in a Mongolian grassland. J Arid Environ 74:159–163
Acknowledgments
We thank Leslie Holland-Bartels, Carl Markon, and Robert Winfree for their discussions and administrative guidance on the project. The bird- and mammal-ecotype associations were reviewed by Andrew Hope, David Gustine, and Dan Ruthrauff, and bird subsistence species were identified by Alex Whiting. We thank Andrew Hope, Robert Winfree, Knut Kielland, five anonymous reviewers, and an editor for comments on the manuscript. This project was funded through the Natural Resources Preservation Program (NRPP) of U.S. Geological Survey's Ecosystems Mission Area, and support in kind was provided by U.S. Forest Service, Pacific Northwest Research Station. Any use of trade names is for descriptive purposes only and does not imply endorsement by the U.S. Government.
Electronic supplementary material
Below is the link to the electronic supplementary material.
About this article
Cite this article
Marcot, B.G., Jorgenson, M.T., Lawler, J.P. et al. Projected changes in wildlife habitats in Arctic natural areas of northwest Alaska. Climatic Change 130, 145–154 (2015). https://doi.org/10.1007/s10584-015-1354-x
Received:

Accepted:

Published:

Issue Date:
Keywords
Wildlife Habitat

American Mink

National Wildlife Refuge

Rock Ptarmigan

Tall Shrub