Abstract
Climate change has been a concern of policy makers, scientists, and farmers due to its complex nature and far-reaching impacts. It is the right time to analyze the impacts of climate change and potential adaptations, and identify future strategies for sustainable development. This study assessed changes in climatic factors (e.g., temperature and precipitation) at three typical sites (i.e., Luancheng, Feixiang, and Huanghua) in the North China Plain (NCP), and analyzed adaptations of farming practices. Results indicated that the mean annual temperature followed a significant increasing trend during 1981–2011, with 0.57, 0.47, and 0.44 °C decade−1 for Luancheng, Huanghua, and Feixiang, respectively. A significant increase of 0.67, 0.53, and 0.38 °C decade−1 was observed for the winter-wheat (Triticum aestivum L.) season for Luancheng, Huanghua, and Feixiang, respectively (P < 0.05), but no significant change for the summer-corn (Zea mays L.) season for the three sites. The annual accumulated temperature (≥10 °C) increased significantly during 1981–2011 (P < 0.01), with 17.60, 10.49, and 14.09 °C yr−1 for Luancheng, Huanghua, and Feixiang, respectively. There was no significant increase of mean annual precipitation, which had large inter-annual fluctuations among the three sites. In addition, significant challenges lie ahead for the NCP due to climate change, e.g., increasing food grain demand, water shortages, high inputs, high carbon (C) emissions, and decreasing profits. Trade-offs between crop production, water resource conservation, and intensive agricultural inputs will inhibit sustainable agricultural development in the NCP. Farming practices have been adapted to the climate change in the NCP, e.g. late seeding for the winter-wheat, tillage conversion, and water saving irrigation. Therefore, innovative technologies, such as climate-smart agriculture, will play important roles in balancing food security and resources use, enhancing water use efficiency, reducing C emissions in the NCP. Coordinated efforts from the government, scientists, and farmers are also necessary, in response to climate change.
Access options
Buy single article
Instant access to the full article PDF.
USD 39.95
Price includes VAT (USA)
Tax calculation will be finalised during checkout.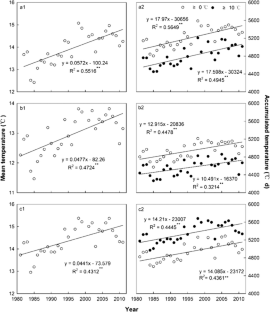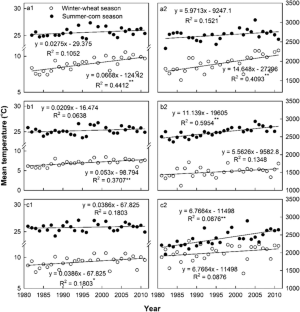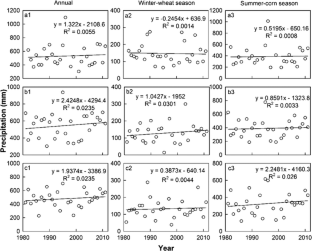 References
Berkhoff J (2003) China: the South–North water transfer project—is it justified? Water Policy 5(1):1–28

Branca G, Lipper L, McCarthy N, Jolejole MC (2013) Food security, climate change, and sustainable land management. A review. Agron Sustain Dev 33:635–650. doi:10.1007/s13593-013-0133-1

CLCD (2012) Chinese life cycle database v0.7. Sichuan University and IKE Environmental Technology CO. Led, China

CMB archives (2013) Chinese meteorological bureau archives. Beijing

Ecoinvent (2010) Ecoinvent database v2.2. Swiss Centre for Life Cycle Inventories, Switzerland

Fu XL, Zhang H, Jia JZ, Du LF, Fu JD, Zhao M (2009) Yield performance and resources use efficiency of winter-wheat and summer maize in double late-cropping system. Acta Agron Sin 35(9):1708–1714. doi:10.3724/SP.J.1006.2009.01708

Guo BQ, Tao HB, Wang P, Knoerzer H, Claupenin W (2013) Water utilization of different cropping production systems in North China Plain. J Chin Agric Univ 18:53–60

HBPBS (Hebei Province Bureau of Statistics) (1995–2013) Hebei Province Rural Statistical Yearbook. China Statistics Press, Beijing

Howden SM, Soussana JF, Tubiello FN, Chhetri N, Dunlop M, Meinke H (2007) Adapting agriculture to climate change. Proc Natl Acad Sci U S A 104:19691–19696. doi:10.1073/pnas.0701890104

IPCC (2013) Climate Change 2013: The Physical Science Basis. Contribution of Working Group I to the Fifth Assessment Report of the Intergovernmental Panel on Climate Change. Cambridge University Press, Cambridge, United Kingdom and New York, NY, USA

Kelly PM, Adger WN (2000) Theory and practice in assessing vulnerability to climate change and facilitating adaptation. Clim Chang 47:325–352. doi:10.1023/A:1005627828199

Lal R (2004) Carbon emission from farm operations. Environ Int 30:981–990. doi:10.1016/j.envint.2004.03.005

Liu C, Yu J, Kendy E (2001) Groundwater exploitation and its impact on the environment in the North China Plain. Water Int 26:265–272. doi:10.1080/02508060108686913

Liu C, Zhang X, Zhang Y (2002) Determination of daily evaporation and evapotranspiration of winter wheat and maize by large-scale weighing lysimeter and micro-lysimeter. Agric For Meteorol 111:109–120. doi:10.1016/S0168-1923(02)00015-1

MAPRC (Ministry of Agriculture of the People's Republic of China) (2014) Data basis for crops. http://202.127.42.157/moazzys/nongqing.aspx

Mo X, Liu S, Lin Z, Xu Y, Xiang Y, McVicar TR (2005) Prediction of crop yield, water consumption and water use efficiency with a SVAT-crop growth model using remotely sensed data on the North China Plain. Ecol Model 183:301–322. doi:10.1016/j.ecolmodel.2004.07.032

Olesen JE, Trnka M, Kersebaum KC, Skjelvåg AO, Seguin B, Peltonen-Sainio P, Rossi F, Kozyra J, Micale F (2011) Impacts and adaptation of European crop production systems to climate change. Eur J Agron 34:96–112. doi:10.1016/j.eja.2010.11.003

Qiu J (2010) China faces up to groundwater crisis. Nature 466:308. doi:10.1038/466308a

Smit B, Pilifosova O (2003) Adaptation to climate change in the context of sustainable development and equity. Sustain Dev 8:879–912

Smit B, Burton I, Klein R, Wandel J (2000) An anatomy of adaptation to climate change and variability. Clim Chang 45:223–251. doi:10.1023/A:1005661622966

Sun HY, Liu CM, Zhang XY, Shen YJ, Zhang YQ (2006) Effects of irrigation on water balance, yield and WUE of winter wheat in the North China Plain. Agric Water Manag 85:211–218. doi:10.1016/j.agwat.2006.04.008

Sun H, Zhang X, Chen S, Pei D, Liu C (2007) Effects of harvest and sowing time on the performance of the rotation of winter wheat-summer maize in the North China Plain. Ind Crop Prod 25(3):239–247. doi:10.1016/j.indcrop.2006.12.003

Tao F, Zhang Z (2010) Adaptation of corn production to climate change in North China Plain: quantify the relative contributions of adaptation options. Eur J Agron 33:103–116. doi:10.1016/j.eja.2010.04.002

Wang ZM, Wang P, Li XH, Li JM, Lu LQ (2006) Principle and technology of water-saving, fertilizer-saving, high-yielding and simple cultivation in winter wheat. Rev Chin Agric Sci Technol 8:38–44

Wang F, Zhang M, Zhang H, Chen F (2012) Soil temperature dynamics and enzyme activities as influenced by tillage in North China. Ecol Environ Sci 21(5):848–852

West T, Marland G (2002) A synthesis of carbon sequestration, carbon emissions, and net carbon flux in agriculture: comparing tillage practices in the United States. Agric Ecosyst Environ 91:217–232. doi:10.1016/S0167-8809(01)00233-X

Wise RM, Fazey I, Stafford Smith M, Park SE, Eakin HC, Archer Van Garderen ERM, Campbell B (2014) Reconceptualising adaptation to climate change as part of pathways of change and response. Glob Environ Chang. doi:10.1016/j.gloenvcha.2013.12.002

Xiao DP, Tao FL (2012) Impact of climate change in 1981–2009 on winter wheat phenology in the North China Plain. Chin J Eco Agric 20:1539–1545. doi:10.3724/SP.J.1011.2012.01539

Ye L, Xiong W, Li Z, Yang P, Wu W, Yang G, Fu Y, Zou J, Chen Z, Van Ranst E, Tang H (2013) Climate change impact on China food security in 2050. Agron Sustain Dev 33:363–374. doi:10.1007/s13593-012-0102-0

Zhang J (2011) China's success in increasing per capita food production. J Exp Bot 5:1–5. doi:10.1093/jxb/err132

Zhang H, Chen F, Qin Y, Zhu W (2002) Water consumption characteristics for summer corn under no-tillage with mulch. Trans CSAE 18(2):36–40
Acknowledgments
This study was funded by Special Fund for Agro-scientific Research in the Public Interest in China (201103001) and Program for New Century Excellent Talents in University of Ministry of Education of China (NCET-13-0567). We also thanks to China Meteorological Data Sharing Service System for providing the metrological data.
Electronic supplementary material
Below is the link to the electronic supplementary material.
About this article
Cite this article
Zhang, HL., Zhao, X., Yin, XG. et al. Challenges and adaptations of farming to climate change in the North China Plain. Climatic Change 129, 213–224 (2015). https://doi.org/10.1007/s10584-015-1337-y
Received:

Accepted:

Published:

Issue Date:
Keywords
Soil Organic Carbon

Farming Practice

Hebei Province

North China Plain

Mean Annual Precipitation