Abstract
Climate policy is generally concerned with the mitigation of well-mixed greenhouse gases, allocated to the country where the emissions occur, and with different emissions weighted together with the Global Warming Potential (GWP) using a 100 year time horizon. This perspective is not unique. Recent research has considered the inclusion of Short-Lived Climate Forcers (SCLFs), allocated emissions to the consumption of goods and services, and used alternative emissions metrics. Here, for the first time, we combine these alternative perspectives to explore the potential policy implications of three alternative framings: 1) using the Global Temperature change Potential (GTP) to directly link current emissions to temperature change, 2) including SLCFs that have both warming and cooling effects on climate, and 3) allocating emissions to consuming sectors and regions. Collectively, we use these three aspects to allocate the future temperature response to the consumption of goods and services in a given year. We show, in order of importance, that the method of allocating emissions to economic sectors is the most important, followed by the emission metric (including time-horizon), and then the mix of short-lived and well-mixed climate forcers. The consumption perspective reallocates emissions from electricity and manufacturing to service sectors, which suggests different policy options for demand and supply. The net effect of multiple pollutants and GTP significantly change the importance of the sectors compared to when only considering CO2 or when using the GWP. We argue that a focus on only one accounting system and framing in climate policy can potentially limit consideration of mitigation options to a reduced set of activities, and thereby missing significant opportunities for mitigation in other aspects.
Access options
Buy single article
Instant access to the full article PDF.
USD 39.95
Price includes VAT (USA)
Tax calculation will be finalised during checkout.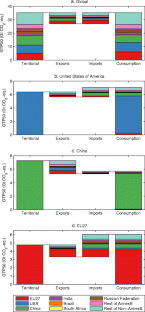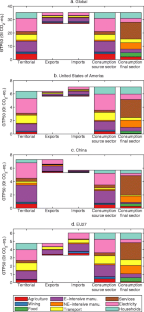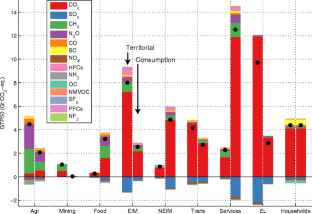 References
Aamaas B, Borken-Kleefeld J, Peters GP (2013a) The climate impact of travel behavior: a German case study with illustrative mitigation options. Environ Sci Policy 33:273–282

Aamaas B, Peters GP, Fuglestvedt JS (2013b) Simple emission metrics for climate impacts. Earth Syst Dyn 4:145–170

Andrew RM, Peters GP (2013) A multi-region input–output table based on the global trade analysis project database (Gtap-Mrio). Econ Syst Res 25:99–121

Andrew RM, Davis SJ, Peters GP (2013) Climate policy and dependence on traded carbon. Environ Res Lett 8:034011

Barrett J, Peters G, Wiedmann T, Scott K, Lenzen M, Roelich K, le Quéré C (2013) Consumption-based GHG emission accounting: a UK case study. Clim Pol 13:451–470

Berntsen T, Fuglestvedt J (2008) Global temperature responses to current emissions from the transport sectors. Proc Natl Acad Sci 105:19154–19159

Berntsen T, Fuglestvedt J, Myhre G, Stordal F, Berglen TF (2006) Abatement of greenhouse gases: does location matter? Clim Chang 74:377–411

Chen Y, Ebenstein A, Greenstone M, Li H (2013) Evidence on the impact of sustained exposure to air pollution on life expectancy from China's Huai River policy. Proc Natl Acad Sci 110:12936–12941

Major Economies Forum on Energy and Climate (2009) Declaration of the leaders the major economies forum on energy and climate

Davis SJ, Caldeira K (2010) Consumption-based accounting of CO2 emissions. Proc Natl Acad Sci 107:5687–5692

Davis SJ, Peters GP, Caldeira K (2011) The supply chain of CO2 emissions. Proc Natl Acad Sci 108:18554–18559

European Commission (2011) Emission Database for Global Atmospheric Research (EDGAR), release version 4.2. Joint Research Centre (JRC) and Netherlands Environmental Assessment Agency (PBL)

European Commission (2013) The impact of EU consumption on deforestation: Comprehensive analysis of the impact of EU consumption on deforestation

Felder S, Rutherford TF (1993) Unilateral CO2 reductions and carbon leakage: the consequences of international trade in oil and basic materials. J Environ Econ Manag 25:162–176

Fuglestvedt JS, Berntsen T, Godal O, Sausen R, Shine KP, Skodvin T (2003) Metrics of climate change: assessing radiative forcing and emission indices. Clim Chang 58:267–331

Fuglestvedt JS, Shine KP, Berntsen T, Cook J, Lee DS, Stenke A, Skeie RB, Velders GJM, Waitz IA (2010) Transport impacts on atmosphere and climate: metrics. Atmos Environ 44:4648–4677

Hertwich EG, Peters GP (2009) Carbon footprint of nations: a global, trade-linked analysis. Environ Sci Technol 43:6414–6420

IPCC (2007) Climate change 2007: the physical science basis. Contribution of working group I to the fourth assessment report of the intergovernmental panel on climate change. Cambridge University Press, Cambridge

Joos F, Roth R, Fuglestvedt J, Peters G, Enting I, Bloh WV, Brovkin V, Burke E, Eby M, Edwards N (2013) Carbon dioxide and climate impulse response functions for the computation of greenhouse gas metrics: a multi-model analysis. Atmos Chem Phys 13:2793–2825

Joshi M, Hawkins E, Sutton R, Lowe J, Frame D (2011) Projections of when temperature change will exceed 2°C above pre-industrial levels. Nat Clim Chang 1:407–412

Karstensen J, Peters GP, Andrew RM (2013) Attribution of CO2 emissions from Brazilian deforestation to consumers between 1990 and 2010. Environ Res Lett 8:024005

Karstensen J, Peters GP, Andrew RM (2014) Uncertainty in temperature response of current consumption-based emissions estimates. Earth Syst Dyn Discuss 5:1013–1073

Lenzen M, Wood R, Wiedmann T (2010) Uncertainty analysis for multi-region input–output models–a case study of the UK's carbon footprint. Econ Syst Res 22:43–63

Matthews HD, Zickfeld K (2012) Climate response to zeroed emissions of greenhouse gases and aerosols. Nat Clim Chang 2:338–341

Moran DD, Lenzen M, Kanemoto K, Geschke A (2013) Does ecologically unequal exchange occur? Ecol Econ 89:177–186

Myhre G, Fuglestvedt JS, Berntsen TK, Lund MT (2011) Mitigation of short-lived heating components may lead to unwanted long-term consequences. Atmos Environ 45:6103–6106

Myhre G, D. Shindell, F.-M. Bréon, W. Collins, J. Fuglestvedt, J. Huang, D. Koch, J.-F. Lamarque, D. Lee BM, T. Nakajima, A. Robock, G. Stephens, T. Takemura, Zhang H (2013) Anthropogenic and Natural Radiative Forcing. In: Climate Change 2013: The Physical Science Basis. Contribution of Working Group I to the Fifth Assessment Report of the Intergovernmental Panel on Climate Change [Stocker, T.F., D. Qin, G.-K. Plattner, M. Tignor, S.K. Allen, J. Boschung, A. Nauels, Y. Xia, V. Bex and P.M. Midgley (eds.)]. Cambridge, United Kingdom and New York, NY, USA

Olivié D, Peters G (2013) Variation in emission metrics due to variation in CO2 and temperature impulse response functions. Earth Syst Dyn 4:267–286

Peters GP (2010) Policy update: managing carbon leakage. Carbon Manag 1:35–37

Peters GP, Hertwich EG (2006) Structural analysis of international trade: environmental impacts of Norway. Econ Syst Res 18:155–181

Peters GP, Hertwich EG (2008) CO2 embodied in international trade with implications for global climate policy. Environ Sci Technol 42:1401–1407

Peters GP, Aamaas B, Berntsen T, Fuglestvedt JS (2011a) The integrated global temperature change potential (iGTP) and relationships between emission metrics. Environ Res Lett 6:044021

Peters GP, Aamaas BT, Lund M, Solli C, Fuglestvedt JS (2011b) Alternative "Global Warming" metrics in life cycle assessment: a case study with existing transportation data. Environ Sci Technol 45:8633–8641

Peters GP, Andrew R, Lennox J (2011c) Constructing an environmentally-extended multi-regional input–output table using the gtap database. Econ Syst Res 23:131–152

Peters GP, Minx JC, Weber CL, Edenhofer O (2011d) Growth in emission transfers via international trade from 1990 to 2008. Proc Natl Acad Sci 108:8903–8908

Peters GP, Davis SJ, Andrew R (2012) A synthesis of carbon in international trade. Biogeosciences 9:3247–3276

Peters GP, Andrew RM, Boden T, Canadell JG, Ciais P, le Quere C, Marland G, Raupach MR, Wilson C (2013) The challenge to keep global warming below 2°C. Nat Clim Chang 3:4–6

Reisinger A, Meinshausen M, Manning M, Bodeker G (2010) Uncertainties of global warming metrics: CO2 and CH4. Geophys Res Lett 37, L14707

Shindell D, Kuylenstierna JC, Vignati E, van Dingenen R, Amann M, Klimont Z, Anenberg SC, Muller N, Janssens-Maenhout G, Raes F (2012) Simultaneously mitigating near-term climate change and improving human health and food security. Science 335:183–189

Shine KP (2009) The global warming potential - the need for an interdisciplinary retrail. Clim Chang 96:467–472

Shine KP, Fuglestvedt JS, Hailemariam K, Stuber N (2005) Alternatives to the global warming potential for comparing climate impacts of emissions of greenhouse gases. Clim Chang 68:281–302

Shine KP, Berntsen TK, Fuglestvedt JS, Skeie RB, Stuber N (2007) Comparing the climate effect of emissions of short-and long-lived climate agents. Philos Trans R Soc A Math Phys Eng Sci 365:1903–1914

Solomon S, Daniel JS, Sanford TJ, Murphy DM, Plattner G-K, Knutti R, Friedlingstein P (2010) Persistence of climate changes due to a range of greenhouse gases. Proc Natl Acad Sci 107:18354–18359

Stocker T, Qin D, Plattner G, Tignor M, Allen S, Boschung J, Nauels A, Xia Y, Bex V, Midgley P (2013) IPCC, 2013: climate change 2013: the physical science basis. contribution of working group I to the fifth assessment report of the intergovernmental panel on climate change. Cambridge University Press, Cambridge

Tanaka K, Peters GP, Fuglestvedt JS (2010) Policy update: multicomponent climate policy: why do emission metrics matter? Carbon Manag 1:191–197

Tol RS, Berntsen TK, O'Neill BC, Fuglestvedt JS, Shine KP (2012) A unifying framework for metrics for aggregating the climate effect of different emissions. Environ Res Lett 7:044006

UNEP (2012) The Emissions Gap Report 2012. Nairobi

UNFCCC (2011a) Establishment of an Ad Hoc Working Group on the Durban Platform for Enhanced Action. Draft decision -/CP.17

UNFCCC (2011b) Report of the Conference of the Parties on its sixteenth session, held in Cancun from 29 November to 10 December 2010. http://unfccc.int/resource/docs/2010/cop16/eng/07a01.pdf

Unger N, Bond TC, Wang JS, Koch DM, Menon S, Shindell DT, Bauer S (2010) Attribution of climate forcing to economic sectors. Proc Natl Acad Sci 107:3382–3387

Wiebe KS, Bruckner M, Giljum S, Lutz C (2012) Calculating energy-related CO2 emissions embodied in international trade using a global input–output model. Econ Syst Res 24:113–139

Wiedmann T (2009) A review of recent multi-region input–output models used for consumption-based emission and resource accounting. Ecol Econ 69:211–222

Wilting HC (2012) Sensitivity and uncertainty analysis in mrio modelling; some empirical results with regard to the dutch carbon footprint. Econ Syst Res 24:141–171
Acknowledgments
The authors acknowledge funding from the Norwegian Research Council project "Quantifying the global socio-economic and policy drivers for Brazil's contribution to global warming" (Project Number: 196090).
Electronic supplementary material
Below is the link to the electronic supplementary material.
About this article
Cite this article
Karstensen, J., Peters, G.P. & Andrew, R.M. Allocation of global temperature change to consumers. Climatic Change 129, 43–55 (2015). https://doi.org/10.1007/s10584-015-1333-2
Received:

Accepted:

Published:

Issue Date:
Keywords
Black Carbon

Climate Policy

Kyoto Protocol

Global Warming Potential

Global Emission