Abstract
The UK has committed to reduce greenhouse gas (GHG) emissions by 80 % relative to 1990 levels by 2050, and it has been suggested that this should include a 70 % reduction in emissions from food. Meeting this target is likely to require significant changes to diets, but the likely effect of these changes on population nutritional intakes is currently unknown. However, the current average UK diets for men and women do not conform to WHO dietary recommendations, and this presents an opportunity to improve the nutritional content of diets while also reducing the associated GHG emissions. The results of this study show that if, in the first instance, average diets among UK adults conformed to WHO recommendations, their associated GHG emissions would be reduced by 17 %. Further GHG emission reductions of around 40 % could be achieved by making realistic modifications to diets so that they contain fewer animal products and processed snacks and more fruit, vegetables and cereals. However, our models show that reducing emissions beyond 40 % through dietary changes alone will be unlikely without radically changing current consumption patterns and potentially reducing the nutritional quality of diets.
Access options
Buy single article
Instant access to the full article PDF.
US$ 39.95
Tax calculation will be finalised during checkout.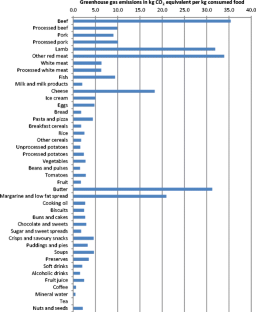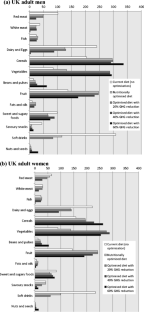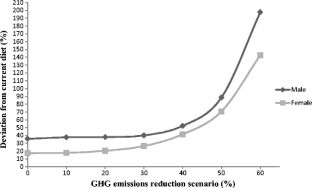 References
Aston LM, Smith JM, Powles JW (2012) Impact of a reduced red and processed meat dietary pattern on disease risks and greenhouse gas emissions in the UK: a modelling study. BMJ Open 2:e001072

Audsley E, Brander M, Chatterton J, Murphy-Bokern D, Webster C, Williams A (2009). How low can we go? An assessment of greenhouse gas emissions from the UK food system and the scope for reduction by 2050, WWF-UK

Bates B, Lennox A, Prentice A, Bates C, Swan G (2012) National Diet and Nutrition Survey: Headline results from Years 1, 2 and 3 (combined) of the Rolling Programme (2008/2009–2010/11). Department of Health, Food Standards Agency and NatCen Social Research, London

Berners-Lee M, Hoolohan C, Cammack H, Hewitt CN (2012) The relative greenhouse gas impacts of realistic dietary choices. Energy Policy 43:184–190

CCC (2008) Building a low-carbon economy—the UK's contribution to tackling climate change. Committee on Climate Change, London

Fader M, Gerten D, Krause M, Lucht W, Cramer W (2013) Spatial decoupling of agricultural production and consumption: quantifying dependences of countries on food imports due to domestic land and water constraints. Environ Res Lett 8:014046

Foster C, Green K, Bleda M, Dewick P, Evans B, Flynn A, Mylan J (2006). Environmental impacts of food production and consumption. Final Report to the Department for Environment, Food and Rural Affairs (DEFRA), Manchester Business School

Friel S, Dangour AD, Garnett T, Lock K, Chalabi Z, Roberts I, Butler A, Butler CD, Waage J, McMichael AJ, Haines A (2009) Public health benefits of strategies to reduce greenhouse-gas emissions: food and agriculture. Lancet 374(9706):2016–2025

Garnett T (2011) Where are the best opportunities for reducing greenhouse gas emissions in the food system (including the food chain)? Food Policy 36:S23–S32

Green R, Cornelsen L, Dangour AD, Turner R, Shankar B, Mazzocchi M, Smith RD (2013) The effect of rising food prices on food consumption: systematic review with meta-regression. BMJ 346:f3703

Hammerschlag K, Venkat K (2011) Meat-Eater's guide to climate change and health: lifecycle assessments—methodology and results. Environmental Working Group, Washington

Hedenus F, Wirsenius S, Johansson DJA (2014) The importance of reduced meat and dairy consumption for meeting stringent climate change targets. Clim Change. doi:10.1007/s10584-014-1104-5

Macdiarmid JI, Blundell J (1998) Assessing dietary intake: who, what and why of under-reporting. Nutr Res Rev 11:231–253

Macdiarmid JI, Kyle J, Horgan GW, Loe J, Fyfe C, Johnstone A, McNeill G (2012) Sustainable diets for the future: can we contribute to reducing greenhouse gas emissions by eating a healthy diet? Am J Clin Nutr. doi:10.3945/ajcn.112.038729

Masset G, Vieux F, Verger EO, Soler LG, Touazi D, Darmon N (2014) Reducing energy intake and energy density for a sustainable diet: a study based on self-selected diets in French adults. Am J Clin Nutr. doi:10.3945/ajcn.3113.077958

Pradhan P, Reusser DE, Kropp JP (2013) Embodied greenhouse gas emissions in diets. PLoS One 8(5):e62228

R (2012) R: a language and environment for statistical computing. R Core Team. R Foundation for Statistical Computing, Vienna

Scarborough P, Nnoaham KE, Clarke D, Capewell S, Rayner M (2010) Modelling the impact of a healthy diet on cardiovascular disease and cancer mortality. J Epidemiol Community Health. doi:10.1136/jech.2010.114520

Scarborough P, Bhatnagar P, Wickramasinghe K, Allender S, Foster C, Rayner M (2011) The economic burden of ill health due to diet, physical inactivity, smoking, alchol and obesity in the UK: an update to 2006-07 NHS costs. J Public Health. doi:10.1093/pubmed/fdr033

Scarborough P, Allender S, Clarke D, Wickramasinghe K, Rayner M (2012) Modelling the health impact of environmentally sustainable dietary scenarios in the UK. Eur J Clin Nutr 66:710–715

Scarborough P, Appleby PN, Mizdrak A, Briggs ADM, Travis RT, Bradbury KE, Key TJ (2014) Dietary greenhouse gas emissions of meat-eaters, fish-eaters, vegetarians and vegans in the UK. Clim Change 125:179–192

Stehfest E, Bouwman L, van Vuuren DP, den Elzen MGJ, Eickhout B, Kabat P (2009) Climate benefits of changing diet. Clim Change 95:83–102

Tiffin R, Balcombe K, Salois M, Kehlbacher A (2011) Estimating food and drink elasticities. University of Reading and Defra, Reading

Tilman D, Clark M (2014) Global diets link environmental sustainability and human health. Nature. doi:10.1038/nature13959

Tukker A, Goldbohm RA, de Koning A, Verheijden M, Kleijn R, Wolf O, Perez-Dominguez I, Rueda-Cantuche JM (2011) Environmental impacts of changes to healthier diets in Europe. Ecol Econ 70:1776–1788

Varadhan R (2012). Alabama: constrained nonlinear optimization. R Package Version 2011.9-1. http://CRAN.R-project.org/package=alabama

Venkat K (2011) The climate change and economic impacts of food waste in the United States. Int J Food Syst Dyn 2(4):431–446

Vermeulen SJ, Campbell BM, Ingram JSI (2012) Climate change and food systems. Annu Rev Environ Resour 37:195–222

Vieux F, Darmon N, Touazi D, Soler LG (2012) Greenhouse gas emissions of self-selected individual diets in France: changing the diet structure or consuming less? Ecol Econ 75:91–101

Weiss F, Leip A (2012) Greenhouse gas emissions from the EU livestock sector: a life cycle assessment carried out with the CAPRI model. Agric Ecosyst Environ 149:124–134

WHO (2003) Diet, nutrition, and the prevention of chronic diseases. Report of a Joint WHO/FAO Expert Consultation, Geneva

Wilson N, Nghiem N, Mhurchu CN, Eyles H, Baker MG, Blakeley T (2013) Foods and dietary patterns that are healthy, low-cost, and environmentally sustainable: a case study of optimization modeling for New Zealand. PLoS One 8(3):e59648
Contributors
RG contributed to the study design, conducted data management and analysis, and drafted the paper. She is guarantor. JM contributed to the study design, analysed the data, and revised the paper. AD, AH and AM assisted with study design and revised the draft paper. ZC advised on modelling and revised the draft paper. JS provided data, conducted data management and analysis, and revised the draft paper. PW initiated the project, designed the study and revised the draft paper.
This study is a secondary analysis of publicly available data, and as such does not require ethical approval.
Funding
This work was supported by the European Commission 7th Framework Programme under Grant Agreement No. 265325. The funder had no role in the design, execution or writing up of the study.
Electronic supplementary material
Below is the link to the electronic supplementary material.
About this article
Cite this article
Green, R., Milner, J., Dangour, A.D. et al. The potential to reduce greenhouse gas emissions in the UK through healthy and realistic dietary change. Climatic Change 129, 253–265 (2015). https://doi.org/10.1007/s10584-015-1329-y
Received:

Accepted:

Published:

Issue Date:
Keywords
Food Group

Dietary Change

Life Cycle Analysis

Nutritional Content

Nutritional Recommendation