Abstract
Exploring adaptation strategies for different climate change scenarios to support agricultural production and food security is a major concern to vulnerable regions, including Ethiopia. This study assesses the potential impacts of climate change on maize yield and explores specific adaptation options under climate change scenarios for the Central Rift Valley of Ethiopia by mid-century. Impacts and adaptation options were evaluated using three General Circulation Models (GCMs) in combination with two Representative Concentration Pathways (RCPs) and two crop models. Results indicate that maize yield decreases on average by 20 % in 2050s relative to the baseline (1980–2009) due to climate change. A negative impact on yield is very likely, while the extent of impact is more uncertain. The share in uncertainties of impact projections was higher for the three GCMs than it was for the two RCPs and two crop models used in this study. Increasing nitrogen fertilization and use of irrigation were assessed as potentially effective adaptation options, which would offset negative impacts. However, the response of yields to increased fertilizer and irrigation will be less for climate change scenarios than under the baseline. Changes in planting dates also reduced negative impacts, while changing the maturity type of maize cultivars was not effective in most scenarios. The multi-model based analysis allowed estimating climate change impact and adaptation uncertainties, which can provide valuable insights and guidance for adaptation planning.
Access options
Buy single article
Instant access to the full article PDF.
US$ 39.95
Tax calculation will be finalised during checkout.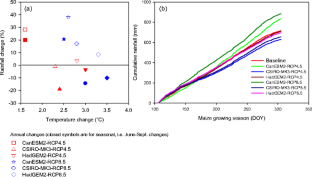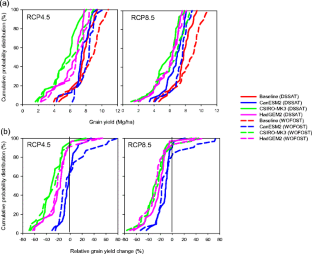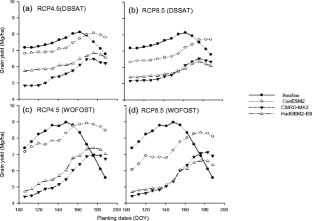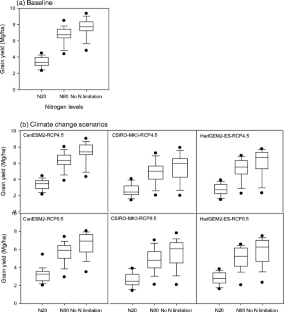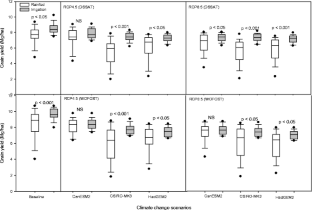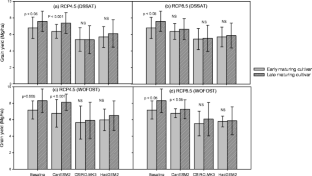 References
Abdelkadir A, Yimer F (2011) Soil water property variations in three adjacent land use types in the Rift Valley area of Ethiopia. J Arid Environ 75(11):1067–1071

Arndt C, Robinson S, Willenbockel D (2011) Ethiopia's growth prospects in a changing climate: a stochastic general equilibrium approach. Glob Environ Chang 21(2):701–710

Asseng S et al (2013) Uncertainty in simulating wheat yields under climate change. Nat Clim Chang 3:827–832

Bassu et al (2014) How do various maize crop models vary in their responses to climate change factors? Global Change Biol 20(7):2301–2320

Bryan E, Deressa TT, Gbetibouo GA, Ringler C (2009) Adaptation to climate change in Ethiopia and South Africa: options and constraints. Environ Sci Pol 12(4):413–426

Cairns JE et al (2013) Adapting maize production to climate change in sub-Saharan Africa. Food Security 5:345–360

Challinor A, Wheeler T, Craufurd P, Ferro C, Stephenson D (2007a) Adaptation of crops to climate change through genotypic responses to mean and extreme temperatures. Agric Ecosyst Environ 119(1):190–204

Challinor A, Wheeler T, Garforth C, Craufurd P, Kassam A (2007b) Assessing the vulnerability of food crop systems in Africa to climate change. Clim Chang 83(3):381–399

Challinor A et al (2014) A meta-analysis of crop yield under climate change and adaptation. Nat Clim Chang 4(4):287–291

Conway D, Schipper ELF (2011) Adaptation to climate change in Africa: challenges and opportunities identified from Ethiopia. Glob Environ Chang 21(1):227–237

Cooper PJM, Coe R (2011) Assessing and addressing climate-induced risk in sub-Saharan rainfed agriculture. Exp Agric 47:179

Getnet M, Hengsdijk H, van Ittersum M (2014) Disentangling the impacts of climate change, land use change and irrigation on the Central Rift Valley water system of Ethiopia. Agric Water Manag 137:104–115

Hawkins E, Sutton R (2011) The potential to narrow uncertainty in projections of regional precipitation change. Clim Dyn 37(1–2):407–418

Howden SM et al (2007) Adapting agriculture to climate change. Proc Natl Acad Sci U S A 104(50):19691

Jones PG, Thornton PK (2003) The potential impacts of climate change on maize production in Africa and Latin America in 2055. Glob Environ Chang 13(1):51–59

Jones PG, Thornton PK (2009) Croppers to livestock keepers: livelihood transitions to 2050 in Africa due to climate change. Environ Sci Pol 12(4):427–437

Kassie BT et al (2013) Adapting to climate variability and change: experiences from cereal-based farming in the Central Rift and Kobo Valleys, Ethiopia. Environ Manag 52:1115–1131

Kassie BT et al (2014) Climate-induced yield variability and yield gaps of maize (Zea mays L.) in the Central Rift Valley of Ethiopia. Field Crop Res 160:41–53

Kipkorir EC, Raes D, Bargerei RJ, Mugalavai EM (2007) Evaluation of two risk assessment methods for sowing maize in Kenya. Agric For Meteorol 144(3):193–199

Luo Q, Bellotti W, Williams M, Wang E (2009) Adaptation to climate change of wheat growing in South Australia: analysis of management and breeding strategies. Agric Ecosyst Environ 129(1):261–267

Moss RH et al (2010) The next generation of scenarios for climate change research and assessment. Nature 463(7282):747–756

Mugalavai EM, Kipkorir EC, Raes D, Rao MS (2008) Analysis of rainfall onset, cessation and length of growing season for western Kenya. Agric For Meteorol 148(6):1123–1135

Müller C, Cramer W, Hare WL, Lotze-Campen H (2011) Climate change risks for African agriculture. Proc Natl Acad Sci U S A 108(11):4313–4315

Osborne T, Rose G, Wheeler T (2013) Variation in the global-scale impacts of climate change on crop productivity due to climate model uncertainty and adaptation. Agric For Meteorol 170:183–194

Palosuo T et al (2011)  Simulation of winter wheat yield and its variability in different climates of Europe: a comparison of eight crop growth models. Eur J Agron 35(3):103–114

Raes D, Sithole A, Makarau A, Milford J (2004) Evaluation of first planting dates recommended by criteria currently used in Zimbabwe. Agric For Meteorol 125(3):177–185

Reilly JM, Schimmelpfennig D (1999) Agricultural impact assessment, vulnerability, and the scope for adaptation. Clim Chang 43:745–788

Rosenzweig C et al (2013) The agricultural model intercomparison and improvement project (AgMIP): protocols and pilot studies. Agric For Meteorol 170:166–182

Rosenzweig C et al (2014) Assessing agricultural risks of climate change in the 21st century in a global gridded crop model intercomparison. Proc Natl Acad Sci U S A 111(9):3268–3273

Rötter RP, Van Keulen H, Jansen M (1997) Variations in yield response to fertilizer application in the tropics: I. Quantifying risks and opportunities for smallholders based on crop growth simulation. Agric Syst 53(1):41–68

Rötter RP, Carter TR, Olesen JE, Porter JR (2011) Crop-climate models need an overhaul. Nat Clim Chang 1(4):175–177

Ruane AC et al (2013) Climate change impact uncertainties for maize in Panama: farm information, climate projections, and yield sensitivities. Agric For Meteorol 170:132–145

Schlenker W, Lobell DB (2010) Robust negative impacts of climate change on African agriculture. Environ Res Lett 5(1):014010

Spielman DJ (2008) Encouraging economic growth in Ethiopia: perspectives on agricultural input markets, agricultural extension and advisory services, and agricultural education and training. Briefing note. International Food Policy Research Institute, Washington

Tachie-Obeng E, Gyasi E, Adiku S, Abekoe M, Zierrogel G (2010) Farmers' adaptation measures in scenarios of climate change for maize production in semi-arid zones of Ghana, 2nd International Conference: climate sustainability and Development in Semi-arid Regions, pp 16–20

Tebaldi C, Knutti R (2007) The use of the multi-model ensemble in probabilistic climate projections. Philos Trans R Soc A Math Phys Eng Sci 365:2053–2075

Thornton PK, et al. (2006) Mapping climate vulnerability and poverty in Africa: report to the department for international development. 9291461830, ILRI, Nirobi, Kenya

Thornton PK, Jones PG, Alagarswamy G, Andresen J, Herrero M (2010) Adapting to climate change: agricultural system and household impacts in East Africa. Agric Syst 103(2):73–82

Tubiello FN, Ewert F (2002) Simulating the effects of elevated CO2 on crops: approaches and applications for climate change. Eur J Agron 18(1):57–74

Turner NC, Rao K (2013) Simulation analysis of factors affecting sorghum yield at selected sites in eastern and southern Africa, with emphasis on increasing temperatures. Agric Syst 121:53–62

UN (2013) World population prospects: The 2012 revision, key findings and advance tables. Working Paper No. ESA/P/WP.227 United Nations, Department of Economic and Social Affairs, Population Division

Van Halsema G, Keddi Lencha B, Assefa M, Hengsdijk H, Wesseler J (2011) Performance assessment of smallholder irrigation in the Central Rift Valley of Ethiopia. Irrig Drain 60(5):622–634

Van Vuuren DP et al (2011) The representative concentration pathways: an overview. Clim Chang 109(1–2):5–31

Waha K, van Bussel L, Müller C, Bondeau A (2012) Climate‐driven simulation of global crop sowing dates. Glob Ecol Biogeogr 21(2):247–259

Wheeler T, von Braun J (2013) Climate change impacts on global food security. Science 341(6145):508–513

White JW, Hoogenboom G, Kimball BA, Wall GW (2011) Methodologies for simulating impacts of climate change on crop production. Field Crop Res 124(3):357–368

Whitfield S (2013) Uncertainty, ignorance and ambiguity in crop modelling for African agricultural adaptation. Clim Chang 1–16

Wilby R et al (2004) Guidelines for use of climate scenarios developed from statistical downscaling methods. IPCC task group on data and scenario support for impacts and climate analysis
Acknowledgments
We are grateful to the Academy of Finland for funding this research through the AlterCLIMA project (decision no. 127405). We thank Marcel Lubbers, Mink Zijlstra and Joost Wolf (Plant Production Systems group of Wageningen University) for their help in model input data management. We acknowledge the World Climate Research Programme's Working Group on Coupled Modelling, which is responsible for CMIP, and we thank the climate modeling groups for producing and making available their model output.
Electronic supplementary material
Below is the link to the electronic supplementary material.
About this article
Cite this article
Kassie, B.T., Asseng, S., Rotter, R.P. et al. Exploring climate change impacts and adaptation options for maize production in the Central Rift Valley of Ethiopia using different climate change scenarios and crop models. Climatic Change 129, 145–158 (2015). https://doi.org/10.1007/s10584-014-1322-x
Received:

Accepted:

Published:

Issue Date:
Keywords
Climate Change Impact

Climate Change Scenario

Rift Valley

Maize Yield

Adaptation Option