Abstract
This paper presents the first interdecadal and interannual periodisation of the climate in West Africa between 1750 and 1800. The climatic synthesis is founded on previously unexploited British documents written at Cape Coast Castle, Cape Coast, Ghana and travel journals, which are combined with previous research on the Sahel. By combining historical evidence with the most recently identified rainfall patterns in the Sahel and the Guinea coast, the climatic periodisation distinguishes between wetter and drier periods. The results show that there was great interannual and interdecadal variability in the West African rainfall regime in the 18th century. The historical evidence suggests that the climate in the Sahel and the Guinea coastal interior alternated between five wet and dry periods, whereas the coastal dry zone alternated between three wet and dry periods. The most pronounced changes in the climate are found in the 1780s and 1790s. The Guinea coastal interior and the Sahel experienced a wet period in the 1780s and a dry period in the 1790s, whereas the coastal dry zone was drier in the 1780s and wetter in the 1790s. The investigation shows that the secondary rainy season on the Gold coast was weak or non-existent.
Access options
Buy single article
Instant access to the full article PDF.
US$ 39.95
Tax calculation will be finalised during checkout.
Subscribe to journal
Immediate online access to all issues from 2019. Subscription will auto renew annually.
US$ 119
Tax calculation will be finalised during checkout.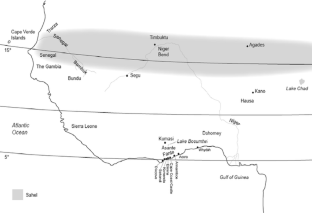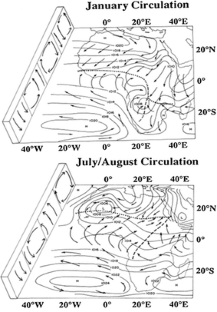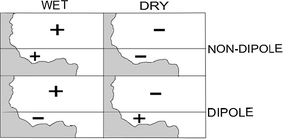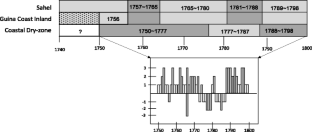 References
Acheampong PK (1982) Rainfall anomaly along the coast of Ghana—its nature and causes. Geo Ann 64:199–211

Ashton TS (ed) (1950) Letters of a West African trader. Edward Grace 1767–70. London

Bakun A (1978) Guinea current upwelling. Nature 271:147–150

Barry B (1998) Senegambia and the Atlantic Slave Trade. Cambridge University Press, Cambridge

Bell WT, Ogilvie AEJ (1978) Weather compilations as a source of data for the reconstruction of European climate during the Medieval Period. Clim Chang 1:331–348

Brázdil R et al (2005) Historical climatology in Europe—state of the art. Clim Chang 70:363–430

Brázdil R et al (2010) European climate of the past 500 years: new challenges for historical climatology. Clim Chang 101:7–40

Brooks GE (1986) A provisional historical schema for Western Africa based on seven climate periods. Cah d'Études Afr 26:43–62

Cissoko SM (1968) Famines et épidemes á Tombouctoo et dans la Boucle du Niger du XVIe au XVIIIe siéclé'. Bulletin de l'Institut fondamental d'Afrique Nonire 30:806–821

Collins K et al (1997) Malaria-related beliefs and behaviour in southern Ghana: implication for treatment, prevention and control. Trop Med Int Health 2:488–499

Curtin PD (1964) The image of Africa: British ideas and action, 1780–1850. Univ. Wisconsin Press, Madison

Curtin PD (1975) Economic change in precolonial Africa: Senegambia in the era of the slave trade. Univ. Wisconsin Press, Madison

Dalzel A (1793) The history of Dahomy. London

Devereux S (1993) Theories on famine. New York

Edkins J (2008) Whose hunger? Concepts of famine, practices of aid. Univ. of Minnesota, Minneapolis

Ingram MJ, Underhill DJ, Farmer G (1985) The use of documentary sources for the study of past climates. In: Wigley TML, Ingram MJ, Farmer G (eds) Climate and history. Studies in past climates and their impact on man. Cambridge Univ. Press, Cambridge, pp 180–213

Janicot S (1992) Spatiotemporal variability of West African rainfall. Part II: associated surface and airmass characteristics. J Clim 5:499–511

John A (1821) Sketches taken during ten voyages to Africa between the years 1786 and 1800. London

Kea R (1982) Settlements, trade and polities in the seventeenth-century gold coast. Johns Hopkins, Baltimore

Lovejoy PE (2000) Transformations in slavery. A history of slavery in Africa, 2nd edn. Cambridge University Press, Cambridge

Maley J (1976) Les variations du lac Tchad depuis un millenaire: consequences paléoclimatiques. Palaeoecol Afr 9:44–47

Maley J (1981) Etudes palynologiques dans le Bassin du Tchad et paleoclimatology de l'Afrique nord tropicale de 30 000 ans á l'époque actuelle' Travaux et docements de l'ORSTOM

McCann JC (1999) Causation and climate in African history. Int J Afr Hist Stud 32:261–279

Nash DJ, Adamson GCD (2014) Recent advances in the historical climatology of the tropics and subtropics. BAMS 95:131–146

Nguyean H, Thorncroft CD, Zhang C (2011) Guinean coastal rainfall of the West African monsoon. Q J R Meteorol Soc 37:1828–1840

Nicholson SE (1976) A climatic chronology for Africa: synthesis of geological, historical, and meteorological information and data. Dissertation, University of Wisconsin

Nicholson SE (2008) The intensity, location and structure of the tropical rainbelt over West Africa as factors in interannual variability. Int J Climatol 28:1775–1785

Nicholson SE (2009) A revised picture of the structure of the "monsoon" and land ITCZ over West Africa. Clim Dyn 32:1153–1171

Nicholson SE (2011) Dryland climatology. Cambridge Univ. Press, Cambridge

Nicholson SE, Grist JP (2001) A conceptual model for understanding rainfall variability in the West African Sahel on interannual and interdecadal timescales. Int J Climatol 21:1733–1754

Nicholson SE, Klotter D, Dezfuli AK (2012a) Spatial reconstruction of semi-quantitative precipitation fields over Africa during the nineteenth century from documentary evidence and gauge data. Quat Res 78:13–23

Nicholson SE, Dezfuli AK, Klotter D (2012b) A two-century precipitation dataset for the continent of Africa. BAMS 93:1219–1231

Nicholson SE et al (2013) Temperature variability over Africa during the last 2000 years. The Holocene 23:1085–1094

Nicolini G et al (2010) Wood-growth zones in Acacia Seyal Delile in the Keita Valley, Niger: is there any climatic signal? J Arid Environ 74:355–359

Nihcolson SE (1979) The methodology of historical climate reconstructions and its application to Africa. J Afr Hist 20:31–49

Nørregård G (1966) Danish settlements in West Africa 1658–1850. Boston University Press, Boston

Norrgård S (2013) A new climatic periodisation of the gold and Guinea Coasts in West Africa, 1750–1798. Dissertation, Åbo Akademi University

Norris R (1789) Memoirs of the reign of Bossa Ahádee, King of Dahomy, an inland country of Guiney. London

Ogilvie AEJ (2010) Historical climatology, Climatic Change, and implications for climate science in the twenty first century. Clim Chang 100:33–47

Owosu K, Waylen P (2009) Trends in spatio-temporal variability in annual rainfall in Ghana (1951–2000). Weather 64:115–120

Park M (1799) Travels in the interior Districts of Africa, 3rd edn. London

Rømer, LF (1760) A reliable account of the coast of Guinea, ed. by Selena Axelrod Winsnes in 2000 and published by Oxford University Press

Schöngart J et al (2006) Climate-growth relationships of tropical tree species in West Africa and their potential for climate reconstruction. Global Change Biol 12:1139–1150

Shanahan TM et al (2009) Atlantic forcing of persistent drought in West Africa. Science 324:377–380

Talbot M, Delibrias G (1977) Holocene variations in the level of lake Bosumtwi, Ghana. Nature 268:722–724

TAST, The Trans-Atlantic Slave Trade Database (www.slavevoyages.org)

The National Archives at Kew, London. Catalogue T70, sub catalogues 29–33, and 1468

Vansina J (1985) Oral tradition as history. University of Wisconsin Press, Madison

Vershuren D (2004) Decadal and century-scale climate variability in tropical Africa during the past 2000 years. In: Battarbee RW, Gasse F, Stickley C (eds) Past climate variability through Europe and Africa. Springer, Dodrecht, pp 139–153

Wagner RG, Da Silva A (1994) Surface conditions associated with anomolous rainfall in the Guinea Coastal Region. Int J Climatol 14:179–199

Webb JLA Jr. (1995) Desert frontier. Ecological and economic change along the Western Sahel. Madison

Weiss H (2008) Västafrikanska krönikor som källor för historisk ekologisk-klimatologisk forskning om 1700-talets samhällskris. Möjligheter och begränsningar. Historisk Tidskrift Finland 93:46–50

Winterbottom T (1803) An account of the native Africans in the neighbourhood up Sierra Leone London
Acknowledgments
This research was conducted as part of the project "Entangled Spaces - Global Connections and Local Articulations: Portals of Early Modern Globalization and Creolization during the Era of the Trans-Atlantic Slave Trade" funded by the Finnish Academy. The author also acknowledges Svenska Litteratursällskapet for funding this research.
About this article
Cite this article
Norrgård, S. Practising historical climatology in West Africa: a climatic periodisation 1750–1800. Climatic Change 129, 131–143 (2015). https://doi.org/10.1007/s10584-014-1307-9
Received:

Accepted:

Published:

Issue Date:
Keywords
Rainy Season

Heavy Rain

Rainfall Variability

Wetness Index

Slave Trade