Abstract
We simulate the vulnerability of all 35 Florida coastal counties to the ongoing Anthropocene marine transgression using a bathtub model unconstrained by the artificial end date of year 2100. Our projections are based upon the association between rising sea level and atmospheric temperature; a 2.3 m rise per each 1 °C increase (Levermann et al., Proc Natl Acad Sci 10.1073/pnas.1219414110, 2013). Results are organized into seven regions based upon an assessment of hypsographic and geologic attributes. Each represents an area of common vulnerability characterized in this study as high (10 to 29 % average land loss), higher (15 to 77 % average land loss), and highest (43 to 95 % average land loss). This regional approach is designed to facilitate the implementation of effective adaptation activities by providing a logical basis for establishing or re-enforcing collaboration based upon a common threat and the utility of shared technical and financial resources. The benefits of a regional perspective in formulating an actionable response to climate change have already been demonstrated in south Florida. It is our intent to facilitate regional adaptation activities in other parts of the state and adjacent southern and southeastern seaboard.
Access options
Buy single article
Instant access to the full article PDF.
USD 39.95
Price includes VAT (USA)
Tax calculation will be finalised during checkout.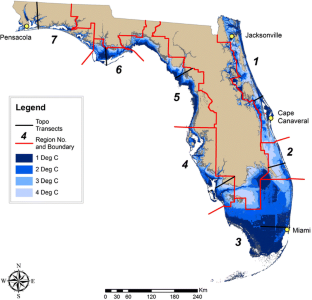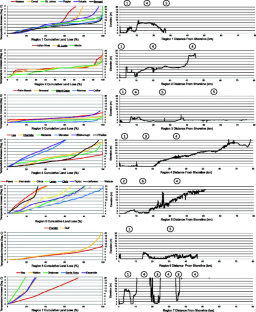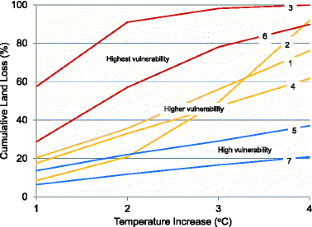 References
Archer D (2005) Fate of fossil fuel CO2 in geological time. J Geophys Res. doi:10.1029/2004JC002625

Arkema KK, Guannel G, Verutes G et al. (2013) Coastal habitats shield people and property from sea-level rise and storms. Nat Clim Chang. doi:10.1038/nclimate1944

Armour K, Roe G (2011) Climate commitment in an uncertain world. Geophys Res Lett. doi:10.1029/2010GL045850

Beever III J, Gray W, Trescott D, et al. (2009a) Comprehensive southwest Florida/ Charlotte harbor climate change vulnerability assessment. Southwest Florida Regional Planning Council and Charlotte Harbor National Estuary Program. http://www.swfrpc.org/content/Natural_Resources/Ecosystem_Services/Vulnerability_Assessment_Final.pdf. Accessed 20 February 2014

Beever III J, Gray W, Trescott D et al. (2009b) City of Punta Gorda adaption plan: Southwest Florida Regional Planning Council and Charlotte Harbor National Estuary Program Technical Report 09–04. http://www.cakex.org/sites/default/files/Punta%20Gorda.pdf. Accessed 20 February 2014

Beever III J, Gray W, Trescott D et al. (2010a) Lee County climate change vulnerability assessment. Southwest Florida Regional Council. http://www.swfrpc.org/content/Natural_Resources/Ecosystem_Services/Lee_County_Climate_Change_Vulnerability_Assessment.pdf. Accessed 20 February 2014

Beever III J, Gray W, Utley J et al. (2010b) Lee County climate change resiliency strategy. Southwest Florida Regional Planning Council. http://swfrpc.org/content/Natural_Resources/Ecosystem_Services/Lee_County_Climate_Change_Resiliency_Strategy.pdf. Accessed 20 February 2014

Beever III J, Gray W, Beever L, Cobb D, and Walker T (2012) Climate change vulnerability assessment and adaption opportunities for salt marsh types in southwest Florida. Charlotte Harbor National Estuary Program. http://swfrpc.org/content/Natural_Resources/Climate_Change/Salt%20Marsh%20Study%202012%20FINAL%20reduced.pdf. Accessed 20 February 2014

Borisova T, Breuer N, and Carriker R (2008) Economic impacts of climate change on Florida: estimates from two studies. University of Florida IFAS Extension Service. http://edis.ifas.ufl.edu/fe787. Accessed 20 February 2014

Deyle R, Bailey K, and Matheny A (2007) Adaptive response planning to sea level rise in Florida and implications for comprehensive and public facilities planning. Department of Urban and Regional Planning, Florida State University. http://coss.fsu.edu/d6/durp/sites/coss.fsu.edu.durp/files/WPS_08_02_Deyle.pdf. Accessed 20 February 2014

Donoghue J (2011) Sea level history of the northern Gulf of Mexico coast and sea level rise scenarios for the near future. Clim Chang 107:17–33

Dow K, Carter L (2013) Climate adaptions in the southeast USA (Chapter 13). In: Ingram K, Dow K, Carter L, and Anderson J (eds) Climate of the southeast United States. Island Press, Washington DC, pp 295–320 http://www.sercc.com/ClimateoftheSoutheastUnitedStates.pdf. Accessed 20 February 2014

Erwin K (2009) Wetlands and global climate change: the role of wetland restoration in a changing world. Wetl Ecol Manag 17:71–84

Goelzer H, Huybrechts P, Raper S et al (2012) Millennial total sea-level commitments projected with the Earth system model of intermediate complexity LOVECLIM. Environ Res Lett. doi:10.1088/1748 9326/7/4/045401

Hallegatte S, Green C, Nicholls R, Corfee-Morlot J (2013) Future flood losses in major coastal cities. Nat Clim Chang 3:802–806

Hansen J, Kharecha P, Sato M et al (2013) Assessing "dangerous climate change": required reduction of carbon emissions to protect young people, future generations and nature. PLoS One. doi:10.1371/journal.pone.0081648

Harrington J, Walton T (2007) Climate change in coastal areas in Florida: sea level rise estimation and economic analysis to year 2080. Florida State University. http://www.cefa.fsu.edu/content/download/47234/327898. Accessed 20 February 2014

Horton B, Rahmstorf S, Engelhart S, Kemp A (2013) Expert assessment of sea-level rise by AD 2100 and AD 2300. Quat Sci Rev. doi:10.1016/j.quascirev.2013.11.002

Ingram K, Carter L, Dow K (2013) Climate change in the southeast USA: executive summary (Chapter 1). In: Ingram K, Dow K, Carter L, and Anderson J (eds) Climate of the southeast United States. Island Press, Washington DC, pg 1–7. http://www.sercc.com/ClimateoftheSoutheastUnitedStates.pdf. Accessed February 20, 2014Accessed 20 February 2014

IPCC (2013) Summary for policymakers. In Stocker T, Qin D et al. (eds) Climate change 2013: the physical science basis. Contribution of Working Group I to the Fifth Assessment Report of the Intergovernmental Panel on Climate Change. Cambridge University Press, Cambridge, United Kingdom and New York, NY, USA. https://www.ipcc.ch/report/ar5/wg1/. Accessed 20 February 2014

Jevrejeva S, Moore J, Grinsted A (2012) Sea level projections to AD2500 with a new generation of climate change scenarios. Glob Planet Chang 80–81:14–20

Kopp R, Simons F, Mitrovica J et al (2009) Probabilistic assessment of sea level during the last interglacial stage. Nature. doi:10.1038/nature08686

Kousky K (2014) Managing shoreline retreat: a US perspective. Clim Chang. doi:10.1007/s10584-1106-3

Levermann A, Clark P, Marzeion B et al (2013) The multi-millennial sea-level commitment of global warming. Proc Natl Acad Sci. doi:10.1073/pnas.1219414110

Monroe County (2013) Monroe County Climate Action Plan. Prepared by the Monroe County Climate Change Advisory Committee. http://www.monroecounty-fl.gov/DocumentCenter/View/6596. Accessed 20 February 2014

Moss R, Meehl G, Lemos et al (2013) Hell and high water: practice-relevant adaption science. Science 342:696–698

Murley J, Alpert L, Matthews M et al. (2003) Economics of Florida's beaches: the impact of beach restoration. Florida Atlantic University http://www.dep.state.fl.us/beaches/publications/pdf/phase1.pdf. Accessed 20 February 2014

Nicholls R, Marinova N, Lowe J et al (2011) Sea level rise and its possible impacts given a 'beyond 4 °C world' in the twenty-first century. Phil Trans R Soc Am 369:161–181

NOAA (2010) Mapping inundation uncertainty. NOAA Coastal Services Center. http://www.csc.noaa.gov/digitalcoast/_/pdf/ElevationMappingConfidence.pdf. Accessed 21 August 2014

Parkinson R (1989) Decelerating Holocene sea-level rise and its influence on southwest Florida coastal evolution: a transgressive/regressive stratigraphy. J Sediment Petrol 59(6):960–972

Parkinson R (2009) Adapting to Rising Sea Level: A Florida Perspective. In Nelson G and Hronszky J (eds). Sustainability 2009: The Next Horizon. http://research.fit.edu/sealevelriselibrary/documents/doc_mgr/449/Florida_SLR_Adaptation_-_Parkinson_2009.pdf. Accessed 20 February 2014

Parkinson R, Donoghue, J (2010) Bursting the bubble of doom and adapting to sea-level rise. Florida Shore and Beach Preservation Association. http://www.gly.fsu.edu/~donoghue/pdf/parkinson-donoghue-SLR-2010.pdf . Accessed 20 February 2014

Parkinson R, McCue T (2011) Assessing municipal vulnerability to predicted sea level rise: City of Satellite Beach, Florida. Clim Chang 107:203–223

Parkinson R, White J (1994) Late Holocene erosional shoreface retreat within a silicilastic-to-carbonate transition zone, east central Florida, USA. J Sediment Res 64(3b):408–415

Parkinson R, DeLaune R, White J (1994) Holocene sea level rise and the fate of mangrove forests within the wider Caribbean region. J Coastal Res 10(4):1077–1086

Parris A, Bromirski P, Burkett V et al. (2012) Global sea level rise scenarios for the U.S. national climate assessment. NOAA Tech Memo OAR CPO-1. http://cpo.noaa.gov/sites/cpo/…/NOAA_SLR_r3.pdf. Accessed 20 February 2014

Rahmstorf S (2007) A semi-empirical approach to projecting future sea level rise. Science 315:368–370

Rohling E, Haigh I et al (2013) A geological perspective on potential future sea-level rise. Sci Rep. doi:10.1038/srep03461

Sanford T, Frumhoff P, Luers A, Gulledge J (2014) The climate policy narrative for a dangerously warming world. Nat Clim Chang 4:164–166

Schaeffer M, Hare W et al (2012) Long-term sea-level rise implied by 1.5 °C and 2 °C warming levels. Nat Clim Chang 2:867–870

Scott T, Campbell K et al. (2001) Geologic map of the state of Florida. Florida Geological Survey. http://sofia.usgs.gov/publications/maps/florida_geology. Accessed 21 February 2014

Sherwood S, Bony S, Dufresne J-L (2014) Spread in model climate sensitivity traced to atmospheric convective mixing. Nature 505:37–42

Solomon S, Plattner G-K, Knutti R, Friedlingstein P (2009) Irreversible climate change due to carbon dioxide emissions. PNAS 106:1704–1709

Southeast Florida Regional Climate Change Compact (2012) Regional Climate Action Plan. http://southeastfloridaclimatecompact.org/pdf/Regional%20Climate%20Action%20Plan%20FINAL%20ADA%20Compliant.pdf. Accessed 21 February 2014

Stanton E, Ackerman F (2007) Florida and climate change: the costs of inaction. Tufts University. http://www.broward.org/NaturalResources/ClimateChange/Documents/Florida_lr.pdf. Accessed 21 February 2014

Sweet W, Park J, Marra J, Zervas C, Gill, S. (2014) Sea level rise and nuisance flood frequency changes around the United States. http://tidesandcurrents.noaa.gov/publications/NOAA_Technical_Report_NOS_COOPS_073.pdf. Accessed 29 August 2014

Syvitski J (2012) Anthropocene: an epoch of our making. Glob Chang 78:12–15

Titus J, Hudgens D, Trescott D et al (2009) State and local governments plan for development of most land vulnerable to rising sea level along the US Atlantic coast. Environ Res Lett. doi:10.1088/1748-9326/4/4/044008

Treasure Coast Regional Planning Council (2005) Sea level rise in the Treasure Coast region. http://www.tcrpc.org/special_projects/TCRPC%20SLR%20Report%2012-05-05.pdf. Accessed 21 February 2014

UNEP (2013) The Emissions Gap Report 2013. United Nations Environmental Programme, Nairbi. http://www.unep.org/emissionsgapreport2013. Accessed 21 February 2014

Vargas J, Flaxman C, and Fradkin B (2014) Landscape conservation and climate change scenarios for the state of Florida: a decision support system for strategic conservation. Summary for decision makers. GeoAdaptive LLC, Boston, MA and Geodesign Technologies Inc., San Franciso CA

Veiga C (2014) Miami Beach to spend up to $400 million to deal with flooding issues. Miami Herald. http://www.miamiherald.com/2014/02/12/3931159/miami-beach-to-spend-up-to-400.html. Accessed February 12, 2014

Vermeer M, Rahmstorf S (2009) Global seal level linked to global temperature. PNAS 106:21527–21532

Wanless H, Parkinson R, Tedesco L (1994) Sea level control on stability of Everglades wetlands. In: Davis S, Ogden J (eds) Everglades: the ecosystem and its restoration. St. Lucie Press, Delray Beach, pp 199–224

Weiss J, Overpeck J, Strauss B (2011) Implications of recent sea level rise science for low-elevation areas in coastal cities of the conterminous U.S.A. Clim Chang 105:635–645

Williams S, Gutierrez B (2009) Sea level rise and coastal change: causes and implications for the future of coasts and low-lying regions. Shore Beach 77:13–21

Zhang K, Dittmar J, Ross M, Bergh C (2011) Assessment of sea level rise impacts on human population and real property in the Florida Keys. Clim Chang 107:129–146
About this article
Cite this article
Parkinson, R.W., Harlem, P.W. & Meeder, J.F. Managing the Anthropocene marine transgression to the year 2100 and beyond in the State of Florida U.S.A.. Climatic Change 128, 85–98 (2015). https://doi.org/10.1007/s10584-014-1301-2
Received:

Accepted:

Published:

Issue Date:
Keywords
Coastal Wetland

Barrier Island

Topographic Profile

Charlotte Harbor

Coastal County