Abstract
A large portion of the Occidental Region of Paraguay consists of a semi-arid territory with vegetation adapted to the features of this region. For just over a decade, a process of intense deforestation has resulted from the expansion of mechanized farming, carried out without any form of land management or planning; this has led to the fragmentation of the forests in this region. This study has taken satellite imagery from 1975, 1990, 2000 and 2007 with the purpose of determining the average size of the fragments and the rate of forest discontinuity; the results of this multi-temporal imagery analysis show that (a) in some areas of the Central Chaco, the forest matrix was transformed principally into cropped areas; (b) the majority of the fragments are isolated from one other; and (c) the areas mostly covered by forests are in the north-northeastern and northwestern areas and this is mainly as a result of a greater concentration of protected areas. In conclusion, the vulnerability of the vegetation formations increases with the fragmentation process, to which we should add an increased frequency of fires, a reduced resilience and homeostasis of the vegetation formations; thus these are highly exposed to climate change factors. It is imperative that the forest landscapes be restored, through the implementation biological corridors, to ensure the continuity of the remaining forests.
Access options
Buy single article
Instant access to the full article PDF.
US$ 39.95
Tax calculation will be finalised during checkout.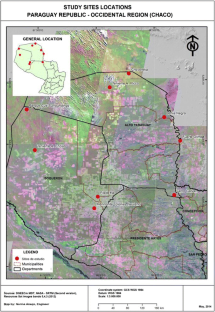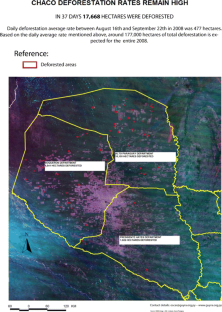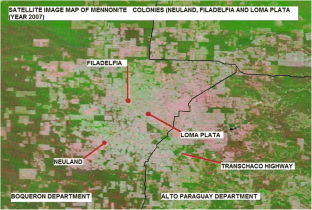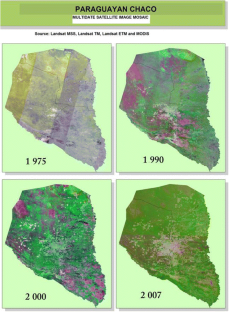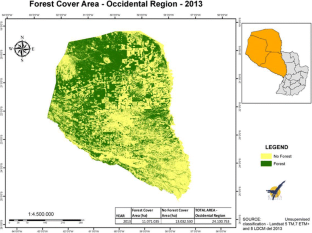 References
Bustamante R, Grez A (1995) Consecuencias ecológicas de la fragmentación de los bosques nativos. Ambiente y Desarrollo XI 2:58–63

GLCF (2006). The Global Land Cover Facility: Forest Cover Change in Paraguay. Version 1.0, University of Maryland Institute for Advanced Computer Studies, College Park, Maryland, 1990–2000

López TM, Aide TM, Thomlinson JR (2001) Urban expantion and the loss of prime agricultural lands in Puerto Rico. Ambio 30:49–54

Matlack GR (1993) Sociological edget effects: spacial distributios of human impact in suburban forest fragments. Environ Manag 17:829–835

Mereles F, Degen R (1997a) Leñosas colonizadoras e indicadoras de sitios modificados en el Chaco boreal, Paraguay. Rojasiana 4(1):25–83

Mereles R, Degen P (1997b) Calotropis procera (Ait.) Ait., (Asclepiadaceae), cita nueva para el Paraguay. Rojasiana 4((1):86–89

Mereles, F. (1998). Etude de la flore et de la végètation de la mosaïque fôret-savanne palmerai dans le Chaco boreal, Paraguay. Thèse. Faculté des Sciences, Université de Gèneve, Suisse. Director: Prof. Dr. Rodolphe Spichiger, Conservatoire et Jardin botaniques, Ville de Genève, Suisse

Mereles, F. (2004). Principales tipos de vegetación. IN: Salas, D., Mereles, F. & A. Yanosky (eds.), Humedales del Paraguay. Convención RAMSAR, Fundación Moisés Bertoni para la Conservación de la Naturaleza, Comité Nacional de Humedales del Paraguay, Proyecto WWF/01/PAR 2, y Servicio de Pesca y Vida Silvestre de los Estados Unidos de América, 67–88

Mereles F (2005) Una aproximación al conocimiento de las formaciones vegetales del Chaco boreal, Paraguay. Rojasiana 6(2):5–48

Morello, J. & J. Adámoli (1974). La vegetación de la República Argentina: las grandes unidades de vegetación y ambientes del Chaco argentino II: vegetación y ambiente en la Provincia del Chaco. Instituto Nacional de Tecnología Agropecuaria, INTA, ser. fitogeográfica 13: 40–45

Barboza F, Hoffman R, Medina Netto A (1998) Proyecto Sistema Ambiental del Chaco. Inventario, Evaluación y Recomendaciones para la Protección de los Espacios Naturales en la Región Occidental del Paraguay. Tomo III : Documentación Suelos. Dirección de Ordenamiento Ambiental, (DOA), Sub-Secretaría de Recursos Naturales y Medio Ambiente, SSERNMA, Ministerio de Agricultura y Ganadería, (MAG), Paraguay e Instituto de Geociencias y Recursos Naturales, (BGR), Hannover, Alemania.

Schinini A (2008) Nueva cita para la Flora del Paraguay. Rojasiana 8(1):73–76

Spichiger R, Ramella L, Palese R, Mereles F (1991) Proposición de leyenda para la cartografía de las formaciones vegetales del Chaco paraguayo. Contribución al estudio de la flora y la vegetación del Chaco III Candollea 46(2):541–564

Thomlinson JR, Serrano MI, López TM, Aide TM, Zimmerman JK (1996) Land-use dynamics in a post agricultural Puerto Rican landscape (1936–1988). Biotropica 28:525–536

Sader SA, Joyce AT (1988) Deforestation rates and trends in Costa Rica 1940 to 1983. Biotropica 20:11–19
Acknowledgments
We thank Juana De Egea, for translating the original Spanish version of the article into English.
Additional information
This article is part of a Special Issue on "Climate change and adaptation in tropical basins" edited by Pierre Girard, Craig Hutton, and Jean-Phillipe Boulanger.
About this article
Cite this article
Mereles, M.F., Rodas, O. Assessment of rates of deforestation classes in the Paraguayan Chaco (Great South American Chaco) with comments on the vulnerability of forests fragments to climate change. Climatic Change 127, 55–71 (2014). https://doi.org/10.1007/s10584-014-1256-3
Received:

Accepted:

Published:

Issue Date:
Keywords
Forest Fragment

Eichhornia Crassipes

Invasive Alien Species

Border Effect

Habitat Reduction