Abstract
People's perceptions of changes in local weather patterns are an important precursor to proactive adaptation to climate change. In this paper, we consider public perceptions of changes in average rainfall in India, analyzing the relationship between perceptions and the instrumental record. Using data from a national sample survey, we find that local instrumental records of precipitation are a strong predictor of perceived declines in rainfall. Perceptions of decreasing rainfall were also associated with perceptions of changes in extreme weather events, such as decreasing frequency of floods and severe storms, increasing frequency of droughts, and decreasing predictability of the monsoon. Higher social vulnerability—including low perceived adaptive capacity and greater food and livelihood dependence on local weather—was also associated with perceptions of decreasing rainfall. While both urban and rural respondents were likely to perceive local changes in precipitation, we show that rural respondents in general were more sensitive to actual changes in precipitation. Individual perceptions of changes in local climate may play an important role in shaping vulnerability to global climate change, adaptive behavior, and support for adaptation and mitigation policies. Awareness of local climate change is therefore particularly important in regions where much of the population is highly exposed and sensitive to the impacts of climate change.
Access options
Buy single article
Instant access to the full article PDF.
US$ 39.95
Tax calculation will be finalised during checkout.
Subscribe to journal
Immediate online access to all issues from 2019. Subscription will auto renew annually.
US$ 119
Tax calculation will be finalised during checkout.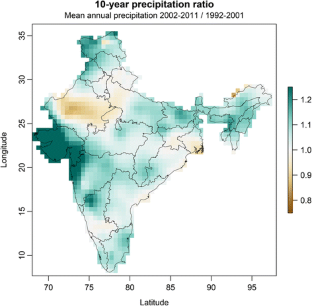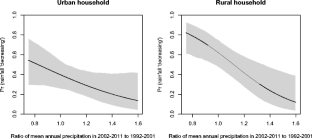 References
Adger WN, Agrawala S, Mirza MMQ et al (2007) Assessment of adaptation practices, options, constraints and capacity. In: Parry ML, Canziani OF, Palutikof JP (eds) Climate change 2007: impacts, adaptation and vulnerability. Contributions of working group II to the fourth assessment report of the intergovernmental panel on climate change. Cambridge University Press, Cambridge, pp 717–743

Ashrit R, Kumar KR, Kumar KK (2001) ENSO-monsoon relationships in a greenhouse warming scenario. Geophys Res Lett 28:1727–1730

Auffhammer M, Ramanathan V, Vincent JR (2012) Climate change, the monsoon, and rice yield in India. Clim Chang 111:411–424. doi:10.1007/s10584-011-0208-4

Bryan E, Deressa TT, Gbetibouo GA, Ringler C (2009) Adaptation to climate change in Ethiopia and South Africa: options and constraints. Environ Sci Pol 12:413–426. doi:10.1016/j.envsci.2008.11.002

Bureau of Labour Statistics (2010) Report on employment & unemployment survey (2009–10). Government of India

Census of India (2013) CensusInfo India 2011. New Delhi

Chaturvedi RK, Joshi J, Jayaraman M et al (2012) Multi-model climate change projections for India under representative concentration pathways. Curr Sci 103:791–802

Chen M, Xie P, Janowiak JE, Arkin PA (2002) Global land precipitation: a 50-year monthly analysis based on gauge observations. J Hydrometeorol 3:249–266

CRED (2013) EM-DAT India country profile - natural disasters. Center for Research on the Epidemiology of Disasters, Brussels

Cruz RV, Harasawa H, Lal M, et al. (2007) Asia. In Parry ML, Canziani OF, Palutikof JP, et al. (eds) Climate change 2007: impacts, adaptation and vulnerability. Contributions of working group II to the fourth assessment report of the intergovernmental panel on climate change. Cambridge University Press, Cambridge, UK, pp 469–506

Danielsen F, Sørensen M, Olwig M et al (2005) The Asian tsunami: a protective role for coastal vegetation. Science 310:643–643. doi:10.1126/science.1118387

Deressa TT, Hassan RM, Ringler C et al (2009) Determinants of farmers' choice of adaptation methods to climate change in the Nile Basin of Ethiopia. Glob Environ Chang 19:248–255. doi:10.1016/j.gloenvcha.2009.01.002

Gearheard S, Pocernich M, Stewart R et al (2010) Linking Inuit knowledge and meteorological station observations to understand changing wind patterns at Clyde River, Nunavut. Clim Chang 100:267–294. doi:10.1007/s10584-009-9587-1

Gelman A, Hill J (2007) Data analysis using regression and multilevel/hierarchical models. Cambridge University Press

Grothmann T, Patt A (2005) Adaptive capacity and human cognition: the process of individual adaptation to climate change. Glob Environ Chang Part A 15:199–213

Handmer J, Honda Y, Kundzewicz ZW, et al. (2012) Changes in impacts of climate extremes: human systems and ecosystems. Managing the risks of extreme events and disasters to advance climate change adaptation

Hartter J, Stampone MD, Ryan SJ et al (2012) Patterns and perceptions of climate change in a biodiversity conservation hotspot. PLoS One 7:e32408. doi:10.1371/journal.pone.0032408

Howe PD, Leiserowitz A (2013) Who remembers a hot summer or a cold winter? The asymmetric effect of beliefs about global warming on perceptions of local climate conditions in the U.S. Glob Environ Chang 23:1488–1500. doi:10.1016/j.gloenvcha.2013.09.014

Howe PD, Markowitz EM, Lee TM et al (2013) Global perceptions of local temperature change. Nat Clim Chang 3:352–356. doi:10.1038/nclimate1768

Hulme M, Dessai S, Lorenzoni I, Nelson DR (2009) Unstable climates: exploring the statistical and social constructions of "normal" climate. Geoforum 40:197–206. doi:10.1016/j.geoforum.2008.09.010

Huntington H, Callaghan T, Fox S, Krupnik I (2004) Matching traditional and scientific observations to detect environmental change: a discussion on arctic terrestrial ecosystems. Ambio 18–23. doi: 10.2307/25094583

INCCA (2010) Climate change and India: a 4X4 assessment - a sectorial and regional analysis for 2030s. Network for Climate Change Assessment, Indian Network for Climate Change Assessment

Kelsall JE, Diggle PJ (1995) Non–parametric estimation of spatial variation in relative risk. Stat Med 14:2335–2342. doi:10.1002/sim.4780142106

Knox J, Hess T, Daccache A, Wheeler T (2012) Climate change impacts on crop productivity in Africa and South Asia. Environ Res Lett 7:034032. doi:10.1088/1748-9326/7/3/034032

Leiserowitz A, Thaker J (2012) Climate change in the Indian mind. Yale University, Yale Project on Climate Change Communication, New Haven, CT

Marin A (2010) Riders under storms: contributions of nomadic herders' observations to analysing climate change in Mongolia. Glob Environ Chang 20:162–176. doi:10.1016/j.gloenvcha.2009.10.004

Marx SM, Weber EU, Orlove BS et al (2007) Communication and mental processes: experiential and analytic processing of uncertain climate information. Glob Environ Chang 17:47–58. doi:10.1016/j.gloenvcha.2006.10.004

Nelson GC, Rosegrant MW, Koo J, et al. (2009) Climate change: impact on agriculture and costs of adaptation. Int Food Policy Res Inst

NOAA ESRL (2012) NOAA's PRECipitation REConstruction over Land (PREC/L). In NOAA Earth System Research Laboratory. http://www.esrl.noaa.gov/psd/data/gridded/data.precl.html. Accessed 13 Nov 2012

O'Brien K, Leichenko R, Kelkar U et al (2004) Mapping vulnerability to multiple stressors: climate change and globalization in India. Glob Environ Chang Part A 14:303–313

Osbahr H, Dorward P, Stern R, Cooper S (2011) Supporting agricultural innovation in Uganda to respond to climate risk: linking climate change and variability with farmer perceptions. Exp Agric 47:293–316. doi:10.1017/S0014479710000785

Paroda RS, Kumar P (2000) Food, production and demand in South Asia. Agric Econ Res Rev 13:1–24

Rao KPC, Ndegwa WG, Kizito K, Oyoo A (2011) Climate variability and change: farmer perceptions and understanding of intra-seasonal variability in rainfall and associated risk in semi-arid Kenya. Exp Agric 47:267–291. doi:10.1017/S0014479710000918

Rebetez M (1996) Public expectation as an element of human perception of climate change. Clim Chang 32:495–509. doi:10.1007/BF00140358

Reckien D (2014) Weather extremes and street life in India—implications of fuzzy cognitive mapping as a new tool for semi-quantitative impact assessment and ranking of adaptation measures. Glob Environ Chang 26:1–13. doi:10.1016/j.gloenvcha.2014.03.005

Reckien D, Wildenberg M, Bachhofer M (2013) Subjective realities of climate change: how mental maps of impacts deliver socially sensible adaptation options. Sustain Sci 8:159–172. doi:10.1007/s11625-012-0179-z

Revadekar JV, Preethi B (2012) Statistical analysis of the relationship between summer monsoon precipitation extremes and foodgrain yield over India. Int J Climatol 32:419–429. doi:10.1002/joc.2282

Roncoli C, Ingram K, Kirshen P (2002) Reading the rains: local knowledge and rainfall forecasting in Burkina Faso. Soc Nat Resour 15:409–427. doi:10.1080/08941920252866774

Ruddell D, Harlan SL, Grossman-Clarke S, Chowell G (2012) Scales of perception: public awareness of regional and neighborhood climates. Clim Chang 111:581–607. doi:10.1007/s10584-011-0165-y

Sánchez-Cortés MS, Chavero EL (2011) Indigenous perception of changes in climate variability and its relationship with agriculture in a Zoque community of Chiapas, Mexico. Clim Chang 107:363–389. doi:10.1007/s10584-010-9972-9

Simelton E, Quinn CH, Batisani N et al (2013) Is rainfall really changing? Farmers' perceptions, meteorological data, and policy implications. Clim Dev 5:123–138. doi:10.1080/17565529.2012.751893

Slegers MFW (2008) "If only it would rain": farmers' perceptions of rainfall and drought in semi-arid central Tanzania. J Arid Environ 72:2106–2123. doi:10.1016/j.jaridenv.2008.06.011

Smit B, Blain R, Keddie P (1997) Corn hybrid selection and climatic variability: gambling with nature? Can Geogr Le Géogr Can 41:429–438. doi:10.1111/j.1541-0064.1997.tb01325.x

Taylor JG, Stewart TR, Downton M (1988) Perceptions of drought in the Ogallala Aquifer region. Environ Behav 20:150–175. doi:10.1177/0013916588202002

Tschakert P (2007) Views from the vulnerable: understanding climatic and other stressors in the Sahel. Glob Environ Chang 17:381–396. doi:10.1016/j.gloenvcha.2006.11.008

Vedwan N, Rhoades RE (2001) Climate change in the Western Himalayas of India: a study of local perception and response. Clim Res 19:109–117. doi:10.3354/cr019109

Waller LA (2009) Detection of clustering in spatial data. In: Fotheringham AS, Rogerson P (eds) The SAGE handbook of spatial analysis. Sage Publications, Los Angeles, pp 300–320

Weber EU (1997) Perception and expectation of climate change: precondition for economic and technological adaptation. Environment, ethics, and behavior: the psychology of environmental valuation and degradation

Weber EU (2010) What shapes perceptions of climate change? Wiley Interdiscip Rev Clim Chang 1:332–342
Acknowledgments
Funding for survey data collection was provided by the Shakti Sustainable Energy Foundation and the Rice Family Foundation.
Electronic supplementary material
Below is the link to the electronic supplementary material.
About this article
Cite this article
Howe, P.D., Thaker, J. & Leiserowitz, A. Public perceptions of rainfall change in India. Climatic Change 127, 211–225 (2014). https://doi.org/10.1007/s10584-014-1245-6
Received:

Accepted:

Published:

Issue Date:
Keywords
Adaptive Capacity

Local Climate

Extreme Weather Event

Instrumental Record

Rainfall Change