Abstract
Based on the reconstructed temperatures, precipitation changes, and occurrences of extreme climate events, together with historical records on fiscal deterioration, food crises, and the frequencies of popular unrest, rebellions and wars, we identified three principal ways in which climate change contributed to the collapse in the Ming dynasty. Firstly, cooling, aridification, and desertification during a cold period destroyed the military farm system, which was the main supply system for the provisioning of government troops on the northern frontiers; these impacts increased the military expenditure from 64 % of total government expenditure in 1548–1569 to 76 % in 1570–1589 and thus aggravated the national fiscal crisis that occurred during the late Ming dynasty. Secondly, climate deterioration (e.g., cooling, aridification, and an increase in the frequencies of frost- and drought-related disasters, etc.) led to a 20–50 % reduction in the per capita production of raw grain in most areas of China, which resulted in widespread food crises and exacerbated the vulnerability of social structures during the last several decades of the Ming dynasty. Thirdly, the severe droughts occurring in 1627–1643 were a key trigger to the peasantry uprising. These droughts also played a significant role to promote the peasantry uprising, especially reviving the peasantry troops by recruitment of famine victims when they nearly perished in 1633 and 1638, and severely disrupting the food supply for the government troops, resulting in the final defeat of the government troops by the peasantry troops. This study contributes to an understanding of the climate-related mechanisms behind the collapse of the Ming dynasty, and provides a historical case study that enhances our understanding of the nature of interactions between climate change and social vulnerability.
Access options
Buy single article
Instant access to the full article PDF.
USD 39.95
Price includes VAT (USA)
Tax calculation will be finalised during checkout.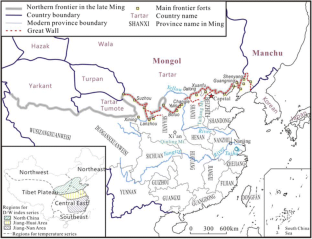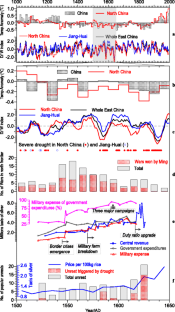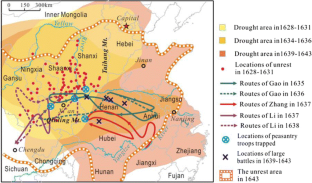 Notes
1.

See Huang Ming Jingshi Wenbian (Classic selection on governance on society and economy during Ming Dynasty), vol 61: Tunzheng Kao (On the military farm system governance).

2.

See Ming Shilu: Shenzong Shilu (Annals in the Wanli Reign), Vol. 441

3.

Recorded in Diao-Qiu-Za-Lu (A miscellaneous records for the period of later Ming), edited by a scholar named Liang Qingyuan, who lived in central Hebei Province in 1606–1683.
References
Bai SY (2004) General history of China, vol 9 (in Chinese). Shanghai People's Publishing House, Shanghai

Buckley BM, Anchukaitis KJ, Penny D, Fletcher R, Cook ER, Sano M, Nam LC, Wichienkeeo A, Minh TT, Hong TM (2010) Climate as a contributing factor in the demise of Angkor, Cambodia. PNAS 107:6748–6752

Buckley BM, Fletcher R, Wang SY, Zottoli B, Pottier C (2014) Monsoon extremes and society over the past millennium on mainland southeast Asia. Quat Sci Rev 95:1–19

Büntgen U, Tegel W, Nicolussi K, McCormick M, Frank D, Trouet V, Kaplan JO, Herzig F, Heussner K-U, Wanner H, Luterbacher J, Esper J (2011) 2500 years of European climate variability and human susceptibility. Science 331:578–582

Butzer KW (2012) Collapse, environment, and society. PNAS 109:3632–3639

Cao SJ (2000) Population history of China: Ming dynasty (in Chinese). Fudan University Press, Shanghai

Cheng H, Edwards RL, Haug GH (2010) Comment on "On linking climate to Chinese dynastic change: spatial and temporal variations of monsoonal rain". Chin Sci Bull 55:3734–3737

Christiansen B, Ljungqvist FC (2012) The extra-tropical Northern hemisphere temperature in the last two millennia: reconstructions of low-frequency variability. Clim Past 8:765–786

CMA (China Meteorological Administration) (1981) Yearly charts of dryness/wetness in China for the last 500-year period (in Chinese). SinoMaps Press, Beijing

Costanza R, Graumlich L, Steffen W, Crumley C, Dearing J, Hibbard K, Leemans R, Redman C, Schimel D (2007) Sustainability or collapse: what can we learn from integrating the history of humans and the rest of nature? AMBIO 36:522–527

D'Arrigo R, Wilson R, Jacoby G (2006) On the long-term context for late twentieth century warming. J Geophys Res 111(D3). doi:10.1029/2005JD006352

de Monocal P (2001) Cultural responses to climate change during the late Holocene. Science 292:667–673

Dearing JA, Battarbee RW, Dikau R, Larocque I, Oldfield F (2006) Human-environment interactions: learning from the past. Reg Environ Chang 6:115–123

Fan SZ (1984) On the land measurement in the Wanli Reign and the statistics of cropland in the Ming dynasty. J Chin Soc Econ Hist 3(2):25–37

Fan WL, Cai MB (1994) General history of China, vols 8–9 (in Chinese). People's Publishing House, Beijing

Frank D, Esper J, Cook ER (2007) Adjustment for proxy number and coherence in a large-scale temperature reconstruction. Geophys Res Lett 34. doi:10.1029/2007GL030571

Fu ZX, Tian ZL, Zhang X, Yang BS, Dong Z (1986) Chinese military history: tabulation of wars, vol 2 (in Chinese). People's Liberation Army Press, Beijing

Ge QS (2011) Climate change in Chinese dynasties (in Chinese). Science Press, Beijing

Ge QS, Hao ZX, Zheng JY, Shao XM (2013) Temperature changes over the past 2000 yr in China and comparison with the Northern Hemisphere. Clim Past 9:1153–1160

Gu C (1984) History of peasant wars in the end of the Ming dynasty (in Chinese). China Social Sciences Press, Beijing

Guo SY (2001) Grain production and farmers' living standard in the Ming and Qing dynasty. In: Board E (ed) Annals of the Institute of History (in Chinese). Chinese Academy of Social Sciences, vol 1. Social Sciences Academic Press, Beijing

Halstead P, O'Shea J (1989) Bad year economics: cultural responses to risk and uncertainty. Cambridge University Press, Cambridge

Haug GH, Günther D, Peterson LC, Sigman DM, Hughen KA, Aeschlimann B (2003) Climate and the collapse of Maya civilization. Science 299:1731–1735

Hegerl GC, Crowley TJ, Hyde WT, Frame DJ (2006) Climate sensitivity constrained by temperature reconstructions over the past seven centuries. Nature 440:1029–1032

Hsu KJ (1998) Sun, climate, hunger, and mass migration. Sci China Ser D 41:449–472

Huang R (1974) Taxation and governmental finance in sixteenth-century Ming China. Cambridge University Press, Cambridge

Lee HF, Zhang DD (2010) Changes in climate and secular population cycles in China, 1000 CE to 1911. Clim Res 42:235–246

Lee HF, Fok L, Zhang DD (2008) Climatic change and Chinese population growth dynamics over the last millennium. Clim Chang 88:131–156

Li WZ (1948) Popular unrests in the late Ming dynasty (in Chinese). Zhonghua, Beijing

Liu YN (1983) Chronology of Li Zicheng (in Chinese). Zhonghua, Beijing

Mann ME, Zhang ZH, Rutherford S, Bradley RS, Hughes MK, Shindell D, Ammann C, Faluvegi G, Ni FB (2009) Global signatures and dynamical origins of The Little Ice Age and medieval climate anomaly. Science 326:1256–1260

Moberg A, Sonechkin DM, Holmgren K, Datsenko NM, Karlén W (2005) Highly variable Northern Hemisphere temperatures reconstructed from low- and high-resolution proxy data. Nature 433:613–617

Oldfield F (2008) The role of people in the Holocene. In: Battarbee RW, Binney H (eds) Natural climate variability and global warming: a Holocene perspective. Blackwell, Oxford

PAGES (2009) Science Plan and Implementation Strategy. IGBP Report No. 57. IGBP Secretariat, Stockholm. 1–67

PAGES 2k Consortium (2013) Continental-scale temperature variability during the past two millennia. Nat Geosci 6:339–346

Parry ML (1978) Climatic change, agriculture and settlement. Dawson, Folkestone, UK

Parry ML, Canziani OF, Palutikof JP, van der Linden PJ, Hanson CE (2007) Climate change 2007: impacts, adaptation and vulnerability. Contribution of Working Group II to the Fourth Assessment Report of the Intergovernmental Panel on Climate Change. Cambridge University Press, Cambridge

Peng XW (1958) Chinese monetary history (in Chinese). Shanghai People's Publishing House, Shanghai

Quan HS (2011a) Collected essays on Chinese economic history (in Chinese). Zhonghua, Beijing

Quan HS (2011b) Fluctuation of grain price on northern frontier in the Ming dynasty. In: Quan HS (ed) Study on Chinese economic history (in Chinese). Zhonghua, Beijing

Richard SJ, Wagner TS (2010) Climate change and violent conflict in Europe over the last millennium. Clim Chang 99:65–79

Tan L, Cai Y, An Z, Yi L, Zhang H, Qin S (2011) Climate patterns in north central China during the last 1800 yr and their possible driving force. Clim Past 7:685–692

Twitchett D, Fairbank JK (1998) The Cambridge history of China, vol 7: The Ming Dynasty, 1368–1644, part 1. Cambridge University Press, Cambridge

Wang XM, Chen FH, Zhang JW, Yang Y, Li JJ, Hasi E, Zhang CX, Xia DS (2010) Desertification, and the rise and collapse of China's historical dynasties. Hum Ecol 38:157–172

Weiss H, Bradley RS (2001) What drives societal collapse? Science 291:609–610

Yancheva G, Nowaczyk NR, Mingram J, Dulski P, Schettler G, Negendank JFW, Liu JQ, Sigman DM, Peterson LC, Haug GH (2007) Influence of the intertropical convergence zone on the East-Asian monsoon. Nature 445:74–77

Yang B, Kang S, Ljungqvist FC, Zhao Y, He M, Qin C (2014) Drought variability at the northern fringe of the Asian summer monsoon region over the past millennia. Clim Dyn. doi:10.1007/s00382-013-1962-y

Yuan LY (1987) Peasant wars in the end of the Ming dynasty (in Chinese). Zhonghua, Beijing

Zhang JC (1982) Possible impacts of climatic variation on agriculture in China (in Chinese). Geogr Res 1:8–15

Zhang DE (2004) A compendium of Chinese meteorological records of the last 3,000 years (in Chinese). Jiangsu, Nanjing

Zhang DE, Lu LH (2007) Anti-correlation of summer/winter monsoons? Nature 450:E7–E8

Zhang DD, Jim CY, Lin GCS, He YQ, Wang JJ, Lee HF (2006) Climatic change, wars and dynastic cycles in China over the last millennium. Clim Chang 76:459–477

Zhang DD, Brecke P, Lee HF, He YQ, Zhang J (2007a) Global climate change, war, and population decline in recent human history. PNAS 104:19214–19219

Zhang DD, Zhang J, Lee HF, He YQ (2007b) Climate change and war frequency in eastern China over the last millennium. Hum Ecol 35:403–414

Zhang PZ, Cheng H, Edwards RL, Chen FH, Wang YJ, Yang XL, Liu J, Tan M, Wang XF, Liu JH, An CL, Dai ZB, Zhou J, Zhang DZ, Jia JH, Jin LY, Johnson KR (2008) A test of climate, sun and culture relationships from an 1810-year Chinese cave record. Science 322:940–942

Zhang DE, Li HC, Ku TL, Lu LH (2010a) On linking climate to Chinese dynastic change: spatial and temporal variations of monsoonal rain. Chin Sci Bull 55:77–83

Zhang DE, Li HC, Ku TL, Lu LH (2010b) Reply to the comment of Cheng et al. Chin Sci Bull 55:3738–3740

Zhang ZB, Tian HD, Cazelles B, Kausrud KL, Bräuning A, Guo F, Stenseth NC (2010c) Periodic climate cooling enhanced natural disasters and wars in China during AD 10–1900. Proc R Soc Lond B Biol Sci 277:3745–3753

Zheng JY, Huang JH (1998) An estimation of grain loss caused by natural disasters in China, 1950–1990 (in Chinese). Acta Geograph Sin 53:501–510

Zheng JY, Wang WC, Ge QS, Man ZM, Zhang PY (2006) Precipitation variability and extreme events in eastern China during the past 1500 years. Terr Atmos Ocean Sci 17:579–592
Acknowledgements
This work was supported by grants from the China Global Change Research Program of the Ministry of Science and Technology (Grant No. 2010CB950103), the Strategic Priority Research Program of the Chinese Academy of Sciences (CAS) (Grant No. XDA05080100), and the Institute of Geographical Sciences and Natural Resources Research "135" Project, CAS (Grant No. 2012ZD001).
Electronic supplementary material
Below is the link to the electronic supplementary material.
About this article
Cite this article
Zheng, J., Xiao, L., Fang, X. et al. How climate change impacted the collapse of the Ming dynasty. Climatic Change 127, 169–182 (2014). https://doi.org/10.1007/s10584-014-1244-7
Received:

Accepted:

Published:

Issue Date:
Keywords
Severe Drought

Social Vulnerability

North China Plain

Ming Dynasty

Duty Ratio