Abstract
Climate change impacts are already happening through the world, and it is now clear that there is the need for an adaptive response from global institutions down to the local level. Reducing vulnerability to cope with climate variability might be more challenging in tropical countries than in North America or Europe. The ten papers of this special issue were presented during the Adaptclim conference that was held by the Sinergia Project, the CLARIS LPB project, and the GeoData Institute in Asunción, Paraguay, in 2010. All papers, except one regarding the Brahmaputra Basin in South Asia, present studies from South America. These studies are first contextualized geographically and then are related one to another by a simplified vulnerability concept linking climate stress to sensitivity and adaptive capacity of natural and human systems. One half of the papers focus on actual or future climate change and the present-day causes of the vulnerability of natural and agrosystems. Droughts are and will be the main source of stress for agriculture in South America. Increasing fragmentation of forest of the center of this continent is aggravating their vulnerability to dry spells. Another half of the studies of this special issue deal with the adaptive capacity human populations to system perturbations produced or enhanced by climate change. The studies point out inclusion of traditional knowledge and involvement of local actors in their own vulnerability assessment to increase adaptive capacity. These elements of climate justice, giving voice to those less responsible for carbon emissions but bearing their most severe consequences, allow the particular needs of a community to be considered and can direct adaptation policy toward preserving or rebuilding their specific capabilities under threat from climate change. The special issue also made clear that a basin analysis of the climate change problem could provide information, results, and methods more readily of use for the local population and decision makers.
Access options
Buy single article
Instant access to the full article PDF.
US$ 39.95
Tax calculation will be finalised during checkout.
Subscribe to journal
Immediate online access to all issues from 2019. Subscription will auto renew annually.
US$ 119
Tax calculation will be finalised during checkout.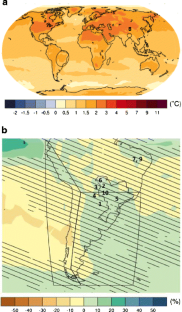 References
Adger WN (2006) Vulnerability. Glob Environ Chang 16:268–81

Adger WN, Dessai S, Goulden M, Hulme M, Lorenzoni I, Nelson DR, Naess LO, Wolf J, Wreford A (2009) Are there social limits to adaptation to climate change? Clim Chang 93:335–354. doi:10.1007/s10584-008-9520-z

Assad ED, Pinto HS (2008) Aquecimento global e cenários futuros da agricultura brasileira. EMBRAPA/UNICAMP, São Paulo

Atlas de Desenvolvimento humano do Brasil (2014) Atlas de Desenvolvimento humano do Brasil. http://www.atlasbrasil.org.br/2013/en/. Accesses 11 April 2014

Beddington J, Asaduzzaman M, Clark M, Fernández A, Guillou M, Jahn M, Erda L, Mamo T, Van Bo N, Nobre CA, Scholes R, Sharma R, Wakhungu J (2012) Achieving food security in the face of climate change: final report from the Commission on Sustainable Agriculture and Climate Change. CGIAR Research Program on Climate Change, Agriculture and Food Security (CCAFS), Copenhagen, Denmark

Boulanger J-P, Schlindwein S, Gentile E (2011) Metamorphosis of the CLARIS LPB European project: from a mechanistic to a systemic approach. CLIVAR Exchanges. Spec Issue LPB 57:7–10

Bravo JM, Collischonn W, Paz AR, Allasia D, Domecq F (2013) Impact of projected climate change on hydrologic regime of the Upper Paraguay River basin. Clim Chang. doi:10.1007/s10584-013-0816-2

Brydon-Miller M, Greenwood D, Maguire P (2003) Why action-research. Action Res 1:9–28

Burton I (1997) Vulnerability and adaptive response in the context of climate and climate change. Clim Chang 36:185–196

Burton I, Huq S, Lim B, Schipper EL (2002) From impact assessment to adaptation priorities: the shaping of adaptation policy. Clim Pol 2:145–49

CEPED (2012). Centro Universitário de Estudos e Pesquisas sobre Desastres, CEPED. Atlas brasileiro de desastres naturais 1991 a 2010: volume Brasil. Florianópolis: CEPED UFSC. Volume Brasil. ISBN 978-85-64695-08-5

Confalonieri UEC, Lima ACL, Brito I, Quintão AF (2013) Social, environmental and health vulnerability to climate change in the Brazilian Northeastern Region. Clim Chang. doi:10.1007/s10584-013-0811-7

Costello A, Abbas M et al (2009) Managing the health eff ects of climate change. Lancet 373:1693–733

Da Silva CJ, Albernaz-Silveira, R, Nogueira, PS (2014) Perception on climate change of the traditional community Cuiabá Mirim, Pantanal Wetland, Mato Grosso, Brazil. Clim Chang. doi: 10.1007/s10584-014-1150-z

Frumkin H, Hess J, Luber G, Malilay J, McGeehin M (2008) Climate change: the public health response. Am J Public Health 98:435–445

Füssel H-M, Klein RJT (2006) Climate change vulnerability assessments: an evolution of conceptual thinking. Clim Chang 75:301–29. doi:10.1007/s10584-006-0329-3

Geological Survey of India (2009) Geology and mineral resources of Assam. Geological Survey, India

Godfray C, Beddington JR, Crute IR, Haddad L, Lawrence D, Muir JF, Pretty J, Robinson S, Thomas SM, Toulmin C (2010) Food security: the challenge of feeding 9 billion people. Science 327:812–818

Haines A, Kovats RS, Campbell-Lendrum D, Corvalan C (2006) Climate change and human health: impacts, vulnerability, and mitigation. Lancet 367:2101–2109

Heltberg R, Siegel PB, Jorgensen SL (2009) Addressing human vulnerability to climate change: toward a 'no-regrets' approach. Glob Environ Chang 19:89–99. doi:10.1016/j.gloenvcha.2008.11.003

IBGE (2012) Contas Regionais do Brasil 2010. IBGE. Rio de Janeiro

Institute of Applied Manpower Research (2011) India Human Development Report 2011. Oxford University Press, New Delhi

Ioris AA, Irigaray CT, Girard P (2014) Institutional responses to climate change: opportunities and barriers for adaptation in the Pantanal and the Upper Paraguay River Basin. Clim Chang. doi: 10.1007/s10584-014-1134-z

IPCC (2012) Summary for Policymakers. In: Field CB, Barros V, Stocker TF, Qin D, Dokken DJ, Ebi KL, Mastrandrea MD, Mach KJ, Plattner GK, Allen SK, Tignor M, Midgley PM (eds.) Managing the risks of extreme events and disasters to advance climate change adaptation. A Special Report of Working Groups I and II of the Intergovernmental Panel on Climate Change. Cambridge University Press, Cambridge, UK, and New York, NY, USA, pp. 1–19

IPCC (2013) Annex I: Atlas of Global and Regional Climate Projections. In: van Oldenborgh GJ, Collins M, Arblaster J, Christensen JH, Marotzke J, Power SB, Rummukainen M, Zhou T, Stocker TF, Qin D, Plattner G-K, Tignor M, Allen SK, Boschung J, Nauels A, Xia Y, Bex V, Midgley PM (eds) Climate Change 2013: The Physical Science Basis. Contribution of Working Group I to the Fifth Assessment Report of the Intergovernmental Panel on Climate Change. Cambridge University Press, Cambridge, United Kingdom and New York, NY, USA

IPCC (2014) Chapter 27: Central and South America [Magrin, G. and Marengo, J] In: Climate change 2014: Impacts, Adaptation and Vulnerability. Contributions of Working Group II to the Fifth Assessment Report of the Intergovernmental Panel on Climate Change. IPCC

Jain SK, Kumar V, Saharia M (2012) Analysis of rainfall and temperature trends in northeast India. Int J Climatol. doi:10.1002/joc.3483

Johnson FA, Hutton CW (2012) Dependence on agriculture and ecosystem services for livelihood in Northeast India and Bhutan: vulnerability to climate change in the Tropical River Basins of the Upper Brahmaputra. Clim Chang. doi:10.1007/s10584-012-0573-7

Kelly PM, Adger WN (2000) Theory and practice in assessing vulnerability to climate change and facilitating adaptation. Clim Chang 47:325–352

Lindoso DP, Rocha JD, Debortoli N, Parente II, Eiró F, Bursztyn M, Rodrigues-Filho S (2014) Integrated assessment of smallholder farming's vulnerability to drought in the Brazilian Semi-arid: a case study in Ceará. Clim Chang. doi:10.1007/s10584-014-1116-1

Mayaux P, Holmgren P, Achard F, Eva H, Stibig H-J, Branthomme A (2005) Tropical forest cover change in the 1990s and options for future monitoring. Philos Trans R Soc Lond B Biol Sci 360(1454):373–384

Mooney H, Larigauderie A, Cesario M, Elmquist T, Hoegh-Guldberg O, Lavorel S, Mace GM, Palmer M, Scholes R, Yahara T (2009) Biodiversity, climate change, and ecosystem services. Curr Opin Environ Sustain 1:46–54

NASA (2014) Socioeconomic Data and Applications Center. Gridded population of the world. http://sedac.ciesin.columbia.edu/data/collection/gpw-v3. Accessed 11 April 2014.

O'Brien K, Eriksen S, Schjolden A, Nygaard L (2004) What's in a word? Conflicting interpretations of vulnerability in climate change research. CICERO Working Paper 2004:04. 16p

O'Brien K, Eriksen S, Nygaard LP, Schjolden A (2007) Why different interpretations of vulnerability matter in climate change discourses. Clim Pol 7:73–88. doi:10.1080/14693062.2007.9685639

Pinto-Ledezma JN, Mamani MLR (2013) Temporal patterns of deforestation and fragmentation in lowland Bolivia: implications for climate change. Clim Chang. doi:10.1007/s10584-013-0817-1

Revi A (2008) Climate change risk: an adaptation and mitigation agenda for Indian cities. Environ Urban Int Ins Environ Dev (IIED). doi:10.1177/0956247808089157

Ribot J (1995) The causal structure of vulnerability: its application to climate impact analysis. GeoJournal 35:119–22

Ribot J (2010) Vulnerability does not fall from the sky: toward multiscale, pro-poor climate policy. In: Mearns R, Norton A (eds) Social dimensions of climate change: equity and vulnerability in a warming world. The World Bank, Washington D.C., pp 47–74. doi:10.1596/978-0-8213-7887-8

Ribot J, Magalhães AR, Panagides SS (1996) Climate change, climate variability, and social vulnerability in the semi-arid tropics. University Press, Cambridge

Salati E, Salati E, Campanhol T, Villa Nova N (2007) Tendências de Variações Climáticas para o Brasil no Século XX e Balanços Hídricos para Cenários Climáticos para o Século XXI. FBDS, Rio de Janeiro, ESALQ, São Paulo

The Economist (2014) Comparing Indian states and territories with countries. An Indian summary. Which countries match the GDP and population of India's states and territories? http://www.economist.com/content/indian-summary. Accessed 11 April 2014.

Thomalla F, Downing T, Spanger-Siegfried E, Han G, Rockström J (2006) Reducing hazard vulnerability: towards a common approach between disaster risk reduction and climate adaptation. Disasters 30:39–48

Turner BLII, Matson PA, McCarthy JJ, Corell RW, Christensen L, Eckley N, Hovelsrud-Broda G, Kasperson JX, Kasperson RE, Luers A, Martello ML, Mathiesen S, Naylor R, Polsky C, Pulsipher A, Schiller A, Selin H, Tyler N (2003) Illustrating the coupled human-environment system for vulnerability analysis: three case studies. Proc Natl Acad Sci 100:8080–85

Turner WR, Bradley BA, Estes LD, Hole DG, Oppenheimer M, Wilcove DS (2010) Climate change: helping nature survive the human response. Conserv Lett 3:304–312

UNDP (2013) Human development report 2013. United Nations Development Program, New York

Vasconcelos ACF, Schlindwein SL, Lana MA, Fantini AC, Bonatti M, D'Agostini LR, Martins SR (2014) Land use dynamics in Brazilian La Plata Basin and anthropogenic climate change. Clim Chang. doi:10.1007/s10584-014-1081-8

World Bank (2014a) Data. http://data.worldbank.org . Accessed 14 April 2014

World Bank (2014b) Climate change knowledge portal. http://sdwebx.worldbank.org/climateportal/index.cfm. Accessed 14 April 2014
Acknowledgments
We wish to thank the Pantanal Research Center (CPP), the Brazilian Ministry of Science and Innovation (MCT&I), and the Brazilian National Research Council (CNPq), as well as Foreign Affairs and International Trade Canada, WWF-Brazil, and TNC for supporting the Sinergia project and the Adpatclim conference. Special thanks are addressed to Institut de Recherche pour le Développement for supporting Dr. Jean-Philippe Boulanger's investigations from 2007 to March 2013. We also wish to thank the BRAHMATWINN project lead by Prof. Wolfgang Flugel of FSU, Germany for the Brahmaputra Basin component of the project.
Additional information
This article is part of a Special Issue on "Climate change and adaptation in tropical basins" edited by Pierre Girard, Craig Hutton, and Jean-Phillipe Boulanger.
About this article
Cite this article
Girard, P., Boulanger, JP. & Hutton, C. Challenges of climate change in tropical basins: vulnerability of eco-agrosystems and human populations. Climatic Change 127, 1–13 (2014). https://doi.org/10.1007/s10584-014-1241-x
Received:

Accepted:

Published:

Issue Date:
Keywords
Adaptive Capacity

Human Development Index

Traditional Ecological Knowledge

Institutional Response

Climate Justice