Abstract
Species are predicted to shift their distribution ranges in response to climate change. Region-wide, empirically-based studies, however, are still limited to support these predictions. We used a model tree species, blackgum (Nyssa sylvatica), to study climate-induced range shift. Data collected from two separate sampling periods (1980s and 2007) by the USDA's Forestry and Inventory Analysis (FIA) Program were used to investigate changes in abundance and dominance, and shifts in distribution, of blackgum in four ecoregions of the eastern United States. Our results indicated new recruitment of blackgum in the northern portion of its range, along with increases in both density and annual rates of change in importance value (IV). Conversely, declines in recruitment were found in the southern portion of blackgum's range, along with decreases in density and IV. The center portion of blackgum's range had mixed patterns of change (i.e., both increases and decreases) throughout. A northward range expansion was also detected by comparing blackgum's historic range to where it was detected during our two more-recent sampling periods. Our findings suggest that blackgum is migrating north in response to climate change. Our study also suggests two broader implications about tree migration patterns in response to climate change: (1) species can respond to changing climate in relatively short time periods, at least for generalist species such as blackgum, and (2) climate-induced vegetation dynamic patterns can be detected at the regional level, but are inherently complex.
Access options
Buy single article
Instant access to the full article PDF.
US$ 39.95
Tax calculation will be finalised during checkout.
Subscribe to journal
Immediate online access to all issues from 2019. Subscription will auto renew annually.
US$ 119
Tax calculation will be finalised during checkout.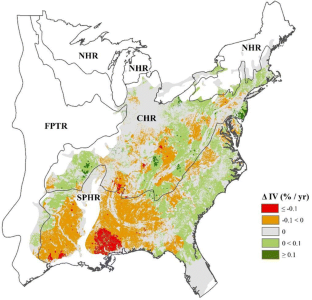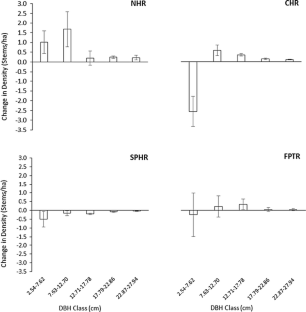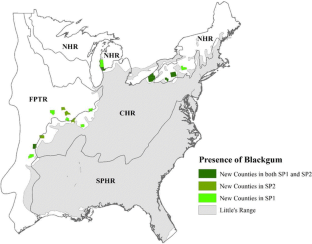 References
Abrams MD (2007) Tales from the blackgum, a consummate subordinate tree. Bioscience 57:347–359

Abrams MD, Black BA (2000) Dendroecological analysis of a mature loblolly pine-mixed hardwood forest at the George Washington Birthplace National Monument, eastern Virginia. J Torrey Bot Soc 127:139–148

Abrams MD, Copenheaver CA, Black BA, Svd G (2001) Dendroecology and climatic impacts for a relict, old-growth, bog forest in the Ridge and Valley Province of central Pennsylvania, USA. Can J Bot 79:58–69

Augé RM, Moore JL (2002) Stomatal response to nonhydraulic root-to-shoot communication of partial soil drying in relation to foliar dehydration tolerance. Environ Exp Bot 47:217–229

Bailey RG, Avers PE, King T, McNab WH (1994) Ecoregions and subregions of the United States (map). Washington, DC. US Geological Survey. Scale 1

Bechtold WA, Patterson PL (eds.) (2005) The enhanced forest inventory and analysis program - national sampling design and estimation procedures. General Technical Report SRS-80., U.S. Department of Agriculture, Forest Service, Southern Research Station, Asheville.

Burns RM, Honkala BH (1990) Silvics of North America: Volume 2, Hardwoods. Agriculture handbook 654

Chen I-C, Hill JK, Ohlemüller R, Roy DB, Thomas CD (2011) Rapid range shifts of species associated with high levels of climate warming. Science 333:1024–1026

Conner WH, Song B, Williams TM, Vernon JT (2011) Long-term tree productivity of a South Carolina coastal plain forest across a hydrology gradient. J Plant Ecol 4:67–76

Curtis JT, McIntosh RP (1951) An upland forest continuum in the prairie-forest border region of Wisconsin. Ecology 32:476–496

Dale VH, Joyce LA, McNulty S, Neilson RP, Ayres MP, Flannigan MD, Hanson PJ, Irland LC, Lugo AE, Peterson CJ (2001) Climate change and forest disturbances: climate change can affect forests by altering the frequency, intensity, duration, and timing of fire, drought, introduced species, insect and pathogen outbreaks, hurricanes, windstorms, ice storms, or landslides. Bioscience 51:723–734

DeBell DS, Naylor AW (1972) Some factors affecting germination of swamp tupelo seeds. Ecology 53:504–506

Engler R, Randin CF, Vittoz P, Czáka T, Beniston M, Zimmermann NE, Guisan A (2009) Predicting future distributions of mountain plants under climate change: does dispersal capacity matter? Ecography 32:34–45

Fridley JD, Vandermast DB, Kuppinger DM, Manthey M, Peet RK (2007) Co–occurrence based assessment of habitat generalists and specialists: a new approach for the measurement of niche width. J Ecol 95:707–722

Gonzalez P, Hasson R, Lakyda P, McCallum I, Nilsson S, Pulhin J, van Rosenberg B, Scholes B, Shvidenko A, Barber CV, Persson R (2005) Forest and woodland systems. In: Hassan R, Scholes R, Ash N (eds) Millennium ecosystem assessment: ecosystems and human well-being: current state & trends assessment. Island Press, Washington, pp 585–621

Groisman PY, Knight RW, Karl TR (2001) Heavy precipitation and high streamflow in the contiguous United States: trends in the twentieth century. Bull Am Meteorol Soc 82:219–246

Hanson PJ, Todd DE, Amthor JS (2001) A six-year study of sapling and large-tree growth and mortality responses to natural and induced variability in precipitation and throughfall. Tree Physiol 21:345–358

Harcombe PA, Leipzig LEM, Elsik IS (2009) Effects of hurricane Rita on three long-term forest study plots in east Texas, USA. Wetlands 29:88–100

Heffernan JB, Soranno PA, Angilletta MJ, Buckley LB, Gruner DS, Keitt TH, Kellner JR, Kominoski JS, Rocha AV, Xiao J, Harms TK, Goring SJ, Koenig LE, McDowell WH, Powell H, Richardson AD, Stow CA, Vargas R, Weathers KC (2014) Macrosystems ecology: understanding ecological patterns and processes at continental scales. Front Ecol Environ 12:5–14

Hutchinson TF, Yaussy DA, Long RP, Rebbeck J, Sutherland EK (2012) Long-term (13-year) effects of repeated prescribed fires on stand structure and tree regeneration in mixed-oak forests. Forest Ecol Manag 286:87–100

Ibáñez I, Clark JS, LaDeau S, Lambers JHR (2007) Exploiting temporal variabiliyt to understand tree recruitment response to climate change. Ecol Monogr 77:163–177

Jump AS, Peñuelas J (2005) Running to stand still: adaptation and the response of plants to rapid climate change. Ecol Lett 8:1010–1020

Karl TR, Melillo JM, Peterson TC (2009) Global climate change impacts in the United States. Cambridge University Press, Cambridge

Keeley JE (1979) Population differentiation along a flood frequency gradient: physiological adaptations to flooding in Nyssa sylvatica. Ecol Monogr 49:89–108

Kelly AE, Goulden ML (2008) Rapid shifts in plant distribution with recent climate change. Proc Natl Acad Sci U S A 105:11823–11826

Li L, Li W, Barros AP (2013) Atmospheric moisture budget and its regulation of the summer precipitation variability over the Southeastern United States. Clim Dyn 41:1–19

Lindner M, Maroschek M, Netherer S, Kremer A, Barbati A, Garcia-Gonzalo J, Seidl R, Delzon S, Corona P, Kolström M (2010) Climate change impacts, adaptive capacity, and vulnerability of European forest ecosystems. Forest Ecol Manag 259:698–709

Little EL (1971) Atlas of United States trees: Vol. 1. Conifers and important hardwoods. US Dep. Agric. Misc. Publ.

Malcolm JR, Markham A, Neilson RP, Garaci M (2002) Estimated migration rates under scenarios of global climate change. J Biogeogr 29:835–849

Orwig DA, Abrams MD (1997) Variation in radial growth responses to drought among species, site, and canopy strata. Trees 11:474–484

Parmesan C (2006) Ecological and evolutionary responses to recent climate change. Annu Rev Ecol Evol Syst 37:637–669

Petchey OL, Gaston KJ (2006) Functional diversity: back to basics and looking forward. Ecol Lett 9:741–758

Ricklefs RE, Jenkins DG (2011) Biogeography and ecology: towards the integration of two disciplines. Phil Trans R Soc B 366:2438–2448

Schuster W, Griffin K, Roth H, Turnbull M, Whitehead D, Tissue D (2008) Changes in composition, structure and aboveground biomass over seventy-six years (1930–2006) in the Black Rock Forest, Hudson Highlands, southeastern New York State. Tree Physiol 28:537–549

Shen Z, Fei S, Feng J, Liu Y, Liu Z, Tang Z, Wang X, Wu X, Zheng C, Zhu B (2012) Geographical patterns of community–based tree species richness in Chinese mountain forests: the effects of contemporary climate and regional history. Ecography 35:1134–1146

Siderhurst LA, Griscom HP, Kyger C, Stutzman J, Trumbo B (2012) Tree species composition and diversity and the abundance of exotics in forest fragments of the Shenandoah Valley, Virginia. Castanea 77:348–363

Stocker T, Qin D, Plattner G, Tignor M, Allen S, Boschung J, Nauels A, Xia Y, Bex V, Midgley P (2013) IPCC 2013: Summary for Policy Makers. Climate Change

Woodall C, Oswalt C, Westfall J, Perry C, Nelson M, Finley A (2009) An indicator of tree migration in forests of the eastern United States. Forest Ecol Manag 257:1434–1444

Zhu K, Woodall CW, Clark JS (2012) Failure to migrate: lack of tree range expansion in response to climate change. Glob Chang Biol 18:1042–1052
Acknowledgments
We would like to thank Gabriela Nuñez-Mir, Teresa Clark and Louis Desprez for editing prior versions of this manuscript, and three anonymous reviewers for providing constructive comments on an earlier version of the manuscript.
Author Attribution
Johanna Desprez contributed to the idea development, conducted most data analysis, most of the writing and manuscript preparation. Basil V. Iannone III provided intellectual input, statistical and organizational advice, and contributed to editing and writing. Peilin Yang conducted data analysis. Chris Oswalt contributed to data compilation and organization. Songlin Fei contributed the initial idea, participated in data analysis, and manuscript preparation.
Conflict of Interest
Not Applicable
About this article
Cite this article
Desprez, J., Iannone, B.V., Yang, P. et al. Northward migration under a changing climate: a case study of blackgum (Nyssa sylvatica). Climatic Change 126, 151–162 (2014). https://doi.org/10.1007/s10584-014-1207-z
Received:

Accepted:

Published:

Issue Date:
Keywords
Kriging

Stem Density

Range Shift

Valuable Ecosystem Service

Importance Value