Abstract
This paper studies the interplay between climate, health, and the economy in a stylized world with eleven heterogeneous regions, with special emphasis on USA, Europe, China, India, and Africa. We introduce health impacts into a simple economic integrated assessment model where both the local cooling effect of SO 2 and the global warming effect of CO 2 are endogenous, and investigate how these factors affect the equilibrium path. Regions do not respond in the same way to climate change. In particular, emission abatement rates and health costs depend on the economic and geographical characteristics of each region. Two policy scenarios are considered, Nash and Optimal, for which we present both global and regional results. Results for Africa and China are highlighted.
Access options
Buy single article
Instant access to the full article PDF.
US$ 39.95
Tax calculation will be finalised during checkout.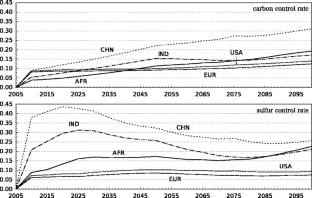 References
Bahn O, Leach A (2008) The secondary benefits of climate change mitigation: An overlapping generations approach. CMS 5:233–257

Bollen J, van der Zwaan B, Brink C, Eerens H (2009a) Local air pollution and global climate change: A combined cost-benefit analysis. Resour Energy Econ 31:161–181

Bollen J, Brink C, Eerens H, Manders A (2009b) Co-benefits of Climate Policy, PBL Report No. 500116005, Bilthoven

Center for International Earth Science Information Network (CIESIN) (2002) Country-level GDP and Downscaled Projections Based on the A1, A2, B1, and B2 Marker Scenarios, pp 1990–2100. Columbia University, New York. www.ciesin.columbia.edu/datasets/downscaled

Center for International Earth Science Information Network (CIESIN) (2005) Gridded Population of the World, version 3. Columbia University, NY. sedac.ciesin.columbia.edu/gpw

Cifuentes L, Borja-Aburto VH, Gouveia N, Thurston G, Davis DL (2001) Climate change: Hidden health benefits of greenhouse gas mitigation. Science 293(5533):1257–1259

Ebi KL (2008a) Using health models to prepare for and cope with climate change. Clim Chang 88:1–3

Ebi KL (2008b) Healthy people 2100: modeling population health impacts of climate change. Clim Chang 88:5–19

European Environment Agency (EEA) (2004) Air Pollution and Climate Change Policies in Europe: Exploring Linkages and the Added Value of an Integrated Approach, Technical Report No. 5, EEA, Copenhagen

Ikefuji M, Magnus JR, Sakamoto H (2014) The effect of health benefits on climate change mitigation policies: background document. www.janmagnus.nl/items/health-and-climate.pdf

Intergovernmental Panel on Climate Change (IPCC) (2000) IPCC Special Report: Emissions Scenarios. Cambridge University Press, Cambridge

Intergovernmental Panel on Climate Change (IPCC) (2007) Climate Change 2007: Impacts, Adaptation and Vulnerability. Cambridge University Press, Cambridge

Kovats RS, Ebi KL, Menne B (2003) Methods for Assessing Human Health Vulnerability and Public Health Adaptation to Climate Change, WHO, Health Canada/UNEP

Magnus JR, Melenberg B, Muris C (2011) Global warming and local dimming: The statistical evidence (with discussion). J Am Stat Assoc 106:452–468

Manne A, Richels R (1995) The greenhouse debate: Economic efficiency, burden sharing and hedging strategies. Energy J 16:1–37

McMichael AJ, Campbell-Lendrum D, Kovats S, Edwards S, Wilkinson P, Wilson T, Nicholls R, Hales S, Tanser F, Sueur D L, Schlesinger M, Andronova N (2004) Global climate change. In: Ezzati M., Lopez A., Rodgers A., Murray C. (eds) Comparative Quantification of Health Risks: Global and Regional Burden of Disease Due to Selected Major Risk Factors. World Health Organization, Geneva, pp 1543–1649

Nordhaus WD (2008) A Question of Balance: Weighting the Options on Global Warming Policies. Yale University Press, New Haven

Nordhaus WD (2010) Economic aspects of global warming in a post Copenhagen environment. In: Proceeding of the National Academy of Science of the United States of America, vol 107

Nordhaus WD, Yang Z (1996) A regional dynamic general-equilibrium model of alternative climate-change strategies. Am Econ Rev 86:741–765

Sankovski A (1998) Greenhouse Gas Emission Scenario Database, version 5.0, EPA 98 Emission Scenario, National Institute of Environmental Studies, Japan. www.cger.nies.go.jp/db/scenario/index.html

Schlesinger ME, Malyshev S, Rozanov EV, Yang F, Andronova NG, de Varies B, Grübler A, Jiang K, Masui T, Morita T, Penner J, Pepper W, Sankovski A, Zhang Y (2000) Geographical distributions of temperature change for scenarios of greenhouse gas and sulfur dioxide emissions. Technol Forecast Soc Chang 65:167–193

Spadaro JV, Rabl A (1999) Estimates of real damage from air pollution: Site dependence and simple impact indices for LCA. Int J Life Cycle Assess 4:229–243

Swart R, Amann M, Raes F, Tuinstra W (2004) A good climate for clean air: Linkages between climate change and air pollution. Clim Chang 66:263–269

United Nations (2010) World Urbanization Prospects, the 2009 Revision, Department of Economic and Social Affairs, NY. esa.un.org/unpd/wup/index.htm

Vautard R, Yiou P, van Oldenborgh GJ (2009) Decline of fog, mist and haze in Europe over the past 30 years. Nat Geosci 2:115–119

Wang K, Dickinson RE, Liang S (2009) Clear sky visibility has decreased over land globally from 1973 to 2007. Science 323:1468–1470

Wild M, Trüssel B, Ohmura A, Long CN, König-Langlo G, Dutton EG, Tsvetkov A (2009) Global dimming and brightening: An update beyond 2000. J Geophys Res 114:D00D13. doi:10.1029/2008JD011382

World Health Organization (WHO) (2003) The World Health Report 2003. World Health Organization, Geneva

World Health Organization (WHO) (2008) The Global Burden of Disease: 2004 Update. World Health Organization, Geneva. data available at www.who.int/healthinfo/global_burden_disease/estimates_country/en/
Acknowledgments
We are grateful to conference participants at the Monte Verità Conference on Sustainable Resource Use and Economic Dynamics (SURED), Ascona, Switzerland, June 2010, and the Fourth World Congress of Environmental and Resource Economists (WCERE), Montréal, Canada, June-July 2010; to seminar participants at Wageningen University, Oxford University, the LSE, and Hiroshima University; and to an associate editor and five referees for helpful and constructive comments. We gratefully acknowledge financial support from JSPS Grant-in-Aid for Scientific Research Nos. 22530177 (Ikefuji) and 18078001 (Sakamoto). E-mail addresses: ikefuji@sam.sdu.dk (Ikefuji), jan@janmagnus.nl (Magnus), h.sakamoto4@kurenai.waseda.jp (Sakamoto).
Electronic supplementary material
Below is the link to the electronic supplementary material.
About this article
Cite this article
Ikefuji, M., Magnus, J.R. & Sakamoto, H. The effect of health benefits on climate change mitigation policies. Climatic Change 126, 229–243 (2014). https://doi.org/10.1007/s10584-014-1204-2
Received:

Accepted:

Published:

Issue Date:
Keywords
Climate change

Air pollution

Local dimming

Health

Economic growth