Abstract
Reconciling food, fiber and energy production with biodiversity conservation is among the greatest challenges of the century, especially in the face of climate change. Model-based scenarios linking climate, land use and biodiversity can be exceptionally useful tools for decision support in this context. We present a modeling framework that links climate projections, private land use decisions including farming, forest and urban uses and the abundances of common birds as an indicator of biodiversity. Our major innovation is to simultaneously integrate the direct impacts of climate change and land use on biodiversity as well as indirect impacts mediated by climate change effects on land use, all at very fine spatial resolution. In addition, our framework can be used to evaluate incentive-based conservation policies in terms of land use and biodiversity over several decades. The results for our case study in France indicate that the projected effects of climate change dominate the effects of land use on bird abundances. As a conservation policy, implementing a spatially uniform payment for pastures has a positive effect in relatively few locations and only on the least vulnerable bird species.
Access options
Buy single article
Instant access to the full article PDF.
US$ 39.95
Tax calculation will be finalised during checkout.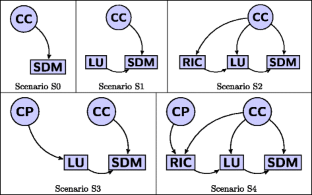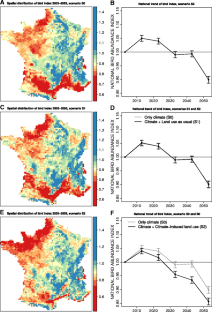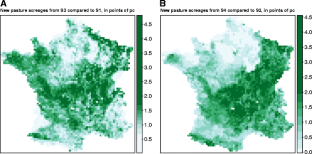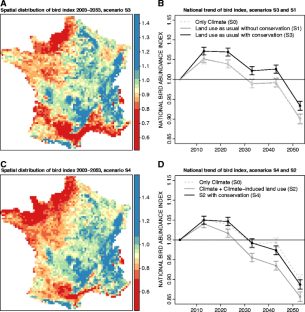 Notes
1.

1 Rationality is not a necessary condition, as Train 2009 (Chap. 2, p.14) explains: "The derivation assures that the model is consistent with utility maximization; it does not preclude the model from being consistent with other forms of behavior. The models can also be seen as simply describing the relation of explanatory variables to the outcome of a choice, without reference to exactly how the choice is made."

2.

2 In the European Common Agricultural Policy, a significant amount of agri-environmental schemes are payments depending on land use. Since 2007, the French government has taken over an acreage payment of 76 euros by ha and by year for pastures. Our stylized payment is close to a rather ambitious version of this, doubling over the payment.

3.

3 The high proportions of change (− 1/2 both for S3 and S4 relatively to S1 and S2) are somewhat surprising but have to be put in perspective in terms of acreages. They represent respectively 50,000 and 110,000 ha where the differences for pastures are around 550,000 ha between scenarios. The differences in urban areas are nevertheless sufficiently marked to highlight a competition for space between urban and pastures, and between urban and conservation. The low opportunity cost of pasture is probably the reason for this result.
References
Barbet-Massin M, Thuiller W, Jiguet F (2010) How much do we overestimate future local extinction rates when restricting the range of occurrence data in climate suitability models?. Ecography 33:878–886

Barbet-Massin M, Thuiller W, Jiguet F (2011) The fate of European breeding birds under climate, land-use and dispersal scenarios. Glob Chang Biol 18

Berrang-Ford L, Ford JD, Paterson J (2011) Are we adapting to climate change?. Glob Environ Chang 21:25–33

Boé J, Terray L, Martin E, Habets F (2009) Projected changes in components of the hydrological cycle in French river basins during the 21st century. Water Resour Res 45:W08426

Bradley BA, Estes LD, Hole DG, Holness S, Oppenheimer M, Turner WR, Beukes H, Schulze RE, Tadross MA, Wilcove DS (2012) Predicting how adaptation to climate change could affect ecological conservation: Secondary impacts of shifting agricultural suitability. Divers Distrib 18:425–437

Buisson L, Thuiller W, Casajus N, Lek S, Grenouillet G (2010) Uncertainty in ensemble forecasting of species distribution. Glob Chang Biol 16:1145–1157

Chakir R, Le Gallo J (2013) Predicting land use allocation in France: A spatial panel data analysis. Ecol Econ 92:114–125

Chakir R, Parent O (2009) Determinants of land use changes: A spatial multinomial probit approach. Pap Reg Sci 88:327– 344

Cheaib A, Badeau V, Boe J, Chuine I, Delire C, Dufrêne E, François C, Gritti ES, Legay M, Pagé C, Thuiller W, Viovy N, Leadley P (2012) Climate change impacts on tree ranges: Model intercomparison facilitates understanding and quantification of uncertainty. Ecol Lett 15:533–544

de Chazal J, Rounsevell MD (2009) Land-use and climate change within assessments of biodiversity change: A review. Glob Environ Chang 19:306–315

Déqué M (2007) Frequency of precipitation and temperature extremes over France in an anthropogenic scenario: Model results and statistical correction according to observed values. Glob Planet Chang 57:16–26

Devictor V, Julliard R, Clavel J, Jiguet F, Lee A, Couvet D (2008) Functional biotic homogenization of bird communities in disturbed landscapes. Glob Ecol Biogeogr 17:252–261

Dormann C., McPherson JM, Araújo MB, Bivand R, Bolliger J, Carl G, Davies RG, Hirzel A, Jetz W, Daniel Kissling W, et al. (2007) Methods to account for spatial autocorrelation in the analysis of species distributional data: A review. Ecography 30:609–628

Franklin J, Davis FW, Ikegami M, Syphard AD, Flint LE, Flint AL, Hannah L (2013) Modeling plant species distributions under future climates: How fine scale do climate projections need to be?. Global change biol 19:473–483

Furness RW, Greenwood JJD (1993) Birds as Monitors of Environmental Change. Chapman Hall, London

Garcia RA, Burgess ND, Cabeza M, Rahbek C, Araújo MB (2012) Exploring consensus in 21st century projections of climatically suitable areas for african vertebrates. Global Change Biol 18:1253–1269

Gregory RD, van Strien A, Vorisek P, Meyling AWG, Noble DG, Foppen RPB, Gibbons DW (2005) Developing indicators for european birds. Phylosophical Transactions of the Royal Society B 360:269–288

Hannah L, Midgley GF, Millar D (2002) Climate change-integrated conservation strategies. Glob Ecol Biogeogr 11:485–495

Hastie T, Tibshirani R (1990) Generalized additive models. Chapman and Hall, New York

IPCC (2013) Climate Change 2013: The Physical Science Basis. Fifth Assessment Report. Cambridge, United Kingdom and. Cambridge University Press, New York, NY, USA

Jeltsch F, Moloney KA, Schwager M, Körner K, Blaum N (2011) Consequences of correlations between habitat modifications and negative impact of climate change for regional species survival. Agriculture, Ecosystems and Environment 145:49–58

Jiguet F, Devictor V, Julliard R, Couvet D (2012) French citizens monitoring ordinary birds provide tools for conservation and ecological sciences. Acta Oecol 44:58–66

Jiguet F, Devictor V, Ottvall R, Van Turnhout C, Van der Jeugd H, Ake Lindström (2010) Bird population trends are linearly affected by climate change along species thermal ranges. Proceedings of the Royal Society B: Biological Sciences 51:676–690

Johnston A, Ausden M, Dodd A, Bradbury R, Chamberlain D, Jiguet F, Thomas C, Cook A, Newson S, Ockendon N, Rehfisch M, Roos S, Thaxter C, Brown A, Crick H, Douse A, McCall R, Pontier H, Stroud D, Cadiou B, Crowe O, Deceuninck B, Hornman M, Pearce-Higgins J (2013) Observed and predicted effects of climate change on species abundance in protected areas. Nat Clim Chang 9:769–771

Jongsomjit D, Stralberg D, Gardali T, Salas L, Wiens J, Between a rock and a hard place: the impacts of climate change and housing development on breeding birds in california. (2013). Landscape Ecology 28:187–200

Katz RW, Craigmile PF, Guttorp P, Haran M, Sansó B, Stein ML (2013) Uncertainty analysis in climate change assessments. Nat Clim Chang 3:769–771

Lewis DJ, Plantinga AJ, Nelson E, Polasky S (2011) The efficiency of voluntary incentive policies for preventing biodiversity loss. Resour Energy Econ 33:192–211

Lubowski RN, Plantinga AJ, Stavins RN (2008) What drives land-use change in the United States? A national analysis of landowner decisions. Land Econ 84:529–550

Martin Y, Van Dyck H, Dendoncker N, Titeux N (2013) Testing instead of assuming the importance of land use change scenarios to model species distributions under climate change. Glob Ecol Biogeogr 22:1204–1216

McFadden D (1974) Conditional logit analysis of qualitative choice behavior. Academic Press, New York, pp 105–142

Mendelsohn R, Dinar A (2009) Climate change and agriculture: An economic analysis of global impacts, adaptation and distributional effects. Northampton:Edward Elgar.

Mendelsohn R, Nordhaus WD, Shaw D (1994) The impact of global warming on agriculture: A Ricardian analysis. Am Econ Rev 84:753–771

Millennium Ecosystem Assessment (2005) Ecosystems and human well-being: Biodiversity. World Resources Institute, Washington, DC, USA

Mouysset L, Doyen L, Jiguet F (2014) From population viability analysis to coviability of farmland biodiversity and agriculture. Conserv Biol 28:187–201

Mouysset L, Doyen L, Jiguet F, Allaire G, Leger F (2011) Bio-economic modeling for sustainable management of biodiversity and agriculture. Ecol Econ 70:617–626

Nelson E., Polasky S, Lewis DJ, Plantinga AJ, Lonsdorf E, White D, Bael D, Lawler JJ (2008) Efficiency of incentives to jointly increase carbon sequestration and species conservation on a landscape. Proc Natl Acad Sci 105:9471–9476

Pearson RG, Dawson TP (2003) Predicting the impacts of climate change on the distribution of species: Are bioclimate envelope models useful?. Glob Ecol Biogeogr 12:361–371

Pereira HM, Leadley PW, Proença V, Alkemade R, Scharlemann JPW, Fernandez-Manjarrés JF, Araùjo MB, Balvanera P, Biggs R, Cheung WWL, Chini L, Cooper HD, Gilman EL, Guénette S, Hurtt GC, Huntington HP, Mace GM, Oberdorff T, Revenga C, Rodrigues P, Scholes RJ, Sumaila UR, Walpole M (2010) Scenarios for global biodiversity in the 21st century. Science 330:1496–1501

Peterson AT, Soberón J, Pearson RG, Anderson RP, Martínez-Meyer E, Nakamura M, Araújo MB (2011) Ecological Niches and Geographic Distributions. Princeton University Press

Plantinga AJ (1996) The effect of agricultural policies on land use and environmental quality. Am J Agric Econ 78:1082–1091

Radeloff V, Nelson E, Plantinga A, Lewis D, Helmers D, Lawler J, Withey J, Beaudry F, Martinuzzi S, Butsic V, Lonsdorf E, White D, Polasky S (2012) Economic-based projections of future land use in the conterminous United States under alternative policy scenarios. Ecol Appl 22:1036–1049

Renwick AR, Massimino D, Newson SE, Chamberlain DE, Pearce-Higgins JW, Johnston A (2012) Modelling changes in species' abundance in response to projected climate change. Divers Distrib 18:121–132

Schröter D, Cramer W, Leemans R, Prentice IC, Araújo MB, Arnell NW, Bondeau A, Bugmann H, Carter TR, Gracia CA, et al. (2005) Ecosystem service supply and vulnerability to global change in europe. Science 310:1333–1337

Train K (2009) Discrete Choice Methods with Simulation Second Edition. Cambridge University Press

Tubiello FN, Rosenzweig C, Goldberg RA, Jagtap S, Jones JW (2002) Effects of climate change on US crop production: Simulation results using two different GCM scenarios. part I: Wheat, potato, maize, and citrus. Climate Research 20:259–270

Verburg PH, Eickhout B, van Meijl H (2008) A multi-scale, multi-model approach for analyzing the future dynamics of european land use. The Annals of Regional Science 42:57–77

Willis K, MacDonald G (2011) Long-term ecological records and their relevance to climate change predictions for a warmer world. Ann Rev Ecol, Evol Syst 42:267–287

Wintle BA, Bekessy SA, Keith DA, van Wilgen BW, Cabeza M, Schröder B, Carvalho SB, Falcucci A, Maiorano L, Regan TJA (2011) Ecological-economic optimization of biodiversity conservation under climate change. Nat Clim Chang 1:355–359

Wood S (2006) Generalized Additive Models : An introduction with R Chapman & Hall / CRC, 1st ed.

Xiong W, Conway D, Lin E, Holman I (2009) Potential impacts of climate change and climate variability on China's rice yield and production. Clim Res 40:23–35
Acknowledgements
This research has been founded by the FRB (Fondation de Recherche sur la Biodiversit) and GDF–SUEZ through the MOBILIS project. R. Chakir also acknowledges the financial support from French Agence Nationale de la Recherche through the ModULand project (ANR–11–BSH1–005). The authors also acknowledge volunteer ornithologists, French Ministry of Agriculture (Service de la Statistique et de la Prospective), IGN, INRA InfoSol, and Mto France for the production of data that allow such work. We are grateful to Laurent Terray, Christian Pag and Julian Boé for the regional climate scenarios, Vincent Badeau for the development of the 8km soil data set and Christophe François for his assistance in the use of climate and soils data sets.
Electronic supplementary material
Below is the link to the electronic supplementary material.
About this article
Cite this article
Ay, JS., Chakir, R., Doyen, L. et al. Integrated models, scenarios and dynamics of climate, land use and common birds. Climatic Change 126, 13–30 (2014). https://doi.org/10.1007/s10584-014-1202-4
Received:

Accepted:

Published:

Issue Date:
Keywords
Integrated models

Land use

Incentive policy

Common birds