Abstract
Following IPCC guidelines (IPCC 2006), we estimate greenhouse gas emissions related to livestock in 237 countries and 11 livestock categories during the period 1961–2010. We find that in 2010 emissions of methane and nitrous oxide related to livestock worldwide represented approximately 9 % of total greenhouse gas (GHG) emissions. Global GHG emissions from livestock increased by 51 % during the analyzed period, mostly due to strong growth of emissions in developing (Non-Annex I) countries (+117 %). In contrast, developed country (Annex I) emissions decreased (−23 %). Beef and dairy cattle are the largest source of livestock emissions (74 % of global livestock emissions). Since developed countries tend to have lower CO2-equivalent GHG emissions per unit GDP and per quantity of product generated in the livestock sector, the amount of wealth generated per unit GHG emitted from the livestock sector can be increased by improving both livestock farming practices in developing countries and the overall state of economic development. Our results reveal important details of how livestock production and associated GHG emissions have occurred in time and space. Discrepancies with higher tiers, demonstrate the value of more detailed analyses, and discourage over interpretation of smaller-scale trends in the Tier 1 results, but do not undermine the value of global Tier 1 analysis.
Access options
Buy single article
Instant access to the full article PDF.
US$ 39.95
Tax calculation will be finalised during checkout.
Subscribe to journal
Immediate online access to all issues from 2019. Subscription will auto renew annually.
US$ 119
Tax calculation will be finalised during checkout.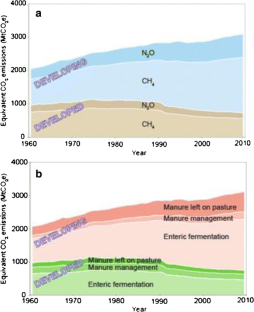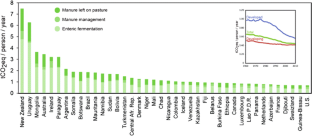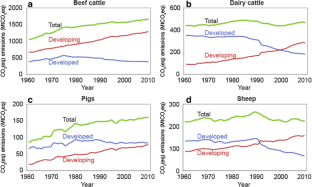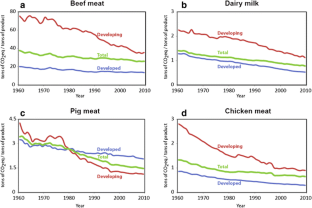 References
Barton PK, Atwater JW (2002) Nitrous oxide emissions and the anthropogenic nitrogen in wastewater and solid waste. J Environ Eng 128:137–150

Bastianoni S, Caro D, Borghesi S, Pulselli FM (2014) The effect of a consumption-based accounting method in national GHG inventories: a trilateral application at macro and micro scale. Frontiers Energy Syst Policy In press. doi:10.3389/fenrg.2014.00004

Bateman EJ, Baggs EM (2005) Contributions of nitrification and denitrification to N2O emissions from soils at different water-filled pore space. Biol Fertil Soils 41:379–388

Bouwman T (1996) Direct emission of nitrous oxide from agricultural soils. Nutr Cycl Agroecosyst 46:53–70

Bustamante MMC, Nobre CA, Smeraldi R, Aguiar APD, Barioni LG, Ferreira LG, Longo K et al (2012) Estimating greenhouse gas emissions from beef cattle raising in Brazil. Clim Chang 115:559–577

Caro D, Bastianoni S, Borghesi S, Pulselli FM (2014) On the feasibility of a consumer-based allocation method in national GHG inventories. Ecol Indic 36:640–643

Engstrom R, Wadeskog A, Finnveden G (2007) Environmental assessment of Swedish agriculture. Ecol Econ 60:550–563

EPA (2006) Global anthropogenic non-CO2 greenhouse gas emissions: 1990–2020. United States Environmental Protection Agency, EPA 430-R-06-003, June 2006. Washington, DC, USA. www.epa.gov/nonCO2/econ-inv/dow

EPA (2011) Global anthropogenic non-CO2 greenhouse gas emissions: 1990–2030. Final report 182 pg. Available at: http://www.epa.gov/climatechange/EPAactivities/economics/nonco2projections.html

FAO (2005) Livestock policy brief 02 (FAO, Rome, 2005). Food and Agriculture Organization of the United Nations. Available at: http://www.fao.org/ag/againfo/resources/en/pubs_sap.html

FAO (2014) FAOSTAT Online Database: available at http://faostat.fao.org/. Accessed Feb 2014

Garnett T (2009) Livestock-related greenhouse gas emissions: impacts and options for policy makers. Environ Sci Policy 12:491–503

Godfray HCJ, Beddington JR, Crute IR, Haddad L, Lawrence D, Muir JF, Pretty J, Robinson S, Thomas SM, Toulmin C (2010) The food security: the challenge of feeding 9 billion people. Science 137:812–818

Herrero M, Thorton PK (2009) Mitigating greenhouse gas emissions from livestock systems. Agriculture and climate change: an Agenda for negotiation in Copenhagen. Focus 16, brief 6

IPCC (2006) 2006 IPCC Guideline for National Greenhouse Gas Inventories. Eggleston H S, Buendia L, Miwa K, Ngara T, Tanabe K. IGES, Japan. Available at: http://www.ipcc-nggip.iges.or.jp/public/2006gl/index.html

IPCC (2007) Intergovernmental panel on climate change. Working group III. Climate change 2007: mitigation of climate change. Available at http://www.ipcc.ch/publications_and_data/publications_ipcc_fourth_assessment_report_wg3_report_mitigation_of_climate_change.htm. Accessed Feb 2014

JRC (2010) Evaluation of the livestock sector's contribution to the EU Greenhouse Gas Emissions (GGELS)—Final Report (Ispra: European Commission, Joint Research Centre). Leip A, Weiss F, Wassenaar T, Perez I, Fellmann T, Loudjani P, Tubiello F, Grandgirard D, Monni S and Biala K). Pg 323. Available at: http://ec.europa.eu/agriculture/analysis/external/livestock-gas/

JRC/PBL (2012) EDGAR version 4.2 FT2010. Joint Research Centre of the European Commission/PBL Netherlands Environmental Assessment Agency. [Internet] Available at: http://edgar.jrc.ec.europa.eu/index.php. Accessed Feb 2014

Klein CAM, Novoa RSA, Ogle S, Smith KA, Rochette P, Wirth T, McConkey B, Mosier A, Rypdal K, Walsh M, Williams SA (2006) N2O emissions from managed soils, and CO2 emissions from lime and urea application. Chapter 11. 2006 Intergovernmental Panel on Climate Change guidelines for national greenhouse gas inventories

Meyer RL, Kjær T, Revsbech NP (2002) Nitrification and denitrification near a soil-manure interface studied with a nitrate-nitrite biosensor. Soil Sci Soc Am J 66:498–506

Miller MN, Zebarth BJ, Dandie CE, Burton DL, Goyer G, Trevors JT (2009) Influence of liquid manure on soil denitrifier abundance, denitrification and nitrous oxide emissions. 73:760–768.

Ministry of the environment (2014) The official annual report of all anthropogenic (human induced) emissions and removals of greenhouse gases in New Zealand. Available at: http://www.mfe.govt.nz/publications/climate/greenhouse-gas-inventory-2014/index.html. Accessed Feb 2014.

Moran D, Wall E (2011) Livestock production and greenhouse gas emissions: Defining the problem and specifying solutions. Anim Front 1:19–25

Narula R, Dunning JH (2000) Industrial development, globalization and multinational enterprises: New realities for developing countries. Oxf Dev Stud 28:141–167

Naylor R, Steinfeld H, Falcon W, Galloway J, Smil V et al (2005) Losing the links between livestock and land. Science 10(3):1621–1622

NOAA (2014) National climatic data center. Earth System Research Laboratory of the University of Delware. National oceanic and atmosphere administration. Available at: http://www.esrl.noaa.gov/psd/data/gridded/data.UDel_AirT_Precip.html. Accessed Feb 2014

Oenema O, Tamminga S (2005) Nitrogen in global animal production and management options for improving nitrogen use efficiency. Sci China Ser C Life Sci 48:871–887

Reay DS, Davidson EA, Smith KA, Smith P, Melillo JM, Dentener F, Crutzen PJ (2012) Global agriculture and nitrous oxide emissions. Nat Clim Chang 2:410–416

Rose SK, Lee HL (2008) Non-CO2 greenhouse gas emissions data for climate change economic analysis. GTAP working paper No. 43

Steinfeld H, Gerber P, Wassenaar T, Castel V, Rosales M, De Haan C (2006) Livestock's long shadow: environmental issues and options. Food and Agriculture Organization of the United Nations (FAO), Rome, Italy. 408 pg. Available at: http://www.fao.org/docrep/010/a0701e/a0701e00.HTM

Tubiello FN, Salvatore M, Rossi S, Ferrara A, Fitton N, Smith P (2013) The FAOSTAT database of greenhouse gas emissions from agriculture. Environ Res Lett 8:1–10

UNEP (2012) Growing greenhouse gas emissions due to meat production. Taking the pulse of the planet; connecting science with policy

UNFCCC (2014a) United Nations framework convention on climate change. Available at: http://unfccc.int/parties_and_observers/items/2704.php

UNFCCC (2014b) United nations framework convention on climate change. Available at: http://unfccc.int/national_reports/annex_i_ghg_inventories/national_inventories_submissions/items/8108.php. Accessed Feb 2014.

Valin H, Havlik P, Mosnier A, Herrero M, Schimd E, Obersteiner M (2013) Agricultural productivity and greenhouse gas emissions: trade-offs or synergies between mitigation and food security? Environ Res Lett. doi:10.1088/1748-9326/8/3/035019

Vogeler I, Donna Giltrap D, Frank Li F, Snow V (2011) Comparison of models for predicting nitrification, denitrification and nitrous oxide emissions in pastoral systems. 19th International Congress on Modelling and Simulation, Perth, Australia, 12–16 December. Available at: http://mssanz.org.au/modsim2011

Williams C, 2011. Animal Production Workshop, November 9–10,. The role of animal agriculture in a sustainable 21st century global food system board on agriculture and natural resources. The National Academies (National Research Council) Washington, D.C. Available at: http://dels.nas.edu/global/banr/Animal-Production-Workshop
About this article
Cite this article
Caro, D., Davis, S.J., Bastianoni, S. et al. Global and regional trends in greenhouse gas emissions from livestock. Climatic Change 126, 203–216 (2014). https://doi.org/10.1007/s10584-014-1197-x
Received:

Accepted:

Published:

Issue Date:
Keywords
Dairy Cattle

Livestock Production

Livestock Sector

Enteric Fermentation

Default Emission Factor