Abstract
The water balance of inland lakes on the Tibetan Plateau (TP) involves complex hydrological processes; their dynamics over recent decades is a good indicator of changes in water cycle under rapid global warming. Based on satellite images and extensive field investigations, we demonstrate that a coherent lake growth on the TP interior (TPI) has occurred since the late 1990s in response to a significant global climate change. Closed lakes on the TPI varied heterogeneously during 1976–1999, but expanded coherently and significantly in both lake area and water depth during 1999–2010. Although the decreased potential evaporation and glacier mass loss may contribute to the lake growth since the late 1990s, the significant water surplus is mainly attributed to increased regional precipitation, which, in turn, may be related to changes in large-scale atmospheric circulation, including the intensified Northern Hemisphere summer monsoon (NHSM) circulation and the poleward shift of the Eastern Asian westerlies jet stream.
Access options
Buy single article
Instant access to the full article PDF.
US$ 39.95
Tax calculation will be finalised during checkout.
Subscribe to journal
Immediate online access to all issues from 2019. Subscription will auto renew annually.
US$ 119
Tax calculation will be finalised during checkout.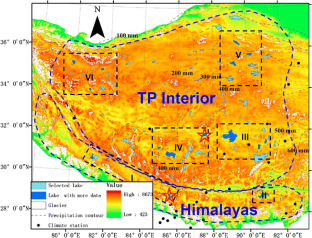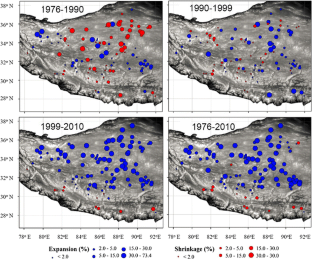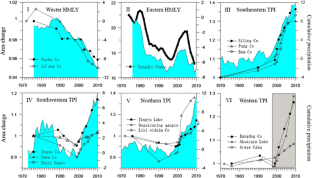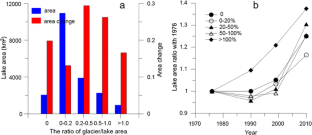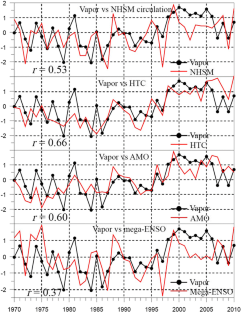 References
Bian D, Du J, Hu J (2009) Response of the water level of the Yamzho Yumco to climate change during 1975–2006. J Glaciol Geocryol 31(3):404–409 (in Chinese with English abstract)

Gao Y, Cuo L, Zhang Y (2014) Changes in moisture flux over the Tibetan Plateau during 1979–2011 and possible mechanisms. J Clim 27:1876–1893

Gardner AS, Moholdt G, Cogley JG (2013) A reconciled estimate of glacier contributions to sea level rise: 2003 to 2009. Science 340:852–857

Hudson AM, Quade J (2013) Long-term east–west asymmetry in monsoon rainfall on the Tibetan Plateau. Geology 41:351–354

Jacob T, Wahr J, Pfeffer W et al (2012) Recent contributions of glaciers and ice caps to sea level rise. Nature 482:514–518

Lei Y, Yao T, Yi C et al (2012) Glacier mass loss induced the rapid growth of Linggo Co on the central Tibetan Plateau. J Glaciol 58(207):177–184

Lei Y, Yao T, Bird BW et al (2013) Coherent lake growth on the central Tibetan Plateau since the 1970s: characterization and attribution. J Hydrology 483:61–67

Li JL, Sheng Y, Luo J et al (2011) Remotely sensed mapping of inland lake area changes in the Tibetan Plateau. J Lake Sci 22(3):311–320 (in Chinese with English abstract)

Lin C, Yang K, Qin J et al (2013) Observed coherent trends of surface and upper-air wind speed over China since 1960. J Clim 26:2891–2903

Liu X, Chen B (2000) Climatic warming in the Tibetan Plateau during recent decades. Int J Climatol 20:1729–1742

Liu JS, Wang SY, Yu SM et al (2009) Climate warming and growth of high-elevation inland lakes on the Tibetan Plateau. Global Planet Change 67:209–217

Ma R, Duan H, Hu C et al (2010) A half-century of changes in China's lakes: global warming or human influence? Geophys Res Lett 37, L24106. doi:10.1029/2010GL045514

Neckel N, Kropáček J, Bolch T et al (2014) Glacier mass changes on the Tibetan Plateau 2003–2009 derived from ICESat laser altimetry measurements. Environ Res Lett 9:014009

Qi W, Zhang B, Pang Y et al (2013) TRMM-Data-based spatial and seasonal patterns of precipitation in the Qinghai–Tibet plateau. Sci Geogr Sin 33(8):999–1005 (in Chinese with English abstract)

Rosenberry DO, Winter T, Buso D (2007) Comparison of 15 evaporation methods applied to a small mountain lake in the northeastern USA. J Hydrol 340:149–166

Song C, Huang B, Ke L (2013) Modeling and analysis of lake water storage changes on the Tibetan Plateau using multi-mission satellite data. Remote Sens Environ 135:25–35

Wan W, Xiao P, Feng X et al (2014) Monitoring lake changes of Qinghai-Tibetan plateau over the past 30 years using satellite remote sensing data. Chinese Sci Bull 59(10):1021–1035

Wang B, Liu J, Kim H-J et al (2013) Northern Hemisphere summer monsoon intensified by mega-El Niño/southern oscillation and Atlantic multidecadal oscillation. Proc Natl Acad Sci U S A 110(14):5347–5352

Wei J, Liu S, Guo W (2014) Surface-area changes of glaciers in the Tibetan Plateau interior area since the 1970s using recent Landsat images and historical maps. Ann Glaciol 55(66):213–222

Wu G, Liu Y, He B et al (2012) Thermal controls on the Asian summer monsoon. Sci Rep 2:1–7

Yang K, Ye B, Zhou D (2011) Response of hydrological cycle to recent climate changes in the Tibetan Plateau. Clim Chang 109:517–534

Yang K, Ding B, Qin J et al (2012) Can aerosol loading explain the solar dimming over the Tibetan Plateau? Geophys Res Lett 39, L20710. doi:10.1029/2012GL053733

Yang K, Wu H, Qin J et al (2014) Recent climate changes over the Tibetan Plateau and their impacts on energy and water cycle: a review. Global Planet Change 112:79–91

Yao T, Wang Y, Liu S et al (2004) Recent glacial retreat in High Asia in China and its impact on water resource in Northwest, China. Sci China-Earth Sci 47:1005–1075

Yao T, Li Z, Yang W et al (2010) Glacial distribution and mass balance in the Yarlung Zangbo River and its influence on lakes. Chin Sci Bull 55:2072–2078

Yao T, Thompson L, Yang W et al (2012) Different glacier status with atmospheric circulations in Tibetan Plateau and surroundings. Nat Clim Chang. doi:10.1038/nclimate1580

Zhang X, Ren Y, Yin ZY et al (2009) Spatial and temporal variation patterns of reference evapotranspiration across the Qinghai-Tibetan Plateau during 1971–2004. J Geophys Res 114, D15105. doi:10.1029/2009JD011753

Zhang G, Xie H, Kang S et al (2011) Monitoring lake level changes on the Tibetan Plateau using ICESat altimetry data (2003–2009). Remote Sens Environ 115:1733–1742

Zhang G, Yao T, Xie H, et al. (2013) Increased mass over the Tibetan Plateau: from lakes or glaciers? Geophys Res Lett 40, doi:10.1002/grl.50462
Acknowledgments
This research has been supported by the Strategic Priority Research Program (B) of the Chinese Academy of Sciences (Grant no. XDB03030207) and the NSFC project (Grants nos. 41190081 and 41101062). The glacier inventory data is provided by "Cold and Arid Regions Science Data Center at Lanzhou" (http://westdc.westgis.ac.cn). We thank Prof. Yao T.D. and two anonymous reviewers for providing constructive suggestions, and Tek B.C., Hudson A.M., Song C.Q., and Peng P. for the help during preparation of the paper. This is the publication number 6 of the ESMC.
Electronic supplementary material
Below is the link to the electronic supplementary material.
About this article
Cite this article
Lei, Y., Yang, K., Wang, B. et al. Response of inland lake dynamics over the Tibetan Plateau to climate change. Climatic Change 125, 281–290 (2014). https://doi.org/10.1007/s10584-014-1175-3
Received:

Accepted:

Published:

Issue Date:
Keywords
Tibetan Plateau

ICESat

Lake Level Change

Lake Evaporation

Closed Lake