Abstract
As land use change (LUC), including deforestation, is a patchy process, estimating the impact of LUC on carbon emissions requires spatially accurate underlying data on biomass distribution and change. The methods currently adopted to estimate the spatial variation of above- and below-ground biomass in tropical forests, in particular the Brazilian Amazon, are usually based on remote sensing analyses coupled with field datasets, which tend to be relatively scarce and often limited in their spatial distribution. There are notable differences among the resulting biomass maps found in the literature. These differences subsequently result in relatively high uncertainties in the carbon emissions calculated from land use change, and have a larger impact when biomass maps are coded into biomass classes referring to specific ranges of biomass values. In this paper we analyze the differences among recently-published biomass maps of the Amazon region, including the official information used by the Brazilian government for its communication to the United Nation Framework on Climate Change Convention of the United Nations. The estimated average pre-deforestation biomass in the four maps, for the areas of the Amazon region that had been deforested during the 1990–2009 period, varied from 205 ± 32 Mg ha−1 during 1990–1999, to 216 ± 31 Mg ha−1 during 2000–2009. The biomass values of the deforested areas in 2011 were between 7 and 24 % higher than for the average deforested areas during 1990–1999, suggesting that although there was variation in the mean value, deforestation was tending to occur in increasingly carbon-dense areas, with consequences for carbon emissions. To summarize, our key findings were: (i) the current maps of Amazonian biomass show substantial variation in both total biomass and its spatial distribution; (ii) carbon emissions estimates from deforestation are highly dependent on the spatial distribution of biomass as determined by any single biomass map, and on the deforestation process itself; (iii) future deforestation in the Brazilian Amazon is likely to affect forests with higher biomass than those deforested in the past, resulting in smaller reductions in carbon dioxide emissions than expected purely from the recent reductions in deforestation rates; and (iv) the current official estimate of carbon emissions from Amazonian deforestation is probably overestimated, because the recent loss of higher-biomass forests has not been taken into account.
Access options
Buy single article
Instant access to the full article PDF.
US$ 39.95
Tax calculation will be finalised during checkout.
Subscribe to journal
Immediate online access to all issues from 2019. Subscription will auto renew annually.
US$ 119
Tax calculation will be finalised during checkout.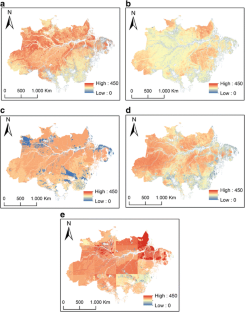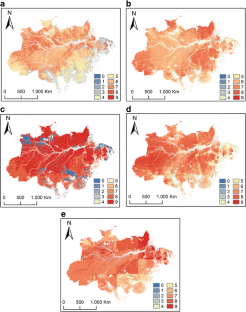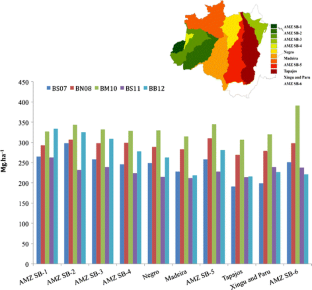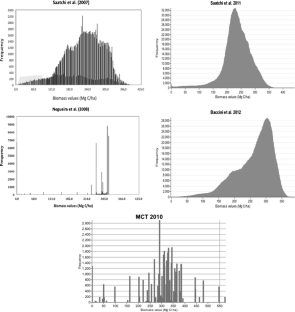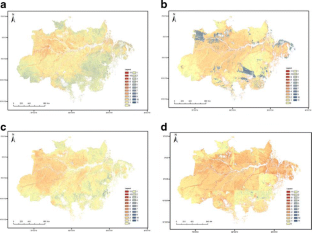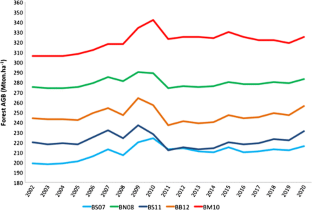 References
Aguiar APD, Ometto JP et al (2012) Modeling the spatial and temporal heterogeneity of deforestation-driven carbon emissions: the INPE-EM framework applied to the Brazilian Amazon. Glob Chang Biol. doi:10.1111/j.1365-2486.2012.02782.x

Anderson LO, Malhi Y, Aragao LEOC, Ladle R, Arai E, Barbier N, Phillips O (2010) Remote sensing detection of droughts in Amazonian forest canopies. New Phytol 187(3):733–750

Araújo AC et al. (2002) Comparative measurements of carbon dioxide fluxes from two nearby towers in a central Amazonian rainforest: the Manaus LBA site, J Geophys Res 107(D20):58–51 - 58–20.

Baccini A et al (2012) Estimated carbon dioxide emissions from tropical deforestation improved by carbon-density maps. Nat Clim Chang 2(3):182–185

Davidson EA et al (2012) The Amazon basin in transition. Nature 481(7381):321–328

Fearnside PM (1997) Wood density for estimating forest biomass in Brazilian Amazonia. For Ecol Manag 90(1):59–87

Fearnside PM, Laurance WF (2004) Tropical deforestation and greenhouse-gas emissions. Ecol Appl 14(4):982–986

Feldpausch TR, Riha SJ, Fernandes ECM, Wandelli EV (2005) Development of forest structure and leaf area in secondary forests regenerating on abandoned pastures in Central Amazonia. Earth Interact 9(6):1–22

Feldpausch TR et al (2011a) Height-diameter allometry of tropical forest trees. Biogeosciences 8(5):1081–1106

Feldpausch TR et al (2011b) Height-diameter allometry of tropical forest trees. Biogeosciences 8:1081–1106

Higuchi N, Santos J, Ribeiro RJ, Minette L, Biot Y (1998) Biomassa da parte aerea da vegetacão da Oloresta tropical úmida de terra-firme da Amazonia brasileira. Acta Amazôn 28:153–166

Hoffmann WA, Schroeder W, Jackson RB (2003) Regional feedbacks among fire, climate, and tropical deforestation. J Geophys Res Atmos 108:4721

Hoffmann WA, Orthen B, Franco AC (2004) Constraints to seedling success of savanna and forest trees across the savanna-forest boundary. Oecologia 140(2):252–260

Houghton RA (2010) How well do we know the flux of CO(2) from land-use change? Tellus Ser B Chem Phys Meteorol 62(5):337–351

Houghton RA, Lawrence KT, Hackler JL, Brown S (2001) The spatial distribution of forest biomass in the Brazilian Amazon: a comparison of estimates. Glob Chang Biol 7(7):731–746

INPE (2011) PRODES-Amazon deforestation database. Available online at: www.obt.inpe.br/prodes

INPE (2012) Amazon deforestation database, edited, Sao Jose dos Campos, SP, Brazil

IPCC (2007) Climate change 2007: the physical science basis. Rep., Intergovernmental Panel on Climate Change. Cambridge, UK

IPCC (2013) Summary for policymakers. In: Stocker TF, Qin D, Plattner G-K, Tignor M, Allen SK, Boschung J, Nauels A, Xia Y, Bex V, Midgley PM (eds) Climate change 2013: the physical science basis. Contribution of working group I to the fifth assessment report of the intergovernmental panel on climate change. Cambridge University Press, Cambridge, United Kingdom and New York, NY, USA

Lambin EF et al (2001) The causes of land-use and land-cover change: moving beyond the myths. Glob Environ Chang 11(4):261–269

Le Quéré C et al (2009) Trends in the sources and sinks of carbon dioxide. Nat Geosci 2(12):831–836

Malhi Y (2010) The carbon balance of tropical forest regions, 1990–2005. Curr Opin Sustain 2(4):237–244

Malhi Y et al (2004) The above-ground coarse wood productivity of 104 Neotropical forest plots. Glob Chang Biol 10:563–591

Malhi Y et al (2006) The regional variation of aboveground live biomass in old-growth Amazonian forests. Glob Chang Biol 12(7):1107–1138

Malhi Y, Aragao LEOC, Galbraith D, Huntingford C, Fisher R, Zelazowski P, Sitch S, McSweeney C, Meir P (2009) Exploring the likelihood and mechanism of a climate-change-induced dieback of the Amazon rainforest. Proc Natl Acad Sci U S A 106(49):20610–20615

MCT (Ministry of Science and Technology) (2010) Second National Communication of Brazil to the United Nations Framework Convention on Climate Change. Brasília 2 v. : il. col., map.; 30 cm. + 1 CD-ROM (4 3/4 in.)

Nobre CA, Sellers PJ, Shukla J (1991) Amazonian deforestation and regional climate change. J Clim 4:957–988

Nogueira EM, Fearnside PM, Nelson BW (2008a) Normalization of wood density in biomass estimates of Amazon forests. For Ecol Manag 256(5):990–996

Nogueira EM, Fearnside PM, Nelson BW, Barbosa RI, Keizer EWH (2008b) Estimates of forest biomass in the Brazilian Amazon: new allometric equations and adjustments to biomass from wood-volume inventories. For Ecol Manag 256(11):1853–1867

Ometto J, Aguiar A, Martinelli L (2011) Amazon deforestation in Brazil: effects, drivers and challenges. Carbon Manag 2(5):575–585

Phillips OL et al (2002) Increasing dominance of large lianas in Amazonian forests. Nature 48:770–774

Phillips OL et al (2004) Pattern and process in Amazon tree turnover, 1976–2001. Phil Trans R Soc Lond B 359:381–407. doi:10.1098/rstb.2003.1438

Potter C, Klooster S, Genovese V (2009) Carbon emissions from deforestation in the Brazilian Amazon Region. Biogeosciences 6(11):2369–2381

Potter C, Klooster S, Hiatt C, Genovese V, Castilla-Rubio JC (2011) Changes in the carbon cycle of Amazon ecosystems during the 2010 drought. Environ Res Lett 6(3):034024

Quesada CA, Lloyd J, Anderson LO, Fyllas NM, Schwarz M, Czimczik CI (2011) Soils of amazonia with particular reference to the RAINFOR sites. Biogeosciences 8:1415–1440

Ramankutty N, Gibbs HK, Achard F, Defriess R, Foley JA, Houghton RA (2007) Challenges to estimating carbon emissions from tropical deforestation. Glob Chang Biol 13(1):51–66

Saatchi SS, Houghton RA, Dos Santos Alval RC, Soares ÁJV, Yu Y (2007) Distribution of aboveground live biomass in the Amazon basin. Glob Chang Biol 13(4):816–837

Saatchi SS et al (2011) Benchmark map of forest carbon stocks in tropical regions across three continents. Proc Natl Acad Sci U S A 108(24):9899–9904

Spracklen DV, Arnold SR, Taylor CM (2012) Observations of increased tropical rainfall preceded by air passage over forests. Nature 489(7415):282–285

Strassburg BBN et al (2010) Global congruence of carbon storage and biodiversity in terrestrial ecosystems. Conserv Lett 3(2):98–105

Vieira S, Trumbore S, Camargo PB, Selhorst D, Chambers JQ, Higuchi N, Martinelli LA (2005) Slow growth rates of Amazonian trees: consequences for carbon cycling. Proc Natl Acad Sci U S A 102(51):18502–18507

Werth D, Avissar R (2002) The local and global effects of Amazon deforestation. J Geophys Res 107:8087. doi:10.1029/2001JD000717
Acknowledgments
We thank Thelma Krug, Ubirajara Freitas, Euler Melo Nogueira, Philip Martin Fearnside, Sassan Saatchi and Alessandro Baccini for providing the biomass spatial data for the production of maps. We are grateful to J. Reid (JWR Associates) for revising the English. We acknowledge financial support and the Planetary Skin Institute (PSI) for initial discussions and for financial support. JPO gratefully acknowledges the Fundação de Amparo a Pesquisa do Estado de São Paulo (FAPESP) through the project n. 2009/52468-0. PM gratefully acknowledges ARC support through FT110100457 and NERC support through NE/J011002/1.
Additional information
This article is part of a Special Issue on "Third International Workshop on Uncertainty in Greenhouse Gas Inventories" edited by Jean Ometto and Rostyslav Bun.
About this article
Cite this article
Ometto, J.P., Aguiar, A.P., Assis, T. et al. Amazon forest biomass density maps: tackling the uncertainty in carbon emission estimates. Climatic Change 124, 545–560 (2014). https://doi.org/10.1007/s10584-014-1058-7
Received:

Accepted:

Published:

Issue Date:
Keywords
Biomass

Carbon Emission

Carbon Stock

Secondary Forest

Wood Density