Abstract
A high world demand for crude palm oil has caused a reduction in the area of Indonesia's tropical rainforests over the past several decades. Our hypothesis is that the expansion of the area devoted to oil palm plantations at the expense of primary and secondary tropical rainforests will increase the local surface temperature. While similar studies of other crops have been reported, this is the first time this particular hypothesis has been investigated and reported using the remote sensing methods described in this paper. In this study, we used remotely sensed data to quantify land use changes from tropical rainforests to oil palm plantations, calculated the surface temperature from thermal infrared data supplied by band 6 of the Landsat 5 Thematic Mapper (TM) and Landsat 7 Enhanced Thematic Mapper Plus (ETM+), examined the correlations of surface temperature to foliage cover, and conducted field work to verify the results obtained using the remotely sensed data. For this study, we used a new spectral index, Principal Polar Spectral Greenness (PPSG), that is potentially more sensitive than other index to small changes in foliage cover at high cover levels. The outcome of satellite image processing is only 0.2 °C different from direct temperature measurement in the field. Our study indicated that less density of the closed-canopy composition of oil palm trees resulted in higher surface temperature.
Access options
Buy single article
Instant access to the full article PDF.
US$ 39.95
Tax calculation will be finalised during checkout.
Subscribe to journal
Immediate online access to all issues from 2019. Subscription will auto renew annually.
US$ 119
Tax calculation will be finalised during checkout.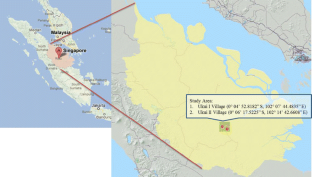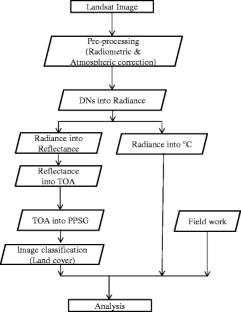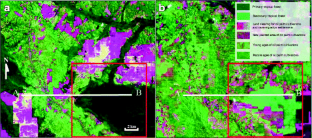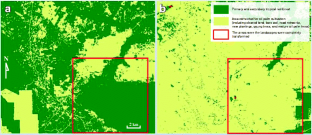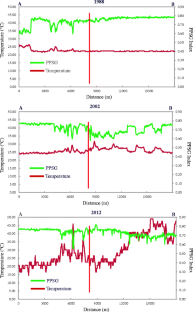 References
National Statistical Bureau (2011) Indonesian oil palm statistics. Sub Directorate of Estate Crops Statistics. Statistics-Indonesia

Corley RHV, Tinker PB (2003) The Oil Palm, 4th edn. National Academy Press. Blackwell Science, British

Fitzherbert EB, Struebig MJ, Morel A, Danielsen F, Bruhl CA, Donald PF, Phalan B (2008) How will oil palm expansion affect biodiversity? Trends in Eco & Evo 23(10):538–545. doi:10.1016/j.tree.2008.06.012

Foster WA, Snaddon JL, Turner EC, Fayle TM, Cockerill TD, Ellwood MDF, Broad GR, Chung AYC, Eggleton P, Khen CV, Yusah KM (2011) Establishing the evidence base for maintaining biodiversity and ecosystem function in the oil palm landscapes of South East Asia. Phil Trans R Soc B 366:3277–3291. doi:10.1098/rstb.2011.0041

Georgescu M, Lobell D, Field C (2011) Direct climate effects of perennial bioenergy crops in the United States. Proc Natl Acad Sci U S A 108:4307–4312

Gibbs HK, Ruesch AS, Achard F, Clayton MK, Holmgren P, Ramankutty N, Foley JA (2010) Tropical forests were the primary sources of new agricultural land in the 1980s and 1990s. Proc Natl Acad Sci U S A 107:16732–16737. doi:10.1073/pnas.0910275107

Ho C.-H, Park S.-J, Jeong S.-J, Kim J, Jhun J.-G (2012) Observational evidences of double cropping impacts on the climate in the northern China plains. J Climate 25:4721–4728. doi:10.1175/JCLI-D-11-00224.1

Koh LP, Wilcove DS (2008) Is Oil palm agriculture really destroying tropical biodiversity? Conserv Lett 1(2):60–64

Koh LP, Levang P, Ghazoul J (2009) Designer landscapes for sustainable biofuels. Trends Ecol Evol 24:431–438. doi:10.1016/j.tree.2009.03.012

Koh LP, Miettinen J, Liew SC, Ghazoul J (2011) Remotely sensed evidence of tropical peatland conversion to oil palm. Proc Natl Acad Sci U S A 108(12):5127–32. doi:10.1073/pnas.1018776108

Luskin MS, Potts MD (2011) Microclimate and habitat heterogeneity through the oil palm lifecycle. Basic and Appl Ecol 12(6):540–551

Loarie SR, Lobell DB, Asner GP, Mu Q, Field CB (2011) Direct impacts on local climate of sugar-cane expansion in Brazil. Nat Clim Chang 1:105–109. doi:10.1038/NCLIMATE1067

Moffiet T, Armstonb JD, Mengersenc K (2010) Motivation, development and validation of a new spectral greenness index: A spectral dimension related to foliage projective cover. ISPRS J Photogramm Remote Sens 65:26–41

Park C-E, Ho C-H, Jeong S-J, Kim J, Feng S (2012) The potential of vegetation feedback to alleviate climate aridity over the United States associated with a 2xCO2 climate condition. Clim Dyn 38:1489–1500. doi:10.1007/s00382-011-1150-x

Ramdani F (2011) Changes in land use due to development of oil palm plantation in Sumatera and Kalimantan Island, under economic globalization. Thesis, Tohoku University

Ramdani F (2012) Analysing variety of vegetation indices values using different methods for mapping oil palm closed-canopy composition in southern Riau Province, Indonesia. Geoscience and Remote Sensing Symposium (IGARSS), IEEE International, 22–27 July 2012, Munich, Germany. pp 6032–6034. doi:10.1109/IGARSS.2012.6352232

Ramdani F, Hino M (2012) Combining remote sensing information and policy changed to monitor oil palm expansion in tropical country, Indonesia. G-COE Final Symposium, Achievements of the Global-COE program for Earth and Planetary Dynamics and the Future Perspective. 25–28 September 2012, Sendai, Japan. pp 263–264.

Ramdani F, Hino M (2013) Land use changes and GHG emissions from tropical forest conversion by oil palm plantations in Riau Province Indonesia. PLoS ONE 8(7):E70323. doi:10.1371/journal.pone.0070323

Susanti A and Burgers p (2012) European Report on Development. http://erd-report.eu/erd/report_2011/documents/researchpapers_susanti-burgers.pdf. Accessed 18 March 2013

Turner E, Foster WA (2006) Assessing the influence of bird's nest ferns (Asplenium spp.) on the local microclimate across a range of habitat disturbances in Sabah, Malaysia. Selbyana 27:195–200

Whitten AJ (1987) Indonesia's Transmigration Program and Its Role in the Loss of Tropical Rain Forests. Conserv Biol 1(3):239–246
Electronic supplementary material
Below is the link to the electronic supplementary material.
About this article
Cite this article
Ramdani, F., Moffiet, T. & Hino, M. Local surface temperature change due to expansion of oil palm plantation in Indonesia. Climatic Change 123, 189–200 (2014). https://doi.org/10.1007/s10584-013-1045-4
Received:

Accepted:

Published:

Issue Date:
Keywords
Land Surface Temperature

Tropical Rainforest

Average Surface Temperature

Local Climate Change

Foliage Cover