Abstract
The world is generally becoming less violent, but the debate on climate change raises the specter of a new source of instability and conflict. In this field, the policy debate is running well ahead of its academic foundation—and sometimes even contrary to the best evidence. Although comparative research on security implications of climate change is rapidly expanding, major gaps in knowledge still exist. Taken together, extant studies provide mostly inconclusive insights, with contradictory or weak demonstrated effects of climate variability and change on armed conflict. This article reviews the empirical literature on short-term climate/environmental change and intrastate conflict, with special attention to possible insecurity consequences of precipitation and temperature anomalies and weather-related natural disasters. Based on this assessment, it outlines priorities for future research in this area.
Access options
Buy single article
Instant access to the full article PDF.
US$ 39.95
Tax calculation will be finalised during checkout.
Subscribe to journal
Immediate online access to all issues from 2019. Subscription will auto renew annually.
US$ 119
Tax calculation will be finalised during checkout.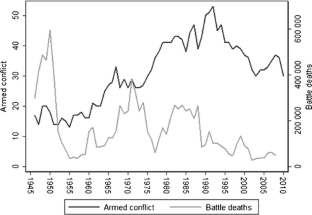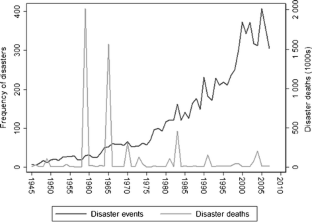 Notes
1.

We refer to Buhaug et al. (2010) for a more comprehensive exposition of possible causal linkages between climate change and violent conflict.

2.

Conversely, the study suggests that rates of violent crime dropped due to a rise in beer prices.

3.

A summary table obscures the fact that not all analyses are of the same scope and rigor. However, the lack of consensus on specification issues precludes us from ranking studies according to such (yet to be established) objective criteria. We try to partially compensate for this by indicating some findings that are more recent.

4.

That said, there is no consensus on the extent to which global climate change will impact the incidence and severity of El Niño and La Niña episodes (IPCC 2007: 780).

5.

Guha-Sapir et al. (2011: 7) define a disaster as 'a situation or event which overwhelms local capacity, necessitating a request to a national or international level for external assistance; an unforeseen and often sudden event that causes great damage, destruction and human suffering.'

6.

7.

More recent estimates tend to be higher. Grinsted et al. (2009) project sea-level to rise between 0.9 and 1.3 m within the twenty-first century, based on the A1B scenario.

8.
References
Adano WR, Witsenburg K, Dietz T, Zaal F (2012) Climate change, violent conflict and local institutions in Kenya's drylands. J Peace Res 49(1):65–80

Anderson CA (2001) Heat and violence. Curr Dir Psychol Sci 10(1):33–38

Barnett J, Adger WN (2007) Climate change, human security and violent conflict. Polit Geogr 26(6):639–655

Barrios S, Bertinelli L, Strobl E (2010) Trends in rainfall and economic growth in Africa: a neglected cause of the African growth tragedy. Rev Econ Stat 92(2):350–366

Barron P, Kaiser K, Pradhan M (2009) Understanding variations in local conflict: evidence and implications from Indonesia. World Dev 37(3):698–713

Benjaminsen TA, Alinon K, Buhaug H, Buseth JT (2012) Does climate change drive land-use conflicts in the Sahel? J Peace Res 49(1):97–111

Bergholt D, Lujala P (2012) Climate-related natural disasters, economic growth, and armed civil conflict. J Peace Res 49(1):147–162

Bernauer T, Böhmelt T, Koubi V (2012) Environmental changes and violent conflict. Environ Res Lett 7(1): article no. 015601

Besley T, Persson T (2011) The logic of political violence. Q J Econ 126(3):1411–1445

Bohlken AT, Sergenti EJ (2010) Economic growth and ethnic violence: an empirical investigation of Hindu-Muslim riots in India. J Peace Res 47(5):589–600

Brancati D (2007) Political aftershocks: the impact of earthquakes on intrastate conflict. J Confl Resolut 51(5):715–743

Brown I (2010) Assessing eco-scarcity as a cause of the outbreak of conflict in Darfur: a remote sensing approach. Int J Remote Sens 31(10):2513–2520

Buhaug H (2010a) Climate not to blame for African civil wars. PNAS 107(38):16477–16482

Buhaug H (2010b) Reply to Burke et al.: Bias and climate war research. PNAS 107(51):E186–E187

Buhaug H, Gleditsch NP, Theisen OM (2010) Implications of climate change for armed conflict. Ch. 3. In: Mearns R, Norton A (eds) Social dimensions of climate change: Equity and vulnerability. New frontiers of social policy. World Bank, Washington, DC, pp 75–101

Burke MB, Miguel E, Satyanath S, Dykema JA, Lobell DB (2009) Warming increases the risk of civil war in Africa. PNAS 106(49):20670–20674

Burke MB, Miguel E, Satyanath S, Dykema JA, Lobell DB (2010) Climate robustly linked to African civil war. PNAS 107(51):E185

Butler CK, Gates S (2012) African range wars: climate, conflict, and property rights. J Peace Res 49(1):23–34

Ciccone A (2011) Economic shocks and civil conflict: a comment. Am Econ J Appl Econ 3(4):215–227

Drury AC, Olson RS (1998) Disasters and political unrest: an empirical investigation. J Conting Crisis Manag 6(3):153–161

Eaton D (2008) The business of peace: raiding and peace work along the Kenya-Uganda border (part I). Afr Aff 107(427):89–110

Esty DC, Goldstone JA, Gurr TR, Harff B, Levy M, Dabelko GD, Surko P, Unger AN (1998) State failure task force report: Phase II findings. Science Applications International, McLean, VA

Fjelde H, von Uexkull N (2012) Climate triggers: Rainfall anomalies, vulnerability and communal conflict in Sub-Saharan Africa. Polit Geogr 31(7):444–453

Foresight (2011) Migration and Global Environmental Change (2011) Final Project Report. The Government Office for Science, London. http://www.bis.gov.uk/foresight/our-work/projects/current-projects/global-migration

Gizelis TI, Wooden AE (2010) Water resources, institutions, and intrastate conflict. Polit Geogr 29(8):444–453

Gleditsch NP (2008) The liberal moment fifteen years on. Presidential Address, International Studies Association. Int Stud Q 52(4):691–712

Gleditsch NP (2012) Whither the weather? Climate change and conflict. J Peace Res 49(1):3–9

Gleditsch NP, Wallensteen P, Eriksson M, Sollenberg M, Strand H (2002) Armed conflict 1946–2001: a new dataset. J Peace Res 39(5):615–637

Gleditsch NP, Nordås R, Salehyan I (2007) Climate change and conflict: The migration link. Coping with Crisis Working Paper Series. New York: International Peace Academy, www.ipacademy.org/our-work/coping-with-crisis/working-papers

Goldstein JS (2011) Winning the war on war: The decline of armed conflict worldwide. Dutton, New York

Goldstone JA, Bates RH, Epstein DL, Gurr TR, Lustik MB, Marshall MG, Ulfelder J, Woodward M (2010) A global model for forecasting political instability. Am J Polit Sci 54(1):190–208

Grinsted A, Moore JC, Jevrejeva S (2009) Reconstructing sea level from paleo and projected temperatures 200 to 2100 ad. Clim Dyn 34(4):461–472

Guha-Sapir D, Vos F, Below R, Ponserre S (2011) Annual disaster statistical review 2010: The numbers and trends. Brussels: Centre for Research on the Epidemiology of Disasters (CRED), Université catholique de Louvain, http://www.cred.be/sites/default/files/ADSR_2010.pdf

Hegre H, Sambanis N (2006) Sensitivity analysis of empirical results on civil war onset. J Confl Resolut 50(4):508–535

Hegre H, Karlsen J, Nygård HM, Urdal H, Strand H (2013) Predicting armed conflict, 2011–2050. Int Stud Q 55(2):1–21

Hendrix CS, Glaser SM (2007) Trends and triggers: climate, climate change and civil conflict in Sub-Saharan Africa. Polit Geogr 26(6):695–715

Hendrix CS, Salehyan I (2012) Climate change, rainfall, and social conflict in Africa. J Peace Res 49(1):35–50

Hendrix C, Haggard S (2012) International food prices, regime type, and protest in the developing world. Under journal review. Accessed at http://cshendrix.files.wordpress.com/2007/03/hh_foodpricesprotest_forweb.pdf (171212)

Hidalgo FD, Naidu S, Nichter S, Richardson N (2010) Economic determinants of land invasions. Rev Econ Stat 92(3):505–523

Homer-Dixon TF (1999) Environment, scarcity and violence. Princeton University Press, Princeton, NJ

Hsiang SM, Meng KC, Cane MA (2011) Civil conflicts are associated with the global climate. Nature 476:438–441

HSRP (2010) Human Security Report 2009/2010. The causes of peace and the shrinking costs of war. Vancouver, BC: Human Security Report Project, Simon Fraser University

IPCC (2001) Third assessment report. Climate change 2001. Geneva: Intergovernmental Panel on Climate Change, and Cambridge: Cambridge University Press. Available online at www.ipcc.ch

IPCC (2007) Fourth assessment report. Climate change 2007. Geneva: Intergovernmental Panel on Climate Change, and Cambridge: Cambridge University Press. Available online at www.ipcc.ch

IPCC (2011) IPCC Special report on managing the risks of extreme events and disasters to advance climate change adaptation—Summary for policymakers. International Panel on Climate Change

IPCC (2012) Agreed reference material for the IPCC Fifth assessment report, www.ipcc.ch/pdf/ar5/ar5-outline-compilation.pdf

Jensen PS, Gleditsch KS (2009) Rain, growth, and civil war: the importance of location. Def Peace Econ 20(5):359–372

Jones BF, Ohlken BA (2010) Climate shocks and exports. Am Econ Rev 100(2):454–459

Kevane M, Gray L (2008) Darfur: rainfall and conflict. Environ Res Lett 3(3):1–10

Koubi V, Bernauer T, Kalbhenn A, Spilker G (2012) Climate variability, economic growth, and civil conflict. J Peace Res 49(1):113–127

Lacina B, Gleditsch NP (2005) Monitoring trends in global combat: a new dataset of battle deaths. Eur J Popul 21(2–3):145–166

Lacina B, Gleditsch NP, Russett B (2006) The declining risk of death in battle. Int Stud Q 50(3):673–680

Lecoutere E, D'Exelle B, Van Campenhout B (2010) Who engages in water scarcity conflicts? A field experiment with irrigators in semi-arid Africa. MICROCON Research Working Papers 31. Accessed at http://www.microconflict.eu/publications/RWP31_EL_BD_BVC.pdf

Mehlum H, Miguel E, Torvik R (2006) Poverty and crime in 19th century Germany. J Urban Econ 59:370–388

Meier P, Bond D, Bond J (2007) Environmental influences on pastoral conflict in the Horn of Africa. Polit Geogr 26(6):716–735

Miguel E (2005) Poverty and witch killing. Rev Econ Stud 72(4):1153–1172

Miguel E, Satyanath S (2011) Re-examining economic shocks and civil conflict. Am Econ J Appl Econ 3(4):228–232

Miguel E, Satyanath S, Sergenti E (2004) Economic shocks and civil conflict: an instrumental variables approach. J Polit Econ 112(4):725–753

Mjøs OD (2007) Award ceremony speech by the Chair of the Norwegian Nobel Committee for the IPCC and Al Gore, Oslo, 10 December, http://nobelprize.org/nobel_prizes/peace/laureates/2007/presentation-speech.html

Mortimore M (1998) Roots in the African dust: Sustaining the Sub-Saharan drylands. Cambridge University Press, Cambridge

Nel P, Righarts M (2008) Natural disasters and the risk of violent civil conflict. Int Stud Q 52(1):159–185

Nicholls RJ, Small C (2002) Improved estimates of coastal population and exposure to hazards. Eos. Trans Am Geophys Union 83(28):301–305

Nicholls RJ, Tol RSJ (2006) Impacts and responses to sea-level rise: a global analysis of the SRES scenarios over the 21st century. Phil Trans R Soc Lond A 361(1841):1073–1095

Nordås R, Gleditsch NP (eds) (2007a) Climate change and conflict. Special issue of Political Geography 26(6), August

Nordås R, Gleditsch NP (2007b) Climate change and conflict. Polit Geogr 26(6):627–638

Obama BH (2009) Remarks by the president at United Nations Secretary General Ban Ki-Moon's climate change summit 22 September. New York: United Nations, www.whitehouse.gov/the_press_office/

O'Loughlin J, Witmer FDW, Linke AM, Laing A, Gettelman, A Dudhia J (2012) Climate variability and conflict risk in East Africa, 1990-2009. PNAS 109(45):18344–18349

Omelicheva MY (2011) Natural disasters: triggers of political instability? Int Interact 37(4):441–465

Perch-Nielsen S, Bättig M, Imboden D (2008) Exploring the link between climate change and migration. Clim Chang 91(3–4):375–393

Pinker S (2011) The better angels of our nature. Viking, New York

Raleigh C, Kniveton D (2012) Come rain or shine: an analysis of conflict and climate variability in East Africa. J Peace Res 49(1):51–64

Raleigh C, Urdal H (2007) Climate change, environmental degradation and armed conflict. Polit Geogr 26(6):674–694

Reuveny R (2007) Climate change-induced migration and violent conflict. Polit Geogr 26(6):656–673

Rowhani P, Degomme O, Guha-Sapir D, Lambin EF (2011) Malnutrition and conflict in East Africa: the impact of resource variability on human security. Clim Chang 105(1–2):207–222

Salehyan I (2008) From climate change to conflict? No consensus yet. J Peace Res 45(3):315–326

Scheffran J, Brzoska M, Kominek J, Link PM, Schilling J (2012) Climate change and violent conflict. Science 336(6083):869–871

Schneider G, Gleditsch NP, Carey S (eds) (2010) Exploring the past, anticipating the future: a symposium. Int Stud Rev 12(1):1–7

Slettebak RT (2012) Don't blame the weather! Climate-related natural disasters and civil conflict. J Peace Res 49(1):163–176

Theisen OM (2012) Climate clashes? Weather variability, land pressure, and organized violence in Kenya 1989–2004. J Peace Res 49(1):81–96

Theisen OM, Holtermann H, Buhaug H (2011/2012) Climate wars? Assessing the claim that drought breeds conflict. Int Secur 36(3):79–106

Themnér L, Wallensteen P (2011) Armed conflict, 1946–2010. J Peace Res 48(4):525–536

UN (2007) Security Council holds first-ever debate on impact of climate change, 5663rd Meeting. New York: United Nations, Department of Public Information, www.un.org/News/Press/docs/2007/sc9000.doc.htm

Van Aalst MK (2006) The impacts of climate change on the risk of natural disasters. Disasters 30(1):5–18

Witsenburg KM, Adano WR (2009) On rain and raids: violent livestock raiding in Northern Kenya. Civ Wars 11(4):514–538
Acknowledgments
This article builds on a paper prepared for the DoE/EPA workshop on Research on Climate Change Impacts and Associated Economic Damages, Washington, DC, 27–28 January 2011. It draws on work at the Centre for the Study of Civil War at PRIO, funded by the Research Council of Norway, including Buhaug (2010a), Buhaug et al. (2010), and Nordås and Gleditsch (2007a, b), as well as papers presented to a conference on Climate Change and Security in Trondheim, 21–24 June 2010 (www.dknvs.no/climsec). Selected papers from that conference have been published in Journal of Peace Research 49(1), January 2012. We thank colleagues at PRIO and participants at various conferences and workshops for valuable input on our work. We are also grateful to the Editor and three anonymous referees for constructive comments on earlier drafts of the article.
Additional information
This article is part of a Special Issue on "Improving the Assessment and Valuation of Climate Change Impacts for Policy and Regulatory Analysis" edited by Alex L. Marten, Kate C. Shouse, and Robert E. Kopp.
Electronic supplementary material
Below is the link to the electronic supplementary material.
About this article
Cite this article
Theisen, O.M., Gleditsch, N.P. & Buhaug, H. Is climate change a driver of armed conflict?. Climatic Change 117, 613–625 (2013). https://doi.org/10.1007/s10584-012-0649-4
Received:

Accepted:

Published:

Issue Date:
Keywords
Climate Change

Natural Disaster

Communal Violence

Armed Conflict

Economic Shock