Abstract
This article analyses texts intended for child audiences—picturebooks, a poetry book, and a film—that deal with the Chilean dictatorship (1973–1990). The memorialization practices within children's media appear to be modelled on the difficulties of finding a national consensus regarding the events that transpired during the dictatorship and the appropriate ways of rendering them for children. Lydia Kokkola's work on the Holocaust as a motif shows that gaps of information are left to be picked up by the adult reading alongside the child. Children's literature that refers to state violence is described as elusive or circumventive. This article approaches these texts as complex materialities, suspending the paradigm of representation and interpretation. Inspired by Ulrich Gumbrecht's call for a post-hermeneutic literary theory and by new materialistic approaches to the humanities and education, it is argued that these texts are more profitably read and experienced as artworks that escape pedagogic domestication. Accordingly, this article examines these selected texts as pieces that may smuggle meanings and intensities into educational settings if their complexity is not reduced by mediation practices.
This is a preview of subscription content, log in to check access.
Access options
Buy single article
Instant access to the full article PDF.
US$ 39.95
Price includes VAT for USA
Subscribe to journal
Immediate online access to all issues from 2019. Subscription will auto renew annually.
US$ 99
This is the net price. Taxes to be calculated in checkout.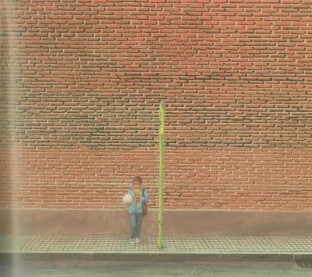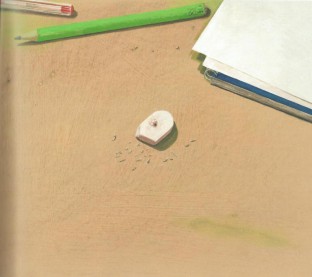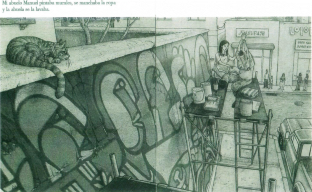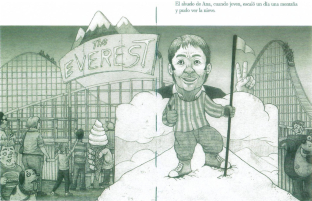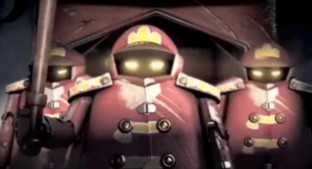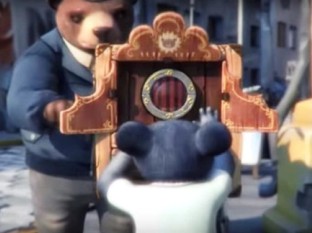 Notes
1.

I am speaking about indigenously produced works. There were novels produced elsewhere, like James Watson's award winning Talking in Whispers (1983).

2.

All translations are mine, with the exception of this poem, by American literary translator Megan McDowell.
References
Adorno, Theodor W. (1983). Prisms. Cambridge, MA: MIT Press.

Ahmed, Sara. (2004). The Cultural Politics of Emotion. New York, NY: Routledge.

Arizpe, Evelyn, and McAdam, Julie. (2011). Crossing Visual Borders and Connecting Cultures: Children's Responses to the Photographic Theme in David Wiesner's Flotsam. New Review of Children's Literature and Librarianship, 17(2), 227–243.

Assmann, Jan. (1995). Collective Memory and Cultural Identity. New German Critique, 65, 125–133.

Barad, Karen. (2003). Posthumanist Performativity: Toward an Understanding of How Matter Comes to Matter. Signs, 28(3), 801–831.

Barad, Karen. (2011). Nature's Queer Performativity. Qui Parle: Critical Humanities and Social Sciences, 19(2), 121–158.

Barad, Karen. (2014). Diffracting Diffraction: Cutting Together-Apart. Parallax, 20(3), 168–187.

Beauvais, Clémentine. (2015). What's in "the Gap"? A Glance Down the Central Concept of Picturebook Theory. Barnelitterært Forskningstidsskrift, 6(1), 26969.

Beckett, Sandra L. (2008). Crossover Fiction: Global and Historical Perspectives. New York, NY: Taylor & Francis.

Blanc, Natalia. (2017, March 24th). Literatura Infantil: Cómo Contar la Dictadura a los Chicos a Través de la Ficción. La Nación. Accessed April 18, 2018 from https://www.lanacion.com.ar/1998305-literatura-infantil-como-contar-la-dictadura-a-los-chicos-a-traves-de-la-ficcion.

Boltanski, Luc. (1999). Distant Suffering: Morality, Media and Politics. Cambridge: Cambridge University Press.

Bourriaud, Nicholas. (2002). Relational Aesthetics. Dijon: Les Presses du réel.

Buitrago, Jairo, and Blanco, Daniel. (2015). Un diamante en el fondo de la tierra. Santiago: Amanuta.

Buitrago, Jairo, and Yockteng, Rafael. (2008). Camino a Casa. México: Fondo de Cultura Económica.

Coole, Diana, and Frost, Samantha. (2010). Introducing the New Materialisms. In D. Coole (Eds.), New Materialisms: Ontology, Agency, and Politics (pp. 1–43). Durham, NC: Duke University Press.

Del Alcázar, Joan. (2014). Memoria para el futuro contra memorias obstinadas. Chile, cuarenta años después/Memory for the future against stubborn memories. Chile, 40 years later. Universitas, 20, 43–63.

Deleuze, Gilles, and Guattari, Félix. (1987). A Thousand Plateaus: Capitalism and Schizophrenia. Minneapolis, MN: University of Minnesota Press.

Derrida, Jacques. (1995). Archive Fever: A Freudian Impression. Diacritics, 25(2), 9–63.

Enwezor, Okwui. (2008). Archive fever: Photography Between History and the Monument. In Okwui Enwezor (Eds.), Archive Fever: Uses of the Document in Contemporary Art (pp. 11–51). Göttingen: Steidl.

Estévez, Antonella. (2010). Dolores Políticos: Reacciones Cinematográficas. Resistencias Melancólicas en el Cine Chileno Contemporáneo. Aisthesis, 47, 15–32.

Ferrada, María José. (2013). Niños. Santiago: Grafito.

Fontdevila, Oriol. (2018). El arte de la Mediación. Barcelona: Consonni.

Furió, Vicenç. (2002). Ideas y Formas en la Representación Pictórica. Barcelona: Edicions Universitat Barcelona.

García-González, Macarena. (2017). Narrando la Dictadura a la Infancia. Imágenes que Trafican Significados. Catedral Tomada: Revista de Crítica Literaria latinoamericana, 5(9), 84–108.

García, Llorens, Francisco, Ramón, and Terol Bertomeu, Sara. (2015). Educación Literaria, Pensamiento Crítico y Conciencia Ética: La Composición, de Antonio Skármeta. América sin Nombre, 20, 102–109.

Giussani, Laura. (2014). El Miedo a las Palabras. Sobre el Mercado y los Temas Tabú en la LIJ Actual. Revista Había Una Vez, 19, 13–19.

González, Felipe. (2015). Micro-Foundations of Financialization. Status Anxiety and the Market for Consumer Credit in Chile. Ph.D Thesis: Universität zu Köln.

González, María José. (2014). Literatura Infantil Chilena y Dictadura: ¿un Silencio Elocuente? Revista Había Una Vez, 17, 30–37.

Gregg, Melissa, and Seigworth, Gregory J. (2010). The Affect Theory Reader. Durham, NC: Duke University Press.

Grosz, Elizabeth A. (2008). Chaos, Territory, Art: Deleuze and the Framing of the Earth. New York, NY: Columbia University Press.

Gumbrecht, Hans Ulrich. (2004). Production of Presence: What Meaning Cannot Convey. Palo Alto, CA: Stanford University Press.

Gumbrecht, Hans Ulrich. (2012). Atmosphere, Mood, Stimmung: On a Hidden Potential of Literature. Palo Alto, CA: Stanford University Press.

Hanán Díaz, Fanuel. (2007). Leer y Mirar el Libro Álbum un Género en Construcción. Buenos Aires: Editorial Norma.

Herrera, Antonia, and Osorio, Gabriel. (2016). Historia de un Oso. Santiago: Zig Zag.

Jelin, Elizabeth. (2002). Los Trabajos de la Memoria. Madrid: Siglo XXI.

Kidd, Kenneth B. (2005). "A" is for Auschwitz: Psychoanalysis, Trauma Theory, and the "Children's Literature of Atrocity". Children's Literature, 33(1), 120–149.

Kokkola, Lydia. (2002). The unspeakable. Children's Fiction and the Holocaust. In Roger D. Sell (Ed.), Children's Literature as Communication (pp. 213–233). Amsterdam: John Benjamins Publishing Company.

Kokkola, Lydia. (2013). Representing the Holocaust in Children's Literature. New York, NY: Taylor & Francis.

Kress, Gunther, and van Leeuwen, Theo. (2006). Reading Images: The Grammar of Visual Design. New York, NY: Taylor & Francis.

Krips, Valerie. (2004). The Presence of the Past: Memory, Heritage and Childhood in Post-War Britain. New York, NY: Taylor & Francis.

MacLure, Maggie. (2013). Researching Without Representation? Language and Materiality in Post-qualitative Methodology. International Journal of Qualitative Studies in Education, 26(6), 658–667.

Martín Roguero, Nieves. (2008). Guerra Civil y Posguerra en la Narrativa Escrita en Castellano. In B. Roig-Rechou, P. Lucas-Domínguez (Eds.), A Guerra Civil Española na Narrativa Infantil e Xuvenil (pp. 31–50). Vigo: Edicións Xerais de Galicia.

Massumi, Brian. (1995). The Autonomy of Affect. Cultural Critique, 31, 83–109.

Muñoz-Chereau, Bernardita. (2017). Representations of Dictatorship in Contemporary Chilean Children's Literature. Children's Literature in Education. Accessed April 18, 2018 from https://link.springer.com/content/pdf/10.1007%2Fs10583-016-9297-z.pdf.

Nance-Carroll, Niall. (2014). Innocence is No Defense: Politicized Childhood in Antonio Skármeta's La composición/The Composition. Children's Literature in Education, 45(4), 271–284.

Nikolajeva, Maria, and Scott, Carole. (2001). How Picturebooks Work. New York, NY: Taylor and Francis.

O'Neil, Kathleen Ellen. (2011). Reading Pictures: Developing Visual Literacy for Greater Comprehension. The Reading Teacher, 65(3), 214–223.

Ramos, Ana Margarida. (2010). Recent Portuguese Children's Literature: From Dictatorship to Freedom. Bookbird: A Journal of International Children's Literature, 48(4), 28–34.

Ruiz, Rodrigo. (2014). María José Ferrada y libro sobre niños víctimas de la dictadura: "Decidí que la mejor forma sería nombrarlos desde la vida". El desconcierto. Accessed April 18, 2018, from http://www.eldesconcierto.cl/2014/09/11/maria-jose-ferrada-decidi-la-mejor-forma-seria-nombrarlos-desde-la-vida-desde-esa-vida-que-se-les-arrebato/.

Sipe, Lawrence R. (1998). How Picture Books Work: A Semiotically Framed Theory of Text-Picture Relationships. Children's Literature in Education, 29(2), 97–108.

Skármeta, Antonio, and Gleich, Jacky. (2003). Der Aufsatz. Hamburg: Dressler.

Skármeta, Antonio, and Lozupone, Delia. (2006). La composición. Buenos Aires: Sudamericana.

Skármeta, Antonio, and Ruano, Alfonso. (2000). La composición. Caracas: Ekaré.

Stephens, John. (1992). Language and Ideology in Children's Fiction. London: Longman.

Strauss, Amanda. (2015). Treading the Ground of Contested Memory: Archivists and the Human Rights Movement in Chile. Archival Science, 15(4), 369–397.

Styles, Morag, and Nobel, Kate. (2009). Thinking in Action: Analysing Children's Multimodal Responses to Multimodal Picturebooks. In Janet Evans (Ed.), Talking Beyond the Page: Reading and Responding to Picturebooks. New York, NY: Routledge.

Tomkowiak, Ingrid. (2018). It's all made by hand."Ästhetik und Inszenierung des Handgemachten in Animationsfilmen. In I. Tomkowiak (Eds.), Spielarten der Populärkultur. Frankfurt: Peter Lang.

Traverso, Antonio. (2010). Dictatorship Memories: Working Through Trauma in Chilean Post-Dictatorship Documentary. Continuum, 24(1), 179–191.

Troncoso Araya, Anahí. (2015). La Tematización de la Dictadura en la Literatura Para Niños y Niñas Chilena. Umbral, 9(1), 4–12.

Watson, James. (1983). Talking in Whispers. London: Gollancz.

Yokota, Junko. (2014). Realism in Picture Books for Children: Representations of Our Diverse World. Filoteknos, 4, 55–64.
Acknowledgement
This article was funded by Conicyt (Comisión de Ciencia y Tecnología) Project PIA CIE 160007
Additional information
Macarena García-González is research associate at the Center for Advanced Studies on Educational Justice at the Universidad Católica de Chile. She has a Ph.D. in Social Anthropology and Cultural Studies from Zurich University and an MA in Cultural Studies from Maastricht University. She writes about children's literature and media and about emotion and posthumanism in educational contexts. She has recently published Origin Narratives: The Stories We Tell Children about International Adoption and Immigration (Routledge, 2017).
About this article
Cite this article
García-González, M. Post-representational Cultural Memory for Children in Chile: From La Composición to Bear Story. Child Lit Educ 51, 160–178 (2020). https://doi.org/10.1007/s10583-018-9361-y
Keywords
Memory

Picturebooks

New materialism

Augusto Pinochet

Affect theory

Chilean dictatorship