Abstract
Temozolomide (TMZ) is widely used for glioma therapy in the clinic. Currently, the development of TMZ resistance has largely led to poor prognosis. However, very little is understood about the role of MIR155HG, as a long noncoding RNA, in TMZ resistance. In our study, MIR155HG level was markedly higher in glioma patients than in normal controls and that poor survival was positively correlated with MIR155HG expression. It was apparent that TMZ sensitivity was promoted by downregulation of MIR155HG, and this could be reversed by MIR155HG overexpression in vivo and in vitro. Furthermore, polypyrimidine tract binding protein 1 (PTBP1) was proven to bind with MIR155HG and to regulate MIR155HG-related TMZ resistance. Mechanistic investigation showed that the expression levels of both MIR155HG and PTBP1 influenced the expression of relevant proteins in the Wnt/β-catenin pathway. Collectively, the study demonstrated that the knockdown of MIR155HG increased glioma sensitivity to TMZ by inhibiting Wnt/β-catenin pathway activation via potently downregulating PTBP1.
This is a preview of subscription content, log in to check access.
Access options
Buy single article
Instant access to the full article PDF.
US$ 39.95
Price includes VAT for USA
Subscribe to journal
Immediate online access to all issues from 2019. Subscription will auto renew annually.
US$ 199
This is the net price. Taxes to be calculated in checkout.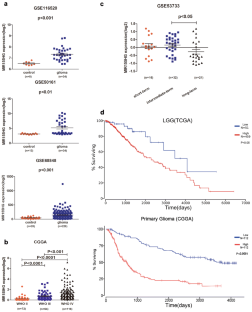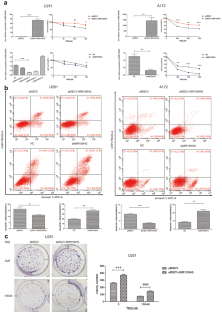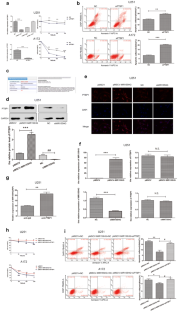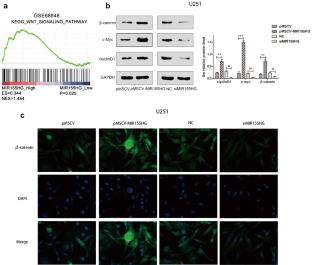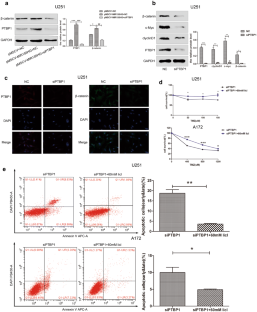 References
Antonopoulos M, Vang SW, Dionysiou D, Graf N, Stamatakos G (2019) Immune phenotype correlates with survival in patients with GBM treated with standard temozolomide-based therapy and immunotherapy. Anticancer Res 39:2043–2051. https://doi.org/10.21873/anticanres.13315

Bak DH et al (2016) Autophagy enhancement contributes to the synergistic effect of vitamin D in temozolomide-based glioblastoma chemotherapy. Exp Therap Med 11:2153–2162. https://doi.org/10.3892/etm.2016.3196

Bi Y et al (2018) beta-catenin contributes to cordycepin-induced MGMT inhibition and reduction of temozolomide resistance in glioma cells by increasing intracellular reactive oxygen species. Cancer lett 435:66–79. https://doi.org/10.1016/j.canlet.2018.07.040

Bigner DD et al (1981) Heterogeneity of Genotypic and phenotypic characteristics of fifteen permanent cell lines derived from human gliomas. J Neuropathol Exp Neurol 40:201–229. https://doi.org/10.1097/00005072-198105000-00001

Cai P et al (2018a) Aberrant expression of LncRNA-MIR31HG regulates cell migration and proliferation by affecting miR-31 and miR-31*. Hirschsprung's Dis J Cell Biochem 119:8195–8203. https://doi.org/10.1002/jcb.26830

Cai T, Liu Y, Xiao J (2018b) Long noncoding RNA MALAT1 knockdown reverses chemoresistance to temozolomide via promoting microRNA-101 in glioblastoma. Cancer Med 7:1404–1415. https://doi.org/10.1002/cam4.1384

Calabretta S et al (2016) Modulation of PKM alternative splicing by PTBP1 promotes gemcitabine resistance in pancreatic cancer cells. Oncogene 35:2031–2039. https://doi.org/10.1038/onc.2015.270

Camelo-Piragua S, Kesari S (2016) Further understanding of the pathology of glioma: implications for the clinic. Exp Rev Neurother 16:1055–1065. https://doi.org/10.1080/14737175.2016.1194755

Chen D, Rauh M, Buchfelder M, Eyupoglu IY, Savaskan N (2017) The oxido-metabolic driver ATF4 enhances temozolamide chemo-resistance in human gliomas. Oncotarget 8:51164–51176. https://doi.org/10.18632/oncotarget.17737

Chen Q et al (2018) Long noncoding RNA NEAT1, regulated by the EGFR pathway, contributes to glioblastoma progression through the WNT/beta-catenin pathway by scaffolding EZH2. Clin Cancer Res: An Off J Am Assoc Cancer Res 24:684–695. https://doi.org/10.1158/1078-0432.Ccr-17-0605

Chen Z, Wei X, Shen L, Zhu H, Zheng X (2019) 20(S)-ginsenoside-Rg3 reverses temozolomide resistance and restrains epithelial-mesenchymal transition progression in glioblastoma. Cancer Sci 110:389–400. https://doi.org/10.1111/cas.13881

Chu CW et al (2019) Thioridazine enhances P62-mediated autophagy and apoptosis through Wnt/beta-catenin signaling pathway in glioma cells. Int J Mol Sci. https://doi.org/10.3390/ijms20030473

Cui J, Placzek WJ (2016) PTBP1 modulation of MCL1 expression regulates cellular apoptosis induced by antitubulin chemotherapeutics. Cell Death Different 23:1681–1690. https://doi.org/10.1038/cdd.2016.60

Dey M, Ulasov IV, Lesniak MS (2010) Virotherapy against malignant glioma stem cells. Cancer Lett 289:1–10. https://doi.org/10.1016/j.canlet.2009.04.045

Duan S, Li M, Wang Z, Wang L, Liu Y (2018) H19 induced by oxidative stress confers temozolomide resistance in human glioma cells via activating NF-kappaB signaling. OncoTarg Ther 11:6395–6404. https://doi.org/10.2147/ott.S173244

Elton TS, Selemon H, Elton SM, Parinandi NL (2013) Regulation of the MIR155 host gene in physiological and pathological processes Gene 532:1–12 doi:10.1016/j.gene.2012.12.009

Gao YF et al (2016) A critical overview of long non-coding RNA in glioma etiology 2016: an update. Tum Biol: J Int Soc Oncodev Biol Med 37:14403–14413. https://doi.org/10.1007/s13277-016-5307-4

Ghetti A, Pinol-Roma S, Michael WM, Morandi C, Dreyfuss G (1992) hnRNP I, the polypyrimidine tract-binding protein: distinct nuclear localization and association with hnRNAs. Nucleic Acids Res 20:3671–3678. https://doi.org/10.1093/nar/20.14.3671

Giard DJ, Aaronson SA, Todaro GJ, Arnstein P, Kersey JH, Dosik H, Parks WP (1973) In vitro cultivation of human tumors: establishment of cell lines derived from a series of solid tumors. J Natl Cancer Inst 51:1417–1423. https://doi.org/10.1093/jnci/51.5.1417

Gil A, Sharp PA, Jamison SF, Garcia-Blanco MA (1991) Characterization of cDNAs encoding the polypyrimidine tract-binding protein. Genes Dev 5:1224–1236. https://doi.org/10.1101/gad.5.7.1224

Hochberg FH, Pruitt A (1980) Assumptions in the radiotherapy of glioblastoma. Neurology 30:907–911. https://doi.org/10.1212/wnl.30.9.907

Hombach-Klonisch S et al (2018) Glioblastoma and chemoresistance to alkylating agents: involvement of apoptosis, autophagy, and unfolded protein response. Pharmacol Therap 184:13–41. https://doi.org/10.1016/j.pharmthera.2017.10.017

Huang BS, Luo QZ, Han Y, Huang D, Tang QP, Wu LX (2017) MiR-223/PAX6 Axis Regulates Glioblastoma Stem Cell Proliferation and the Chemo Resistance to TMZ via Regulating PI3K/Akt Pathway. J Cell Biochem 118:3452–3461. https://doi.org/10.1002/jcb.26003

Huang M et al (2016) c-Met-mediated endothelial plasticity drives aberrant vascularization and chemoresistance in glioblastoma. J Clin Invest 126:1801–1814. https://doi.org/10.1172/jci84876

Huang T et al (2019) MIR93 (microRNA -93) regulates tumorigenicity and therapy response of glioblastoma by targeting autophagy. Autophagy 15:1100–1111. https://doi.org/10.1080/15548627.2019.1569947

Jia L, Tian Y, Chen Y, Zhang G (2018) The silencing of LncRNA-H19 decreases chemoresistance of human glioma cells to temozolomide by suppressing epithelial-mesenchymal transition via the Wnt/beta-Catenin pathway. OncoTarg Ther 11:313–321. https://doi.org/10.2147/ott.S154339

Khasraw M, Lassman AB (2010) Advances in the treatment of malignant gliomas. Curr Oncol Rep 12:26–33. https://doi.org/10.1007/s11912-009-0077-4

Li H et al (2017) Long non-coding RNA MALAT1 decreases the sensitivity of resistant glioblastoma cell lines to temozolomide cellular physiology and biochemistry. Int J Exp Cell Physiol, Biochem, Pharmacol 42:1192–1201. https://doi.org/10.1159/000478917

Li S, Zeng A, Hu Q, Yan W, Liu Y, You Y (2017) miR-423–5p contributes to a malignant phenotype and temozolomide chemoresistance in glioblastomas. Neuro-Oncol 19:55–65. https://doi.org/10.1093/neuonc/now129

Liao Y et al (2017) LncRNA CASC2 interacts with miR-181a to modulate glioma growth and resistance to TMZ through PTEN pathway. J Cell Biochem 118:1889–1899. https://doi.org/10.1002/jcb.25910

Liu Q et al (2015) miR-155 regulates glioma cells invasion and chemosensitivity by p38 Isforms In Vitro. J Cell Biochem 116:1213–1221. https://doi.org/10.1002/jcb.25073

Long X et al (2019) Long non-coding RNA GAS5 inhibits DDP-resistance and tumor progression of epithelial ovarian cancer via GAS5-E2F4-PARP1-MAPK axis. J Exp Clin Cancer Res: CR 38:345. https://doi.org/10.1186/s13046-019-1329-2

Lu Y et al (2017) lncRNA MIR100HG-derived miR-100 and miR-125b mediate cetuximab resistance via Wnt/beta-catenin signaling. Nat Med 23:1331–1341. https://doi.org/10.1038/nm.4424

Luo W, Yan D, Song Z, Zhu X, Liu X, Li X, Zhao S (2019) miR-126–3p sensitizes glioblastoma cells to temozolomide by inactivating Wnt/beta-catenin signaling via targeting SOX2. Life Sci 226:98–106. https://doi.org/10.1016/j.lfs.2019.04.023

Mazor G et al (2019) The lncRNA TP73-AS1 is linked to aggressiveness in glioblastoma and promotes temozolomide resistance in glioblastoma cancer stem cells. Cell Death Dis 10:246. https://doi.org/10.1038/s41419-019-1477-5

Messaoudi K, Clavreul A, Lagarce F (2015) Toward an effective strategy in glioblastoma treatment Part I: resistance mechanisms and strategies to overcome resistance of glioblastoma to temozolomide. Drug Discov Today 20:899–905. https://doi.org/10.1016/j.drudis.2015.02.011

Naumann SC et al (2009) Temozolomide- and fotemustine-induced apoptosis in human malignant melanoma cells: response related to MGMT, MMR, DSBs, and p53. Br J Cancer 100:322–333. https://doi.org/10.1038/sj.bjc.6604856

Ohba S, Hirose Y (2016) Current and future drug treatments for glioblastomas. Curr Med Chem 23:4309–4316. https://doi.org/10.2174/0929867323666161014132907

Shang C, Tang W, Pan C, Hu X, Hong Y (2018) Long non-coding RNA TUSC7 inhibits temozolomide resistance by targeting miR-10a in glioblastoma. Cancer Chemother Pharmacol 81:671–678. https://doi.org/10.1007/s00280-018-3522-y

Siebzehnrubl FA et al (2013) The ZEB1 pathway links glioblastoma initiation, invasion and chemoresistance EMBO. Mol Med 5:1196–1212. https://doi.org/10.1002/emmm.201302827

Sun Q et al (2018) MIR100 host gene-encoded lncRNAs regulate cell cycle by modulating the interaction between HuR and its target mRNAs. Nucleic Acids Res 46:10405–10416. https://doi.org/10.1093/nar/gky696

Tam W (2001) Identification and characterization of human BIC, a gene on chromosome 21 that encodes a noncoding RNA. Gene 274:157–167. https://doi.org/10.1016/s0378-1119(01)00612-6

Tan Z et al (2018) TRIM14 promotes chemoresistance in gliomas by activating Wnt/beta-catenin signaling via stabilizing Dvl2. Oncogene 37:5403–5415. https://doi.org/10.1038/s41388-018-0344-7

Tell S, Yi H, Jockovich ME, Murray TG, Hackam AS (2006) The Wnt signaling pathway has tumor suppressor properties in retinoblastoma. Biochem Biophys Res Commun 349:261–269. https://doi.org/10.1016/j.bbrc.2006.08.044

Wang R et al (2018) LncRNA MIR31HG targets HIF1A and P21 to facilitate head and neck cancer cell proliferation and tumorigenesis by promoting cell-cycle progression. Mol Cancer 17:162. https://doi.org/10.1186/s12943-018-0916-8

Wu P et al (2019a) Lnc-TALC promotes O(6)-methylguanine-DNA methyltransferase expression via regulating the c-Met pathway by competitively binding with miR-20b-3p. Nat Commun 10:2045. https://doi.org/10.1038/s41467-019-10025-2

Wu W, Yu T, Wu Y, Tian W, Zhang J, Wang Y (2019b) The miR155HG/miR-185/ANXA2 loop contributes to glioblastoma growth and progression. J Exp Clin Cancer Res: CR 38:133. https://doi.org/10.1186/s13046-019-1132-0

Wu X et al (2017) Blocking MIR155HG/miR-155 axis inhibits mesenchymal transition in glioma. Neuro-Oncol 19:1195–1205. https://doi.org/10.1093/neuonc/nox017

Xu N et al (2018) Long noncoding RNA AC003092.1 promotes temozolomide chemosensitivity through miR-195/TFPI-2 signaling modulation in glioblastoma. Cell Death Dis 9:1139. https://doi.org/10.1038/s41419-018-1183-8

Xu R et al (2017) PDGFA/PDGFRalpha-regulated GOLM1 promotes human glioma progression through activation of AKT. J Exp Clin Cancer Res: CR 36:193. https://doi.org/10.1186/s13046-017-0665-3

Yan Y, Xu Z, Dai S, Qian L, Sun L, Gong Z (2016) Targeting autophagy to sensitive glioma to temozolomide treatment. J Exp clinical cancer research : CR 35:23. https://doi.org/10.1186/s13046-016-0303-5

Yuan H, Qin Y, Zeng B, Feng Y, Li Y, Xiang T, Ren G (2019) Long noncoding RNA LINC01089 predicts clinical prognosis and inhibits cell proliferation and invasion through the Wnt/beta-catenin signaling pathway in breast cancer. OncoTarg Ther 12:4883–4895. https://doi.org/10.2147/ott.S208830

Zeng H, Yang Z, Xu N, Liu B, Fu Z, Lian C, Guo H (2017) Connective tissue growth factor promotes temozolomide resistance in glioblastoma through TGF-beta1-dependent activation of Smad/ERK signaling. Cell Death Dis 8:e2885. https://doi.org/10.1038/cddis.2017.248

Zhang J et al (2018) LGR5, a novel functional glioma stem cell marker, promotes EMT by activating the Wnt/beta-catenin pathway and predicts poor survival of glioma patients. J Exp Clin Cancer Res: CR 37:225. https://doi.org/10.1186/s13046-018-0864-6

Zhao D et al (2017a) MiR-154 functions as a tumor suppressor in glioblastoma by targeting Wnt5a. Mol Neurobiol 54:2823–2830. https://doi.org/10.1007/s12035-016-9867-5

Zhao X et al (2017b) GAS5 suppresses malignancy of human glioma stem cells via a miR-196a-5p/FOXO1 feedback loop Biochimica et biophysica acta. Mol Cell Res 1864:1605–1617. https://doi.org/10.1016/j.bbamcr.2017.06.020
Funding
This work was financially supported by National Natural Science Foundation of China, Grant/Award Number: #81502161, Chongqing Science and Technology Commission, Grant/Award Numbers: #cstc2015jcyjA10007.
Ethics declarations
Conflict of interest
The authors declare that they have no conflicts of interest.
Ethics Approval
Animal experiments was approved by the Ethics Committee of Chongqing Medical University.
Informed Consent
All authors consent to publish the article.
Additional information
Publisher's Note
Springer Nature remains neutral with regard to jurisdictional claims in published maps and institutional affiliations.
About this article
Cite this article
He, X., Sheng, J., Yu, W. et al. LncRNA MIR155HG Promotes Temozolomide Resistance by Activating the Wnt/β-Catenin Pathway Via Binding to PTBP1 in Glioma. Cell Mol Neurobiol (2020). https://doi.org/10.1007/s10571-020-00898-z
Received:

Accepted:

Published:
Keywords
MIR155HG

Glioma

Drug resistance

PTBP1
Wnt/β-catenin