Abstract
Intracerebral hemorrhage (ICH) is a primary cause of death and disability in adults worldwide. Secondary brain injury (SBI) induced by ICH can lead to impaired mitochondrial function, which ultimately contributes to apoptosis and necrosis. Mitochondrial Rho GTPase 1 (Miro1) is a key regulator of mitochondrial movement and motor protein binding. Although Miro1 has been demonstrated to be implicated in various types of central nervous system damage, its potential effect on ICH-induced SBI has not been studied in detail. Hence, in the present new study, we explored the effect of Miro1 on SBI in vivo and in vitro. Self-body heart blood was injected into the right basal ganglia of the rat brain in vivo. Meanwhile, our in vitro model of ICH was based on the stimulation of oxygen hemoglobin (OxyHb) to neurons. Then, Miro1 was overexpressed both in the brains of rats after ICH in vivo and in OxyHb-treated cultured neurons in vitro. Miro1 overexpression in vivo reduced several pathological indexes such as brain edema, neurobehavioral impairment, and neuronal death. Immunofluorescent staining in vitro showed that overexpression of Miro1 ameliorated neuronal damage via facilitation of mitochondrial transport and distribution. JC-1 staining indicated that overexpression of Miro1 reduced the collapse of mitochondrial membrane potential and enhanced mitochondrial mass. Additionally, live-dead cellular staining and flow cytometry analysis revealed that Miro1 overexpression in cultured neurons reduced both necrotic and apoptotic rates. In contrast, inhibition of Miro1 expression yielded opposite effects to those of Miro1 overexpression. Above all, the upregulation of Miro1 significantly alleviated pathological symptoms on SBI in vivo and in vitro.
This is a preview of subscription content, log in to check access.
Access options
Buy single article
Instant access to the full article PDF.
US$ 39.95
Price includes VAT for USA
Subscribe to journal
Immediate online access to all issues from 2019. Subscription will auto renew annually.
US$ 199
This is the net price. Taxes to be calculated in checkout.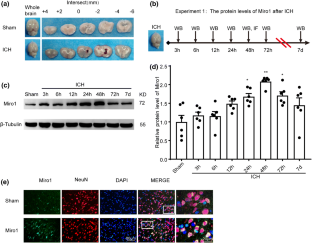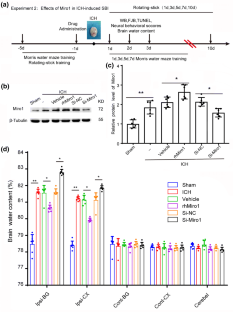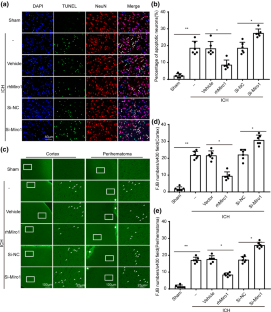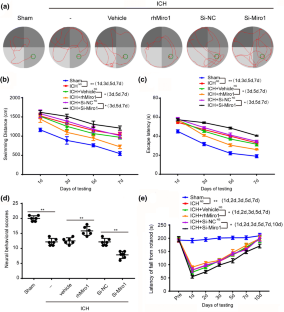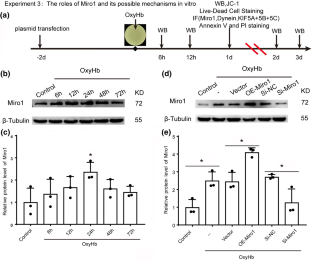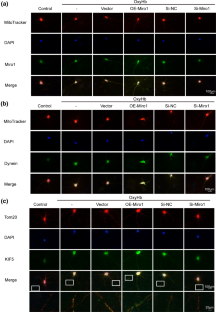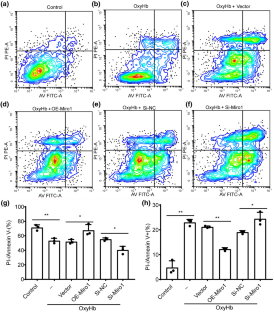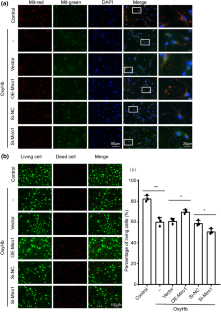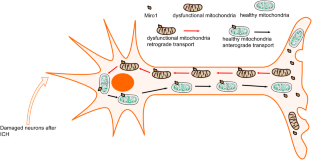 References
Ahmad T, Mukherjee S, Pattnaik B, Kumar M, Singh S, Kumar M, Rehman R, Tiwari BK, Jha KA, Barhanpurkar AP, Wani MR, Roy SS, Mabalirajan U, Ghosh B, Agrawal A (2014) Miro1 regulates intercellular mitochondrial transport & enhances mesenchymal stem cell rescue efficacy. EMBO J 33(9):994–1010. https://doi.org/10.1002/embj.201386030

Armstead WM, Hekierski H, Pastor P, Yarovoi S, Higazi AA, Cines DB (2019) Release of IL-6 after stroke contributes to impaired cerebral autoregulation and hippocampal neuronal necrosis through NMDA receptor activation and upregulation of ET-1 and JNK. Transl Stroke Res 10(1):104–111. https://doi.org/10.1007/s12975-018-0617-z

Birsa N, Norkett R, Wauer T, Mevissen TE, Wu HC, Foltynie T, Bhatia K, Hirst WD, Komander D, Plun-Favreau H, Kittler JT (2014) Lysine 27 ubiquitination of the mitochondrial transport protein Miro is dependent on serine 65 of the Parkin ubiquitin ligase. J Biol Chem 289(21):14569–14582. https://doi.org/10.1074/jbc.M114.563031

Boukelmoune N, Chiu GS, Kavelaars A, Heijnen CJ (2018) Mitochondrial transfer from mesenchymal stem cells to neural stem cells protects against the neurotoxic effects of cisplatin. Acta Neuropathol Commun 6(1):139. https://doi.org/10.1186/s40478-018-0644-8

Chang DT, Honick AS, Reynolds IJ (2006) Mitochondrial Trafficking to Synapses in Cultured Primary Cortical Neurons. J Neurosci 26(26):7035–7045

Chisholm KI, Ida KK, Davies AL, Tachtsidis I, Papkovsky DB, Dyson A, Singer M, Duchen MR, Smith KJ (2016) Hypothermia protects brain mitochondrial function from hypoxemia in a murine model of sepsis. J Cereb Blood Flow Metab 36(11):1955–1964

Choi SY, Huang P, Jenkins GM, Chan DC, Schiller J, Frohman MA (2006) A common lipid links Mfn-mediated mitochondrial fusion and SNARE-regulated exocytosis. Nat Cell Biol 8(11):1255–1262

Diao X, Zhou Z, Xiang W, Jiang Y, Tian N, Tang X, Chen S, Wen J, Chen M, Liu K, Li Q, Liao R (2019) Glutathione alleviates acute intracerebral hemorrhage injury via reversing mitochondrial dysfunction. Brain Res 16:146514. https://doi.org/10.1016/j.brainres

Flannery PJ, Trushina E (2019) Mitochondrial dynamics and transport in Alzheimer's disease. Mol Cell Neurosci 98:109–120. https://doi.org/10.1016/j.mcn.2019.06.009

Fransson S, Ruusala A, Aspenström P (2006) The atypical Rho GTPases Miro-1 and Miro-2 have essential roles in mitochondrial trafficking. Biochem Biophys Res Commun 344(2):500–510

Fujita T, Maturana AD, Ikuta J, Hamada J, Walchli S, Suzuki T, Sawa H, Wooten MW, Okajima T, Tatematsu K, Tanizawa K, Kuroda S (2007) Axonal guidance protein FEZ1 associates with tubulin and kinesin motor protein to transport mitochondria in neurites of NGF-stimulated PC12 cells. Biochem Biophys Res Commun 361(3):605–610

Hartman R, Lekic T, Rojas H, Tang J, Zhang JH (2009) Assessing functional outcomes following intracerebral hemorrhage in rats. Brain Res 1280:148–157. https://doi.org/10.1016/j.brainres.2009.05.038

Hirokawa N, Tanaka Y (2015) Kinesin superfamily proteins (KIFs): Various functions and their relevance for important phenomena in life and diseases. Exp Cell Res 334(1):16–25. https://doi.org/10.1016/j.yexcr.2015.02.016

Jiang Y, Wu J, Keep RF, Hua Y, Hoff JT, Xi G (2002) Hypoxia-inducible factor-1alpha accumulation in the brain after experimental intracerebral hemorrhage. J Cereb Blood Flow Metab 22(6):689–696

Kazlauskaite A, Kelly V, Johnson C, Baillie C, Hastie CJ, Peggie M, Macartney T, Woodroof HI, Alessi DR, Pedrioli PG, Muqit MM (2014) Phosphorylation of Parkin at Serine65 is essential for activation: elaboration of a Miro1 substrate-based assay of Parkin E3 ligase activity. Open Biol 4:130213. https://doi.org/10.1098/rsob.130213

Keep RF, Hua Y, Xi G (2012) Intracerebral haemorrhage: mechanisms of injury and therapeutic targets. Lancet Neurol 11(8):720–731. https://doi.org/10.1016/S1474-4422(12)70104-7

Kirkman MA, Allan SM, Parry-Jones AR (2011) Experimental intracerebral hemorrhage: avoiding pitfalls in translational research. J Cereb Blood Flow Metab 31(11):2135–2151. https://doi.org/10.1038/jcbfm.2011.124

Liu F, Lu J, Manaenko A, Tang J, Hu Q (2018) Mitochondria in ischemic stroke: new insight and implications. Aging Dis 9(5):924–937. https://doi.org/10.14336/AD.2017.1126

Liu H, Hua Y, Keep RF, Xi G (2019a) Brain ceruloplasmin expression after experimental intracerebral hemorrhage and protection against iron-induced brain injury. Transl Stroke Res 10(1):112–119. https://doi.org/10.1007/s12975-018-0669-0

Liu Y, Ma C, Li H, Shen H, Li X, Fu X, Wu J, Chen G (2019b) Nogo-A/Pir-B/TrkB signaling pathway activation inhibits neuronal survivaland axonal regeneration after experimental intracerebral hemorrhage in rat. J Mol Neurosci 69(3):360–370. https://doi.org/10.1007/s12031-019-01365-1

Liu ZH, Liu CH, Tu PH, Yip PK, Chen CC, Wang YC, Chen NY, Lin YS (2019c) Prior antiplatelet therapy, excluding phosphodiesterase inhibitor is associated with poor outcome in patients with spontaneous intracerebral haemorrhage. Transl Stroke Res. https://doi.org/10.1007/s12975-019-00722-x

López-Doménech G, Covill-Cooke C, Ivankovic D, Halff EF, Sheehan DF, Norkett R, Birsa N, Kittler JT (2018) Miro proteins coordinate microtubule- and actin-dependent mitochondrial transport and distribution. EMBO J 37(3):321–336. https://doi.org/10.15252/embj.201696380

Dard L, Blanchard W, Hubert C, Lacombe D, Rossignol R (2020) Mitochondrial functions and rare diseases. Mol Aspects Med 71:100842. https://doi.org/10.1016/j.mam.2019.100842

Mandal A, Catherine M (2019) Axonal transport and mitochondrial function in neurons. Front Cell Neurosci 13:1662–5102. https://doi.org/10.3389/fncel.2019.00373

Macaskill AF, Rinholm JE, Twelvetrees AE, Arancibia-Carcamo IL, Muir J, Fransson A, Aspenstrom P, Attwell D, Kittler JT (2009) Miro1 is a calcium sensor for glutamate receptor-dependent localization of mitochondria at synapses. Neuron 61(4):541–555. https://doi.org/10.1016/j.neuron.2009.01.030

Manaenko A, Chen H, Zhang JH, Tang J (2011) Comparison of different preclinical models of intracerebral hemorrhage. Acta Neurochir Suppl 111:9–14. https://doi.org/10.1007/978-3-7091-0693-8_2

Nawabi J, Kniep H, Broocks G, Faizy TD, Schön G, Thomalla G, Fiehler J, Hanning U (2019) Clinical relevance of asymptomatic intracerebral hemorrhage post thrombectomy depends on angiographic collateral score. J Cereb Blood Flow Metab. https://doi.org/10.1177/0271678X19871253

Nguyen TT, Oh SS, Weaver D, Lewandowska A, Maxfield D, Schuler MH, Smith NK, Macfarlane J, Saunders G, Palmer CA, Debattisti V, Koshiba T, Pulst S, Feldman EL, Hajnóczky G, Shaw JM (2014) Loss of Miro1-directed mitochondrial movement results in a novel murine model for neuron disease. Proc Natl Acad Sci USA 111(35):E3631–E3640. https://doi.org/10.1073/pnas.1402449111

Hirokawa N, Niwa S, Tanaka Y (2010) Molecular motors in neurons: transport mechanisms and roles in brain function, development, and disease. Neuron 68(4):610–638. https://doi.org/10.1016/j.neuron.2010.09.03

Nikić I, Merkler D, Sorbara C, Brinkoetter M, Kreutzfeldt M, Bareyre FM, Brück W, Bishop D, Misgeld T, Kerschensteiner M (2011) A reversible form of axon damage in experimental autoimmune encephalomyelitis and multiple sclerosis. Nat Med 17(4):495–499. https://doi.org/10.1038/nm.2324

Pang J, Chen Y, Kuai L, Yang P, Peng J, Wu Y, Chen Y, Vitek MP, Chen L, Sun X, Jiang Y (2017) Inhibition of blood-brain barrier disruption by an apolipoprotein E-mimetic peptide ameliorates early brain injury in experimental subarachnoid hemorrhage. Transl Stroke Res 8(3):257–272. https://doi.org/10.1007/s12975-016-0507-1

Saotome M, Safiulina D, Szabadkai G, Das S, Fransson A, Aspenstrom P, Rizzuto R, Hajnóczky G (2008) Bidirectional Ca2+-dependent control of mitochondrial dynamics by the Miro GTPase. Proc Natl Acad Sci USA 105(52):20728–20733. https://doi.org/10.1073/pnas.0808953105

Shen H, Liu C, Zhang D, Yao X, Zhang K, Li H, Chen G (2017) Role for RIP1 in mediating necroptosis in experimental intracerebral hemorrhage model both in vivo and in vitro. Cell Death Dis 8(3):e2641. https://doi.org/10.1038/cddis.2017.58

Sobu Y, Furukori K, Chiba K, Nairn AC, Kinjo M, Hata S (2017) Suzuki T (2017) Phosphorylation of multiple sites within an acidic region of Alcadein α is required for kinesin-1 association and Golgi exit of Alcadein α cargo. Mol Biol Cell 28(26):3844–3856

Twig G, Elorza A, Molina AJ, Mohamed H, Wikstrom JD, Walzer G, Stiles L, Haigh SE, Katz S, Las G, Alroy J, Wu M, Py BF, Yuan J, Deeney JT, Corkey BE, Shirihai OS (2008) Fission and selective fusion govern mitochondrial segregation and elimination by autophagy. EMBO J 27(2):433–446

Urday S, Kimberly WT, Beslow LA, Vortmeyer AO, Selim MH, Rosand J, Simard JM, Sheth KN (2015) Targeting secondary injury in intracerebral haemorrhage-perihaematomal oedema. Nat Rev Neurol 11(2):111–122. https://doi.org/10.1038/nrneurol.2014.264

Verhey KJ, Hammond JW (2009) Traffic control: regulation of kinesin motors. Nat Rev Mol Cell Biol 10(11):765–777. https://doi.org/10.1038/nrm2782

Wang Z, Chen Z, Yang J, Yang Z, Yin J, Duan X, Shen H, Li H, Wang Z, Chen G (2019) Treatment of secondary brain injury by perturbing postsynaptic density protein-95-NMDA receptor interaction after intracerebral hemorrhage in rats. J Cereb Blood Flow Metab 39(8):1588–1601. https://doi.org/10.1177/0271678X18762637

Wang Z, Chen Z, Yang J, Yang Z, Yin J, Zuo G, Duan X, Shen H, Li H, Chen G (2017) Identification of two phosphorylation sites essential for annexin A1 in blood-brain barrier protection after experimental intracerebral hemorrhage in rats. J Cereb Blood Flow Metab 37(7):2509–2525. https://doi.org/10.1177/0271678X16669513

Xu H, Cao J, Xu J, Li H, Shen H, Li X, Wang Z, Wu J, Chen G (2019) GATA-4 regulates neuronal apoptosis after intracerebral hemorrhage via the NF-κB/Bax/Caspase-3 pathway both in vivo and in vitro. Exp Neurol 315:21–31. https://doi.org/10.1016/j.expneurol.2019.01.018

Zhang F, Wang W, Siedlak SL, Liu Y, Liu J, Jiang K, Perry G, Zhu X, Wang X (2015) Miro1 deficiency in amyotrophic lateral sclerosis. Front Aging Neurosci 7:100. https://doi.org/10.3389/fnagi.2015.00100

Zhang H, Lian Y, Xie N, Zheng Y (2018) Ectopic expression of Miro 1 ameliorates seizure and inhibits hippocampal neurodegeneration in a mouse pilocarpine epilepsy model. Biochem Cell Biol 96(4):468–474. https://doi.org/10.1139/bcb-2017-0102

Zhang P, Wang T, Zhang D, Zhang Z, Yuan S, Zhang J, Cao J, Li H, Li X, Shen H, Chen G (2019) Exploration of MST1-mediated secondary brain injury induced by intracerebral hemorrhage in rats via hippo signaling pathway. Transl Stroke Res 10(6):729–743. https://doi.org/10.1007/s12975-019-00702-1

Zhou Y, Wang S, Li Y, Yu S, Zhao Y (2018) SIRT1/PGC-1α signaling promotes mitochondrial functional recovery and reduces apoptosis after intracerebral hemorrhage in rats. Front Mol Neurosci 10:443. https://doi.org/10.3389/fnmol.2017.00443
Funding
This work was supported by National Key R&D Program of China (No. 2017YFC0110304 and 2018YFC1312600), National Natural Science Foundation of China (81571121), Project of Jiangsu Provincial Medical Innovation Team (No. CXTDA2017003), Jiangsu Provincial Medical Youth Talent (No. QNRC2016728), Suzhou Key Medical Centre (No. Szzx201501), Scientific Department of Jiangsu Province (No. BE2017656), the Natural Science Foundation of Jiangsu Province under grant (No. BK20180204 & No.BK20170363), Suzhou Science and Technology (NO. SS2019056), and Jiangsu Commission of Health (NO. K2019001).
Ethics declarations
Conflict of interest
The authors declare that they have no conflict of interest.
Ethical Approval
All applicable international, national, and/or institutional guidelines for the care and use of animals were followed. All procedures performed in studies involving animals comply with the ethical standards of the Animal Ethics Committee of Suzhou University. This article does not contain any studies with human participants performed by any of the authors.
Additional information
Publisher's Note
Springer Nature remains neutral with regard to jurisdictional claims in published maps and institutional affiliations.
Electronic supplementary material
Below is the link to the electronic supplementary material.
About this article
Cite this article
Li, B., Zhang, Y., Li, H. et al. Miro1 Regulates Neuronal Mitochondrial Transport and Distribution to Alleviate Neuronal Damage in Secondary Brain Injury After Intracerebral Hemorrhage in Rats. Cell Mol Neurobiol (2020). https://doi.org/10.1007/s10571-020-00887-2
Received:

Accepted:

Published:
Keywords
Miro1

Intracerebral hemorrhage

Mitochondria

Neuronal apoptosis