Abstract
Post-traumatic stress disorder (PTSD) is related with myocardial injury and cardiac dysfunction, while the molecular mechanism has not been clear. This study investigated whether TLR4/MyD88/NF-κB-mediated inflammation involved in myocardial injury of PTSD. Adult male Wistar rats were exposed to single-prolonged stress (SPS), which was used broadly as a animal model of PTSD. Morris Water Maze (MWM) test and forced swimming test (FST) was carried out for behavioral testing. The protein expression of atrial natriuretic peptide (ANP) and brain natriuretic peptide (BNP) in the left ventricular of heart and TLR4/MyD88/NF-κB-mediated inflammation were examined. Our results showed that there were obvious increased in the protein expression of ANP and BNP in heart after exposure to SPS, SPS also significantly enhanced the serum level of IL-1β and TNF-α, and meanwhile, the TLR4/MyD88/NF-κB pathway were activated. These results demonstrated that the TLR4/MyD88/NF-κB pathway were involved in the myocardial injury of PTSD, which might be one of possible molecular mechanism contributed to the pathogenesis of cardiac dysfunction in PTSD.
Access options
Buy single article
Instant access to the full article PDF.
US$ 39.95
Tax calculation will be finalised during checkout.
Subscribe to journal
Immediate online access to all issues from 2019. Subscription will auto renew annually.
US$ 119
Tax calculation will be finalised during checkout.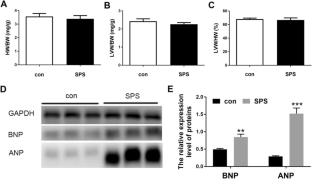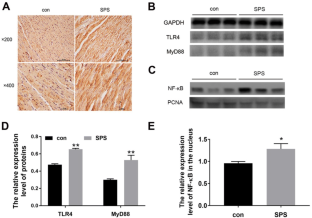 References
American Psychiatric Association (2013) The diagnostic and statistical manual of mental disorders, 5th edn. APA, Washington, DC

Azam S, Jakaria M, Kim IS, Kim J, Haque ME, Choi DK (2019) Regulation of toll-like receptor (TLR) signaling pathway by polyphenols in the treatment of age-linked neurodegenerative diseases: focus on TLR4 signaling. Front Immunol 10:1000

Britvic D, Anticevic V, Kaliterna M, Lusic L, Beg A, Brajevic-Gizdic I, Kudric M, Stupalo Z, Krolo V, Pivac N (2015) Comorbidities with posttraumatic stress disorder (PTSD) among combat veterans: 15 years postwar analysis. Int J Clin Health Psychol 15:81–92

Buckley TC, Kaloupek DG (2001) A meta-analytic examination of basal cardiovascular activity in posttraumatic stress disorder. Psychosom Med 63:585–594

Castagne V, Moser P, Roux S, Porsolt RD (2011) Rodent models of depression: forced swim and tail suspension behavioral despair tests in rats and mice. Curr Protoc Neurosci 55:8–10

Cho JH, Lee I, Hammamieh R, Wang K, Baxter D, Scherler K, Etheridge A, Kulchenko A, Gautam A, Muhie S, Chakraborty N, Galas DJ, Jett M, Hood L (2014) Molecular evidence of stress-induced acute heart injury in a mouse model simulating posttraumatic stress disorder. Proc Natl Acad Sci USA 111:3188–3193

de Laat MA, Gruntmeir KJ, Pollitt CC, McGowan CM, Sillence MN, Lacombe VA (2014) Hyperinsulinemia down-regulates TLR4 Expression in the mammalian heart. Front Endocrinol (Lausanne) 5:120

Dyball D, Evans S, Boos CJ, Stevelink SAM, Fear NT (2019) The association between PTSD and cardiovascular disease and its risk factors in male veterans of the Iraq/Afghanistan conflicts: a systematic review. Int Rev Psychiatry 31:34–48

Felger JC (2018) Imaging the Role of Inflammation in Mood and Anxiety-related Disorders. Curr Neuropharmacol 16:533–558

Georgopoulos AP, James LM, Christova P, Engdahl BE (2018) A two-hit model of the biological origin of posttraumatic stress disorder (PTSD). J Ment Health Clin Psychol 2:9–14

Girgenti MJ, Hare BD, Ghosal S, Duman RS (2017) Molecular and Cellular Effects of Traumatic Stress: Implications for PTSD. Curr Psychiatry Rep 19:85

Gomez-Beneyto M, Salazar-Fraile J, Marti-Sanjuan V, Gonzalez-Lujan L (2006) Posttraumatic stress disorder in primary care with special reference to personality disorder comorbidity. Br J Gen Pract 56:349–354

Hieda M, Yoo JK, Badrov MB, Parker RS, Anderson EH, Wiblin JL, Kawalsky J, North CS, Suris A, Fu Q (2019) Reduced left ventricular diastolic function in women with posttraumatic stress disorder. Am J Physiol Regul Integr Comp Physiol 317:R108–R112

Hoerster KD, Campbell S, Dolan M, Stappenbeck CA, Yard S, Simpson T, Nelson KM (2019) PTSD is associated with poor health behavior and greater Body Mass Index through depression, increasing cardiovascular disease and diabetes risk among US veterans. Prev Med Rep 15:100930

Kibler JL (2009) Posttraumatic stress and cardiovascular disease risk. J Trauma Dissociation 10:135–150

Kilpatrick DG, Resnick HS, Milanak ME, Miller MW, Keyes KM, Friedman MJ (2013) National estimates of exposure to traumatic events and PTSD prevalence using DSM-IV and DSM-5 criteria. J Trauma Stress 26(5):537–547

Kubzansky LD, Koenen KC (2009) Is posttraumatic stress disorder related to development of heart disease? An update. Cleve Clin J Med 76(Suppl 2):S60–S65

Kuzmich NN, Sivak KV, Chubarev VN, Porozov YB, Savateeva-Lyubimova TN, Peri F (2017) TLR4 signaling pathway modulators as potential therapeutics in inflammation and sepsis. Vaccines (Basel) 5:34

Lai S, Wu G, Jiang Z (2018) Glycyrrhizin treatment facilitates extinction of conditioned fear responses after a single prolonged stress exposure in rats. Cell Physiol Biochem 45:2529–2539

Levine AB, Levine LM, Levine TB (2014) Posttraumatic stress disorder and cardiometabolic disease. Cardiology 127:1–19

Liberzon I, Lopez JF, Flagel SB, Vazquez DM, Young EA (1999) Differential regulation of hippocampal glucocorticoid receptors mRNA and fast feedback: relevance to post-traumatic stress disorder. J Neuroendocrinol 11:11–17

Liu M, Xu F, Tao T, Song D, Li D, Li Y, Guo Y, Liu X (2016) Molecular mechanisms of stress-induced myocardial injury in a rat model simulating posttraumatic stress disorder. Psychosom Med 78:888–895

Michopoulos V, Powers A, Gillespie CF, Ressler KJ, Jovanovic T (2017) Inflammation in fear- and anxiety-based disorders: PTSD, GAD, and beyond. Neuropsychopharmacology 42:254–270

Miller SI, Ernst RK, Bader MW (2005) LPS, TLR4 and infectious disease diversity. Nat Rev Microbiol 3:36–46

Morris MC, Hellman N, Abelson JL, Rao U (2016) Cortisol, heart rate, and blood pressure as early markers of PTSD risk: A systematic review and meta-analysis. Clin Psychol Rev 49:79–91

Ridker PM (2009) The JUPITER trial: results, controversies, and implications for prevention. Circ Cardiovasc Qual Outcomes 2:279–285

Ridker PM, Everett BM, Thuren T, MacFadyen JG, Chang WH, Ballantyne C, Fonseca F, Nicolau J, Koenig W, Anker SD, Kastelein JJP, Cornel JH, Pais P, Pella D, Genest J, Cifkova R, Lorenzatti A, Forster T, Kobalava Z, Vida-Simiti L, Flather M, Shimokawa H, Ogawa H, Dellborg M, Rossi PRF, Troquay RPT, Libby P, Glynn RJ, Group CT (2017) Antiinflammatory therapy with canakinumab for atherosclerotic disease. N Engl J Med 377:1119–1131

Rorabaugh BR, Mabe NW, Seeley SL, Stoops TS, Mucher KE, Ney CP, Goodman CS, Hertenstein BJ, Rush AE, Kasler CD, Sargeant AM, Zoladz PR (2019) Myocardial fibrosis, inflammation, and altered cardiac gene expression profiles in rats exposed to a predator-based model of posttraumatic stress disorder. Stress. https://doi.org/10.1080/10253890.2019.1641081

Shi H, Dong L, Jiang J, Zhao J, Zhao G, Dang X, Lu X, Jia M (2013) Chlorogenic acid reduces liver inflammation and fibrosis through inhibition of toll-like receptor 4 signaling pathway. Toxicology 303:107–114

Souza RR, Noble LJ, McIntyre CK (2017) Using the single prolonged stress model to examine the pathophysiology of PTSD. Front Pharmacol 8:615

Speer K, Upton D, Semple S, McKune A (2018) Systemic low-grade inflammation in post-traumatic stress disorder: a systematic review. J Inflamm Res 11:111–121

Takahashi T, Morinobu S, Iwamoto Y, Yamawaki S (2006) Effect of paroxetine on enhanced contextual fear induced by single prolonged stress in rats. Psychopharmacology 189:165–173

von Kanel R, Hari R, Schmid JP, Wiedemar L, Guler E, Barth J, Saner H, Schnyder U, Begre S (2011) Non-fatal cardiovascular outcome in patients with posttraumatic stress symptoms caused by myocardial infarction. J Cardiol 58:61–68

Wang Y, Wu S, Yu X, Zhou S, Ge M, Chi X, Cai J (2016) Dexmedetomidine protects rat liver against ischemia-reperfusion injury partly by the alpha2A-adrenoceptor subtype and the mechanism is associated with the TLR4/NF-kappaB pathway. Int J Mol Sci 17:e995

Wang Z, Caughron B, Young MRI (2017) Posttraumatic stress disorder: an immunological disorder? Front Psychiatry 8:222

Xie J, Han F, Shi Y (2015) Single-prolonged stress activates the transcription factor ATF6alpha branch of the unfolded protein response in rat neurons of dorsal raphe nucleus. Mol Cell Biochem 399:209–216

Xu D, Yan S, Wang H, Gu B, Sun K, Yang X, Sun B, Wang X (2015) IL-29 enhances LPS/TLR4-mediated inflammation in rheumatoid arthritis. Cell Physiol Biochem 37:27–34

Yamamoto S, Morinobu S, Takei S, Fuchikami M, Matsuki A, Yamawaki S, Liberzon I (2009) Single prolonged stress: toward an animal model of posttraumatic stress disorder. Depress Anxiety 26:1110–1117

Yang Y, Lv J, Jiang S, Ma Z, Wang D, Hu W, Deng C, Fan C, Di S, Sun Y, Yi W (2016) The emerging role of Toll-like receptor 4 in myocardial inflammation. Cell Death Dis 7:e2234

Yu B, Wen L, Xiao B, Han F, Shi Y (2014) Single Prolonged Stress induces ATF6 alpha-dependent endoplasmic reticulum stress and the apoptotic process in medial frontal cortex neurons. BMC Neurosci 15:115

Zhang X, Xue C, Xu Q, Zhang Y, Li H, Li F, Liu Y, Guo C (2019) Caprylic acid suppresses inflammation via TLR4/NF-kappaB signaling and improves atherosclerosis in ApoE-deficient mice. Nutr Metab (Lond) 16:40
Acknowledgements
This work was supported by Doctoral Scientific Research Fund from Liao Ning Province (No. 20170520016); Doctoral Scientific Research Fund from Shenyang Medical College (No. 20163047; No. 20171005 and No. 20181005). The authors thank the Laboratory of Cardiology in the First Hospital of China Medical University for valuable help in this experiment.
Ethics declarations
Conflict of interest
The authors declare no potential conflicts of interest.
Ethical Approval
All applicable international, national, and/or institutional guidelines for the care and use of animals were followed.
Additional information
Publisher's Note
Springer Nature remains neutral with regard to jurisdictional claims in published maps and institutional affiliations.
About this article
Cite this article
Liu, M., Xie, J. & Sun, Y. TLR4/MyD88/NF-κB-Mediated Inflammation Contributes to Cardiac Dysfunction in Rats of PTSD. Cell Mol Neurobiol 40, 1029–1035 (2020). https://doi.org/10.1007/s10571-020-00791-9
Received:

Accepted:

Published:

Issue Date:
Keywords
Single-prolonged stress

Post-traumatic stress disorder

TLR4

MyD88

Nf-κb