Abstract
Traumatic brain injury (TBI) causes permanent neurological and cognitive impairments. Effective pharmacological interventions remain elusive. Spermidine is a polyamine compound found in our body that may play a role in brain development and congenital function. In this study, we aimed to investigate the therapeutic potential of spermidine for TBI. We employed experimental closed head injury (CHI) model to evaluate the protective function of spermidine on brain injury. We assessed the neurobehavioral function recovery using Neurologic Severity Score (NSS) and Morris water maze test. At histological level, we evaluated the improvement on brain edema, brain–blood barrier integrity, and cell apoptosis. We also measured inflammatory cytokines and brain injury biomarkers to monitor the treatment outcomes. Last, we correlated the level of spermidine with CHI animal model and TBI patients with different levels of severity. Spermidine administration post-CHI was found effectively to accelerate NSS improvement and shorten latency in maze test. We observed consistent improvements in brain edema, BBB function, and cell death in spermidine-treated group. Inflammatory cytokines and TBI biomarkers, e.g., S100B, MBP and CFAP were reduced significantly in treatment group. Interestingly, inhibiting spermidine synthesis influenced the neurobehavioral recovery in CHI mice. ODC1, a rate-limiting enzyme for spermidine synthesis, was found lower in CHI mice. Serum level of spermidine was significantly lower in TBI patients with severe pathological scores. Spermidine pathway may carry an endogenous role in pathophysiological process of CHI. For the first time, we demonstrated that administrating spermidine may provide a new treatment for TBI.
This is a preview of subscription content, log in to check access.
Access options
Buy single article
Instant access to the full article PDF.
US$ 39.95
Price includes VAT for USA
Subscribe to journal
Immediate online access to all issues from 2019. Subscription will auto renew annually.
US$ 199
This is the net price. Taxes to be calculated in checkout.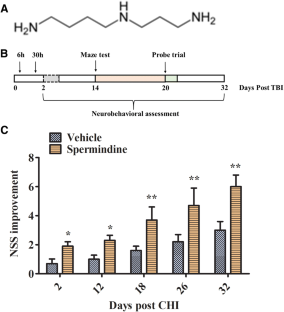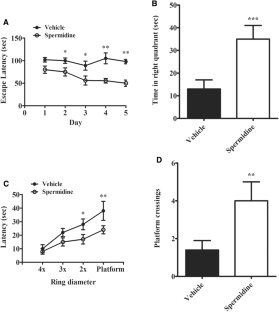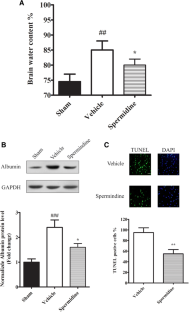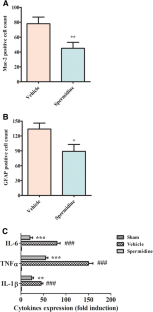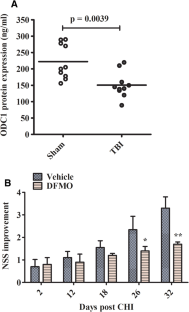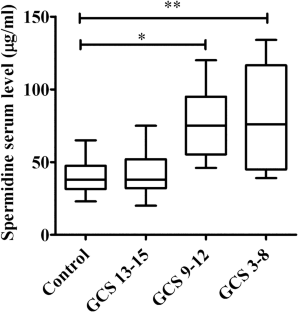 Ethics declarations
Conflict of interest
All authors declare that they have no conflict of interest.
Ethical Approval
The animal study and the clinical study were approved by the Ethics Committee in Quanzhou First Hospital Affiliated to Fujian Medical University.
Informed Consent
Informed consent was derived from all participants.
Research Involving Human and Animal Participants
The animal study followed the guide for the Care and Use of Laboratory Animals (Eighth Edition, NIH). The clinical study complied with the Declaration of Helsinki, Ethical Principles for Medical Research Involving Human Subjects.
Additional information
Publisher's Note
Springer Nature remains neutral with regard to jurisdictional claims in published maps and institutional affiliations.
Electronic supplementary material
Below is the link to the electronic supplementary material.
About this article
Cite this article
Huang, J., Zhang, H., Zhang, J. et al. Spermidine Exhibits Protective Effects Against Traumatic Brain Injury. Cell Mol Neurobiol 40, 927–937 (2020). https://doi.org/10.1007/s10571-019-00783-4
Received:

Accepted:

Published:

Issue Date:
Keywords
Spermidine

Traumatic head injury

Closed head injury

ODC1