Abstract
In this study, the aim was to study the effect of the generation number on flame resistant properties of treated fabric. A series of hyperbranched poly phosphate ammonium salts (HBPOPNs) with various generation numbers was successfully prepared by modifying different generations of hydroxyl-terminated hyperbranched polymers (HBPs). The chemical structure of the samples was investigated by Fourier transform infrared spectroscopy, which revealed the presence of a P–O–C covalent bond between cellulose and HBPOPN. The thermal decomposition behavior of the samples was characterized by thermogravimetric analysis. With increasing of generation number (2, 3 and 4), the residues were 31.4%, 33.1%, and 34.8%, respectively, which indicated that the thermal stability of HBPOPN-treated fabric improved with higher generation number. In the vertical flammability test, all samples treated with the different generations of HBPOPN were immediately extinguished after removing the igniter. Values of the limit oxygen index of 42.0, 42.7 and 43.0 were observed with the increase in the generation number (2, 3 and 4) at a concentration of 160 g/L. After 50 laundering cycles (LCs), the LOI values were still remained at 29.3, 29.7 and 29.6. With increasing of generation number, the peak heat release rate and the total heat release of the treated sample decreased slightly. Hyperbranched polymers from the 2nd to the 4th generation could be applied to cotton fabric with excellent flame retardant properties and durability.
Access options
Buy single article
Instant access to the full article PDF.
US$ 39.95
Tax calculation will be finalised during checkout.
Subscribe to journal
Immediate online access to all issues from 2019. Subscription will auto renew annually.
US$ 119
Tax calculation will be finalised during checkout.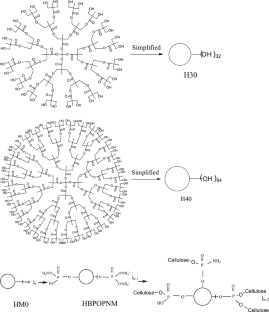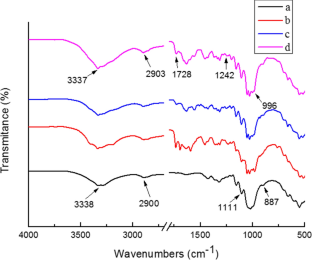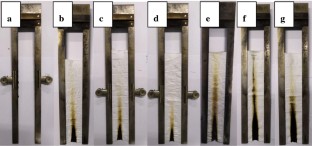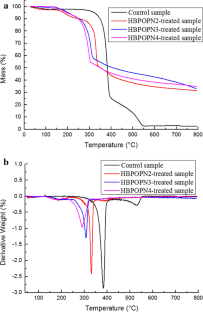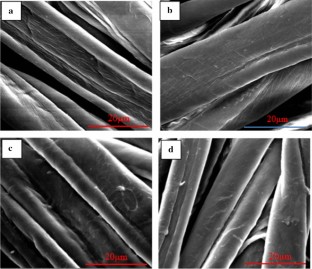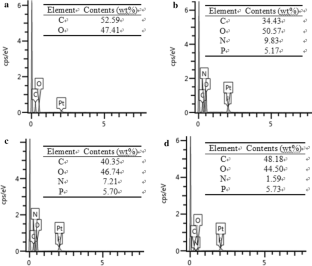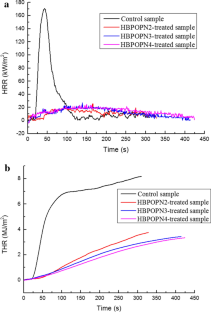 References
Ahmed HB, El-Hawary NS, Emam HE (2017) Self-assembled aunps for ingrain pigmentation of silk fabrics with antibacterial potency. Int J Biol Macromol 105:720–729

Bat E, Gündüz G, Kısakürek D et al (2006) Synthesis and characterization of hyperbranched and air drying fatty acid based resins. Prog Org Coat 55:330–336

Cicala G, Recca G (2010) Thermomechanical and morphological properties of epoxy blends with hyperbranched polyester: effect of the pseudo-generation number. J Appl Polym Sci 115:1395–1406

Emam HE (2019a) Antimicrobial cellulosic textiles based on organic compounds. Biotechnology 9(1):29

Emam HE (2019b) Generic strategies for functionalization of cellulosic textiles with metal salts. Cellulose 26(3):1431–1447

Fengxiu Z, Weiwei G, Yaling J, Yi L, Guangxian Z (2018) A concise water-solvent synthesis of highly effective, durable, and eco-friendly flame-retardant coating on cotton fabrics. Carbohydr Polym 199:256–265

Gao WW, Zhang GX, Zhang FX (2015) Enhancement of flame retardancy of cotton fabrics by grafting a novel organic phosphorous-based flame retardant. Cellulose 22:2787–2796

Hanan B, Ahmed H (2018) Nanosilver leverage on reactive dyeing of cellulose fibers: color shading, color fastness and biocidal potentials. Carbohydr Polym 186:310–320

Hsieh TT, Tiu C, Simon GP (2001) Rheological behaviour of polymer blends containing only hyperbranched polyesters of varying generation number. Polymer 42:7635–7638

Hult A, Johansson M, Malmström E (1999) Hyperbranched polymers. Adv Polym Sci 143:555–579

Ji W, Wang H, Yao Y, Wang R (2019) Mg(OH)2 and PDMS-coated cotton fabrics for excellent oil/water separation and flame retardancy. Cellulose 26(11):6879–6890

Jia Y, Lu Y, Zhang G, Liang Y, Zhang F (2017) Facile synthesis of an eco-friendly nitrogen–phosphorus ammonium salt to enhance the durability and flame retardancy of cotton. J Mater Chem A 5:9970–9981

Jikei M, Kakimoto MA (2001) Hyperbranched polymers: a promising new class of materials. Prog Polym Sci 26:1233–1285

Kandola BK, Horrocks S, Horrocks AR (1997) Evidence of interaction in flame-retardant fibre-intumescent combinations by thermal analytical techniques. Thermochim Acta 294:113–125

Kim YH (1990) Webster OW Water-soluble hyperbranched polyphenylene: "a unimolecular micelle"? J Am Chem Soc 112(11):4592–4593

Kwak SY, Ahn DU (2000) Processability of hyperbranched poly(ether ketone)s with different degrees of branching from viewpoints of molecular mobility and comparison with their linear analogue. Macromolecules 33:7557–7563

Lessan F, Montazer M, Moghadam MB (2011) A novel durable flame-retardant cotton fabric using sodium hypophosphite, nano TiO2 and maleic acid. Thermochim Acta 520:48–54

Li P, Wang B, Xu YJ, Jiang Z, Zhu P (2019) Eco-friendly flame-retardant cotton fabrics: preparation, flame retardancy, thermal degradation properties and flame-retardant mechanism. ACS Sustain Chem Eng 7:19246–19256

Ling C, Guo LM (2020) Preparation of a flame-retardant coating based on solvent-free synthesis with high efficiency and durability on cotton fabric. Carbohydr Polym 230:115648

Liu M, Huang S, Zhang G, Zhang F (2019a) Synthesis of P–N–Si synergistic flame retardant based on a cyclodiphosphazane derivative for use on cotton fabric. Cellulose 26(3):7553–7567

Liu H, Du Y, Lei S, Liu Z (2019b) Flame-retardant activity of modified boron nitride nanosheets to cotton. Text Res J 90:5–6

Magnusson H, MalmstrÖM E, Hult A, Johansson M (2002) The effect of degree of branching on the rheological and thermal properties of hyperbranched aliphatic polyethers. Polymer 43:301–306

Nazare S, Kandola BK, Horrocks AR (2008) Smoke, CO, and CO2 measurements and evaluation using different fire testing techniques for flame retardant unsaturated. J Fire Sci 26:215–242

Nunez CM, Chiou BS, Andrady AL, Khan SA (2000) Solution rheology of hyperbranched polyesters and their blends with linear polymers. Macromolecules 33:1720–1726

Reda M, Abdelhameed M, El-Zawahry M et al (2018) Efficient removal of organophosphorus pesticides from wastewater using polyethylenimine-modified fabrics. Polymer 155:225–234

Seiler M (2002) Dendritic polymers-interdisciplinary research and emerging applications from unique structural properties. Chem Eng Technol 25:237–253

Shengnan L, Ling Z, Shuo H et al (2019) A novel flame retardant with reactive ammonium phosphate groups and polymerizing ability for preparing durable flame retardant and stiff cotton fabric. Polym Degrad Stab 164:145–156

Tian P, Lu Y, Wang D, Zhang G, Zhang F (2019a) Solvent-free synthesis of silicon–nitrogen–phosphorus flame retardant for cotton fabrics. Cellulose 26:6995–7007

Tian P, Liu M, Wan C, Zhang G, Zhang F (2019b) Synthesis of a formaldehyde-free flame retardant for cotton fabric. Cellulose 26:9889–9899

Varley RJ (2004) Toughening of epoxy resin systems using low-viscosity additives. Polym Int 53:78–84

Vasiljevic J, Hadzic S, Jerman I, Cerne L, Tomsic B, Medved J, Godec M, Orel B, Simoncic B (2013) Study of flame-retardant finishing of cellulose fibres: organice–inorganic hybrid versus conventional organophosphonate. Polym Degrad Stab 98:2602–2608

Wang D, Zhong L, Zhang C et al (2018) A novel reactive phosphorous flame retardant for cotton fabrics with durable flame retardancy and high whiteness due to self-buffering. Cellulose 25:5479–5497

Wei XZ, Zhu LP, Deng HY et al (2008) New type of nanofiltration membrane based on crosslinked hyperbranched polymers. J Membr Sci 323:278–287

Xia W, Jiang G, Chen W (2010) Synthesis and drug-release properties of hyperbranched polyesters grafted with biocompatible poly(ϵ-caprolactone). J Appl Polym Sci 109:2089–2094

Xu F, Yang YL, Zhang GX et al (2015) A self-stiffness finishing for cotton fabric with N-methylmorpholine-N-oxide. Cellulose 22:2837–2844

Zhao Y, Zou J, Shi W et al (2006) Preparation and characterization of mesoporous silica spheres with bimodal pore structure from silica/hyperbranched polyester nanocomposites. Microporous Mesoporous Mater 92:251–258

Zhu PW, Zheng S, Simon G (2001) Dielectric relaxations in a hyperbranched polyester with terminal hydroxyl groups: effects of generation number. Macromol Chem Phys 202:3008–3017

Zhu P, Sui S, Wang B, Sun K, Sun G (2004) A study of pyrolysis and pyrolysis products of flame-retardant cotton fabrics by DSC, TGA, and PY–GC–MS. J Anal Appl Pyrol 71:645–655
Acknowledgments
The scientific work supported by "the Fundamental Research Funds for the Central Universities and Graduate Student Innovation Fund of Donghua University" (Numbered by CUSF-DH-D-2019047).
Additional information
Publisher's note
Springer Nature remains neutral with regard to jurisdictional claims in published maps and institutional affiliations.
About this article
Cite this article
Ling, C., Tan, Y., Wang, Y. et al. Effect of treatment‐varying generation number of with hyperbranched polyphosphate ammonium salts on the fire retardant finish performance of cotton fabric. Cellulose (2021). https://doi.org/10.1007/s10570-021-03744-7
Received:

Accepted:

Published:
Keywords
Hyperbranched polymer

Generations

Flame retardant

Cotton