Abstract
Biomass-based composites are of immerse importance because they allow combining properties in ways that are not found in nature. This work reports facile routs to produce pressure sensor in large scale from biomass kapok fibers and natural rubber. Two different strategies were applied to introduce conductive elements into the pressure sensor and are systemically compared, which include carbonization of the tubular kapok fibers and coating the fibre with conductive polymer. When used as a pressure sensor, the kapok fiber and natural rubber-based composites can respond logarithmically to the loading in the compressive strain range of 0 ~ 15% with excellent recyclability. As a prototype of the concept for practical application, a weight scale was constructed using the kapok fiber and natural rubber-based composites and showed distinct weight-dependent resistance changes, being feasible for measuring weight within a certain weight range. Besides, the strategy based on conductive polymer enables the pressure sensor to be insulative at its original state and become conductive when pressed, hereby making the composite a potential pressure-sensing material and pressure-responsive circuit switch. This study provides a platform for developing biomass-based electronic pressure sensors.
Graphic abstract

Access options
Buy single article
Instant access to the full article PDF.
US$ 39.95
Tax calculation will be finalised during checkout.
Subscribe to journal
Immediate online access to all issues from 2019. Subscription will auto renew annually.
US$ 119
Tax calculation will be finalised during checkout.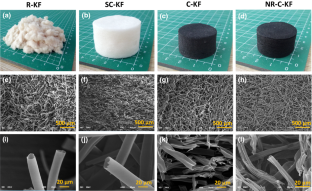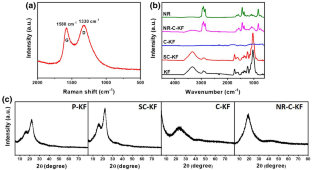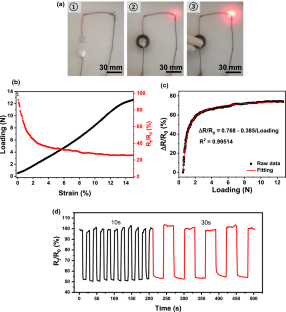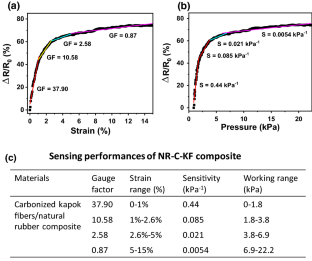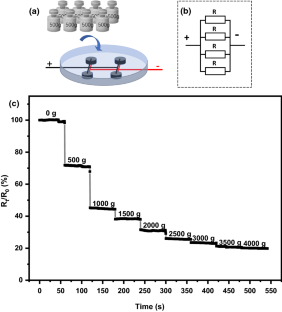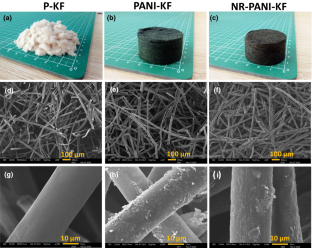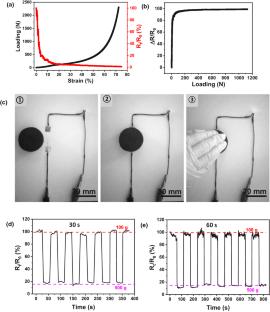 Data availability
All data generated or analyzed during this study are included in this published article and its supplementary information file.
Code availability
There is no code availability for software application or custom code.
References
Abdulkareem S, Ogunmodede S, Aweda JO, Abdulrahim AT, Ajiboye TK, Ahmed II, Adebisi JA (2016) Investigation of thermal insulation properties of biomass composites. Int J Technol 7:989–999. https://doi.org/10.14716/ijtech.v7i6.3317

Alarifi IM, Alharbi A, Khan W, Asmatulu R (2016) Carbonized electrospun polyacrylonitrile nanofibers as highly sensitive sensors in structural health monitoring of composite structures. J Appl Polym Sci 133:43235. https://doi.org/10.1002/app.43235

Bakar NA, Ismail J, Bakar MA (2007) Synthesis and characterization of silver nanoparticles in natural rubber. Mater Chem Phys 104:276–283. https://doi.org/10.1016/j.matchemphys.2007.03.015

Balela MDL, Intila NM, Salvanera SR (2019) Adsorptive removal of lead ions in aqueous solution by kapok-polyacrylonitrile nanocomposites. Mater Today-Proc 17:672–678. https://doi.org/10.1016/j.matpr.2019.06.349

Bi ZH, Kong QQ, Cao YF, Sun GH, Su FY, Wei XX, Li XM, Ahmad A, Xie LJ, Chen CM (2019) Biomass-derived porous carbon materials with different dimensions for supercapacitor electrodes: a review. J Mater Chem A 7:16028–16045. https://doi.org/10.1039/c9ta04436a

Boland CS, Khan U, Backes C, O'Neill A, McCauley J, Duane S, Shanker R, Liu Y, Jurewicz I, Dalton AB, Coleman JN (2014) Sensitive, High-Strain, High-rate bodily motion sensors based on graphene-rubber composites. ACS Nano 8:8819–8830. https://doi.org/10.1021/nn503454h

Bozaci E (2019) Optimization of the alternative treatment methods for Ceiba pentandra (L.) Gaertn (kapok) fiber using response surface methodology. J Text I 110:1404–1414. https://doi.org/10.1080/00405000.2019.1602897

Cao YF, Xie LJ, Sun GH, Su FY, Kong QQ, Li F, Ma WP, Shi J, Jiang D, Lu CX, Chen CM (2018) Hollow carbon microtubes from kapok fiber: Structural evolution and energy storage performance. Sustain Energ Fuels 2:455–465. https://doi.org/10.1039/c7se00481h

Chang M, Cao XL, Zeng H, Zhang L (2007) Enhancement of the ultraviolet emission of ZnO nanostructures by polyaniline modification. Chem Phys Lett 446:370–373. https://doi.org/10.1016/j.cplett.2007.08.078

Chen ZH, Zhuo H, Hu YJ, Lai HH, Liu LX, Zhong LX, Peng XW (2020) wood-derived lightweight and elastic carbon aerogel for pressure sensing and energy storage. Adv Funct Mater 30:1910292. https://doi.org/10.1002/adfm.201910292

Ding Y, Xu T, Onyilagha O, Fong H, Zhu Z (2019) Recent advances in flexible and wearable pressure sensors based on piezoresistive 3D monolithic conductive sponges. ACS Appl Mater Inter 11:6685–6704. https://doi.org/10.1021/acsami.8b20929

Fan M, Dai D, Huang B (2012) Fourier transform infrared spectroscopy for natural fibres. In: Salih SM (ed) Fourier transform-materials analysis. IntechOpen, Rijeka, pp 45–68

Feng C, Yi Z, Jin X, Seraji SM, Dong Y, Kong L, Salim N (2020) Solvent crystallization-induced porous polyurethane/graphene composite foams for pressure sensing. Compos Part B-Eng 194:108065. https://doi.org/10.1016/j.compositesb.2020.108065

French AD (2014) Idealized powder diffraction patterns for cellulose polymorphs. Cellulose 21:885–896. https://doi.org/10.1007/s10570-013-0030-4

Hina K, Zou H, Qian W, Zuo D, Yi C (2018) Preparation and performance comparison of cellulose-based activated carbon fibres. Cellulose 25:607–617. https://doi.org/10.1007/s10570-017-1560-y

Hubbe MA, Rojas OJ, Fingas M, Gupta BS (2013) Cellulosic substrates for removal of pollutants from aqueous systems: a review. 3. Spilled oil and emulsified organic liquids. BioResources 8:3038–3097.

Ifelebuegu AO, Johnson A (2017) Nonconventional low-cost cellulose- and keratin-based biopolymeric sorbents for oil/water separation and spill cleanup: a review. Crit Rev Environ Sci Technol 47:964–1001. https://doi.org/10.1080/10643389.2017.1318620

Jung S, Kim JH, Kim J, Choi S, Lee J, Park I, Hyeon T, Kim D-H (2014) Reverse-micelle-induced porous pressure-sensitive rubber for wearable human-machine interfaces. Adv Mater 26:4825–4830. https://doi.org/10.1002/adma.201401364

Lee J, Kim J, Shin Y, Jung I (2019) Ultra-robust wide-range pressure sensor with fast response based on polyurethane foam doubly coated with conformal silicone rubber and CNT/TPU nanocomposites islands. Compos Part B-Eng 177:107364. https://doi.org/10.1016/j.compositesb.2019.107364

Lim T-T, Huang X (2007) Evaluation of hydrophobicity/oleophilicity of kapok and its performance in oily water filtration: Comparison of raw and solvent-treated fibers. Ind Crop Prod 26:125–134. https://doi.org/10.1016/j.indcrop.2007.02.007

Liu Y, Liu Y, Zhang D, Zhang R, Li Z (2016) Kapok fiber: a natural biomaterial for highly specific and efficient enrichment of sialoglycopeptides. Anal Chem 88:1067–1072. https://doi.org/10.1021/acs.analchem.5b04014

Mohamed MA, Rahman NA, Zain MFM, Minggu LJ, Kassim MB, Jaafar J, Samad S, Mastuli MS, Wong RJ (2020) Hematite microcube decorated TiO2 nanorods as heterojunction photocatalyst with in-situ carbon doping derived from polysaccharides bio-templates hydrothermal carbonization. J Alloys Compd 820:13. https://doi.org/10.1016/j.jallcom.2019.153143

Mu P, Bai W, Fan YK, Zhang Z, Sun HX, Zhu ZQ, Liang WD, Li A (2019) Conductive hollow kapok fiber-PPy monolithic aerogels with excellent mechanical robustness for efficient solar steam generation. J Mater Chem A 7:9673–9679. https://doi.org/10.1039/c8ta12243a

Oh JH, Woo JY, Jo S, Han C-S (2019) Pressure-conductive rubber sensor based on liquid-metal-PDMS composite. Sensor Actuat A-Phys. https://doi.org/10.1016/j.sna.2019.111610

Pongsathit S, Pattamaprom C (2018) Irradiation grafting of natural rubber latex with maleic anhydride and its compatibilization of poly (lactic acid)/natural rubber blends. Radiat Phys Chem 144:13–20. https://doi.org/10.1016/j.radphyschem.2017.11.006

Qin YL, Tang HW, Chang K, Li B, Yan YH, Hou Y, Chang ZR (2019) In situ synthesis of open hollow tubular MnO/C with high performance anode materials for lithium ion batteries using kapok fiber as carbon matrix. Nanotechnology 30:9. https://doi.org/10.1088/1361-6528/aae69e

Rajak DK, Pagar DD, Kumar R, Pruncu CI (2019a) Recent progress of reinforcement materials: a comprehensive overview of composite materials. J Mater Res Technol 8:6354–6374. https://doi.org/10.1016/j.jmrt.2019.09.068

Rajak DK, Pagar DD, Menezes PL, Linul E (2019b) Fiber-reinforced polymer composites: manufacturing, properties, and applications. Polymers 11:1667. https://doi.org/10.3390/polym11101667

Rolere S, Liengprayoon S, Vaysse L, Sainte-Beuve J, Bonfils F (2015) Investigating natural rubber composition with Fourier Transform Infrared (FT-IR) spectroscopy: a rapid and non-destructive method to determine both protein and lipid contents simultaneously. Polym Test 43:83–93. https://doi.org/10.1016/j.polymertesting.2015.02.011

Song P, Cui J, Di J, Liu D, Xu M, Tang B, Zeng Q, Xiong J, Wang C, He Q, Kang L, Zhou J, Duan R, Chen B, Guo S, Liu F, Shen J, Liu Z (2020) Carbon microtube aerogel derived from kapok fiber: an efficient and recyclable sorbent for oils and organic solvents. ACS Nano 14:595–602. https://doi.org/10.1021/acsnano.9b07063

Sun Y, Du Z (2019) A flexible and highly sensitive pressure sensor based on AgNWs/NRLF for hand motion monitoring. Nanomaterials-Basel 9:945. https://doi.org/10.3390/nano9070945

Sun JM, Ma EL, Wu CH, Xu ZW, Liu Z, Li YS, Liu W SX (2019) Fabrication of three-dimensional microtubular kapok fiber carbon aerogel/RuO2 composites for supercapacitors. Electrochim Acta 300:225–234. https://doi.org/10.1016/j.electacta.2019.01.095

Wang L, Wang X, Li Y (2012b) Relation between repeated uniaxial compressive pressure and electrical resistance of carbon nanotube filled silicone rubber composite. Compos Pt A-Appl Sci Manuf 43:268–274. https://doi.org/10.1016/j.compositesa.2011.10.017

Wang JR, Wan F, Lu QF, Chen F, Lin Q (2018) Self-nitrogen-doped porous biochar derived from kapok (Ceiba insignis) fibers: Effect of pyrolysis temperature and high electrochemical performance. J Mater Sci Technol 34:1959–1968. https://doi.org/10.1016/j.jmst.2018.01.005

Wu H, Araby S, Xu J, Kuan HC, Wang CH, Mouritz A, Zhuge Y, Lin RJT, Zong T, Ma J (2018) Filling natural microtubules with triphenyl phosphate for flame-retarding polymer composites. Compos Pt A-Appl Sci Manuf 115:247–254. https://doi.org/10.1016/j.compositesa.2018.09.030

Wu ZC, Pei K, Xing LS, Yu XF, You WB, Che RC (2019) Enhanced microwave absorption performance from magnetic coupling of magnetic nanoparticles suspended within hierarchically tubular composite. Adv Funct Mater 29:10. https://doi.org/10.1002/adfm.201901448

Xu W, Mu B, Wang A (2016) Porous carbon nanoflakes with a high specific surface area derived from a kapok fiber for high-performance electrode materials of supercapacitors. RSC Adv 6:6967–6977. https://doi.org/10.1039/C5RA22469A

Xu WB, Mu B, An XC, Wang AQ (2018) Bio-template synthesis of three-dimensional microtubular nickel-cobalt layered double hydroxide composites for energy storage. Cellulose 25:4121–4131. https://doi.org/10.1007/s10570-018-1849-5

Xu T, Ding Y, Liang Z, Sun H, Zheng F, Zhu Z, Zhao Y, Fong H (2020) Three-dimensional monolithic porous structures assembled from fragmented electrospun nanofiber mats/membranes: Methods, properties, and applications. Prog Mater Sci 112:100656. https://doi.org/10.1016/j.pmatsci.2020.100656

Yang ZL, Yan JJ, Wang FM (2018) Pore structure of kapok fiber. Cellulose 25:3219–3227. https://doi.org/10.1007/s10570-018-1767-6

Zhang JP, Li BC, Li LX, Wang AQ (2016) Ultralight, compressible and multifunctional carbon aerogels based on natural tubular cellulose. J Mater Chem A 4:2069–2074. https://doi.org/10.1039/c5ta10001a

Zhang H, Sun XH, Hubbe MA, Pal L (2019) Flexible and pressure-responsive sensors from cellulose fibers coated with multiwalled carbon nanotubes. ACS Appl Electron Mater 1:1179–1188. https://doi.org/10.1021/acsaelm.9b00182
Funding
This work was supported by Australian Research Council (ARC) through ARC Centre of Excellence for Electromaterials Science (ACES), grant CE140100012.
Ethics declarations
Conflict of Interest
The authors declare that they have no conflict of interest.
Ethical approval
This article does not contain any studies with human participants or animals performed by any of the authors.
Informed consent
Informed consent was obtained from all individual participants included in the study.
Additional information
Publisher's Note
Springer Nature remains neutral with regard to jurisdictional claims in published maps and institutional affiliations.
Supplementary Information
Below is the link to the electronic supplementary material.
About this article
Cite this article
Tang, B., Chen, X., He, Y. et al. Fabrication of kapok fibers and natural rubber composites for pressure sensor applications. Cellulose (2021). https://doi.org/10.1007/s10570-020-03647-z
Received:

Revised:

Accepted:

Published:
Keywords
Kapok fiber

Natural rubber

Pressure sensor

Electric conductivity

Polyaniline