Abstract
This research study aims to remove methyl violet from aqueous solutions with a novel composite. The composite was synthesized by magnetite nanoparticles decorated with amino-silane, graphene oxide, and grafted chitosan-diethylenetriaminepentaacetic acid. The adsorbent was characterized by FT-IR, XRD, FESEM, TEM, EDX, elemental mapping, TGA, VSM, and BET. The Central Composite Design was used for planning the adsorption experiments. The maximum dye removal was equal to 94.87% for an initial dye concentration of 10.0 mg L−1. The coulombic attraction, H-bonding, and pi stacking interactions were proposed as the key factors for dye removal. The initial pH and temperature were fixed at 9.8 and 52.3 °C and the adsorbent dosage was 2.0 g L−1 in the kinetics and equilibrium studies. The adsorption process was almost completed within five min. The modified pseudo-n-order model was the best equation to fit the kinetics data. It was demonstrated that film diffusion was the rate-limiting step at the initial stages of dye removal after which the dye adsorption was the rate-determining step. The equilibrium data was fitted by modified Langmuir–Freundlich isotherm and the maximum equilibrium adsorption was 243.8 mg g−1. Besides, the composite recovery was done by a low amount of acidic eluent. The adsorption efficiency did not change even after five desorption-adsorption cycles.
Graphic abstract

Access options
Buy single article
Instant access to the full article PDF.
US$ 39.95
Tax calculation will be finalised during checkout.
Subscribe to journal
Immediate online access to all issues from 2019. Subscription will auto renew annually.
US$ 119
Tax calculation will be finalised during checkout.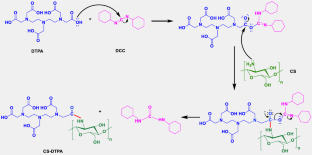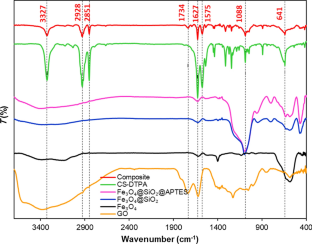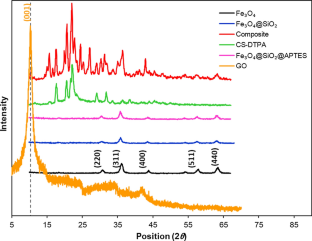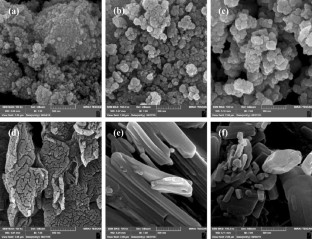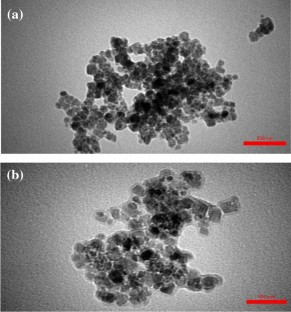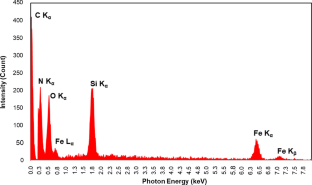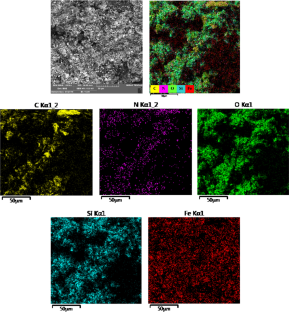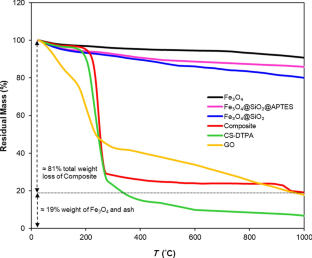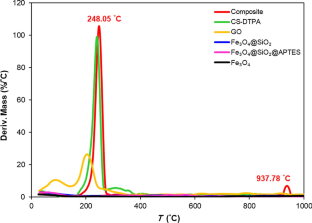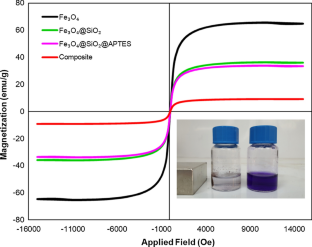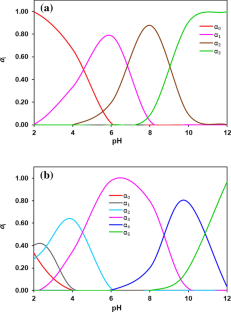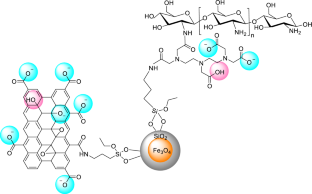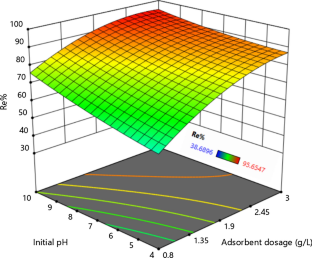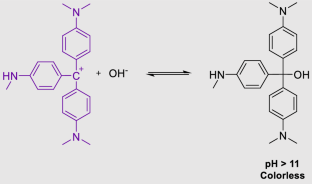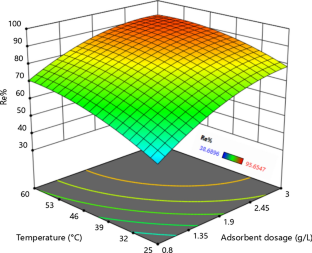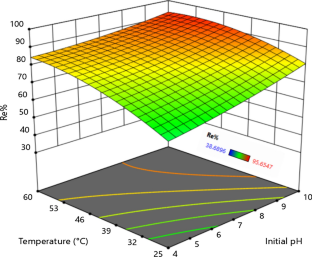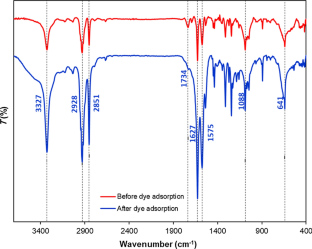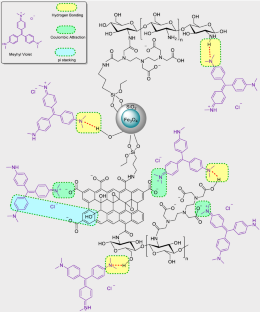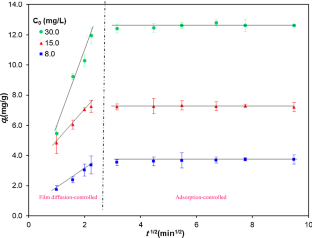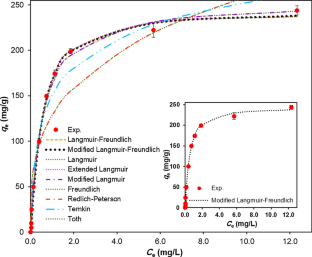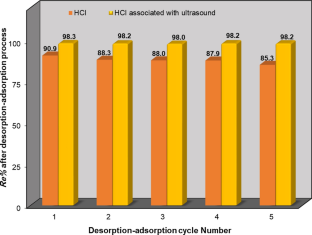 Data availability
All data and materials as well as software application support published claims and comply with field standards.
Abbreviations
APTES:

3-Aminopropyltriethoxysilane

CS:

Chitosan

DTPA:

Diethylenetriaminepentaacetic acid

GO:

Graphene oxide

MV:

Methyl violet

NHS:

N-hydroxysuccinimide

DCC:

N,N′-dicyclohexylcarbodiimide

DMF:

N,N-dimethylformamide
References
Adams EQ, Rosenstein L (1914) The color and ionization of crystal-violet. J Am Chem Soc 36:1452–1473. https://doi.org/10.1021/ja02184a014

Archin S, Sharifi SH, Asadpour G (2019) Optimization and modeling of simultaneous ultrasound-assisted adsorption of binary dyes using activated carbon from tobacco residues: response surface methodology. J Clean Prod 239:118136–118150. https://doi.org/10.1016/j.jclepro.2019.118136

Asadzadeh F, Maleki-Kaklar M, Soiltanalinejad N, Shabani F (2018) Central composite design optimization of zinc removal from contaminated soil, using citric acid as biodegradable chelant. Sci Rep 8:2633–2640. https://doi.org/10.1038/s41598-018-20942-9

Astuti W, Chafidz A, Wahyuni ET, Prasetya A, Bendiyasa IM, Abasaeed AE (2019a) Methyl violet dye removal using coal fly ash (CFA) as a dual sites adsorbent. J Environ Chem Eng 7:103262–103271. https://doi.org/10.1016/j.jece.2019.103262

Astuti W, Sulistyaningsih T, Kusumastuti E, Thomas GYRS, Kusnadi RY (2019b) Thermal conversion of pineapple crown leaf waste to magnetized activated carbon for dye removal. Bioresour Technol 287:121426–121433. https://doi.org/10.1016/j.biortech.2019.121426

Azizian S, Fallah RN (2010) A new empirical rate equation for adsorption kinetics at solid/solution interface. Appl Surf Sci 256:5153–5156. https://doi.org/10.1016/j.apsusc.2009.12.080

Azizian S, Eris S, Wilson LD (2018) Re-evaluation of the century-old Langmuir isotherm for modeling adsorption phenomena in solution. Chem Phys 513:99–104. https://doi.org/10.1016/j.chemphys.2018.06.022

Bagherzadeh M, Mortazavi-Manesh A (2016) Nanoparticle supported, magnetically separable manganese porphyrin as an efficient retrievable nanocatalyst in hydrocarbon oxidation reactions. RSC Adv 6:41551–41560. https://doi.org/10.1039/C6RA02123A

Bakhtiari N, Azizian S (2018) Nanoporous carbon derived from MOF-5: a superadsorbent for copper ions. ACS Omega 3:16954–16959. https://doi.org/10.1021/acsomega.8b02278

Bhatt R, Sreedhar B, Padmaja P (2015) Adsorption of chromium from aqueous solutions using crosslinked chitosan–diethylenetriaminepentaacetic acid. Int J Biol Macromol 74:458–466. https://doi.org/10.1016/j.ijbiomac.2014.12.041

Binaeian E, Mottaghizad M, Kasgary AH, Babaee Zadvarzi S (2020) Bovine serum albumin adsorption by Bi-functionalized HMS, nitrilotriacetic acid-amine modified hexagonal mesoporous silicate. Solid State Sci 103:106194–106204. https://doi.org/10.1016/j.solidstatesciences.2020.106194

Blanchard G, Maunaye M, Martin G (1984) Removal of heavy metals from waters by means of natural zeolites. Water Res 18:1501–1507. https://doi.org/10.1016/0043-1354(84)90124-6

Bonetto LR, Ferrarini F, de Marco C, Crespo JS, Guégan R, Giovanela M (2015) Removal of methyl violet 2B dye from aqueous solution using a magnetic composite as an adsorbent. J Water Process Eng 6:11–20. https://doi.org/10.1016/j.jwpe.2015.02.006

Borhan AI, Gherca D, Cojocaru Ş, Lupu N, Roman T, Zaharia M, Palamaru MN, Iordan AR (2020) One-pot synthesis of hierarchical magnetic porous γ-Fe2O3@NiFe2O4 composite with solid-phase morphology changes promoted by adsorption of anionic azo-dye. Mater Res Bull 122:110664–110670. https://doi.org/10.1016/j.materresbull.2019.110664

Chatha SAS, Asgher M, Asgher R, Hussain AI, Iqbal Y, Hussain SM, Bilal M, Saleem F, Iqbal HMN (2019) Environmentally responsive and anti-bugs textile finishes—recent trends, challenges, and future perspectives. Sci Total Environ 690:667–682. https://doi.org/10.1016/j.scitotenv.2019.06.520

Chen S, Zhang J, Zhang C, Yue Q, Li Y, Li C (2010) Equilibrium and kinetic studies of methyl orange and methyl violet adsorption on activated carbon derived from Phragmites australis. Desalination 252:149–156. https://doi.org/10.1016/j.desal.2009.10.010

Chen B, Zhao H, Chen S, Long F, Huang B, Yang B, Pan X (2019) A magnetically recyclable chitosan composite adsorbent functionalized with EDTA for simultaneous capture of anionic dye and heavy metals in complex wastewater. Chem Eng J 356:69–80. https://doi.org/10.1016/j.cej.2018.08.222

Chen Z, Zhang S, Liu Y, Alharbi NS, Rabah SO, Wang S, Wang X (2020) Synthesis and fabrication of g-C3N4-based materials and their application in elimination of pollutants. Sci Total Environ 731:139054. https://doi.org/10.1016/j.scitotenv.2020.139054

Cortinez D, Palma P, Castro R, Palza H (2020) A multifunctional bi-phasic graphene oxide/chitosan paper for water treatment. Sep Purif Technol 235:116181–116188. https://doi.org/10.1016/j.seppur.2019.116181

Demirbas E, Nas MZ (2009) Batch kinetic and equilibrium studies of adsorption of Reactive Blue 21 by fly ash and sepiolite. Desalination 243:8–21. https://doi.org/10.1016/j.desal.2008.04.011

Duan J, Liu R, Chen T, Zhang B, Liu J (2012) Halloysite nanotube-Fe3O4 composite for removal of methyl violet from aqueous solutions. Desalination 293:46–52. https://doi.org/10.1016/j.desal.2012.02.022

Durham EJ, Ryskiewich DP (1958) The acid dissociation constants of diethylenetriaminepentaacetic acid and the stability constants of some of its metal chelates. J Am Chem Soc 80:4812–4817. https://doi.org/10.1021/ja01551a015

Duynstee EFJ, Grunwald E (1959) Organic reactions occurring in or on micelles. II. Kinetic and thermodynamic analysis of the alkaline fading of triphenylmethane dyes in the presence of detergent salts. J Am Chem Soc 81:4542–4548. https://doi.org/10.1021/ja01526a026

Freundlich HMF (1906) Over the adsorption in solution. J Phys Chem 57:385–471

Gabbott P (2008) Principles and applications of thermal analysis. Wiley, Oxford

Haerifar M, Azizian S (2012) Fractal-like adsorption kinetics at the solid/solution interface. J Phys Chem C 116:13111–13119. https://doi.org/10.1021/jp301261h

Haerifar M, Azizian S (2014) Fractal-like kinetics for adsorption on heterogeneous solid surfaces. J Phys Chem C 118:1129–1134. https://doi.org/10.1021/jp4110882

Hamza MF, Wei Y, Mira HI, Abdel-Rahman AAH, Guibal E (2019) Synthesis and adsorption characteristics of grafted hydrazinyl amine magnetite-chitosan for Ni(II) and Pb(II) recovery. Chem Eng J 362:310–324. https://doi.org/10.1016/j.cej.2018.11.225

Huang X, Zhan X, Wen C, Xu F, Luo L (2018) Amino-functionalized magnetic bacterial cellulose/activated carbon composite for Pb2+ and methyl orange sorption from aqueous solution. J Mater Sci Technol 34:855–863. https://doi.org/10.1016/j.jmst.2017.03.013

Kanagaraj J, Senthilvelan T, Panda RC, Kavitha S (2015) Eco-friendly waste management strategies for greener environment towards sustainable development in leather industry: a comprehensive review. J Clean Prod 89:1–17. https://doi.org/10.1016/j.jclepro.2014.11.013

Karami S, Zeynizadeh B (2019) Reduction of 4-nitrophenol by a disused adsorbent: EDA-functionalized magnetic cellulose nanocomposite after the removal of Cu2+. Carbohydr Polym 211:298–307. https://doi.org/10.1016/j.carbpol.2019.01.113

Khan EA, Shahjahan, Khan TA (2019) Synthesis of magnetic iron-manganese oxide coated graphene oxide and its application for adsorptive removal of basic dyes from aqueous solution: isotherm, kinetics, and thermodynamic studies. Environ Prog Sustain Energy 38:S214–S229. https://doi.org/10.1002/ep.12974

Kharazi P, Rahimi R, Rabbani M (2019) Copper ferrite-polyaniline nanocomposite: structural, thermal, magnetic and dye adsorption properties. Solid State Sci 93:95–100. https://doi.org/10.1016/j.solidstatesciences.2019.05.007

Konkena B, Vasudevan S (2012) Understanding aqueous dispersibility of graphene oxide and reduced graphene oxide through pKa measurements. J Phys Chem Lett 3:867–872. https://doi.org/10.1021/jz300236w

Kyzas GZ (2015) Advanced functional materials. Wiley, New York

Lagergren S (1898) About the theory of so-called adsorption of soluble substances. K Sven Vetensk Akad Handl 24:1–39

Langmuir I (1918) The adsorption of gases on plane surfaces of glass, mica and platinum. J Am Chem Soc 40:1361–1403. https://doi.org/10.1021/ja02242a004

Li Q, Xu B, Zhuang L, Xu X, Wang G, Zhang X, Chen J, Tang Y (2018) Preparation, characterization, adsorption kinetics and thermodynamics of chitosan adsorbent grafted with a hyperbranched polymer designed for Cr(VI) removal. Cellulose 25:3471–3486. https://doi.org/10.1007/s10570-018-1791-6

Li Y, Xiao H, Pan Y, Zhang M, Jin Y (2019) Thermal and pH dual-responsive cellulose microfilament spheres for dye removal in single and binary systems. J Hazard Mater 377:88–97. https://doi.org/10.1016/j.jhazmat.2019.05.033

Liu R, Zhang B, Mei D, Zhang H, Liu J (2011) Adsorption of methyl violet from aqueous solution by halloysite nanotubes. Desalination 268:111–116. https://doi.org/10.1016/j.desal.2010.10.006

Liu F, Niu F, Peng N, Su Y, Yang Y (2015) Synthesis, characterization, and application of Fe3O4@SiO2–NH2 nanoparticles. RSC Adv 5:18128–18136. https://doi.org/10.1039/C4RA15968C

Liu X, Ma R, Zhuang L, Hu B, Chen J, Liu X, Wang X (2020) Recent developments of doped g-C3N4 photocatalysts for the degradation of organic pollutants. Crit Rev Environ Sci Technol. https://doi.org/10.1080/10643389.2020.1734433

López-Covarrubias JG, Soto-Muñoz L, Iglesias AL, Villarreal-Gómez LJ (2019) Electrospun nanofibers applied to dye solar sensitive cells: a review. Materials (Basel) 12:3190–3207. https://doi.org/10.3390/ma12193190

Low MJD (1960) Kinetics of chemisorption of gases on solids. Chem Rev 60:267–312. https://doi.org/10.1021/cr60205a003

Ma H, Kong A, Ji Y, He B, Song Y, Li J (2019) Ultrahigh adsorption capacities for anionic and cationic dyes from wastewater using only chitosan. J Clean Prod 214:89–94. https://doi.org/10.1016/j.jclepro.2018.12.217

Mahmoud ME, Amira MF, Zaghloul AA, Ibrahim GAA (2016) Microwave-enforced sorption of heavy metals from aqueous solutions on the surface of magnetic iron oxide-functionalized-3-aminopropyltriethoxysilane. Chem Eng J 293:200–206. https://doi.org/10.1016/j.cej.2016.02.056

Malkoc E, Nuhoglu Y (2005) Investigations of nickel(II) removal from aqueous solutions using tea factory waste. J Hazard Mater 127:120–128. https://doi.org/10.1016/j.jhazmat.2005.06.030

Marcano DC, Kosynkin DV, Berlin JM, Sinitskii A, Sun Z, Slesarev A, Alemany LB, Lu W, Tour JM (2010) Improved synthesis of graphene oxide. ACS Nano 4:4806–4814. https://doi.org/10.1021/nn1006368

Marczewski AW (2010) Application of mixed order rate equations to adsorption of methylene blue on mesoporous carbons. Appl Surf Sci 256:5145–5152. https://doi.org/10.1016/j.apsusc.2009.12.078

McMurry JE (2010) Fundamentals of organic chemistry. Cengage Learning, Belmont

Monier M, Ayad DM, Wei Y, Sarhan AA (2010) Preparation and characterization of magnetic chelating resin based on chitosan for adsorption of Cu(II), Co(II), and Ni(II) ions. React Funct Polym 70:257–266. https://doi.org/10.1016/j.reactfunctpolym.2010.01.002

Nasiri R, Arsalani N, Panahian Y (2018) One-pot synthesis of novel magnetic three-dimensional graphene/chitosan/nickel ferrite nanocomposite for lead ions removal from aqueous solution: RSM modelling design. J Clean Prod 201:507–515. https://doi.org/10.1016/j.jclepro.2018.08.059

Newbury DE, Ritchie NWM (2013) Is scanning electron microscopy/energy dispersive X-ray spectrometry (SEM/EDS) quantitative? Scanning 35:141–168. https://doi.org/10.1002/sca.21041

Ofomaja AE, Ho Y-S (2008) Effect of temperatures and pH on methyl violet biosorption by Mansonia wood sawdust. Bioresour Technol 99:5411–5417. https://doi.org/10.1016/j.biortech.2007.11.018

Olusegun SJ, Mohallem NDS (2020) Comparative adsorption mechanism of doxycycline and Congo red using synthesized kaolinite supported CoFe2O4 nanoparticles. Environ Pollut 260:114019–114029. https://doi.org/10.1016/j.envpol.2020.114019

Özer A (2007) Removal of Pb(II) ions from aqueous solutions by sulphuric acid-treated wheat bran. J Hazard Mater 141:753–761. https://doi.org/10.1016/j.jhazmat.2006.07.040

Park S, Oh Y, Yun J, Yoo E, Jung D, Oh KK, Lee SH (2020) Cellulose/biopolymer/Fe3O4 hydrogel microbeads for dye and protein adsorption. Cellulose 27:2757–2773. https://doi.org/10.1007/s10570-020-02974-5

Parlayici Ş (2019) Alginate-coated perlite beads for the efficient removal of methylene blue, malachite green, and methyl violet from aqueous solutions: kinetic, thermodynamic, and equilibrium studies. J Anal Sci Technol 10:4–18. https://doi.org/10.1186/s40543-019-0165-5

Pavia DL, Lampman GM, Kriz GS (2015) Introduction to spectroscopy. Cengage Learning, Belmont

Pereira L, Alves M (2012) Dyes-environmental impact and remediation. In: Malik A, Grohmann E (eds) Environmental protection strategies for sustainable development. Springer, New York, pp 111–162

Qu S, Yang H, Ren D, Kan S, Zou G, Li D, Li M (1999) Magnetite nanoparticles prepared by precipitation from partially reduced ferric chloride aqueous solutions. J Colloid Interface Sci 215:190–192. https://doi.org/10.1006/jcis.1999.6185

Redlich O, Peterson DL (1959) A useful adsorption isotherm. J Phys Chem 63:1024. https://doi.org/10.1021/j150576a611

Rovina K, Siddiquee S, Shaarani SM (2017) Toxicology, extraction and analytical methods for determination of Amaranth in food and beverage products. Trends Food Sci Technol 65:68–79. https://doi.org/10.1016/j.tifs.2017.05.008

Sabnis RW (2007) Handbook of acid-base indicators. CRC Press, New York

Sabnis RW (2010) Handbook of biological dyes and stains: synthesis and industrial applications. Wiley, New Jersey

Sarkar AK, Bediako JK, Choi J-W, Yun Y-S (2019) Functionalized magnetic biopolymeric graphene oxide with outstanding performance in water purification. NPG Asia Mater 11:4–13. https://doi.org/10.1038/s41427-018-0104-8

Shindo D, Oikawa T (1999) Analytical electron microscopy for materials science. Springer, Tokyo

Sips R (1948) On the structure of a catalyst surface. J Chem Phys 16:490–495. https://doi.org/10.1063/1.1746922

Skoog DA, West DM, Holler FJ, Crouch SR (2014) Fundamentals of analytical chemistry, 9th edn. Cengage Learning, Belmont

Skoog DA, Holler FJ, Crouch SR (2017) Principles of instrumental analysis, 7th edn. Cengage Learning, Boston

Soleymani AR, Mahdiei M, Haerifar M (2019) Nano-titania/light expanded clay aggregate fixed bed as an effective adsorbent for removal of organic pollutant from water: Equilibrium and kinetic studies. J Clean Prod 211:1328–1338. https://doi.org/10.1016/j.jclepro.2018.11.258

Temkin M, Pyzhev V (1940) Kinetics of ammonia synthesis on promoted iron catalysts. Acta Physicochim URSS 12:327–356

Tenório-Neto ET, Jamshaid T, Eissa M, Kunita MH, Zine N, Agusti G, Fessi H, El-Salhi AE, Elaissari A (2015) TGA and magnetization measurements for determination of composition and polymer conversion of magnetic hybrid particles. Polym Adv Technol 26:1199–1208. https://doi.org/10.1002/pat.3562

Toth J (1971) State equation of the solid-gas interface layers. Acta Chim Acad Sci Hung 69:311–328

Wakkel M, Khiari B, Zagrouba F (2019) Basic red 2 and methyl violet adsorption by date pits: adsorbent characterization, optimization by RSM and CCD, equilibrium and kinetic studies. Environ Sci Pollut Res 26:18942–18960. https://doi.org/10.1007/s11356-018-2192-y

Wang L, Hu D, Kong X, Liu J, Li X, Zhou K, Zhao H, Zhou C (2018) Anionic polypeptide poly(γ-glutamic acid)-functionalized magnetic Fe3O4-GO-(o-MWCNTs) hybrid nanocomposite for high-efficiency removal of Cd(II), Cu(II) and Ni(II) heavy metal ions. Chem Eng J 346:38–49. https://doi.org/10.1016/j.cej.2018.03.084

Wang H, Lai X, Zhao W, Chen Y, Yang X, Meng X, Li Y (2019) Efficient removal of crystal violet dye using EDTA/graphene oxide functionalized corncob: a novel low cost adsorbent. RSC Adv 9:21996–22003. https://doi.org/10.1039/C9RA04003J

Xu R, Xiao S, Yuan J, Zhao A (2011) Adsorption of methyl violet from aqueous solutions by the biochars derived from crop residues. Bioresour Technol 102:10293–10298. https://doi.org/10.1016/j.biortech.2011.08.089

Yao C (2000) Extended and improved Langmuir equation for correlating adsorption equilibrium data. Sep Purif Technol 19:237–242. https://doi.org/10.1016/S1383-5866(00)00060-5

Zhang H, Dang Q, Liu C, Yu D, Wang Y, Pu X, Liu Y, Liang Y, Cha D (2019a) Fabrication of methyl acrylate and tetraethylenepentamine grafted magnetic chitosan microparticles for capture of Cd(II) from aqueous solutions. J Hazard Mater 366:346–357. https://doi.org/10.1016/j.jhazmat.2018.12.006

Zhang L, Sellaoui L, Franco D, Dotto GL, Bajahzar A, Belmabrouk H, Bonilla-Petriciolet A, Oliveira MLS, Li Z (2019b) Adsorption of dyes brilliant blue, sunset yellow and tartrazine from aqueous solution on chitosan: analytical interpretation via multilayer statistical physics model. Chem Eng J 382:122952–122958. https://doi.org/10.1016/j.cej.2019.122952

Zhao B, Sun X, Wang L, Zhao L, Zhang Z, Li J (2019) Adsorption of methyl orange from aqueous solution by composite magnetic microspheres of chitosan and quaternary ammonium chitosan derivative. Chin J Chem Eng 27:1973–1980. https://doi.org/10.1016/j.cjche.2018.12.014

Zhong F, He Y, Wang P, Chen C, Lin Y, Wu Y, Chen J (2019) Self-assembled graphene oxide-graphene hybrids for enhancing the corrosion resistance of waterborne epoxy coating. Appl Surf Sci 488:801–812. https://doi.org/10.1016/j.apsusc.2019.05.321

Zhou L, Pan S, Chen X, Zhao Y, Zou B, Jin M (2014) Kinetics and thermodynamics studies of pentachlorophenol adsorption on covalently functionalized Fe3O4@SiO2–MWCNTs core–shell magnetic microspheres. Chem Eng J 257:10–19. https://doi.org/10.1016/j.cej.2014.07.060

Zolfigol MA, Ayazi-Nasrabadi R, Baghery S, Khakyzadeh V, Azizian S (2016) Applications of a novel nano magnetic catalyst in the synthesis of 1,8-dioxo-octahydroxanthene and dihydropyrano[2,3-c]pyrazole derivatives. J Mol Catal A Chem 418:54–67. https://doi.org/10.1016/j.molcata.2016.03.027
Acknowledgments
The authors extend their gratitude to Bu-Ali Sina University for supporting this work.
Funding
This study was funded by Bu-Ali Sina University (Grant No. 95-287).
Ethics declarations
Conflict of interest
The authors declare that they have no conflict of interest.
Ethics approval
It is declared that this manuscript is containing original research, and has not been published in any journal, and is not being simultaneously considered for publication elsewhere. Submission of this paper has been made with full responsibility, based on the journal requirements, and there are no plagiarism and concerns about animal or human experimentation. The manuscript has been approved by authors who have significantly contributed and agreed with its submission to Cellulose.
Additional information
Publisher's Note
Springer Nature remains neutral with regard to jurisdictional claims in published maps and institutional affiliations.
Electronic supplementary material
Below is the link to the electronic supplementary material.
About this article
Cite this article
Asadabadi, S., Merati, Z. A tailored magnetic composite synthesized by graphene oxide, chitosan and aminopolycarboxylic acid for diminishing dye contaminant. Cellulose 28, 2327–2351 (2021). https://doi.org/10.1007/s10570-020-03623-7
Received:

Accepted:

Published:

Issue Date:
Keywords
Composites

Tailored magnetite nanoparticles

Chitosan

Graphene oxide

DTPA

Methyl violet