Abstract
Separation of dyes and proteins from water remains a significant challenge. Common absorbents without recyclability might bring secondary pollutions, which may be avoided by developing stimuli-responsive smart absorbents. Here in this work, a CO2-responsive polymer poly(2-(dimethylamino) ethyl methacrylate) was grafted from cellulose fibers (Cell-g-PDEA). The chemical structure and surface morphology were confirmed with nuclear magnetic resonance spectroscopy, Fourier transform infrared spectroscopy, X-ray photoelectron spectroscopy, X-ray powder diffraction and scanning electron microscope. The CO2-sensitivity was demonstrated by monitoring the pH, surface Zeta potential and dispersed appearance under stimulus of CO2. Furthermore, the modified cellulose fibers were packed into a syringe to construct a smart separation column that reversibly captured and released anionic dyes and proteins from water under gas stimulus. Comparing with traditional pH or temperature responsive materials, the CO2-responsive cellulose fibers take the advantages on energy-saving, good reversibility and moderate running conditions, thus might find applications in smart separations, clinical diagnose and therapies.
Graphic abstract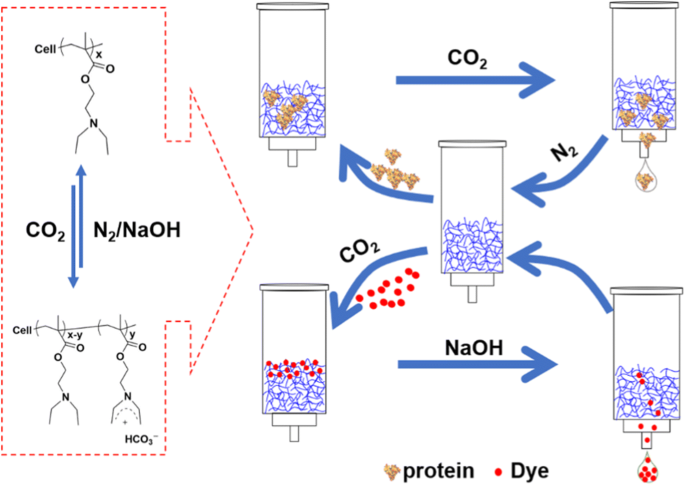 This is a preview of subscription content, log in to check access.
Access options
Buy single article
Instant access to the full article PDF.
US$ 39.95
Price includes VAT for USA
Subscribe to journal
Immediate online access to all issues from 2019. Subscription will auto renew annually.
US$ 199
This is the net price. Taxes to be calculated in checkout.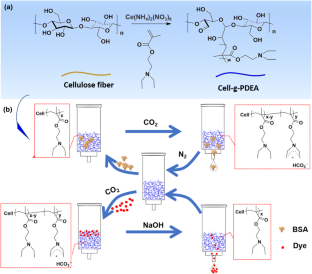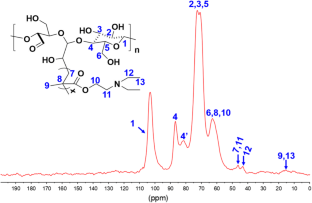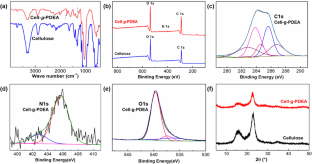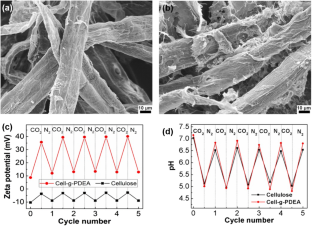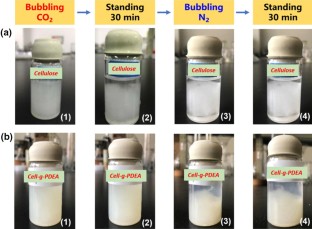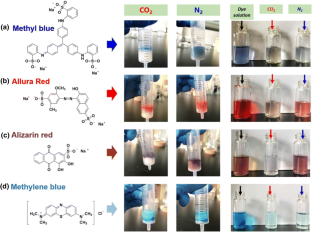 References
Cai Z, Xiong P, Zhu C, Zhai T, Guo J, Zhao K (2018) Preparation and characterization of a bi-layered nano-filtration membrane from a chitosan hydrogel and bacterial cellulose nanofiber for dye removal. Cellulose 25(9):5123–5137

Campano C, Lopez-Exposito P, Blanco A, Negro C, van de Ven TGM (2019) Hairy cationic nanocrystalline cellulose as retention additive in recycled paper. Cellulose 26(10):6275–6289

Cheng C-C, Chiu T-W, Yang X-J, Huang S-Y, Fan W-L, Lai J-Y, Lee D-J (2019) Self-assembling supramolecular polymer membranes for highly effective filtration of water-soluble fluorescent dyes. Polym Chem 10(7):827–834

Cheng L, Jiang Y, Yan N, Shan S-F, Liu X-Q, Sun L-B (2016) Smart adsorbents with photoregulated molecular gates for both selective adsorption and efficient regeneration. ACS Appl Mater Interfaces 8(35):23404–23411

Chia CH, Zakaria S, Nguyen KL, Abdullah M (2008) Utilisation of unbleached kenaf fibers for the preparation of magnetic paper. Ind Crops Prod 28(3):333–339

Chung J, Kim J-O (2011) Application of advanced oxidation processes to remove refractory compounds from dye wastewater. Desalination Water Treat 25(1–3):233–240

Darabi A, Jessop PG, Cunningham MF (2016) CO2-responsive polymeric materials: synthesis, self-assembly, and functional applications. Chem Soc Rev 45(15):4391–4436

Fabri-Faja N, Calvo-Lozano O, Dey P, Terborg RA, Estevez MC, Belushkin A et al (2019) Early sepsis diagnosis via protein and miRNA biomarkers using a novel point-of-care photonic biosensor. Anal Chim Acta 1077:232–242

Gardebjer S, Bergstrand A, Idstrom A, Borstell C, Naana S, Nordstierna L, Larsson A (2015) Solid-state NMR to quantify surface coverage and chain length of lactic acid modified cellulose nanocrystals, used as fillers in biodegradable composites. Compos Sci Technol 107:1–9

Guo J, Wang N, Wu J, Ye Q, Zhang C, Xing X-H, Yuan J (2014) Hybrid nanoparticles with CO2-responsive shells and fluorescence-labelled magnetic cores. J Mater Chem B B 2(4):437–442

Guo Z, Chen Q, Gu H, He Z, Xu W, Zhang J et al (2018) Giant microgels with CO2-induced on–off, selective, and recyclable adsorption for anionic dyes. ACS Appl Mater Interfaces 10(44):38073–38083

Gupta AD, Pandey S, Jaiswal VK, Bhadauria V, Singh H (2019) Simultaneous oxidation and esterification of cellulose for use in treatment of water containing Cu(II) ions. Carbohydr Polym 222:114964

Habibi Y (2014) Key advances in the chemical modification of nanocelluloses. Chem Soc Rev 43(5):1519–1542

Han H, Rafiq MK, Zhou T, Xu R, Masek O, Li X (2019) A critical review of clay-based composites with enhanced adsorption performance for metal and organic pollutants. J Hazard Mater 369:780–796

Huang Z, Huang Z, Feng L, Luo X, Wu P, Cui L, Mao X (2018) Modified cellulose by polyethyleneimine and ethylenediamine with induced Cu(II) and Pb(II) adsorption potentialities. Carbohydr Polym 202:470–478

Jiang Y, Shan S-F, Liu W, Zhu J, He Q-X, Tan P et al (2017) Rational design of thermo-responsive adsorbents: demand-oriented active sites for the adsorption of dyes. Chem Commun 53(69):9538–9541

Jiang Y, Tan P, Kang Y-H, Xing Z-M, Cheng L, Zhu L et al (2016) Fabrication of adsorbents with thermocontrolled molecular gates for both selective adsorption and efficient regeneration. Adv Mater Interfaces 3(11):1500829

Kumar S, Tong X, Dory YL, Lepage M, Zhao Y (2013) A CO2-switchable polymer brush for reversible capture and release of proteins. Chem Commun 49(1):90–92

Lin S, Shang J, Theato P (2018) Facile fabrication of CO2-responsive nanofibers from photo-cross-linked poly(pentafluorophenyl acrylate) nanofibers. Acs Macro Lett 7(4):431–436

Lin S, Theato P (2013) CO2-responsive polymers. Macromol Rapid Commun 34(14):1118–1133

Liu B, Zheng H, Wang Y, Chen X, Zhao C, An Y, Tang X (2018) A novel carboxyl-rich chitosan-based polymer and its application for clay flocculation and cationic dye removal. Sci Total Environ 640:107–115

Liu H, Guo Z, He S, Yin H, Fei C, Feng Y (2014) CO2-driven vesicle to micelle regulation of amphiphilic copolymer: random versus block strategy. Polym Chem 5(16):4756–4763

Liu H, Lin S, Feng Y, Theato P (2017) CO2-responsive polymer materials. Polym Chem 8(1):12–23

Makhado E, Pandey S, Ramontja J (2019) Microwave-assisted green synthesis of xanthan gum grafted diethylamino ethyl methacrylate: an efficient adsorption of hexavalent chromium. Carbohydr Polym 222:114989

Molinero-Fernandez A, Moreno-Guzman M, Arruza L, Angel Lopez M, Escarpa A (2019) Toward early diagnosis of late-onset sepsis in preterm neonates: dual magnetoimmunosensor for simultaneous procalcitonin and C-reactive protein determination in diagnosed clinical samples. ACS Sens 4(8):2117–2123

Qin Y, Wang L, Zhao C, Chen D, Ma Y, Yang W (2016) Ammonium-functionalized hollow polymer particles as a pH-responsive adsorbent for selective removal of acid dye. ACS Appl Mater Interfaces 8(26):16690–16698

Qiu J, Wang H, Du Z, Cheng X, Liu Y, Wang H (2018) Preparation of polyacrylamide via dispersion polymerization with gelatin as a stabilizer and its synergistic effect on organic dye flocculation. J Appl Polym Sci 135(21):46298

Spinella S, Samuel C, Raquez J-M, McCallum SA, Gross R, Dubois P (2016) Green and efficient synthesis of dispersible cellulose nanocrystals in biobased polyesters for engineering applications. ACS Sustain Chem Eng 4(5):2517–2527

Sun W, Wen Y, Thiramanas R, Chen M, Han J, Gong N et al (2018) Red-light-controlled release of drug–Ru complex conjugates from metallopolymer micelles for phototherapy in hypoxic tumor environments. Adv Funct Mater 28(39):1804227

Thombare N, Jha U, Mishra S, Siddiqui MZ (2017) Borax cross-linked guar gum hydrogels as potential adsorbents for water purification. Carbohydr Polym 168:274–281

Upadhyay A, Rao CP (2019) Porous, pH-responsive, and reusable hydrogel beads of bovine serum albumin_Au hybrid as smart nanofactories for the removal of organic and inorganic pollutants from water: a detailed demonstration by spectroscopy and microscopy. ACS Appl Mater Interfaces 11(8):7965–7973

Varaprasad K, Jayaramudu T, Sadiku ER (2017) Removal of dye by carboxymethyl cellulose, acrylamide and graphene oxide via a free radical polymerization process. Carbohydr Polym 164:186–194

Wang Y, Cai H, Qian F, Li Y, Yu J, Yang X et al (2019) Facile one-step synthesis of onion-like carbon modified ultrathin g-C3N4 2D nanosheets with enhanced visible-light photocatalytic performance. J Colloid Interface Sci 533:47–58

Wang Z, Huang W, Yang G, Liu Y, Liu S (2019) Preparation of cellulose-base amphoteric flocculant and its application in the treatment of wastewater. Carbohydr Polym 215:179–188

Xing Y, Cheng J, Zhang M, Zhao M, Ye L, Pan W (2018) A novel inorganic Ni–La2O3 composite with superfast and versatile water purification behavior. ACS Appl Mater Interfaces 10(50):43723–43729

Zhang J, Liu Z, Ma Z (2019) Facile formation of Bi2O2CO3/Bi2MoO6 nanosheets for visible light-driven photocatalysis. ACS Omega 4(2):3871–3880

Zhang Q, Cao Y, Liu N, Zhang W, Chen Y, Lin X et al (2016) A facile approach for fabricating dual-function membrane: simultaneously removing oil from water and adsorbing water-soluble proteins. Adv Mater Interfaces 3(16):1600291

Zhou H, Yan B, Lai J, Liu H, Ma A, Chen W et al (2018) Renewable biomass derived hierarchically porous carbonaceous sponges and their magnetic nanocomposites for removal of organic molecules from water. J Ind Eng Chem 58:334–342

Zhu J, Ding J-J, Liu X-Q, Tan P, Sun L-B (2016) Realizing both selective adsorption and efficient regeneration using adsorbents with photo-regulated molecular gates. Chem Commun 52(21):4006–4009
Acknowledgments
This work was financially supported by the National Natural Science Foundation of China (Nos. 21805178; 21805177), Chinese Postdoctoral Science Foundation (2019M653734), Natural Science Basic Research Plan in Shaanxi Province (Nos. 2018JQ5104, 2019JM-124), Foundation for Selected Oversea Chinese Scholar in Shaanxi Province (No. 2017016), Open Project Program of National Demonstration Center for Experimental Light Chemistry Engineering Education (Grant No. 2018QGSJ02-17) and the advanced research fund of SUST (2016GBJ-14, BJ15-14).
Ethics declarations
Conflict of interest
None.
Additional information
Publisher's Note
Springer Nature remains neutral with regard to jurisdictional claims in published maps and institutional affiliations.
About this article
Cite this article
Liu, H., Yang, X., Wang, J. et al. Gas responsive cellulose fibers for capturing and releasing of dyes and proteins from water by packing a smart separation column. Cellulose (2020). https://doi.org/10.1007/s10570-020-03277-5
Received:

Accepted:

Published:
Keywords
Cellulose

Stimuli-responsive

Separation

Dyes

Proteins