Abstract
The ubiquitous nature of lignocellulosic biomass on planet earth and its economic viability attracted a great deal of attention from researchers and becomes foremost feedstock for biofuel production particularly bioethanol. However, due to complexity in structure, its pretreatment is essentially required prior to actual use. In the present study, a promising approach has been proposed through the development of acid-functionalized magnetic nanocatalysts. Two different acid-functionalized magnetic nanocatalysts i.e. alkylsulfonic acid functionalized magnetic nanoparticles (Fe3O4-MNPs-Si-AS) and butylcarboxylic acid functionalized magnetic nanoparticles (Fe3O4-MNPs-Si-BCOOH) were developed and their efficacy was studied in the pretreatment of sugarcane straw at varying concentrations (100, 200, 300, 400, 500 mg/g of straw). The enhanced concentration dependent production of sugar (xylose) was reported in case of both the nanocatalysts. The maximum 17.06 g/L for Fe3O4-MNPs-Si-AS and 15.40 g/L for Fe3O4-MNPs-Si-BCOOH sugar was reported at 500 mg which is comparatively higher than normal acid (H2SO4) (14.63 g/L) and non-treated (0.24 g/L) sugarcane straw. Further, both the nanocatalysts were recovered by applying an external magnetic field and reused for the next two subsequent cycles of pretreatment. It was observed that with every reuse of nanocatalysts the concentration of sugar production was reduced. Moreover, generation of very less amount of toxic inhibitors was reported in the hemicellulosic hydrolyzate obtained in the present study. Considering these facts, it is believed that such nanocatalysts can be used as an effective, eco-friendly and economically viable alternative to the conventional pretreatment agents like mineral acids.
This is a preview of subscription content, log in to check access.
Access options
Buy single article
Instant access to the full article PDF.
US$ 39.95
Price includes VAT for USA
Subscribe to journal
Immediate online access to all issues from 2019. Subscription will auto renew annually.
US$ 199
This is the net price. Taxes to be calculated in checkout.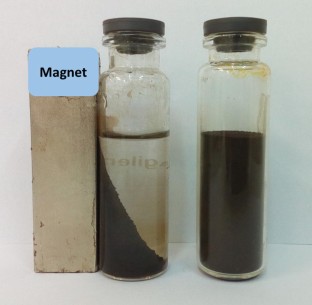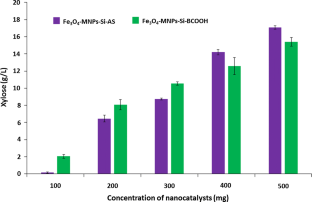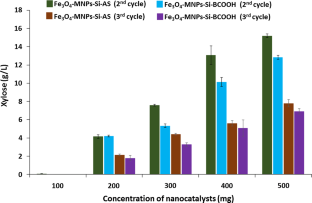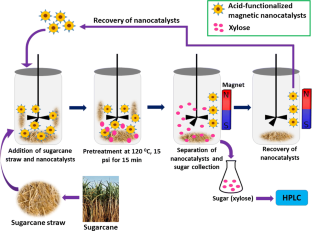 References
Arora A, Nandal P, Singh J, Verma ML (2020) Nanobiotechnological advancements in lignocellulosic biomass pretreatment. Mater Sci Energy Technol 3:308–318. https://doi.org/10.1016/j.mset.2019.12.003

Bhati SK, Jagtap SS, Bedekar AA, Bhatia RK, Patel AK, Pant D, Banu JR, Rao CV, Kim GY, Yang YH (2020) Recent developments in pretreatment technologies on lignocellulosic biomass: effect of key parameters, technological improvements, and challenges. Bioresour Technol 300:122724. https://doi.org/10.1016/j.biortech.2019.122724

Costa SM, Mazzola PG, Silva JCAR, Pahl R, Pessoa A Jr, Costa SA (2013) Use of sugarcane straw as a source of cellulose for textile fiber production. Ind Crop Prod 42:189–194. https://doi.org/10.1016/j.indcrop.2012.05.028

Dhepe P, Sahu R (2010) A solid-acid-based process for the conversion of hemicellulose. Green Chem 12:2153–2156. https://doi.org/10.1039/C004128A

Gaikwad S, Ingle AP, da Silva SS, Rai M (2019) Immobilized nanoparticles mediated enzymatic hydrolysis of cellulose for clean sugar production: a novel approach. Curr Nanosci 15(3):296–303. doi:https://doi.org/10.2174/1573413714666180611081759

Galbe M, Wallberg O (2019) Pretreatment for biorefineries: a review of common methods for efficient utilization of lignocellulosic materials. Biotechnol Biofuels 12:294. https://doi.org/10.1186/s13068-019-1634-1

Gomez EO, Souza RTG, Rocha GJM, Almeida E, Cortez LAB (2010) Sugarcane straw as a raw material for second-generation processes. In: Cortez LAB (ed) Bioethanol sugarcane. Blucher Publisher, Brazil, pp 636–659 (original article is in Portuguese)

Gouveia ER, Nascimento RT, Souto-Maior AM, Rocha GJM (2009) Validation of methodology for the chemical characterization of sugar cane bagasse. Quim Nova 32:1500–1503 (original article is in Portuguese)

Hernández-Pérez AF, de Arruda PV, Felipe MGA (2016) Sugarcane straw as a feedstock for xylitol production by Candida guilliermondii FTI 20037. Braz J Microbiol 47:489–496. https://doi.org/10.1016/j.bjm.2016.01.019

Ingle AP, Chandel AK, Antunes FAF, Rai M, da Silva SS (2019) New trends in application of nanotechnology for the pretreatment of lignocellulosic biomass. Biofuels Bioprod Biorefining 13:776–788. https://doi.org/10.1002/bbb.1965

Ingle AP, Philippini RR, Rai M, da Silva SS (2020a) Catalytic hydrolysis of cellobiose using different acid-functionalized Fe3O4 magnetic nanoparticles. IET Nanobiotechnol 14(1):40–46. doi:https://doi.org/10.1049/iet-nbt.2019.0181

Ingle AP, Philippini RR, da Silva SS (2020b) Pretreatment of sugarcane bagasse using two different acid-functionalized magnetic nanoparticles: a novel approach for high sugar recovery. Renew Energy 150:957–964. https://doi.org/10.1016/j.renene.2019.11.146

Jong ED, Gosselink RJA (2014) Lignocellulose-based chemical products. In: Gupta V, Tuohy M, Kubicek C, Saddler J, Xu F (eds) Bioenergy research: advances and applications. Elsevier, London, pp 277–313

Keskin T, Abubackar HN, Arslan K, Azbar N (2019) Biohydrogen production from solid wastes. In: Pandey A, Mohan SV, Chang JS, Hallenbeck P, Larroche C (eds) Biohydrogen: biomass, biofuels, biochemicals, 2nd edn. Elsevier, London, pp 321–346

Kucharska K, Rybarczyk P, Hołowacz I, Łukajtis R, Glinka M, Kamiński M (2018) Pretreatment of lignocellulosic materials as substrates for fermentation processes. Molecules 23(11):2937. doi:https://doi.org/10.3390/molecules23112937

Kumar AK, Sharma S (2017) Recent updates on different methods of pretreatment of lignocellulosic feedstocks: a review. Bioresour Bioprocess 4:7. doi:https://doi.org/10.1186/s40643-017-0137-9

Lai DM, Deng L, Guo QX, Fu Y (2011) Hydrolysis of biomass by magnetic solid acid. Energy Environ Sci 4:3552–3557. https://doi.org/10.1039/C1EE01526E

Mileo PC, Mulinari DR, Baptista CARP, Rocha GJM, Goncalves AR (2011) Mechanical behaviour of polyurethane from castor oil reinforced sugarcane straw cellulose composites. Procedia Eng 10:2068–2073. https://doi.org/10.1016/j.proeng.2011.04.342

Pena L, Ikenberry M, Ware B, Hohn KL, Boyle D, Sun XS, Wang D (2011) Cellobiose hydrolysis using acid-functionalized nanoparticles. Biotechnol Bioprocess Eng 16:1214–1222. doi:https://doi.org/10.1007/s12257-011-0166-8

Pena L, Ikenberry M, Hohn KL, Wang D (2012) Acid-functionalized nanoparticles for pretreatment of wheat straw. J Biomater Nanobiotechnol 3:342–352. https://doi.org/10.4236/jbnb.2012.33032

Pena L, Xu F, Hohn KL, Li J, Wang D (2014) Propyl-sulfonic acid functionalized nanoparticles as catalyst for pretreatment of corn stover. J Biomater Nanobiotechnol 5:8–16. https://doi.org/10.4236/jbnb.2014.51002

Qi W, He C, Wang Q, Liu S, Yu Q, Wang W, Leksawasdi N, Wang C, Yuan Z (2018) Carbon-based solid acid pretreatment in corncob saccharification: specific xylose production and efficient enzymatic hydrolysis. ACS Sustain Chem Eng 6(3):3640–3648. https://doi.org/10.1021/acssuschemeng.7b03959

Rajkumari K, Kalita J, Das D, Rokhum L (2017) Magnetic Fe3O4@silica sulfuric acid nanoparticles promoted regioselective protection/deprotection of alcohols with dihydropyran under solvent-free conditions. RSC Adv 7:56559–56565. doi:https://doi.org/10.1039/c7ra12458a

Saad MBW, Oliveira LRM, Candido RG, Quintana G, Rocha GJM, Goncalves AR (2008) Preliminary studies on fungal treatment of sugarcane straw for organosolv pulping. Enzyme Microb Technol 43:220–225. https://doi.org/10.1016/j.enzmictec.2008.03.006

Santos FA, Queiro´z JH, Colodette JL, Fernandes AS, Guimara˜es VM, Rezende ST (2012) Potential of sugarcane straw for ethanol production. Quim Nova 35:1004–1010 (original article is in Portuguese)

Shuttleworth PS, De-bruyn M, Parker HL, Hunt AJ, Budarin VL, Matharu AS, Clark JH (2014) Applications of nanoparticles in biomass conversion to chemicals and fuels. Green Chem 16:573–584. https://doi.org/10.1039/C3GC41555D

Su TC, Fang Z, Zhang F, Luo J, Li XK (2015) Hydrolysis of selected tropical plant wastes catalyzed by a magnetic carbonaceous acid with microwave. Sci Rep 5:17538. doi:https://doi.org/10.1038/srep17538

Wang H, Covarrubias J, Prock H, Wu X, Wang D, Bossmann SH (2015) Acid functionalized magnetic nanoparticle as heterogeneous catalysts for biodiesel synthesis. J Phys Chem C 119:26020–26028. https://doi.org/10.1021/acs.jpcc.5b08743
Acknowledgments
API is highly thankful to Research Council for the State of Sao Paulo (Fundação de Amparo à Pesquisa do Estado de São Paulo—FAPESP), Brazil for providing financial assistance (Process No. 2016/22086-2) in the form of Post-Doctoral Fellowship. RRP is grateful to Brazilian National Council for Scientific and Technological Development (Conselho Nacional de Desenvolvimento Científico e Tecnológico—CNPq) for post-doctoral fellowship (Process No. 153169/2018-4). YCSM is also grateful to FAPESP for providing financial assistance for scientific initiation scholarship program (Process No. 2019/19695-5). SSS is thankful to CNPq (Process No. 303943/2017-3) and FAPESP (Process No. 2016/10636-8) for providing research grants.
Additional information
Publisher's Note
Springer Nature remains neutral with regard to jurisdictional claims in published maps and institutional affiliations.
About this article
Cite this article
Ingle, A.P., Philippini, R.R., de Souza Melo, Y.C. et al. Acid-functionalized magnetic nanocatalysts mediated pretreatment of sugarcane straw: an eco-friendly and cost-effective approach. Cellulose (2020). https://doi.org/10.1007/s10570-020-03262-y
Received:

Accepted:

Published:
Keywords
Nanocatalysts

Acid functionalized magnetic nanoparticles

Lignocellulosic biomass

Sugarcane straw

Pretreatment

Reuse