Abstract
This work developed a novel method for the determination of N-methyl morpholine N-oxide (NMMO) in the solution of biorefining, such as lyocell or biomass pretreatment. Copper hydride in situ (CuH) was generated in alkaline solution from sodium borohydride and cupric ion to completely reduce NMMO to N-methyl morpholine (NMM). Finally, the generated volatile NMM was analyzed by headspace gas chromatography. The generation of in situ CuH, complete reduction of NMMO, and the gas–liquid equilibration of NMM can be synchronously completed at 80 °C in 30 min, with a cupric ion concentration of 20 μmol, sodium hydroxide (0.8 mmol), sodium borohydride (3.0 mg), and 1.0 mL 30% ammonium hydroxide in 5.0 mL aqueous solution. The lowest limit of NMMO quantification was 42 mg/L in the present method, with good precision (standard deviation = 5.62%) and accuracy (recoveries from 95.9 to 106%). The present method has high accuracy, sensitivity, and throughput. It should be a useful tool to determine the content of NMMO and allow optimize the cost efficiency.
Graphic abstract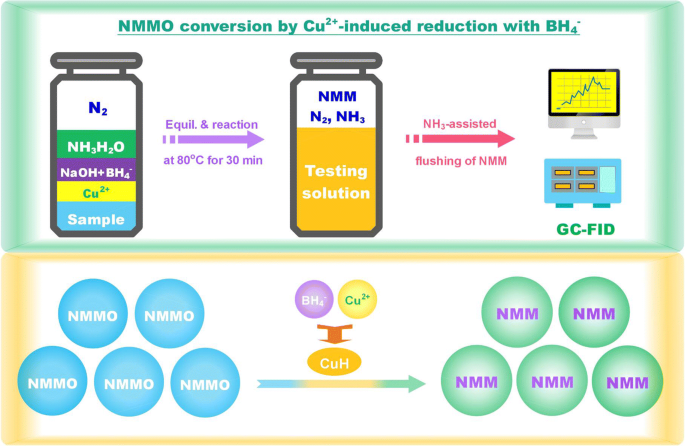 This is a preview of subscription content, log in to check access.
Access options
Buy single article
Instant access to the full article PDF.
US$ 39.95
Price includes VAT for USA
Subscribe to journal
Immediate online access to all issues from 2019. Subscription will auto renew annually.
US$ 199
This is the net price. Taxes to be calculated in checkout.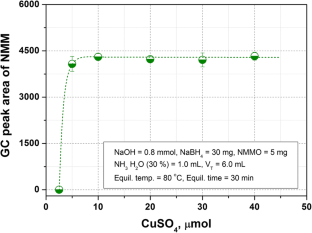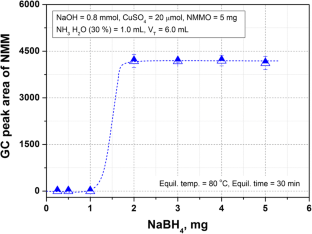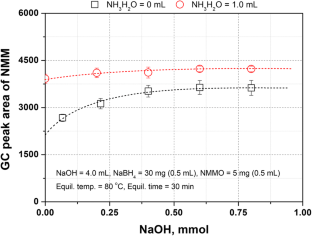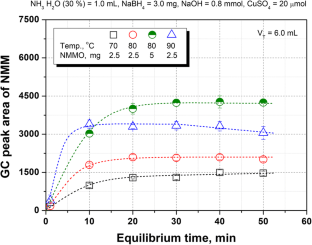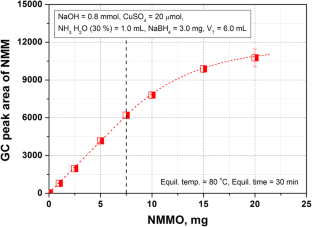 References
Brooks RT, Sternglanz PD (1959) Titanometric determination of N-oxide group in pyridine-N-oxide and related compounds. Anal Chem 31(4):561–565

Gawargious YA, Ashworth MR (1971) Microdetermination of the amine oxide group in organic compounds by reduction with titanium(III). Fresenius J Anal Chem 256(2):117–119

Green JM (1996) A practical guide to analytical method validation. Anal Chem 68:305–309

Hasanzadeh E, Mirmohamadsadeghi S, Karimi K (2018) Enhancing energy production from waste textile by hydrolysis of synthetic parts. Fuel 218:41–48

He L, Chai X (2016) An efficient method for determining the α-, β-, and γ-cellulose content in fully delignified pulps by reaction-based headspace gas chromatography. J Wood Chem Technol 36(6):412–417

Hu H, Zhang Y, Zeng T, Zhou W, Chen L, Huang L, Ni Y (2018) Determination of cellulose derived 5-hydroxymethyl-2-furfural content in lignocellulosic biomass hydrolysate by headspace gas chromatography. Cellulose 25(7):3843–3851

Jeihanipour A, Aslanzadeh S, Rajendran K, Balasubramanian G, Taherzadeh MJ (2013) High-rate biogas production from waste textiles using a two-stage process. Renew Energy 52:128–135

Kabir MM, Niklasson C, Taherzadeh MJ, Horváth IS (2014) Biogas production from lignocelluloses by N-methylmorpholine-N-oxide (NMMO) pretreatment: Effects of recovery and reuse of NMMO. Biores Technol 161:446–450

Mancini G, Papirio S, Lens PN, Esposito G (2018) Increased biogas production from wheat straw by chemical pretreatments. Renew Energy 119:608–614

Metcalfe LD (1962) Potentiometric titration of long chain amine oxides using alkyl halide to remove tertiary amine interference. Anal Chem 34(13):1849–1849

Rabideau BD, Ismail AE (2015) Effect of water content in N-methylmorpholine N-oxide/cellulose solutions on thermodynamics, structure, and hydrogen bonding. J Phys Chem B 119(48):15014–15022

Rosenau T, Potthast A, Sixta H, Kosma P (2001) The chemistry of side reactions and byproduct formation in the system NMMO/cellulose (Lyocell process). Prog Polym Sci 26(9):1763–1837

Rosenau T, Potthast A, Adorjan I, Hofinger A, Sixta H, Firgo H, Kosma P (2002) Cellulose solutions in N-methylmorpholine-N-oxide (NMMO)–degradation processes and stabilizers. Cellulose 9(3–4):283–291

Sohn OS, Fiala ES, Conaway CC, Weisburger JH (1982) Separation of morpholine and some of its metabolites by high-performance liquid chromatography. J Chromatogr A 242(2):374–380

Stockinger H, Kut OM, Heinzle E (1996) Ozonation of wastewater containing N-methyl morpholine-N-oxide. Water Res 30(8):1745–1748

Toney CJ, Friedli FE, Frank PJ (1994) Kinetics and preparation of amine oxides. J Am Oil Chem Soc 71(7):793–794

Xie W, Gong Y, Yu K (2017) Determination of total sugar content in lignocellulosic hydrolysates by using a reaction headspace gas chromatographic technique. Cellulose 24(11):4591–4597

Zhang S, Ke X, Zeng T, Ni Y, Luo X, Hu H, Chen L, Huang L (2020) Determination of N-Methyl morpholine in biomass pretreatment solutions by the ammonia-assisted headspace gas chromatography. Renewable Energy 145:2380–2386
Acknowledgments
The authors acknowledge the National Natural Science Foundation of China (31700507 and 21674123), National Key Research and Development Program of China (2017YFB0307900), and FAFU's Fund for Distinguished Young Scholars (XJQ201601) for sponsoring this research.
Additional information
Publisher's Note
Springer Nature remains neutral with regard to jurisdictional claims in published maps and institutional affiliations.
About this article
Cite this article
Zeng, T., Ke, X., Li, L. et al. Quantification of N-methyl morpholine N-oxide in biorefinery process solution by headspace gas chromatography. Cellulose (2020). https://doi.org/10.1007/s10570-020-03259-7
Received:

Accepted:

Published:
Keywords
N-methyl morpholine N-oxide

Cupric ion/sodium borohydride

Borohydride

N-methyl morpholine

Lyocell process

Biorefinery

Headspace gas chromatography