Abstract
Luminescent and hydrophobic textile coatings with recyclability and self-healing capability against both chemical and physical damage were prepared, which present multi-functions and long service life cycles. The applications in self-cleaning, oil-water separation, and anti-counterfeit technology were successfully demonstrated. The coatings can be easily created onto different fabrics including cotton cloth, filter paper, and chemical fabric. A rare earth organic complex of SmTTAPhen(NO3)3 (STPN), silane modified epoxy oligomer, and bis(4-maleimidophenyl)methane (BMI) provide luminescence, hydrophobicity, as well as recyclability and self-healing capability, respectively, to the coatings. More specifically, high transparency but high luminescence were achieved due to the good dispersion of STPN in coating matrix, resulting from the hydron bonding between nitrate groups from STPN and hydroxyl groups from epoxy oligomer. Silane modification facilitated the accumulation of Si–O bonds on the free-surface of the coating, which offers hydrophobic features. The introduction of reversible Diels-Alder reactions provided the self-healing capability and recyclability. Upon heating using an electronic iron, the hydrophobicity can be recovered from physical or chemical damage to the coatings. Besides, the coatings on abandoned fabrics can be recycled and reused to a new bare fabric. We believe that the concept and coating materials are useful to further expand the areas of smart and multi-functional coatings with long service life.
Graphic abstract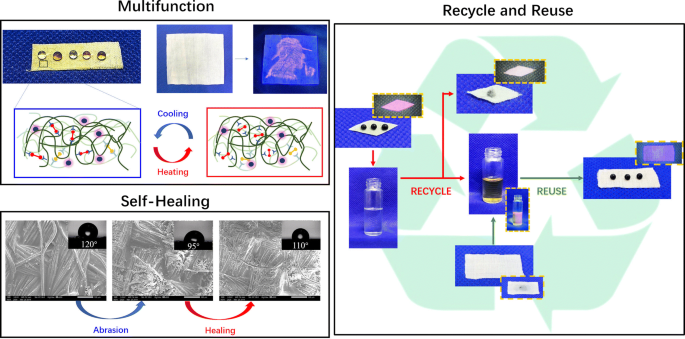 Access options
Buy single article
Instant access to the full article PDF.
US$ 39.95
Tax calculation will be finalised during checkout.
Subscribe to journal
Immediate online access to all issues from 2019. Subscription will auto renew annually.
US$ 119
Tax calculation will be finalised during checkout.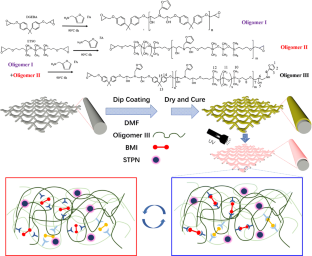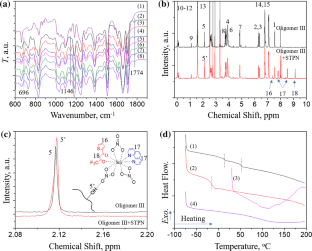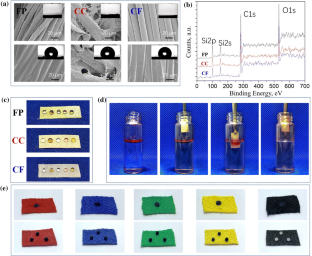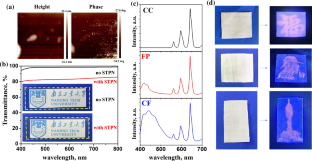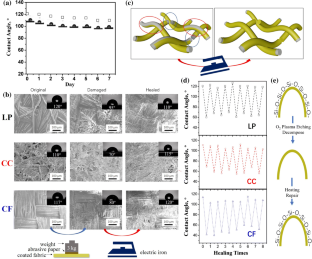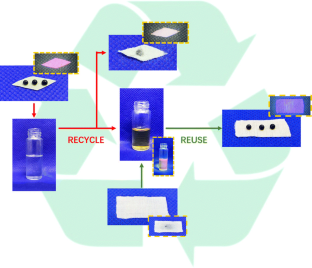 Acknowledgments
This work was sponsored by Natural Science Foundation of Jiangsu Province (No. BK20191364) and National Natural Science Foundation of China (51503098). Financial support from Priority Academic Program Development of the Jiangsu Higher Education Institutions (PAPD) is gratefully acknowledged.
Ethics declarations
Conflicts of interest
The authors declare no conflict of interest.
Additional information
Publisher's Note
Springer Nature remains neutral with regard to jurisdictional claims in published maps and institutional affiliations.
Electronic supplementary material
Below is the link to the electronic supplementary material.
The physical and chemical damage on a coated fabric and the self-healing procedure using an electronic iron (MP4 7266 kb)
The recycling process of coated fabrics in DMF (MP4 14234 kb)
The recycling process of coated fabrics in DMF (MP4 14234 kb)
About this article
Cite this article
Ma, Y., Zou, Y., Zhang, Z. et al. Luminescent and hydrophobic textile coatings with recyclability and self-healing capability against both chemical and physical damage. Cellulose 27, 561–573 (2020). https://doi.org/10.1007/s10570-019-02819-w
Received:

Accepted:

Published:

Issue Date:
Keywords
Fabric coating

Self-healing

Diels–alder reaction

Luminescence

Hydrophobicity