Abstract
Breast cancer (BC) is the most common female malignancy in the world. Triple-negative breast cancer (TNBC) is a subtype of BC characterized by the lack of estrogen receptors, progesterone receptors, and human epidermal growth factor receptor-2 (HER-2), resulting in the limited therapeutic options. Due to the aggressive behaviors at early stage, TNBC exhibits poorer outcomes compared to other BC subtypes. Hematogenous metastasis, which spreads cancerous cells to lungs and/or bones, plays a pivotal role in the progression of TNBC. Therefore, it is of great importance to study the anti-angiogenesis regulation mechanism for finding new treatment options for TNBC. Arsenic trioxide (ATO) exhibits anti-cancer effect on solid tumors, including TNBC. However, the roles and the molecular mechanism of ATO in the anti-angiogenesis of TNBC remain less well documented. Our data showed that ATO restrained the expression and secretion of vascular endothelial growth factor (VEGF) and impaired the angiogenic ability in TNBC cells. In addition, ATO suppressed the angiogenic ability in TNBC by inhibiting the interaction of the enhancer of zeste homolog 2 (EZH2) with p65, downregulating the nuclear factor-κB (NF-κB) activity, hence contributing to the regulation of IL-6/Stat3 signaling pathway. All of our findings would help to better understand the mechanism of ATO anti-angiogenesis in TNBC, thus highlighting the therapeutic potential of ATO in TNBC by targeting angiogenesis.
Access options
Buy single article
Instant access to the full article PDF.
US$ 39.95
Tax calculation will be finalised during checkout.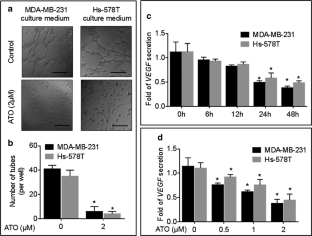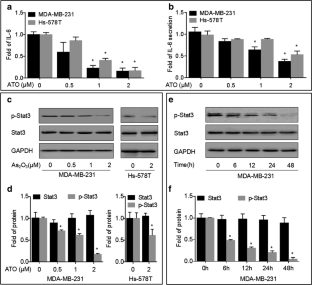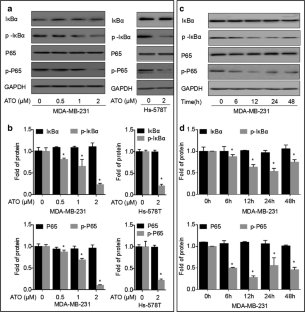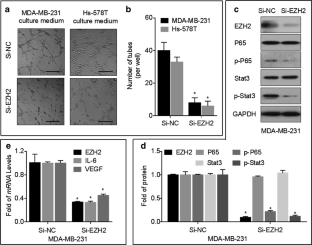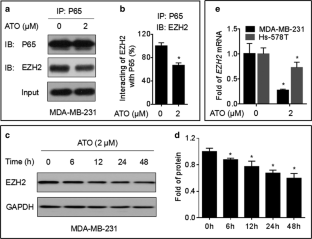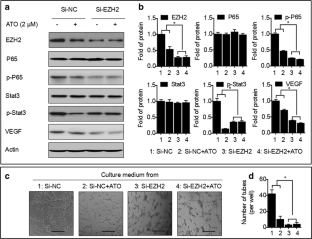 Abbreviations
ATO:

Arsenic trioxide

EZH2:

Enhancer of zeste homolog 2

HUVECs:

Human umbilical vein endothelial cells

TNBC:

Triple-negative breast cancer
References
Andre F, Job B, Dessen P, Tordai A, Michiels S, Liedtke C, et al. Molecular characterization of breast cancer with high-resolution oligonucleotide comparative genomic hybridization array. Clin Cancer Res. 2009;15:441–51.

Chiu HW, Chen YA, Ho SY, Wang YJ. Arsenic trioxide enhances the radiation sensitivity of androgen-dependent and -independent human prostate cancer cells. PLoS One. 2012;7:e31579.

Coward J, Kulbe H, Chakravarty P, Leader D, Vassileva V, Leinster DA, et al. Interleukin-6 as a therapeutic target in human ovarian cancer. Clin Cancer Res. 2011;17:6083–96.

Curigliano G, Goldhirsch A. The triple-negative subtype: new ideas for the poorest prognosis breast cancer. J Natl Cancer Inst Monogr. 2011;2011:108–10.

DeSantis CE, Ma J, Goding Sauer A, Newman LA, Jemal A. Breast cancer statistics, 2017, racial disparity in mortality by state. CA Cancer J Clin. 2017;67:439–48.

Forsythe JA, Jiang BH, Iyer NV, Agani F, Leung SW, Koos RD, et al. Activation of vascular endothelial growth factor gene transcription by hypoxia-inducible factor 1. Mol Cell Biol. 1996;16:4604–13.

Ghosh S, Hayden MS. New regulators of NF-kappaB in inflammation. Nat Rev Immunol. 2008;8:837–48.

Huang KF, Huang XP, Xiao GQ, Yang HY, Lin JS, Diao Y. Kallistatin, a novel anti-angiogenesis agent, inhibits angiogenesis via inhibition of the NF-kappaB signaling pathway. Biomed Pharmacother. 2014;68:455–61.

Iliopoulos D, Hirsch HA, Struhl K. An epigenetic switch involving NF-kappaB, Lin28, Let-7 MicroRNA, and IL6 links inflammation to cell transformation. Cell. 2009;139:693–706.

Jia Y, Liu D, Xiao D, Ma X, Han S, Zheng Y, et al. Expression of AFP and STAT3 is involved in arsenic trioxide-induced apoptosis and inhibition of proliferation in AFP-producing gastric cancer cells. PLoS One. 2013;8:e54774.

Jiang F, Wang X, Liu Q, Shen J, Li Z, Li Y, et al. Inhibition of TGF-beta/SMAD3/NF-kappaB signaling by microRNA-491 is involved in arsenic trioxide-induced anti-angiogenesis in hepatocellular carcinoma cells. Toxicol Lett. 2014;231:55–61.

Jost PJ, Ruland J. Aberrant NF-kappaB signaling in lymphoma: mechanisms, consequences, and therapeutic implications. Blood. 2007;109:2700–7.

Jung HY, Jun S, Lee M, Kim HC, Wang X, Ji H, et al. PAF and EZH2 induce Wnt/beta-catenin signaling hyperactivation. Mol Cell. 2013;52:193–205.

Kanduri M, Sander B, Ntoufa S, Papakonstantinou N, Sutton LA, Stamatopoulos K, et al. A key role for EZH2 in epigenetic silencing of HOX genes in mantle cell lymphoma. Epigenetics. 2013;8:1280–8.

Kleer CG, Cao Q, Varambally S, Shen R, Ota I, Tomlins SA, et al. EZH2 is a marker of aggressive breast cancer and promotes neoplastic transformation of breast epithelial cells. Proc Natl Acad Sci U S A. 2003;100:11606–11.

Koutras AK, Starakis I, Lymperatou D, Kalofonos HP. Angiogenesis as a therapeutic target in breast cancer. Mini-Rev Med Chem. 2012;12:1230–8.

Lallemand-Breitenbach V, Zhu J, Chen Z, de The H. Curing APL through PML/RARA degradation by As2O3. Trends Mol Med. 2012;18:36–42.

Lee H, Herrmann A, Deng JH, Kujawski M, Niu G, Li Z, et al. Persistently activated Stat3 maintains constitutive NF-kappaB activity in tumors. Cancer Cell. 2009;15:283–93.

Lee ST, Li Z, Wu Z, Aau M, Guan P, Karuturi RK, et al. Context-specific regulation of NF-kappaB target gene expression by EZH2 in breast cancers. Mol Cell. 2011;43:798–810.

Lee SR, Roh YG, Kim SK, Lee JS, Seol SY, Lee HH, et al. Activation of EZH2 and SUZ12 regulated by E2F1 predicts the disease progression and aggressive characteristics of bladder cancer. Clin Cancer Res. 2015;21:5391–403.

Li B, Li YY, Tsao SW, Cheung AL. Targeting NF-kappaB signaling pathway suppresses tumor growth, angiogenesis, and metastasis of human esophageal cancer. Mol Cancer Ther. 2009;8:2635–44.

Liedtke C, Mazouni C, Hess KR, Andre F, Tordai A, Mejia JA, et al. Response to neoadjuvant therapy and long-term survival in patients with triple-negative breast cancer. J Clin Oncol. 2008;26:1275–81.

Luo D, Zhang X, Du R, Gao W, Luo N, Zhao S, et al. Low dosage of arsenic trioxide (As2O3) inhibits angiogenesis in epithelial ovarian cancer without cell apoptosis. J Biol Inorg Chem. 2018;23:939–47.

Mackey JR, Kerbel RS, Gelmon KA, McLeod DM, Chia SK, Rayson D, et al. Controlling angiogenesis in breast cancer: a systematic review of anti-angiogenic trials. Cancer Treat Rev. 2012;38:673–88.

Mohammed RA, Ellis IO, Mahmmod AM, Hawkes EC, Green AR, Rakha EA, et al. Lymphatic and blood vessels in basal and triple-negative breast cancers: characteristics and prognostic significance. Mod Pathol. 2011;24:774–85.

Nilsson MB, Langley RR, Fidler IJ. Interleukin-6, secreted by human ovarian carcinoma cells, is a potent proangiogenic cytokine. Cancer Res. 2005;65:10794–800.

Niu C, Yan H, Yu T, Sun HP, Liu JX, Li XS, et al. Studies on treatment of acute promyelocytic leukemia with arsenic trioxide: remission induction, follow-up, and molecular monitoring in 11 newly diagnosed and 47 relapsed acute promyelocytic leukemia patients. Blood. 1999;94:3315–24.

Perkins ND. The diverse and complex roles of NF-kappaB subunits in cancer. Nat Rev Cancer. 2012;12:121–32.

Ren G, Baritaki S, Marathe H, Feng J, Park S, Beach S, et al. Polycomb protein EZH2 regulates tumor invasion via the transcriptional repression of the metastasis suppressor RKIP in breast and prostate cancer. Cancer Res. 2012;72:3091–104.

Sansone P, Bromberg J. Targeting the interleukin-6/Jak/stat pathway in human malignancies. J Clin Oncol. 2012;30:1005–14.

Si L, Jiang F, Li Y, Ye X, Mu J, Wang X, et al. Induction of the mesenchymal to epithelial transition by demethylation- activated microRNA-200c is involved in the anti-migration/invasion effects of arsenic trioxide on human breast cancer cells. Mol Carcinog. 2015;54:859–69.

Sovak MA, Bellas RE, Kim DW, Zanieski GJ, Rogers AE, Traish AM, et al. Aberrant nuclear factor-kappaB/Rel expression and the pathogenesis of breast cancer. J Clin Invest. 1997;100:2952–60.

Wang X, Jiang F, Mu J, Ye X, Si L, Ning S, et al. Arsenic trioxide attenuates the invasion potential of human liver cancer cells through the demethylation-activated microRNA-491. Toxicol Lett. 2014;227:75–83.

Wani AA, Jafarnejad SM, Zhou J, Li G. Integrin-linked kinase regulates melanoma angiogenesis by activating NF-kappaB/interleukin-6 signaling pathway. Oncogene. 2011;30:2778–88.

Wee ZN, Li Z, Lee PL, Lee ST, Lim YP, Yu Q. EZH2-mediated inactivation of IFN-gamma-JAK-STAT1 signaling is an effective therapeutic target in MYC-driven prostate cancer. Cell Rep. 2014;8:204–16.

Xiang M, Birkbak NJ, Vafaizadeh V, Walker SR, Yeh JE, Liu S, et al. STAT3 induction of miR-146b forms a feedback loop to inhibit the NF-kappaB to IL-6 signaling axis and STAT3-driven cancer phenotypes. Sci Signal. 2014;7:ra11.

Xu Q, Briggs J, Park S, Niu G, Kortylewski M, Zhang S, et al. Targeting Stat3 blocks both HIF-1 and VEGF expression induced by multiple oncogenic growth signaling pathways. Oncogene. 2005;24:5552–60.

Xu K, Wu ZJ, Groner AC, He HH, Cai C, Lis RT, et al. EZH2 oncogenic activity in castration-resistant prostate cancer cells is Polycomb-independent. Science. 2012;338:1465–9.

Yamaguchi H, Hung MC. Regulation and Role of EZH2 in Cancer. Cancer Res Treat. 2014;46:209–22.

Yang MH, Zang YS, Huang H, Chen K, Li B, Sun GY, et al. Arsenic trioxide exerts anti-lung cancer activity by inhibiting angiogenesis. Curr Cancer Drug Targets. 2014;14:557–66.

Yu HG, Yu LL, Yang Y, Luo HS, Yu JP, Meier JJ, et al. Increased expression of RelA/nuclear factor-kappa B protein correlates with colorectal tumorigenesis. Oncology. 2003;65:37–45.

Zekri A, Ghaffari SH, Yousefi M, Ghanizadeh-Vesali S, Mojarrad M, Alimoghaddam K, et al. Autocrine human growth hormone increases sensitivity of mammary carcinoma cell to arsenic trioxide-induced apoptosis. Mol Cell Endocrinol. 2013;377:84–92.
Funding
This work was supported by grants from the National Natural Science Foundation of China (81703209, 81673205), the Postdoctoral Science Foundation of Jiangsu Province, China Postdoctoral Science Foundation (2017M621823, 2018T110548), the Major Program of Natural Science Research of Jiangsu Higher Education Institutions (15KJA330001), and a project funded by the Priority Academic Program Development of Jiangsu Higher Education Institutions (PAPD).
Ethics declarations
Conflict of interest
The authors declare that they have no conflict of interest.
Additional information
Publisher's note
Springer Nature remains neutral with regard to jurisdictional claims in published maps and institutional affiliations.
About this article
Cite this article
Jiang, F., Li, Y., Si, L. et al. Interaction of EZH2 and P65 is involved in the arsenic trioxide-induced anti-angiogenesis in human triple-negative breast cancer cells. Cell Biol Toxicol 35, 361–371 (2019). https://doi.org/10.1007/s10565-018-09458-0
Received:

Accepted:

Published:

Issue Date:
Keywords
Triple-negative breast cancer

Angiogenesis

Arsenic trioxide

NF-κB/IL-6/Stat3 signaling

EZH2