Abstract
Poly(tetrafluoroethylene-co-hexafluoropropylene) (FEP)/ferric oxide (Fe2O3) hybrid flat-sheet membranes (HFM) (FEP/Fe2O3-HFM) with heterogeneous Fenton-like oxidation were fabricated by a facile hot pressing method for dye effluent treatment. The morphology and properties of the resultant membrane were found to be influenced by the addition of Fe2O3. With the increasing Fe2O3 content, the porosity, water flux and contact angle of the resultant FEP/Fe2O3-HFM will raise up but deteriorate mechanical performance. The maximum methylene blue (MB) removal efficiency (99.69%) can be achieved using 10 wt% Fe2O3 addition in membrane composition at following conditions: 40 mg L−1 MB concentration at pH 3, the dosage of 1.5 g g−1 (hydrogen peroxide, H2O2 to FEP/Fe2O3-HFM) in cross-flow filtration. In addition, FEP/Fe2O3-HFM shows commendable reusability enduring vigorous catalysis due to the inherit stability from fluorinated polymer. Due to high-efficient separation and good removal performance to high concentration of dye (e.g. 250 mg L−1 MB), our FEP/Fe2O3-HFMs show great promise in aqueous pollutant treatment by heterogeneous Fenton-like reaction.
Graphic Abstract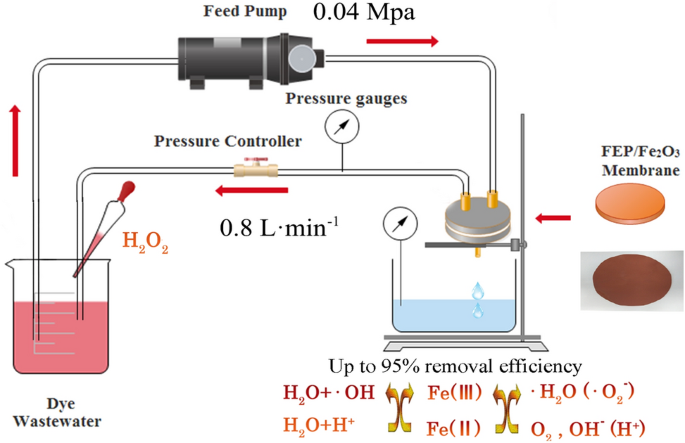 Access options
Buy single article
Instant access to the full article PDF.
US$ 39.95
Tax calculation will be finalised during checkout.
Subscribe to journal
Immediate online access to all issues from 2019. Subscription will auto renew annually.
US$ 119
Tax calculation will be finalised during checkout.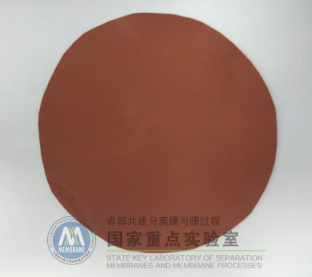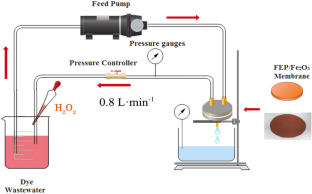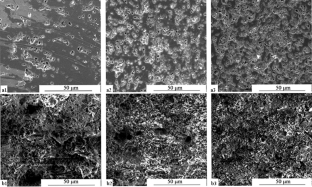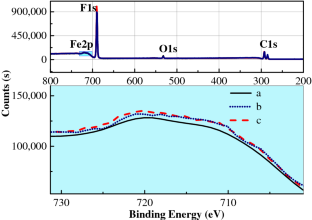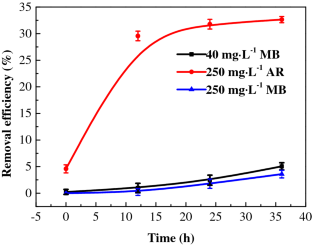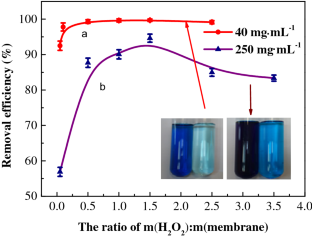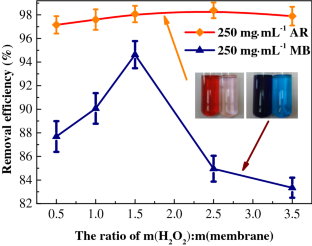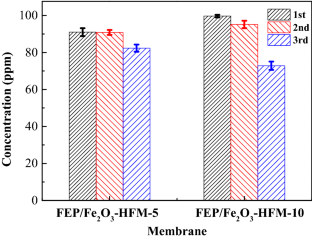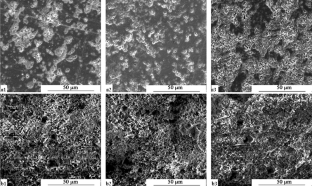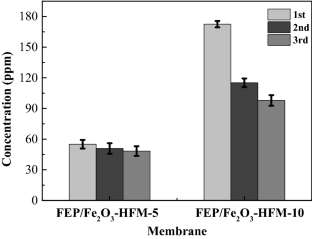 Acknowledgements
This work was supported by the Science and Technology Plans of Tianjin (No.18PTSYJC00170), the Young Elite Scientists Sponsorship Program by China Association for Science and Technology (No. YESS20160168), and Scientific research project of Tianjin Municipal Education Commission (2019KJ002).
Ethics declarations
Conflict of interest
No conflict of interest.
Additional information
Publisher's Note
Springer Nature remains neutral with regard to jurisdictional claims in published maps and institutional affiliations.
About this article
Cite this article
Zhao, J., Zhang, H., Huang, Q. et al. Poly(tetrafluoroethylene-co-hexafluoropropylene)/Ferric Oxide Hybrid Membranes for High Concentration of Dye Wastewater Treatment by Heterogeneous Fenton-Like Catalysis. Catal Lett (2021). https://doi.org/10.1007/s10562-021-03551-6
Received:

Accepted:

Published:
Keywords
Heterogeneous fenton

Poly(tetrafluoroethylene-co-hexafluoropropylene) (FEP)
Fe2O3

Hybrid membrane