Abstract
Microbial electrosynthesis (MES) is an effective approach to driving the CO2 reduction to multi-carbon organic products using renewable energy. In this work, the MES of acetate from CO2 was realized by mixed bacterial consortia, in which Acetobacterium sp. acted as the dominant acetate synthesis microbial flora. To improve synthesis efficiency of MES process, hydrogen evolution reaction (HER) electrocatalyst of Pt nanoparticles on reduced graphene oxide (PtNPs/rGO) was embedded on the biocathode of carbon felt. Results showed that loading the HER catalyst of PtNPs/rGO can significantly improve the MES performance. When 0.04 mg/cm2 Pt nanoparticles was loaded on the cathode, the highest acetate synthesis rate can reach 26.2 g/m2/day, which was twofold higher than that of bare carbon felt. Moreover, PtNPs/rGO incorporated carbon felt cathode showed much lower overpotential than bare carbon felt for hydrogen evolution reaction. Hence, the increased local H2 concentration around cathode enhanced the MES performance. These findings suggested that the artificial composite system composed by HER electrocatalysts will be a promising approach to enhance the electron utilization and CO2 reduction reaction, which acted as a prospective move to meet the needs of carbon cycling and sustainable energy in the future.
Graphic Abstract
The microbial electrosynthesis efficiency of acetate from CO2 can be enhanced by hydrogen evolution catalysts using Pt Nanoparticles/rGO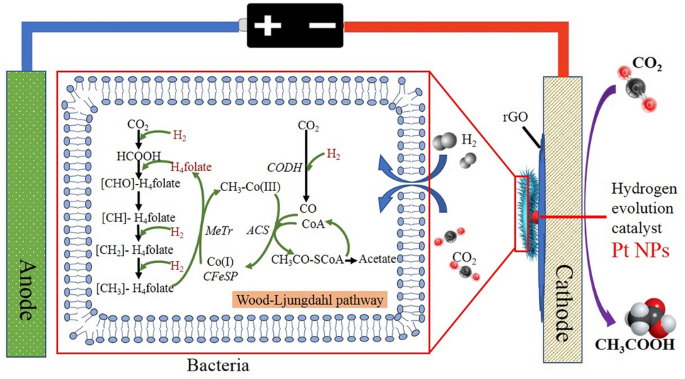 .
Access options
Buy single article
Instant access to the full article PDF.
US$ 39.95
Tax calculation will be finalised during checkout.
Subscribe to journal
Immediate online access to all issues from 2019. Subscription will auto renew annually.
US$ 119
Tax calculation will be finalised during checkout.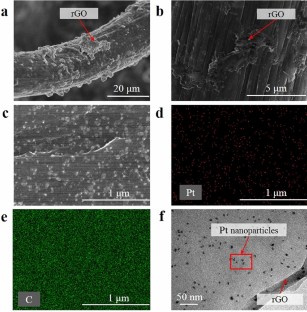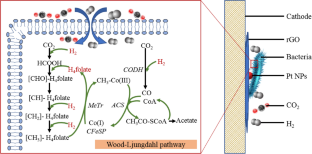 References
1.

Sakimoto KK, Wong AB, Yang P (2016) Science 351:74–77

2.

Tufa RA, Chanda D, Ma M, Aili D, Demissie TB, Vaes J, Li Q, Liu S, Pant D (2020) Appl Energ 277:115557

3.

Bian B, Bajracharya S, Xu J, Pant D, Saikaly PE (2020) Bioresource Technol 302:122863

4.

Roy M, Yadav R, Chiranjeevi P, Patil SA (2020) Bioresource Technol 320:124289

5.

Prévoteau A, Carvajal-Arroyo JM, Ganigué R, Rabaey K (2020) Curr Opin Biotech 62:48–57

6.

Nevin KP, Hensley SA, Franks AE, Summers ZM, Ou J, Woodard TL, Snoeyenbos-West OL, Lovley DR (2011) Appl Environ Microbiol 77:2882–2886

7.

Nevin KP, Woodard TL, Franks AE, Summers ZM, Lovley DR (2010) MBio 1:e00103–e00110

8.

Flexer V, Jourdin L (2020) Accounts Chem Res 53:311–321

9.

Xiang Y, Liu G, Zhang R, Lu Y, Luo H (2017) Bioresource Technol 233:227–235

10.

Ueki T, Nevin KP, Woodard TL, Lovley DR (2014) MBio 5:e01636

11.

Mohanakrishna G, Reesh IMA, Vanbroekhoven K, Pant D (2020) Sci Total Environ 715:137003

12.

Song TS, Zhang H, Liu H, Zhang D, Wang H, Yang Y, Yuan H, Xie J (2017) Bioresource Technol 243:573–582

13.

Jourdin L, Grieger T, Monetti J, Flexer V, Freguia S, Lu Y, Chen J, Romano M, Wallace GG, Keller J (2015) Environ Sci Technol 49:13566–13574

14.

Bian B, Alqahtani MF, Katuri KP, Liu D, Bajracharya S, Lai Z, Rabaey K, Saikaly PE (2018) J Mater Chem A 6:17201–17211

15.

Srikanth S, Singh D, Vanbroekhoven K, Pant D, Kumar M, Puri SK, Ramakumar SSV (2018) Bioresource Technol 265:45–51

16.

Rojas MDPA, Zaiat M, González ER, De Wever H, Pant D (2021) Process Biochem 101:50–58

17.

Chen X, Cao Y, Li F, Tian Y, Song H (2018) ACS Catal 8:4429–4437

18.

Zhang T, Nie H, Bain TS, Lu H, Cui M, Snoeyenbos-West OL, Franks AE, Nevin KP, Lovley DR (2013) Energ Environ Sci 6:217–224

19.

Nie H, Zhang T, Cui M, Lu H, Lovley DR, Russell TP (2013) Phys Chem Chem Phys 15:14290–14294

20.

Blanchet E, Duquenne F, Rafrafi Y, Etcheverry L, Erable B, Bergel A (2015) Energ Environ Sci 8:3731–3744

21.

Liu C, Colón BC, Ziesack M, Silver PA, Nocera DG (2016) Science 352:1210–1213

22.

Yamamoto I, Saiki T, Liu SM, Ljungdahl LG (1983) J Biol Chem 258:1826–1832

23.

Emerson DF, Woolston BM, Liu N, Donnelly M, Currie DH, Stephanopoulos G (2019) Biotechnol Bioeng 116:294–306

24.

Chen Z, Mou K, Wang X, Liu L (2018) Angew Chem Int Edit 57:12790–12794

25.

Huang H, Huang Q, Song TS, Xie J (2020) Energ Fuel 34:11299–11306

26.

Rodrigues RM, Guan X, Iñiguez JA, Estabrook DA, Chapman JO, Huang S, Sletten EM, Liu C (2019) Nat Catal 2:407

27.

Shahriary L, Athawale AA (2014) Int J Renew Energy Environ Eng 2:58–63

28.

Muzyka R, Kwoka M, Smędowski Ł, Diez N, Gryglewicz G (2017) New Carbon Mater 32:15–20

29.

Chen Z, Mou K, Yao S, Liu L (2018) Chemsuschem 11:2944–2952

30.

Modestra JA, Navaneeth B, Mohan SV (2015) J CO2 Util 10:78–87

31.

Nossa CW, Oberdorf WE, Yang L, Aas JA, Paster BJ, DeSantis TZ, Brodie EL, Malamud D, Poles MA, Pei Z (2010) World J Gastroentero 16:4135

32.

Rognes T, Flouri T, Nichols B, Quince C, Mahe F (2016) Peerj 4

33.

Bolger AM, Lohse M, Usadel B (2014) Bioinformatics 30:2114–2120

34.

Xing Z, Liu Q, Asiri MA, Sun X (2014) Adv Mater 26:5702–5707

35.

Du H, Zhang X, Tan Q, Kong R, Qu F (2017) Chem Commun 53:12012–12015

36.

Vrubel H, Moehl T, Graetzel M, Hu X (2013) Chem Commun 49:8985–8987

37.

Xiang Y, Liu G, Zhang R, Lu Y, Luo H (2017) Bioresource Technol 241:821–829

38.

Diekert G, Wohlfarth G (1994) Anton Leeuw Int J G 66:209–221

39.

Mohanakrishna G, Vanbroekhoven K, Pant D (2016) J CO2 Util 15:57–64

40.

Ding A, Yang Y, Sun G, Wu D (2016) Chem Eng J 283:260–265

41.

Flexer V, Chen J, Donose BC, Sherrell P, Wallace GG, Keller J (2013) Energy Environ Sci 6:1291–1298

42.

Zou L, Qiao Y, Wu XS, Li CM (2016) J Power Sources 328:143–150

43.

Aryal N, Wan L, Overgaard MH, Stoot AC, Chen Y, Tremblay PL, Zhang T (2019) Bioelectrochemistry 128:83–93

44.

Bockris JOM, Ammar IA, Huq AKMS (1957) J Phys Chem 61:879–886

45.

Hubert C, Voordouw G (2007) Appl Environ Microbiol 73:2644–2652

46.

Finster K, Liesack W, Tindall BJ (1997) Int J Syst Evol Micr 47:1212–1217

47.

Kodama Y, Watanabe K (2004) Int J Syst Evol Micr 54:2297–2300

48.

Kwon HS, Park S, Lee CH, Ahn IS (2018) J Ind Eng Chem 57:72–76

49.

Krause A, Ramakumar A, Bartels D, Battistoni F, Bekel T, Boch J, Bohm M, Friedrich F, Hurek T, Krause L, Linke B, McHardy AC, Sarkar A, Schneiker S, Syed AA, Thauer R, Vorholter FJ, Weidner S, Puhler A, Reinhold-Hurek B, Kaiser O, Linke B (2006) Nat Biotechnol 24:1384

50.

Reinhold-Hurek B, Hurek T (2000) Int J Syst Evol Micr 50:649–659

51.

Krieger CJ, Roseboom W, Albracht SP, Spormann AM (2001) J Biol Chem 276:12924–12927

52.

Beller HR, Spormann AM (1999) FEMS Microbiol Lett 178:147–153

53.

Zhang E, Wang F, Yu Q, Scott K, Wang X, Diao G (2017) J Power Sources 360:21–27

54.

Marshall CW, Ross DE, Fichot EB, Norman RS, May HD (2013) Environ Sci Technol 47:6023–6029

55.

Dong ZS, Zhao Y, Fan L, Wang YX, Wang JW, Zhang K (2017) Int J Electrochem Sci 12:10553–10566

56.

Ross DE, Marshall CW, May HD, Norman RS (2016) PLoS ONE 11:e0151214

57.

Balch WE, Schoberth S, Tanner RS, Wolfe RS (1977) Int J Syst Evol Micr 27:355–361

58.

Braun M, Gottschalk G (1982) Originale C 3:368–376

59.

May HD, Evans PJ, LaBelle EV (2016) Curr Opin Biotech 42:225–233

60.

Aulenta F, Catapano L, Snip L, Villano M, Majone M (2012) Chemsuschem 5:1080–1085

61.

Fischer F, Lieske R, Winzer K (1932) Biochem Z 245:2–12

62.

Wieringa KT (1936) Anton Leeuw Int J G 3:263–273

63.

Wood HG (1952) J Biol Chem 194:905–931

64.

Ragsdale SW, Pierce E (2008) BBA-Proteins and Proteom 1784:1873–1898

65.

Lovley DR (2011) Env Microbiol Rep 3:27–35

66.

Ragsdale SW, Clark JE, Ljungdahl LG, Lundie LL, Drake HL (1983) J Biol Chem 258:2364–2369

67.

Jiang Y, Su M, Zhang Y, Zhan G, Tao Y, Li D (2013) Int J Hydrogen Energ 38:3497–3502

68.

Ju LK, Lee JF, Armiger WB (1991) Biotechnol Progr 7:323–329

69.

Gevantman LH (2015) Chapter 5 in CRC Handbook of chemistry and physics, CRC Press

70.

Jemai AB, Vorobiev E (2002) Int J Food Sci Tech 37:73–86

71.

Loghavi L, Sastry SK, Yousef AE (2009) Biotechnol Progr 25:85–94

72.

Aryal N, Ammam F, Patil SA, Pant D (2017) Green Chem 19:5748–5760

73.

Gleizer S, Ben-Nissan R, Bar-On YM, Antonovsky N, Noor E, Zohar Y, Jona G, Krieger E, Shamshoum M, Bar-Even A, Milo R (2019) Cell 179:1255–1263
Acknowledgements
This work was financially supported by the National Natural Science Foundation of China (Grant No. 21676288), the Fundamental Research Funds for the Central Universities, DNL Cooperation Fund, CAS (DNL 180406) and QIBEBT (Grant: QIBEBT ZZBS 201805).
Ethics declarations
Conflict of interest
The authors declare that they have no conflict of interest.
Additional information
Publisher's Note
Springer Nature remains neutral with regard to jurisdictional claims in published maps and institutional affiliations.
Supplementary Information
Below is the link to the electronic supplementary material.
About this article
Cite this article
Ma, X., Zhang, G., Li, F. et al. Boosting the Microbial Electrosynthesis of Acetate from CO2 by Hydrogen Evolution Catalysts of Pt Nanoparticles/rGO. Catal Lett (2021). https://doi.org/10.1007/s10562-021-03537-4
Received:

Accepted:

Published:
Keywords
Microbial electrosynthesis

Carbon dioxide

Acetate

Pt

Hydrogen evolution catalyst