Abstract
In order to carbonize o-phenylenediamine with CO2, an effective approach was used with UV light irradiation by Sn(IV) doping DFNS (SnD) supported CdSnO3 as a catalyst (CdSnO3/SnD). In this catalyst, SnD with the ratios of Si/Sn in the range of 6 to 50 were obtained using the Direct Hydrothermal Synthesis (DHS), and the nanoparticles of CdSnO3 on the surfaces of SnD were reduced in situ. Scanning Electron Microscope (SEM), X-ray Diffraction (XRD), Fourier Transform Infrared Spectroscopy (FT-IR), X-ray Energy Dispersive Spectroscopy (EDS), and Transmission Electron Microscopy (TEM) were utilized for characterizing CdSnO3/SnD. It was found that CdSnO3/SnD nanostructures could be used for synthesizing o-phenylenediamines due to their effective and novel catalytic behavior through the reaction between o-phenylenediamines and CO2.
Graphic Abstract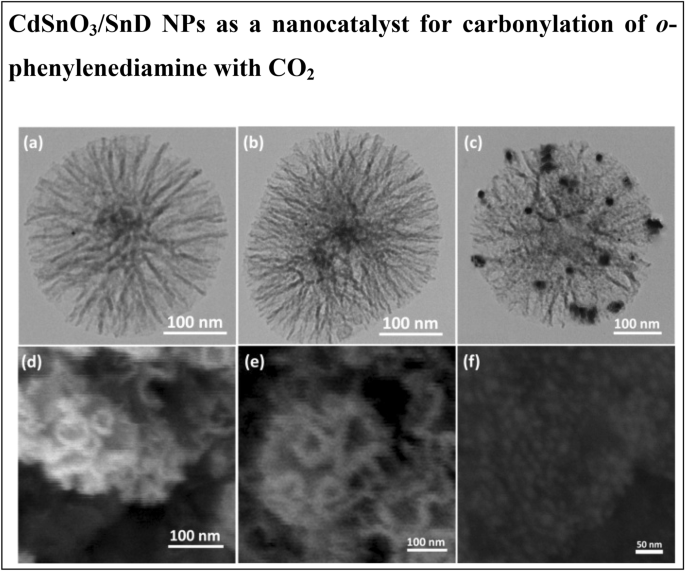 Access options
Buy single article
Instant access to the full article PDF.
US$ 39.95
Tax calculation will be finalised during checkout.
Subscribe to journal
Immediate online access to all issues from 2019. Subscription will auto renew annually.
US$ 119
Tax calculation will be finalised during checkout.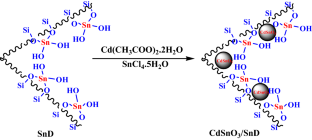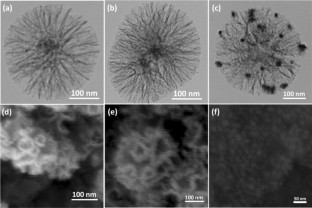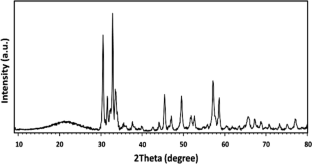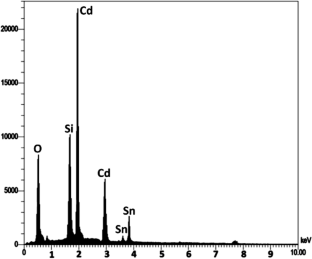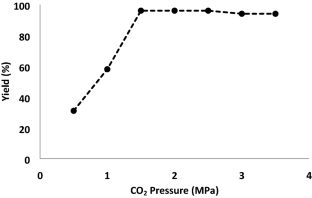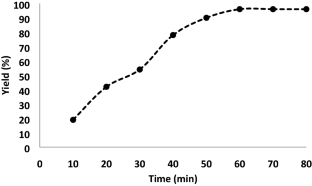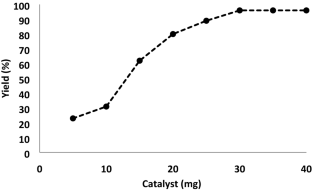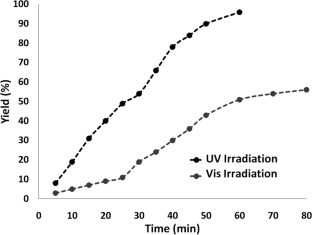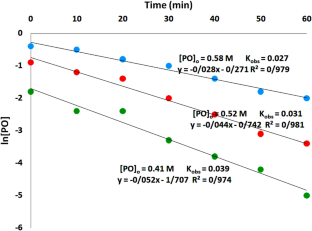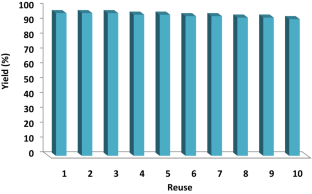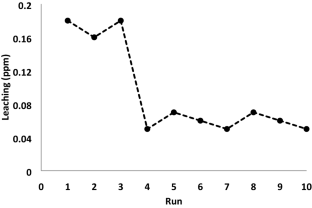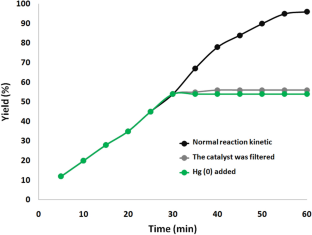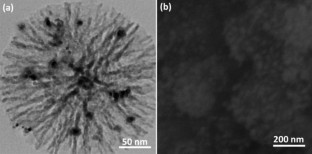 References
1.

Zhou B, Zhao X, Liu H, Qu J, Huang CP (2011) Sep Purif Technol 77:275–282

2.

Sudrajat H, Babel S (2016) Mater Res Bull 83:369–378

3.

Matsunami D, Yamanaka K, Mizoguchi T, Kojima K (2019) J Photochem Photobiol A 369:106–114

4.

Dibenedetto A, Angelini A, Stufano P (2014) J Chem Technol Biot 89:334–353

5.

Low JX, Cheng B, Yu JG (2017) Appl Surf Sci 392:658–686

6.

Sadeghzadeh SM, Zhiani R, Moradi M (2018) ChemistrySelect 3:3516–3522

7.

Boot-Handford ME, Abanades JC, Anthony EJ, Blunt MJ, Brandani S, Mac Dowell N, Fernandez JR, Ferrari MC, Gross R, Hallett JP, Haszeldine RS, Heptonstall P, Lyngfelt A, Makuch Z, Mangano E, Porter RTJ, Pourkashanian M, Rochelle GT, Shah N, Yao JG, Fennell PS (2014) Energy Environ Sci 7:130–189

8.

Devens G, Moore TA, Moore AL (2009) Acc Chem Res 42:1890–1898

9.

Morris AJ, Meyer GJ, Fujita E (2009) Acc Chem Res 42:1983–1994

10.

Sadeghzadeh SM, Zhiani R, Emrani S (2018) Catal Lett 148:119–124

11.

Sadeghzadeh SM (2016) J Mol Liq 223:267–273

12.

Morimoto T, Nishiura C, Tanaka M, Rohacova J, Nakagawa Y, Funada Y, Koike K, Yamamoto Y, Shishido S, Kojima T, Saeki T, Ozeki T, Ishitani O (2013) J Am Chem Soc 135:13266–13269

13.

Tanaka K, Ooyama D (2002) Coord Chem Rev 226:211–218

14.

Benson EE, Kubiak CP, Sathrum AJ, Smieja JM (2009) Chem Soc Rev 38:89–99

15.

Baghbamidi SE, Hassankhani A, Sanchooli E, Sadeghzadeh SM (2018) Appl Organomet Chem 32:4251

16.

Sato S, Morikawa T, Saeki S, Kajino T, Motohiro T (2010) Angew Chem Int Ed 49:5101–5105

17.

Thoi VS, Chang CJ (2011) Chem Commun 47:6578–6580

18.

Kudo A, Miseki Y (2009) Chem Soc Rev 38:253–278

19.

Qu Y, Duan X (2013) Chem Soc Rev 42:2568–2580

20.

Saadati SM, Sadeghzadeh SM (2018) Catal Lett 148:1692–1702

21.

Zhao X, Li Z, Lou X, Li M, Zhang N (2013) J Adv Ceram 2:31–36

22.

Natu G, Wu Y (2010) J Phys Chem C 114:6802–6807

23.

Deo VV, Patil DM, Patil LA, Kaushik MP (2014) Sens Actuators B 196:489–494

24.

Xing-Hui W, Yu-De W, Yan-Feng L, Zhen-Lai Z (2003) Mater Chem Phys 77:588–593

25.

Sharma Y, Sharma N, Subba Rao GV, Chowdari BVR (2009) J Power Source 192:627–635

26.

Chen Y, Li D, Chen J, Wang J, Meng S, Xian J, Fu X, Shao Y (2013) Appl Catal B 129:403–408

27.

Ahmadian-Fard-Fini S, Ghanbari D, Salavati-Niasari M (2019) Compos B Eng 161:564–577

28.

Zinatloo-Ajabshir S, Sadat Morassaei M, Salavati-Niasari M (2019) Compos B Eng 167:643–653

29.

Goudarzi M, Salavati-Niasari M, Amiri M (2019) Compos B Eng 166:457–463

30.

Masjedi-Arani M, Salavati-Niasari M (2016) Mater Lett 174:71–74

31.

Corma A, Navarro Ma T, Renz M (2003) J Catal 219:242–246

32.

Mahdiani M, Soofivand F, Ansari F, Salavati-Niasari M (2018) J Clean Prod 176:1185–1197

33.

Yang J, Wang L, Sun A, Zhiani R (2020). Catal Lett. https://doi.org/10.1007/s10562-020-03307-8

34.

He Z, Yu P, Zhao Y, Zhang H, Zhang Y, Kang X, Zhang H, Sadeghzadeh SM (2020). Catal Lett. https://doi.org/10.1007/s10562-020-03410-w
Additional information
Publisher's Note
Springer Nature remains neutral with regard to jurisdictional claims in published maps and institutional affiliations.
About this article
Cite this article
Liu, C., Sadeghzadeh, S.M. CdSnO3/SnD NPs as a Nanocatalyst for Carbonylation of o-Phenylenediamine with CO2. Catal Lett (2021). https://doi.org/10.1007/s10562-020-03528-x
Received:

Accepted:

Published:
Keywords
Nanocatalyst

CdSnO3

Photocatalytic

Green chemistry

Carbon dioxide