Photocatalytic Degradation of Azo Dyes and Organic Contaminants in Wastewater Using Magnetically Recyclable Fe3O4@UA-Cu Nano-catalyst
Abstract
In this study, we delineated the structural properties and catalytic behavior of nanocrystalline Fe3O4@Urocanic acid(UA)–Cu magnetically recyclable nanocatalyst (MRCs) which was produced via hydrothermal route. Here, Urocanic acid (UA) used as a linker to attach Cu nanoparticles and stabilized the iron oxide. Structural properties were examined through Fourier transform infrared spectroscopy (FT-IR), X-ray powder diffraction (XRD), scanning electron microscopy (SEM) and energy dispersive spectrometry (EDX). Moreover, thermal and magnetic properties of MRCs were completed using thermal gravimetry (TG) and vibrating sample magnetometry (VSM) respectively. Moreover, the catalytic studies of product were recorded by UV–Vis absorption spectrophotometer for azo dyes and aromatic nitro compounds. The synthesized MRCs was found as an efficient nanocatalyst and magnetically recyclable from the reaction medium without significantly loss in its catalytic activity. Fe3O4@UA-Cu MRCs can be considered for the treatment of industrial dyes pollutants and organic contaminants from wastewater.
Graphical Abstract
Proposed mechanism of photocatalysis degradation of dye by Fe
3
O
4
@UA-Cu MRCs.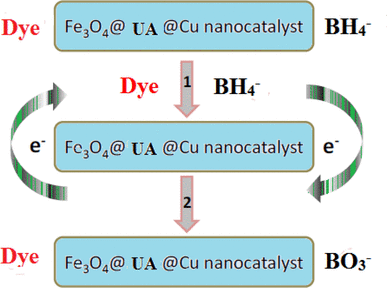 Keywords
Photocatalytic degradation 
Nanocrystalline magnetic recyclable catalyst 
Hydrogenation 
Aromatic compound 
Azo dyes 
Notes
Acknowledgements
This work is supported by Scientific Research Projects Coordination Unit of Istanbul University. Authors sincerely acknowledge with deep gratitude to Assist. Prof. Aylin Yıldız for providing us the important SEM facility.
Copyright information
© Springer Science+Business Media, LLC, part of Springer Nature 2018