Synthesis of Bimetallic MOFs MIL-100(Fe-Mn) as an Efficient Catalyst for Selective Catalytic Reduction of NO x with NH3
Abstract
In this study, we have successfully synthesized bimetallic MOFs of MIL-100(Fe-Mn) for SCR of NOx with NH3 via a hydrothermal method The catalyst were characterized by XRD, EDX, N2 adsorption(BET), SEM, in situ FT-IR and XPS. MIL-100(Fe-Mn) catalyst exhibited higher NOx conversion than either of its monometallic counterparts of MIL-100(Fe) and MIL-100(Mn). MIL-100(Fe-Mn) displayed excellent low-temperature activity, which achieved a maximum NOx conversion of 96 % at 260 °C. Moreover, MIL-100(Fe-Mn) showed a satisfactory stability and a good capacity of resisting SO2 and H2O. During NH3-SCR process, a slightly raised NO x conversion (approximately 7 %) was observed in the presence of H2O and SO2, which could be attributed to the formed sulfate species that act as new acid sites on the surface of the catalyst. Combined with the in situ FT-IR results, it was concluded that the SCR reaction of the MIL-100(Fe-Mn) followed Eley–Rideal (E–R) mechanism.
Graphical Abstract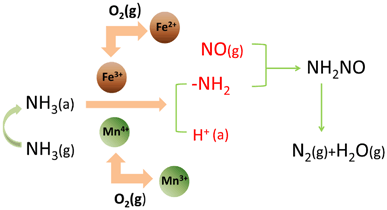 Schematic diagram of SCR reaction
Keywords
Environmental catalysis 
Activity 
Porous materials 
Metal–organic framework 
Heterogeneous catalysis 
MIL-100(Fe-Mn) 
Selective catalytic reduction 
Notes
Acknowledgments
This work is supported by the National Basic Research Program of China (No. 2011CB936002), National Natural Science Foundation of China (No. 51178076) and the Fundamental Research Funds for the Central Universities (No. DUT14LK17).
Copyright information
© Springer Science+Business Media New York 2016