Activity of Molybdate-Intercalated Layered Double Hydroxides in the Oxidation of Styrene with Air
Abstract
Molybdate anions were intercalated into the interlayer spacings of (Mg, Al) like-hydrotalcite compounds as interlayer compensating anions. The synthesized samples have been characterized by XRD, FT-IR, Raman, EDS, UV–vis, BET, and XPS. The solids possess lamellar structure and uniform platelet particles. There is mainly Mo(VI) present in both tetrahedral and octahedral configuration in the samples. All the synthesized catalysts have been tested for the liquid oxidation of styrene at mild conditions. Under reported conditions, styrene conversion varies with the total amount of molybdate ions. Benzaldehyde and styrene oxide were two major components in the product mixture. The selectivity to styrene oxide was found to be associated with the nature of oxidants and the amount of tetrahedrally-coordinated Mo species in layered double hydroxides while that to benzaldehyde is related to the overall amount of MoO4 − anions in the sample.
Graphical Abstract
Product distribution obtained on Mg–Al–Molybdate like hydrotalcite catalysts in the liquid oxidation of styrene with air.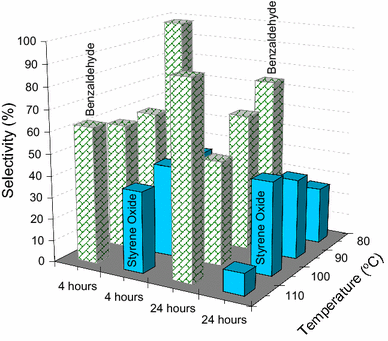 Keywords
Molybdate 
Epoxidation 
Styrene 
Oxidation 
Hydrotalcite 
LDH 
Notes
Acknowledgments
This research is funded by Vietnam National Foundation for Science and Technology Development (NAFOSTED) under Grant Number 104.05-2014.01.
Copyright information
© Springer Science+Business Media New York 2016