A Recyclable Organocatalyst for Asymmetric Michael Addition
Abstract
In this study, a new organocatalyst derived from proline was developed and shown to be an efficient catalyst for asymmetric Michael addition reactions of ketones and aldehydes to nitroolefins with high diastereo- and enantioselectivities. (syn;anti up to 99:1, ee. up to 98 %.). Furthermore, the catalyst is easily recovered and could be reused six times without significant loss of its ability to affect the outcome of the asymmetric reactions. In addition, computational studies at the B3LYP/6-311G(d,p)//6-311 + G(2dp,f) level was conducted on a model reaction, and confirmed the following hypotheses: first, the hydrogen bonding between carboxyl group and nitro group plays an important role in catalysis, and second, the energy barrier for re-face attack in reactions of ketones to form 2S, 3R products is lower than that for the si-face attack leading to 2S, 3R products.
Graphical Abstract
Structural modification of a previously reported organocatalyst (lead compound in figure) was used to design an efficient and recyclable organocatalyst for asymmetric Michael addition. The introduced carboxyl group not only enhances the enantioselectivity but also brings convenience to the recovery of the catalyst.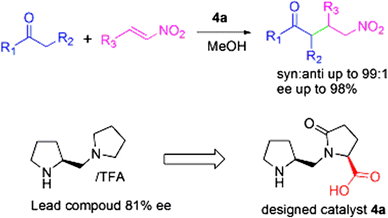 Keywords
Proline 
Asymmetric Michael addition 
Recyclable 
Computational studies 
Notes
Acknowledgments
This work was supported by Supported by National Natural Science Foundation of China (No. 21306038) and Natural Science Foundation of Hebei Province (No. B2013202216).
Copyright information
© Springer Science+Business Media New York 2016