Enzymatic Catalysis in Melted Polymer as Green and Reusable Solvent
Abstract
In this study the first example of enzymatic catalysis in melted polymer, Polywax, at 90 °C was demonstrated by lipase-catalyzed synthesis of cinnamyl laurate. This study shows that Polywax is a promising green and reusable polymer solvent for enzymatic catalysis.
Graphical Abstract
An enzymatic catalysis was achieved in the melted polymer, Polywax, which serves as a green and reusable solvent.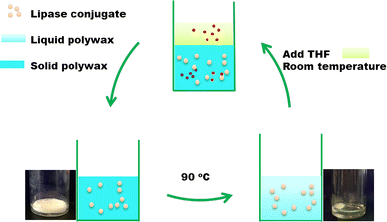 .
Keywords
Enzymatic catalysis 
Green chemistry 
Enzymes 
Lipase 
Notes
Acknowledgments
This work was supported by the National High Technology Research and Development Program ("863" Program) of China (2014AA020507), the National Natural Science Foundation of China (21206082), Beijing Natural Science Foundation (2144050), Tsinghua University Initiative Scientific Research Program (20131089191) and Doctoral Fund of Ministry of Education of China (20120002120046).
Copyright information
© Springer Science+Business Media New York 2015