Promiscuous Lipase-Catalyzed C–C Bond Formation Reactions Between 4 Nitrobenzaldehyde and 2-Cyclohexen-1-one in Biphasic Medium: Aldol and Morita–Baylis–Hillman Adduct Formations
Abstract
Lipases catalyzed the reaction between 4-nitrobenzaldehyde and 2-cyclohexen-1-one in aqueous-DMSO co-solvent mixtures to give Morita–Baylis–Hillman product and aldol product. Among lipases, Burkholderia cepacia lipase gave the best overall conversion of 96 % in 50 % (v/v) DMSO while Mucor javanicus lipase showed highest stereoselectivity in the formation of the aldol (79 % ee) and Morita–Baylis–Hillman product (63 % ee) with 30 % (v/v) DMSO.
Graphical Abstract
Lipase catalysed Morita–Baylis–Hillman reaction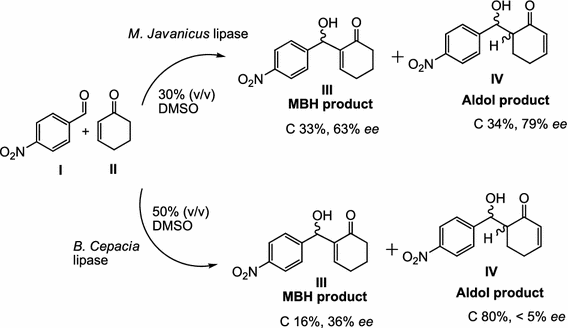 Keywords
Morita–Baylis–Hillman reaction 
Lipases 
Aldol condensation 
Enzymes in organic solvents 
Enzyme promiscuity 
Notes
Acknowledgments
The work was supported by financial support of the Department of Science and Technology (DST), Govt. of India (Grant No.: SR/SO/BB-68/2010).
Copyright information
© Springer Science+Business Media New York 2014