Model Iron Phosphate Catalysts for the Oxy-bromination of Methane
Abstract
Three kinds of bulk iron phosphates were prepared via different methods and employed as model catalysts in the oxy-bromination of methane (OBM). Na3Fe2(PO4)3 was obtained via a fluoride route for the first time that showed even superior catalytic performance than FePO4. Phase evolution from Na3Fe2(PO4)3 to Na2Fe3(PO4)3 after the OBM was confirmed both by X-ray diffraction and 57Fe Mössbauer spectroscopy. Temperature-programmed reduction of hydrogen and desorption of CH3Br revealed that the redox capacity of iron phosphates were responsible for the generation of bromine radicals on catalyst surfaces while CH3Br-involved reactions likely belonged to gas-phase reactions.
Graphical Abstract
Model iron phosphate catalysts were synthesized by three different methods. It was found that the Na
3
Fe
2
(PO
4
)
3
catalyst prepared by a fluoride route showed superior OBM performance than the other two catalysts both with the phase of FePO
4
, especially for producing higher CH
3
Br selectivity.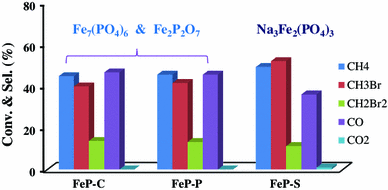 Keywords
Iron phosphate 
Oxy-bromination 
Methane 
Methyl bromide 
Phase evolution 
Notes
Acknowledgments
This work was financially supported by the National Natural Science Foundation of China (No. 21103170).
Copyright information
© Springer Science+Business Media New York 2014