Preparation of Promoted Molybdenum Carbides Nanowire for CO Hydrogenation
Abstract
K, Mg, and Ca modified nanowire molybdenum carbide have been prepared using an organic–inorganic hybrid method for the production of higher alcohols and hydrocarbons from the hydrogenation of CO. The results revealed that unpromoted molybdenum carbide mainly produced light alkanes, and only few alcohols were obtained. The promoters improved selectivity shift from alkane to alcohols in the sequence: K > Mg > Ca. Additional, the CO conversion was reduced with the addition of K and Mg, with K exhibiting more vigorous effect, but that remarkably increased for Mg. Moreover, the promoters showed different effectiveness on the ability of chain propagation. Potassium mainly enhanced the ability of alcohol chain propagation with higher selectivity to C2 +OH, but had little effect on that of alkane. While, for magnesium and calcium, they mainly improved the ability of alkanes chain propagation with reducing the formation of methane.
Graphical Abstract
A series of novel promoted β-Mo
2
C nanowire catalysts was developed by an organic-inorganic hybrid method. It could be seen that promoters evidently had a great effect on the structure and performance of β-Mo
2
C nanowire catalyst. Thus the different performance of these catalysts in the CO hydrogenation for hydrocarbon and higher alcohols was related to the synergistic effect of promoters with molybdenum.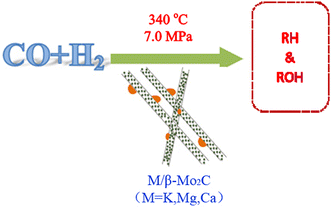 Keywords
β-Mo2C 
Nanowire 
Promoter 
CO hydrogenation 
Notes
Acknowledgments
The authors acknowledge the financial support from the State Key Foundation Program for Development and Research of China (Contract No. 2005CB221402), the National High Technology Research and Development Program of China (No. 2012AA051002) and the projects of National Natural Science Foundation of China (No. 21103217).
Copyright information
© Springer Science+Business Media New York 2014