Synthesis and Catalytic Performance of CeOCl in Deacon Reaction
Abstract
Surface chlorinated CeO2 is an efficient material for HCl oxidation, which raises the question whether an oxychloride phase could be also active in the same reaction. CeOCl was synthesized by solid state reaction of cerium oxide with anhydrous cerium chloride and tested in HCl oxidation using various feed compositions at 703 K. X-ray diffraction of post-reaction samples revealed that CeOCl is unstable, in both oxygen-rich and -lean conditions. Applying oxygen over-stoichiometric feeds led to complete transformation of CeOCl into CeO2. Considerable HCl conversions were obtained only after this transformation, which confirms the essential role of bulk cerium oxide in this catalytic system.
Graphical Abstract
Phase transformation of CeOCl into CeO
2
under Deacon reaction conditions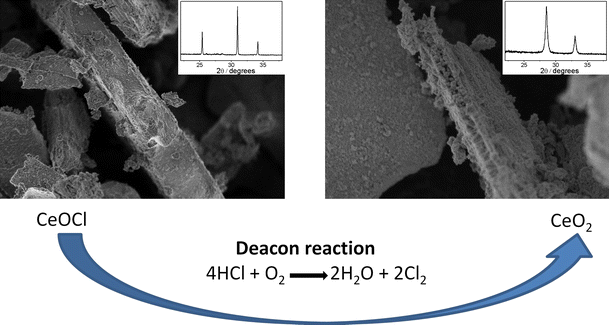 .
Keywords
CeOCl 
CeO2 
Deacon reaction 
HCl oxidation 
Copyright information
© Springer Science+Business Media New York 2013