Structural and Catalytic Characterization of Radiation-Induced Ni/TiO2 Nanoparticles
Abstract
The radiolysis route is applied to synthesize nickel catalysts deposited on titanium dioxide. The TPR profile of radiation-induced Ni/TiO2 catalyst indicates a more complete reduction of the irradiated catalysts compared to the conventionally H2-reduced one. When tested in the benzene hydrogenation, the radiolytic Ni/TiO2 exhibits catalytic properties with higher efficiency than the H2-reduced catalyst. This observation is assigned to the presence of intermetallic Ni–Ti compounds (Ni2.66Ti1.33 and Ni3Ti) evidenced by XRD. In contrast, the calcined and H2-reduced catalyst contains predominantly the oxidized Ni5TiO7 phase, where the nickel is in strong interaction with the support. The TEM observations show highly dispersed nickel.
Graphical Abstract
When tested in the benzene hydrogenation reaction, the catalyst Ni/TiO
2
prepared by gamma-irradiation exhibits catalytic properties (the turn-over frequency at total conversion is 33.5 molecules Bz Ni
at
−1
s
−1
at 140 °C) with higher efficiency and at lower temperature than the H
2
-reduced catalyst. This observation is assigned to extremely dispersed nickel nanoparticles and to intermetallic Ni
2.66
Ti
1.33
and Ni
3
Ti compounds evidenced by XRD.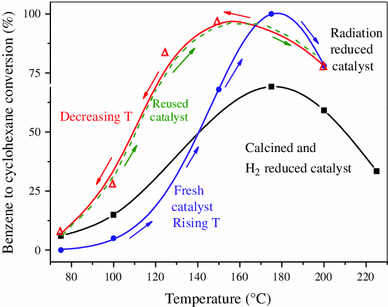 Keywords
Nanoparticles 
Interfacial phases 
Nickel 
Titania 
Radiolytic process 
Hydrogenation 
Notes
Acknowledgments
This study has benefited of the aid of the Algerian "Fond National de la Recherche" (Project CNEPRU N° D00920100029) and National Project of Research PNR. It has been partially supported by French-Algerian cooperation (Contract "Tassili" CMEP 04 MDU 616). The authors are grateful to Patricia Beaunier, Paris 6 University for HRTEM imaging.
Copyright information
© Springer Science+Business Media New York 2013