Enhanced Performance of Zn–Sn/HZSM-5 Catalyst for the Conversion of Methanol to Aromatics
Abstract
The conversion of methanol to aromatics such as benzene, toluene, and xylenes (BTX) was performed over HZSM-5-supported bimetallic Zn–Sn catalysts. The results indicated that Sn species preferentially healed the defects in HZ crystals to create new active sites. The catalyst with Zn species markedly enhanced the aromatization performance but easily produced heavy coke. Thus, an optimized catalyst with 1 wt% Zn and 1 wt% Sn exhibited improved catalytic performance in terms of selectivity and BTX yield compared with a catalyst with a single metal. Consequently, the BTX yield was 64.1 % under the reaction conditions of 0.1 MPa and 0.8 h−1 methanol weight hourly space velocity at 450 °C.
Graphical Abstract
The HZSM-5 supported bimetallic catalyst 1 % Zn–1 % Sn/HZ exhibits a higher BTX yield than 2 % Sn/HZ and a longer lifetime than 2 % Zn/HZ. The deactivated catalyst can be regenerated for several times without significant reduction in catalytic performance.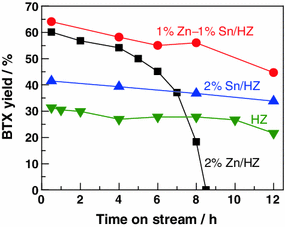 Keywords
HZSM-5 
Zn 
Sn 
Methanol to aromatics 
Coke 
Notes
Acknowledgments
We gratefully acknowledge the financial support from the Natural Science Foundation of China (20923004) and the Program for Changjiang Scholars and Innovative Research Team in University (IRT1036).
Copyright information
© Springer Science+Business Media New York 2013