Preparation and Photoactivity of Nanocrystalline TiO2 Powders Obtained by Thermohydrolysis of TiOSO4
Abstract
Nanocrystalline TiO2 photocatalysts were synthesized in mild conditions by thermohydrolysis of TiOSO4 in water at 100 °C and post-calcination treatment at various temperatures. The TiO2 powders were characterized by X-ray diffraction, X-ray photoelectron spectroscopy, specific surface area determinations, scanning electron microscopy and electron paramagnetic resonance measurements. The photoactivity of the samples was tested employing the photodegradation of 4-nitrophenol in liquid–solid regimen and the photooxidation of gaseous 2-propanol. The best results were obtained with the powder calcined at 600 °C for 10 h. Surprisingly, the not calcined sample was the most active for the abatement of NOx under irradiation.
Graphical Abstract
Time course of 4-nitrophenol degradation: (
filled circle
) as-prepared TiO
2
; (
filled square
) calcined at 600°C for 3 h; (
filled triangle
) Degussa P25; (
filled diamond
) calcined at 600°C for 10 h.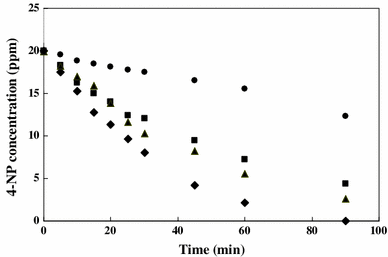 Keywords
Titanium dioxide 
TiOSO4 
Thermohydrolysis 
Heterogeneous photocatalysis 
Notes
Acknowledgments
The authors thank Dr. Anna Maria Venezia of ISMN-CNR (Palermo) for the XPS measurements.
Copyright information
© Springer Science+Business Media New York 2013