One-Pot Synthesis of 3,4-Dihydro-2(H)-Pyrimidinones Catalyzed by Reusable Acidic Choline-Based Ionic Liquids
Abstract
A series of choline-based ionic liquids (CIL) have been synthesized in this work. The results suggested that both the cations and the anions have significant influences on their properties such as thermostabilities, acidities and their performances for the synthesis of 3,4-dihydro-2(H)-pyrimidinones. The optimized catalytic system based on the CIL [DMEA][HSO4] for the Biginelli reactions benefits from the wide substrates tolerance, benign reaction conditions, easy work-up procedures, and the feasible reusability of the ionic liquid.
Graphical Abstract
The thermostabilities, acidities, and the catalytic activities for the Biginelli reactions are all follows the sequence of [DMEA][HSO
4
] > [Choline] [HSO
4
] > [DMEA][H
2
PO
4
] > [Choline] [H
2
PO
4
]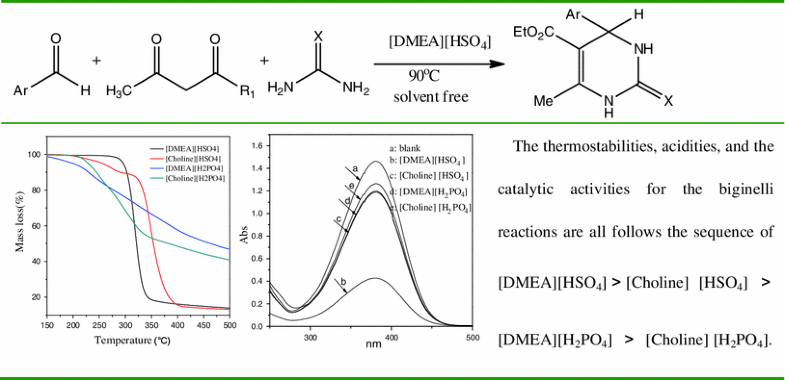 .
Keywords
Choline-based ionic liquids 
Thermostabilities 
Acidities 
Biginelli reactions 
3,4-Dihydro-2(H)-pyrimidinones 
Notes
Acknowledgments
This study was supported by the National Natural Science Foundation of China (Grant 20903037, 21172058), and the Research Fund for the Doctoral Program of Higher Education of China (20094104120003).
Copyright information
© Springer Science+Business Media New York 2013