Hydrocracking and Hydroisomerization of n-Hexadecane, n-Octacosane and Fischer–Tropsch Wax Over a Pt/SiO2–Al2O3 Catalyst
Abstract
The hydroisomerization and hydrocracking of long chain n-paraffins and a Fischer–Tropsch wax produced with a cobalt catalyst were accomplished over a Pt–amorphous silica–alumina catalyst. The relative conversion of the n-hexadecane and n-octacosane mixed feed greatly favored the higher carbon number compound even though the conversions of the pure hydrocarbons were the same within a factor of two or less when converted separately. Thus, vapor equilibrium plays a role for the conversion of the heavier alkanes and in this case the conversion essentially occurs with only the compound present in the liquid phase. The single branched cracked products show a peak at the mid-carbon number, C8 and C14 for the two reactants, but the peak for the multi-branched product occurs at a higher carbon number. Thus, it appears that the multi-branched products are primarily produced in a series reaction with the singly branched compounds being formed as the primary products. The data for wax conversion are consistent with the competitive conversion operating for the higher carbon number compounds; however, the transport of intermediate carbon number products from the reactor occurs more rapidly than their formation rates by cracking reactions. The data clearly show that the hydrocracking of wax is dominated by vapor–liquid equilibrium and that hydrocracking is initially controlled by the compounds present in the liquid phase.
Graphical Abstract
Figure shows the catalyst pore filling with low boiling (left) and high boiling (right) hydrocarbons. Each reactant saturates the catalytic sites and the breaking of C–C bond occurs. Once the products from cracking of the liquid phase go into the vapor phase, it should rapidly pass the catalyst bed. This short contact time on gas phase hydrocarbons relative to the liquid phase, limits the conversion of low boiling point hydrocarbons.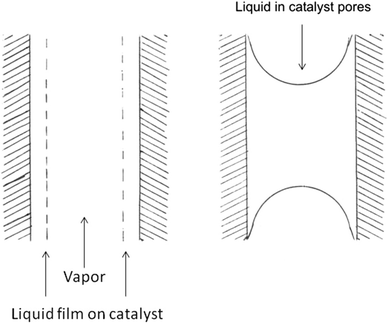 Keywords
Hydrocracking 
Hydroisomerization 
Pt/silica–alumina 
n-Hexadecane 
n-Octacosane 
Fischer–Tropsch wax 
Iso/normal ratio 
Notes
Acknowledgments
This work was supported by the Commonwealth of Kentucky.
Copyright information
© Springer Science+Business Media New York 2012